I'm always looking for a simple meal with chicken to whip up fast, and this fits the bill. This Chicken and Bean Sprouts dish is quick, healthy, and full of flavor.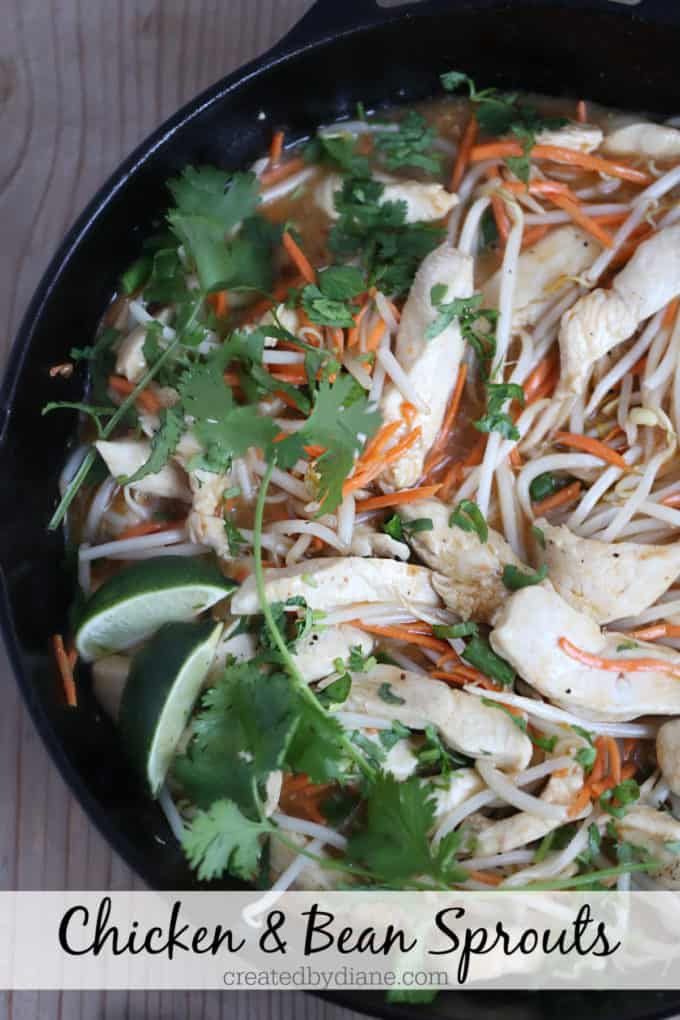 It's no secret Chinese take-out is really popular, but you can easily make some at home…
I often buy chicken without a clue as to what I'm going to make with it. But rest assured if you do too, this is a great recipe to whip up. And don't forget about my Szechuan chicken recipe.
I often buy bean sprouts and use them in these great Beef Bowls and Chicken Pho recipes.
Every week I buy a bunch or two of cilantro so I'm sure I always have some in the fridge, I keep a little water in a glass jar and it stays nice all week,  I keep a plastic bag over it to loosely cover it.
The other items I typically have on hand are shredded carrots, for the endless meals I put them on, and some fresh limes, oh fresh-squeezed citrus is always a good idea!
Asian food holds a special place in my heart. I love going to Asian markets to pick up fun flavors and ingredients for recipes. The colors and varieties of foods that these food stores offer bring so much to the table…literally!
I love picking up rice paper wrappers for Asian Spring Rolls and these Egg Salad Spring Rolls. And I usually pick up some Curry while I'm there for my go-to curry recipes.
The secret to this dish isn't one thing, it's how all the flavors mingle together. That being said, sesame oil really adds a nutty flavor and aroma that is irresistible. I love experimenting with its many varieties. You have toasted sesame oil which is dark in color and best for flavoring dishes. Then there's refined sesame oil which has a lighter color, neutral flavor, and a high smoke point which makes it an excellent candidate for stir fry. Finally, there's unrefined sesame oil which is best for salads and dressings. This variety has a light amber color and a slightly nutty flavor. 
Sesame oil is regarded as the "Queen" of oils and this is because of its highly nutritious benefits. It has anti-inflammatory properties making it great for skin, and vegetables cooked in sesame oil have all the nutrients and minerals your body needs. It's also great for metabolism and for blood circulation. And it's worth repeating – it has a flavor that is out of this world!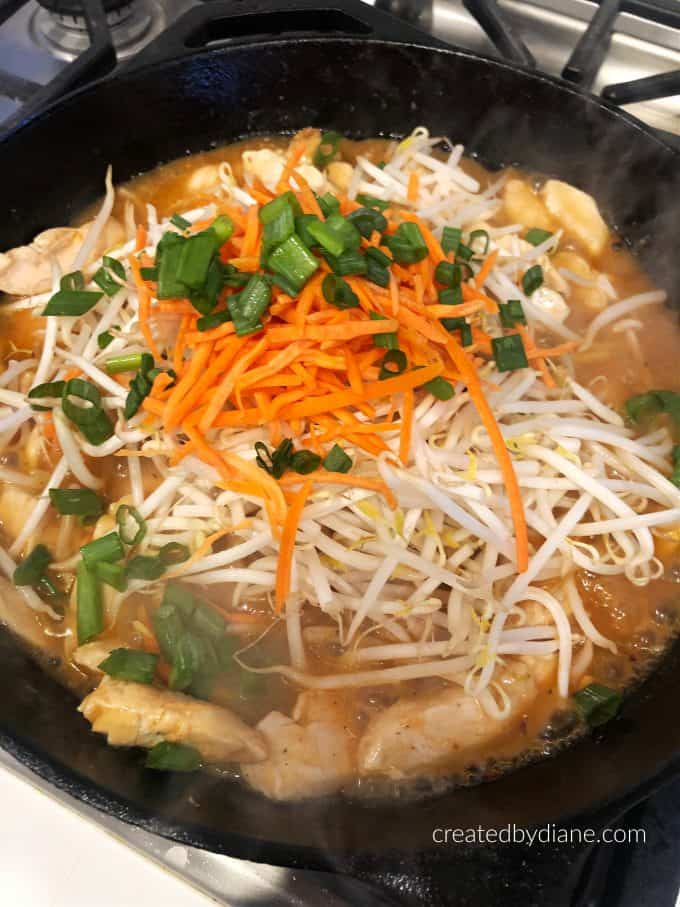 But let's look at the steps needed to make this delicious chicken and bean sprout dish happen!
To begin, Cut your chicken into strips or pieces according to your preference.
Next, Julienne cut your carrots. You can even buy them in the grocery store already cut thinly.
In a skillet, add sesame oil and saute chicken for a couple of minutes – it will not be cooked through.
Mix together chicken broth, soy sauce, crushed red pepper, and cornstarch. Pour it into the pan with your chicken. Simmer until the chicken reads 165°.
Add in bean sprouts and carrots so they get warm. Turn off the heat, give it a stir and it's all ready.
Serve and top with cilantro and lime juice. For extra spice add in sriracha or hot mustard.
Add in any vegetable you like to ensure it'll be your family's favorite dish!
What are some suggestions I could serve with this?
Though this recipe is fine as is, you could serve this along with some rice or rice noodles, or spaghetti if you prefer.
CHECK OUT MY POST ON RICE HERE.
Could I use bouillon in place of broth?
Yes, of course. Add-in the amount of liquid and then add chicken bouillon to taste.
What is a julienne cut?
A julienne cut is where you cut the vegetable into long then strips about the size of matchsticks. This is the julienne peeler. I use one like this,  it works like a potato peeler. Alternatively you can thinly cut the vegetables with a knife.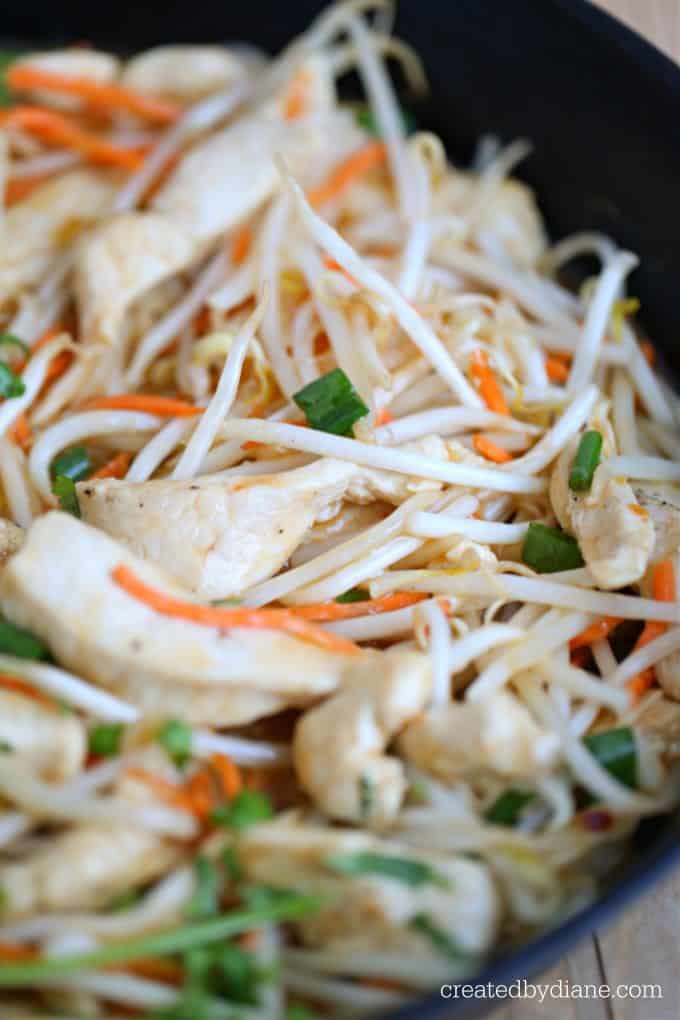 This is a great low-carb recipe, if you are interested in more low-carb recipes check these other recipes out.
To make this dish more like the American Chow Mein, add in 3 stalks of chopped celery. This is not the chow mein or lo mein with noodles. But if that is what you're looking for just add in some cooked Chinese egg noodles, spaghetti noodles, or similar and you'll have created a dish similar to the ever-popular take-out dish. 
add in some chili paste for added flavor abs spice abs if you like it a little spicier add in some crushed red pepper. 
mid you prefer things on the sweeter side add in some Asian oyster sauce or hoisin sauce.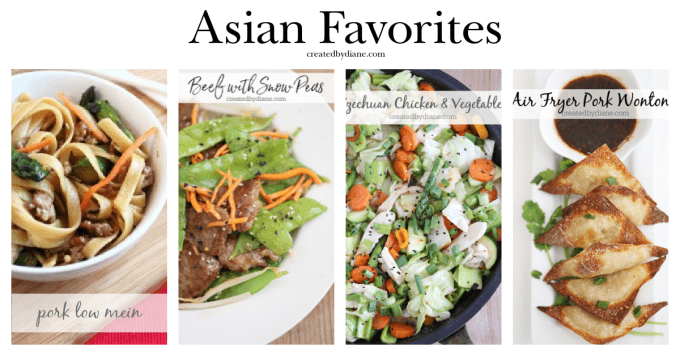 More Asian Inspired Recipes:
Chicken and Bean Sprouts
A quick easy and delicious low-carb chicken and vegetable dish you'll make again and again.
Author:
Diane Schmidt, Created by Diane
Recipe type:
Main Dish, Chicken
Ingredients
1 teaspoon sesame oil
1- 1 /2 lbs chicken breast, sliced thinly
1 cup chicken broth, additional chicken bouillon to taste
1 tablespoon soy sauce
1/4 teaspoon crushed red pepper flakes
1 tablespoon cornstarch
8 oz bean sprouts
1 carrot, julienned
1 tablespoon chopped cilantro
1 lime, juiced
Add some sriracha or Asian hot mustard if desired
Instructions
In a skillet add sesame oil and saute the chicken for a couple of minutes.
Mix the sauce of chicken broth, soy sauce, crushed red pepper, and cornstarch.
Pour the sauce over the chicken and simmer until the chicken is 165°.
Add in the beans sprouts, carrots stir so they get warm
Top with cilantro and lime juice.
More great Asian Inspired Recipes: