Tender pork with delicious clams in a sauce so delicious it's like liquid gold. This Portuguese Pork and Clams is not only easy I give you all the info to make dinner time the best ever.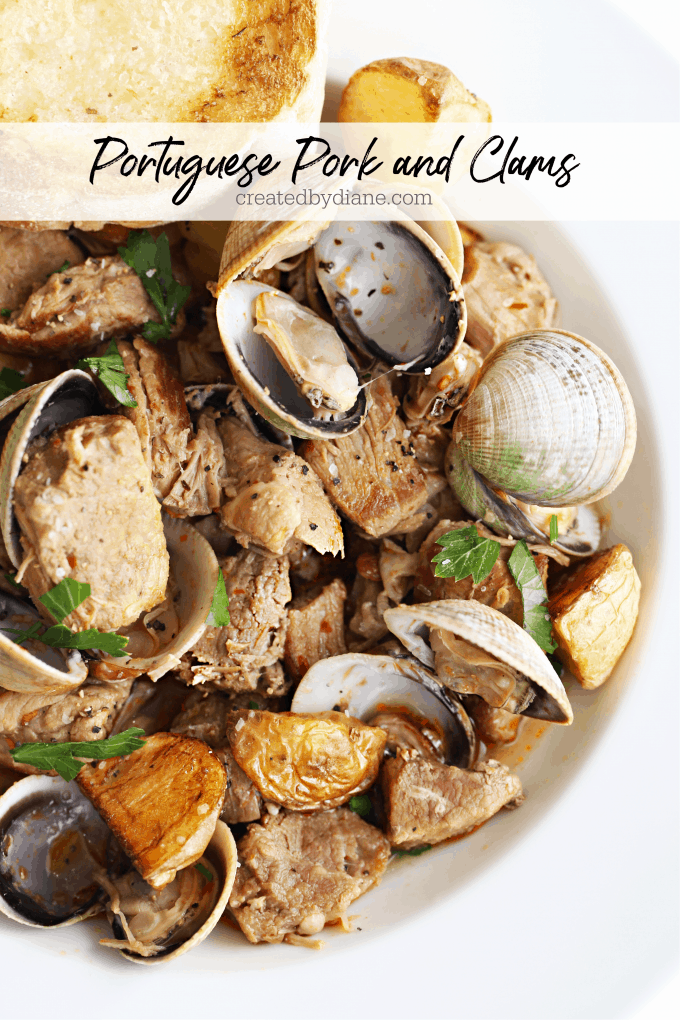 Have you ever had a dish many many times…
and just love it so much you can't ever get your mind off it.
Then, the unthinkable happens… for some reason you don't have the opportunity to have it again.
Back story:
When my husband and I met we would go to a Portuguese Restaurant (Ria Mar in South River, NJ ) and they had such delicious food. We went often and loved it every single time! 
I set out to replicate the delicious dish pork and clams and I'm happy to say my husband says my recipe is even better. Which is the ultimate compliment! (and he's is not hte type to say it's better if it isn't which I totally love about him)
I can't tell you how many times I've ordered this dish when we would go there, I lost count. And I do think it's the ONLY dish I ever did order there… it's that good. He would always get something new, not me.
I was hooked on the delicious flavor of their pork and clams. You know the kind of meal that is so good you revert to ordering it again and again and never regret it.
Oh yes, that is this dish.
We moved from New Jersey years ago, but we've always talked about how great they made their pork and clams recipe and we just loved how this recipe came out. We talked about the many memories we had there and when we visit again we hope to stop in and enjoy more of their delicious food.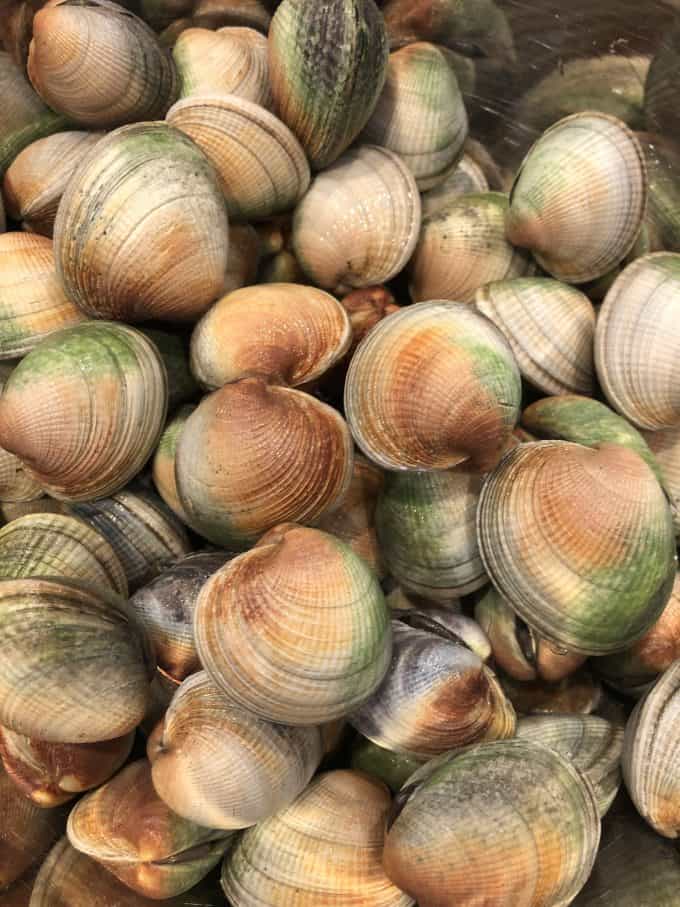 While we were shopping at Costco recently, we came across some New Zealand Green Cockles (small clams), and it only a couple of minutes and we knew what I had to make with them.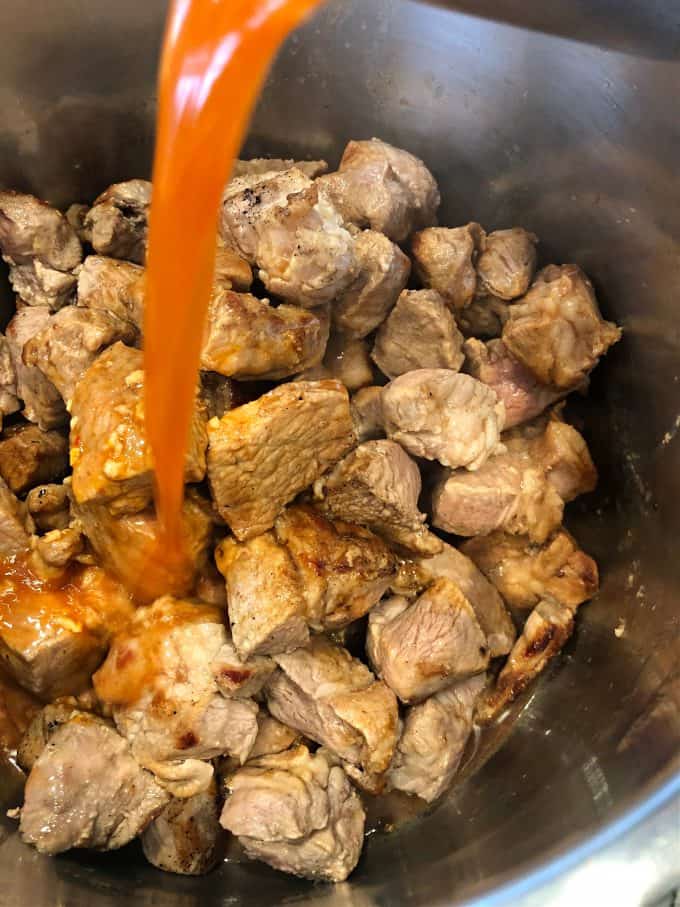 Methods to cook the pork and clams
I knew I wanted to make it in the Instant Pot (pressure cooker) to ensure the pork would be fork tender.  This method only takes about 30 minutes if the pork is cut into 1-inch pieces. And OMG it was so delicious and flavorful! This dish can easily be made on the stove or in the oven, or slow cooker if you prefer cooking with that method. It's really quick in the Instant Pot, the pork will cook for 1 1/2- 2 hours on the stove or in the oven and you can cook it on low for 6-8 hours or high for 4-6 hours in a slow cooker. Cooking time will depend on how large or small the pices of pork and if you're cooking 4lbs or more. Then cook the clams until they open, if using a slow cooker, just cook the clams in a skillet on the stove with a cup of juice from the pork.
The sauce was out of this world! Really.
We even invited a friend over as we popped the lid open and were dropping in the clams, we knew it was going to be an EPIC dinner! And it was.
I knew I wanted to add a little spice to the dish… and I knew just what it was going to be
Harissa
. I use it in my
Curry dishes
as well. If you don't have it, I'll give a substitute but it's really worth finding Harissa, the flavor is great.
*substitute (roasted red pepper with a pinch of crushed red pepper flakes for the Harissa if you don't have any) but I really suggest getting the
Harissa,
the Harissa I buy is a little smokey, really flavorful and has some spice to it, it's just perfect with the pork and clams.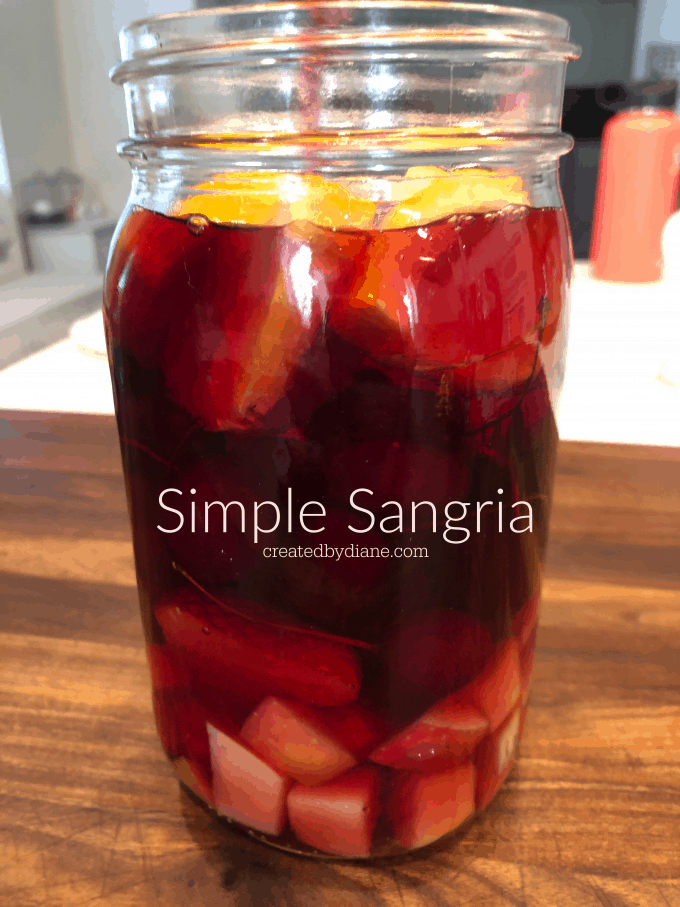 I paired it with SANGRIA… Oh…
it was so yummy. I bought a bottle of red sangria while we were at Costco too and added some sliced orange, apple, cherries, strawberries and let it sit while I made the pork and clams, it was delicious, and a perfect pairing to this dish. Any sweet red or white wine would work.
What type of pork can I use?
I use a pork shoulder butt, you can any marbled pork roast, it may be labeled as pork shoulder, pork butt, pork roast and can also be called Boston butt. Pork loin will be very lean and not as tender or as flavorful, so stick to the roast style. In a pinch country-style, pork spare ribs would work.
What type of clams are used in this dish?
I used cockles (from New Zealand) they were delicious. Any small clam will work, littlenecks would be perfect in this dish. 
If you don't prefer clams, a great substitute in this dish would be shrimp.
What is the sauce made of?
The sauce is so tasty, it's made of white wine and garlic, the juice of the pork is cooked in the wine and so are the clams, giving the final juice an amazing flavor. 
What could be substituted for the wine?
I'm sure some people will ask this question, and the answer I would truly give is, PLEASE use the wine, it gives the dish the most flavor and the reason it's so irresistible, the alcohols cooks off the wine, so it's ok to serve to everyone even kids. If you absolutely have to substitute it, which I would NOT want to do, use chicken broth.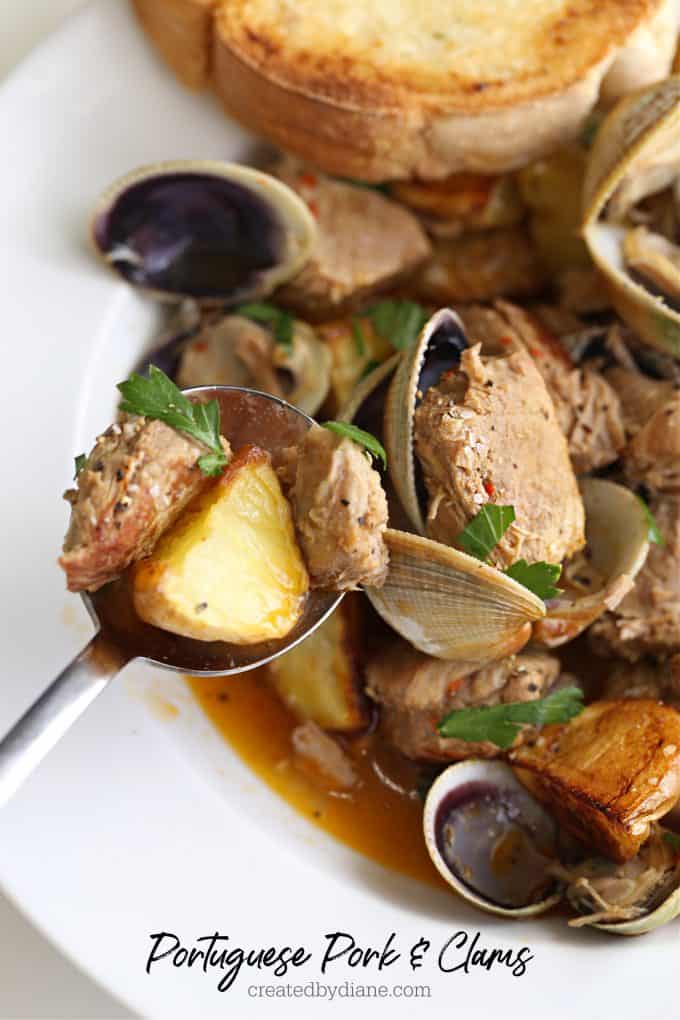 This is one of those meals where there are minimal ingredients and don't skimp… use all the garlic!
The one item that I used is harissa, it's a slightly spicy pepper blend if you don't have it or are unable to find it in time to make this dish, use roasted red peppers and a pinch of crushed red pepper. I purchase Harissa at Trader does, you can buy it here as well, I haven't tried the dry version yet, but I just ordered it to see how I like it, I'll update this post as soon as I give it a try.
You might ask what else do I use Harissa in… my curry recipes, they are so flavorful and I owe it all to the harissa.
What should I serve with the pork and clams with?
Roasted potatoes are great with this dish, roast a pan of potatoes all crispy and then serve the pork and clams over the potatoes, that is how the dish was served in the restaurant and that is how I served it, just perfect.
The other item that is perfect to go along with this dish is some crusty bread, add some garlic and butter, even some lemon and OH my, it's so great!
The broth is so delicious it's great with bread dunked into it, in a pinch some oysters would work.
Add a side salad or a vegetable like broccoli or asparagus to make it a complete meal and you're all set!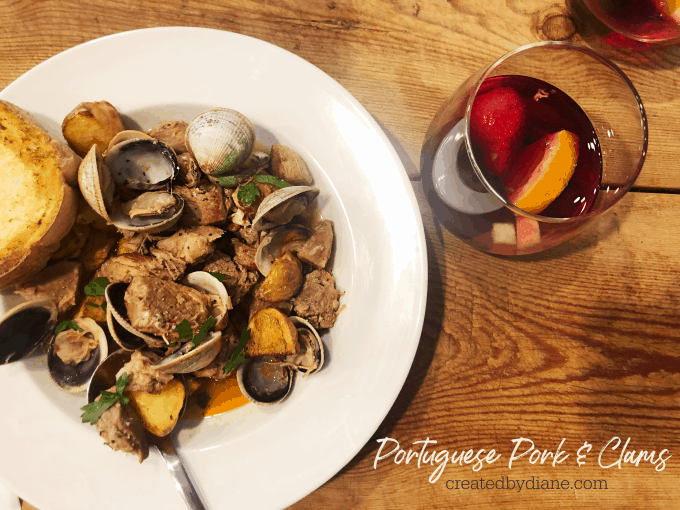 Although I've never been a huge fan of seafood leftovers (reheating seafood can get rubbery) this dish was so good, if you have leftover don't hesitate to heat it up and enjoy.
This is the Instant Pot I use.
Other great Instant pot recipes Rice Pudding, Hard Boiled Eggs, Mac and Cheese, shredded chicken.
Portuguese Pork with Clams
A truly flavorful pork and clams dish that is easily made in the Instant Pot for
Author:
Diane Schmidt Created by Diane
Recipe type:
Main Dish, Seafood
Cuisine:
Portuguese, American
Ingredients
4 lbs boneless pork shoulder butt, cut into 1-inch pieces
1 tablespoon oil (avocado oil or olive oil)
5 garlic cloves, sliced
1 tablespoon harissa
1/2 teaspoon smoked paprika (or regular paprika)
1/2-1 teaspoon coarse kosher salt
1/4 teaspoon coarse ground black pepper
1 cup white wine (any variety, I usually use dry white wine, but have used rose with great results)
3 lbs small clams (cockles, bottlenecks, etc) I used New Zealand Cockles I got at Costco) rinse with sugar water to remove all sand, do this twice and let them soak, then swish them to open and replace sand with the sugar water, like ocean waves that flow to get the sand in there, get the sand out and the sugar will dissolve leaving great un-gritty clams. (you can use salt and in your water if you prefer to wash out the sand)
Serve with
1 lb baby Yukon gold potatoes coated in oil and salt (roasted in oven 400° for 15 minutes)
Crusty bread
Lemon wedges
Instructions
Brown meat in a tablespoon of oil on high (in the Instant Pot Saute Mode, or a skillet) Do this in small batches so the meat browns, until all the meat has browned sides.
Next mix the wine, harissa, paprika, salt, and pepper to the pork in the pot of the instant pot.
Close the lid and seal the steam knob.
Set the pressure cooker to 30 minutes.
Allow the pressure to release for 5 minutes on its own, then release the pressure by moving the know to open, to release the remaining steam.
Add the clams, close the lid and set the timer to 5 minutes, then release the steam and check the clams, if it needs another minute or so just cover with lid or foil until all the clams open. Depending on size these take 10 minutes. Discard any clams that do not open.
Plate the dish by putting the crispy potatoes on the bottom of the bowl, then scoop onto them the pork and clams with sauce.
Add a squeeze of lemon and add salt and pepper to taste.
Serve with a side salad or vegetables like broccoli or asparagus and crust bread.
And a glass of sangria.
Enjoy.