A dip so delicious you'll wonder where it has been all your life!   
Crab Rangoon Dip
Don't miss one delicious recipe from Created by Diane and get my FREE e-cookbook click here!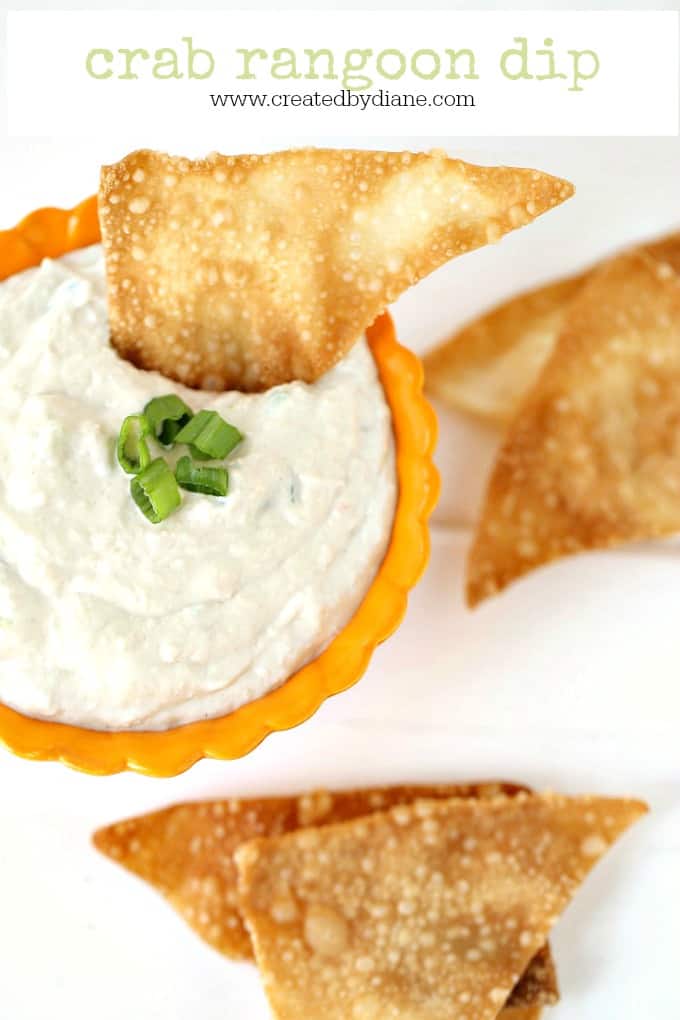 I am a HUGE fan of Asian Food,
always have been.
I just love the flavors and when they serve up  Crab Rangoon appetizers.
This dip is easy and you don't need to spend the time wrapping them in the wonton wrapper.
Just heat up the dip, and make some wonton chips and you're all set.
You can also serve this over slices of baguette bread or pasta, or tortilla chips. Yes, I enjoyed it on all!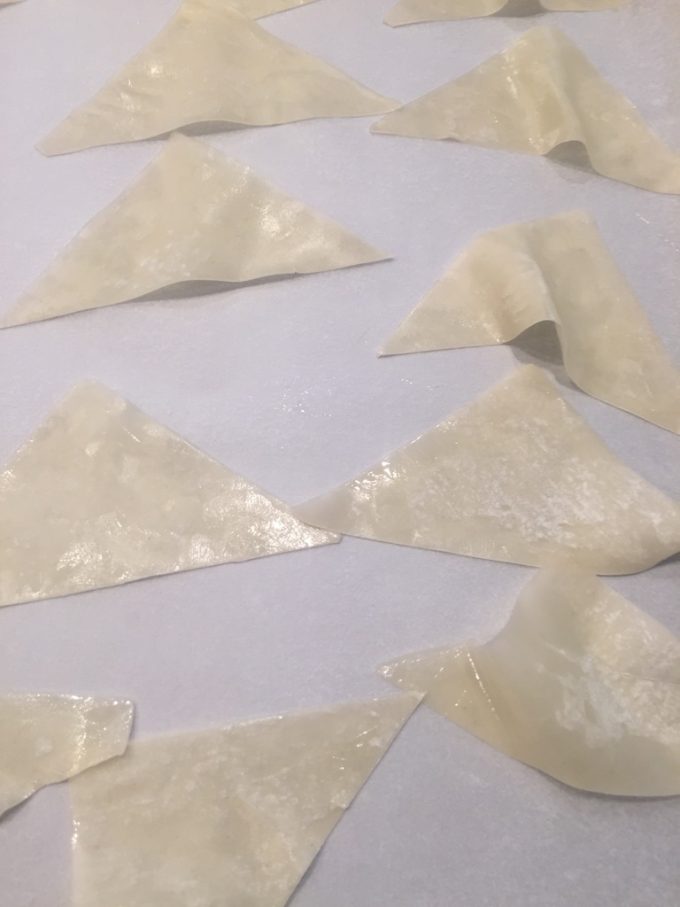 I'm sharing with you the two ways I make wonton chips. I cut wonton wrappers in half to create triangles, then separate them. Place them in a bowl and drizzle a small amount of oil over them and mix until they are coated. Line them on a baking sheet lined with parchment paper. Bake at 400 degrees for a few minutes until they are golden.
Alternatively, you can fry them. I like them fried! Just heat a couple of inches of oil to 350 degrees and cut wonton wrappers and they fry up really quick, lift them out with a mesh strainer, or slotted spoon and drain on paper towels.
This recipe makes 2 cups of dip.
I just LOVE having it in the fridge to slather on a baguette. I even ate it for breakfast! Have you seen my other ideas for items to eat for breakfast on toast? Click here for my TOAST OVERLOAD post.
Crab Rangoon Dip
Ingredients
1 tablespoon butter
1 teaspoon garlic paste or minced
8 oz cream cheese (room temperature)
8 oz sour cream
1 6 oz can lump crab meat (drained)
2 green onions diced
1 tablespoon soy sauce
3 drops chili oil
1 teaspoon sesame oil
1 tablespoon lemon juice
1 teaspoon Worcestershire sauce
1/4 cup parmesan cheese
Instructions
In medium saucepan heat butter with garlic, add in cream cheese and cook over medium heat until smooth and creamy.
Add sour cream, crab, onions, soy sauce, chili oil, sesame oil, lemon juice, Worcestershire sauce and parmesan cheese.
Heat thoroughly over medium to medium-low heat until all hot and bubbly.
Serve with baked or fried wonton chips, spread over a baguette or over pasta.