This fresh flavored pasta salad is tangy and delicious and is sure to become your go-to menu item all year long.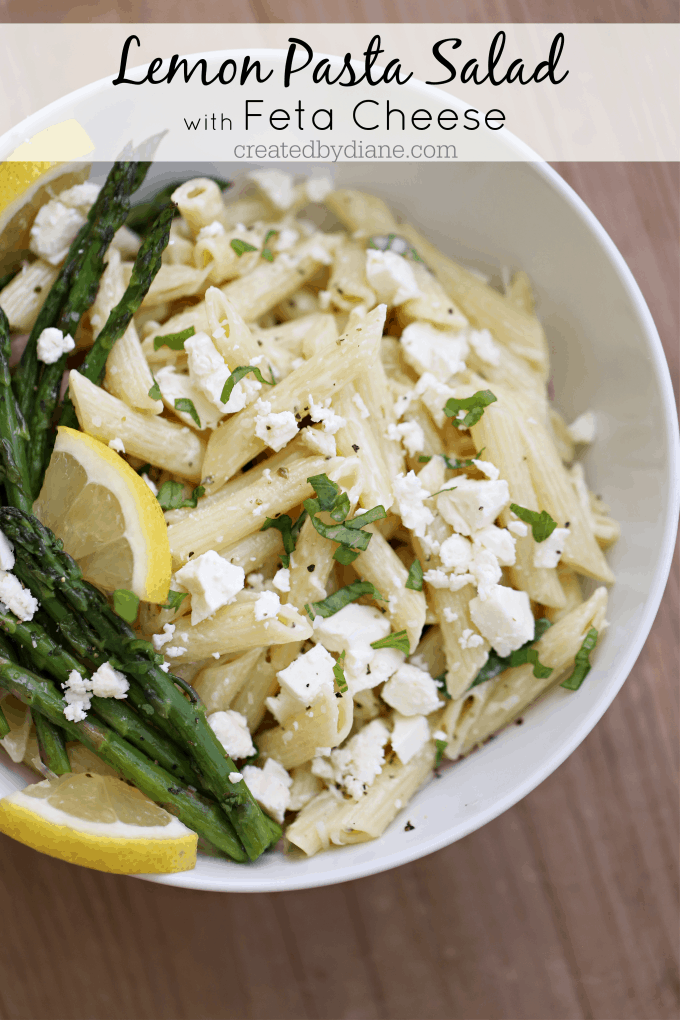 I never get tired of pasta salad!
And this one is FULL of delicious flavor, tangy and lemony, and oh so yummy!
There is something about lemon, fresh basil, and feta cheese that is just a truly winning combination.
Pasta salads are so great, don't you just love them!
I really do! And they are so great for on the go eating. I've made this pasta salad and have brought it many places, even when we drove cross country. I packed a cooler full of food, so we could eat anytime we wanted. It was one of the best items I made!
I love bringing a pasta salad for summer cookouts, the beach, and parties too.
To tell you the truth, I just LOVE having pasta salad in the refrigerator so anytime I'm hungry I can just grab a bowl and enjoy.
The flavor combo in this one will wow you. The tangy lemon flavor with the sharper taste of feta cheese, now add in basil, oregano, and asparagus and you have a winner when you add it to pasta.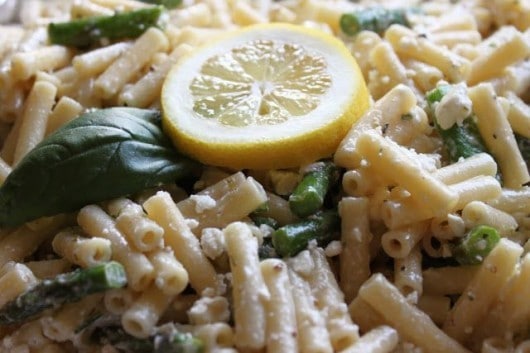 Can you make pasta salad the night before?
Yes, it's even better when it's made ahead of time, it allows the sauce to coat the pasta and give the dish more flavor. You can cook the pasta and rinse it in cold water and drain it and place it in the fridge if you are preparing to serve this more than a day after making it, especially for a party. Cooked pasta stays well in the fridge. Then the night before serving, toss it with the oil and lemon, then add the other items closer to serving.
How long does pasta salad last in the fridge?
One great thing about pasta salad recipes especially with an acidic dressing is that they stay great for days in the fridge. This pasta will keep well for 3-5 days, if you make it a day or so ahead of time, add the cheese just before serving for the freshest pasta salad.
How do you keep pasta salad moist?
The oil and lemon coat the pasta and keep this pasta recipe from drying out.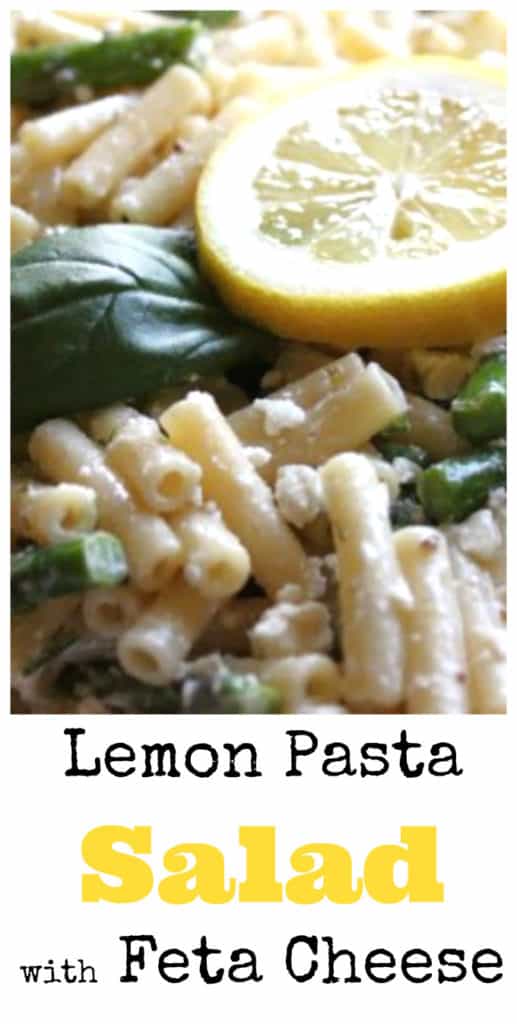 Lemon Pasta Salad with Feta Cheese
This fresh flavored lemon and feta cheese pasta salad will be the best thing you bring to a pot luck!
Author:
Diane Schmidt Created by Diane
Ingredients
1 pound mini ziti pasta (or penne)
1 bunch asparagus (1-1 1/2 lbs)
4 oz crumbled feta cheese
2-3 tablespoons olive oil
1/2 cup fresh lemon juice
1/2 teaspoon dry oregano
salt and pepper to taste
6-8 leaves fresh basil leaves (chopped)
Instructions
Cook pasta according to package directions, then put pasta in an ice bath.
Cut and roast asparagus in a hot skillet (al dente) not soft
Drain pasta.
Place pasta, asparagus, feta cheese, oil mixed with lemon juice, oregano, salt, and pepper.
Toss until combined and then add basil and mix.
Serve chilled.
*if the lemons are too tangy for you, heat the sauce on the stove to mellow the flavor, you can also add minced garlic if heating the sauce.
*heating it with 2 cloves of crushed garlic is wonderful also.