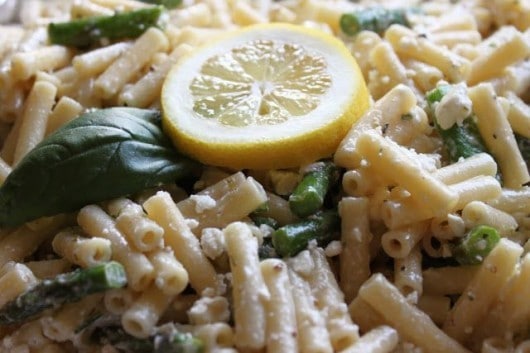 I never get tired of pasta salad!
There is something about lemon, fresh basil, and feta cheese. 
Pasta salads are so great, don't you just love them!
I love bringing a pasta salad for summer cookouts, the beach, and parties.
To tell you the truth, I just LOVE having pasta salad in the refrigerator so anytime I'm hungry I can just grab a bowl and enjoy.
The flavor combo in this one will wow you. The tangy lemon flavor with the sharper taste of feta cheese, now add in basil, oregano, and asparagus and you have a winner when you add it to pasta.
Lemon Pasta Salad with Feta Cheese
Ingredients
1 pound mini ziti pasta (I use Barilla Pasta, it's my favorite)
1 bunch asparagus (1-1½ lbs)
4 oz crumbled feta cheese
¼ cup olive oil
½ cup fresh lemon juice
½ teaspoon dry oregano
salt and pepper to taste
6-8 leaves fresh basil leaves (chopped)
Instructions
Cook pasta according to package directions, then put pasta in an ice bath.
Cut and roast asparagus in a hot skillet (al dente) not soft
Drain pasta.
Place pasta, asparagus, feta cheese, oil mixed with lemon juice, oregano, salt, and pepper.
Toss until combined and then add basil and mix.
Serve chilled.
*if the lemons are too tangy for you, heat the sauce on the stove to mellow the flavor, you can also add minced garlic if heating the sauce.
*heating it with 2 cloves of crushed garlic is wonderful also.