In the world of sweet and savory, these come in as a new favorite, I just love scones and all things that combine that sweet and savory flavor combination.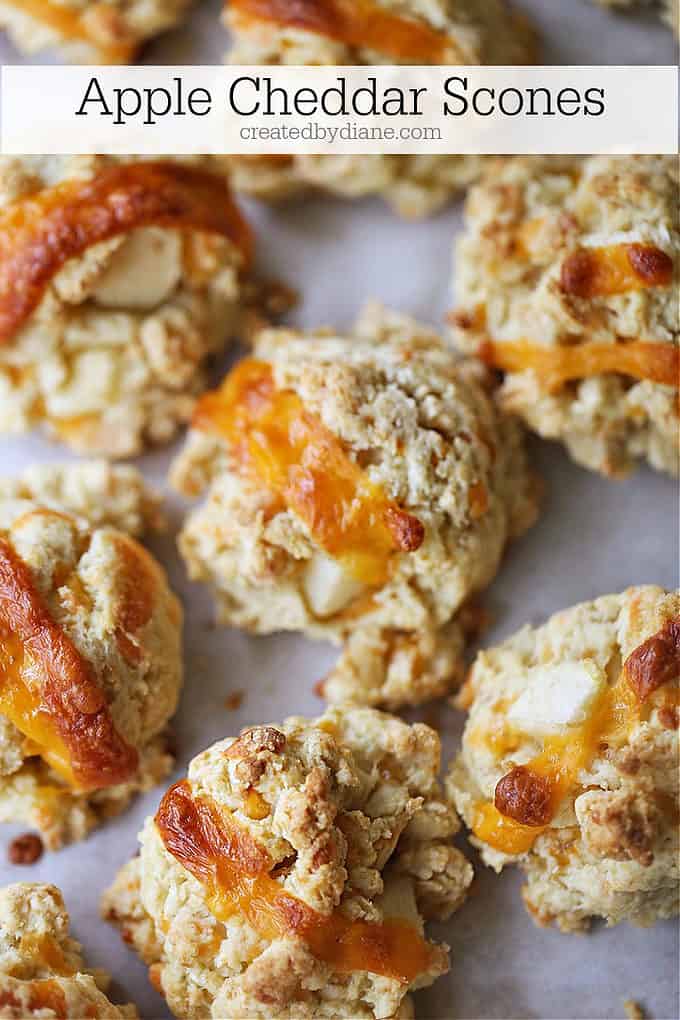 The ingredients are simple, diced apples and grated cheddar cheese… oh the yumminess.
These savory sweet apple cheddar scones are mouthwateringly delicious!
There's nothing better than a warm, just out of the oven, scone. And these apple and cheddar scones are some of my favorites–they are savory-sweet and not at all dry. And if you've never had cheddar cheese with apples, then you've been missing out! 
These drop scones are simple to make, and no pastry skills are needed. Just mix and scoop. These savory scones are bound to win you over.
Cheddar cheese served with apples has a long history–in fact, since the 1800s. This combination likely evolved out of 17th century England where it was traditional to serve pies with a dairy-based sauce, such as a custard. Over time this tradition evolved and eventually, the pies became topped with cheddar cheese instead. And now, cheese is paired with apples regularly in certain areas of the U.S., and that includes scones…
And these scones are tender, not dry. I find that people who don't like scones, simply have never had a good one. A good scone should be tender and moist–not dry and crumbly. And the secret to the tenderness of this scone is cream. Additionally, when we think of baked goods, butter is often the first image that comes to mind. But when you add cream to your scones, butter is not needed. The cream has all the fat needed. It produces an indulgent product that is lovely paired with fresh fruit, butter, or whatever your taste buds dictate.
Additionally, there's no egg in these scones. With the cream doing all the work of butter and eggs, you have a recipe that is simple, quick to make, and delicious.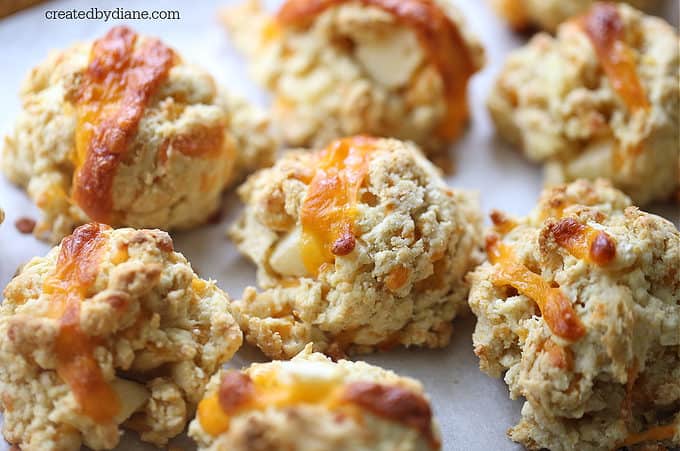 And if you're onboard for scones, but aren't feeling very adventurous when it comes to pairing cheddar cheese and apples, I have other fantastic scone recipes that are just as quick and easy to make! Depending on your poison, I have both sweet and savory ones:
And if you just want to try your hand at creating your own unique flavor combinations, I have an excellent basic buttermilk scone recipe to act as a base for chocolate chips, pistachios, green onions–you name it even a simple glaze icing.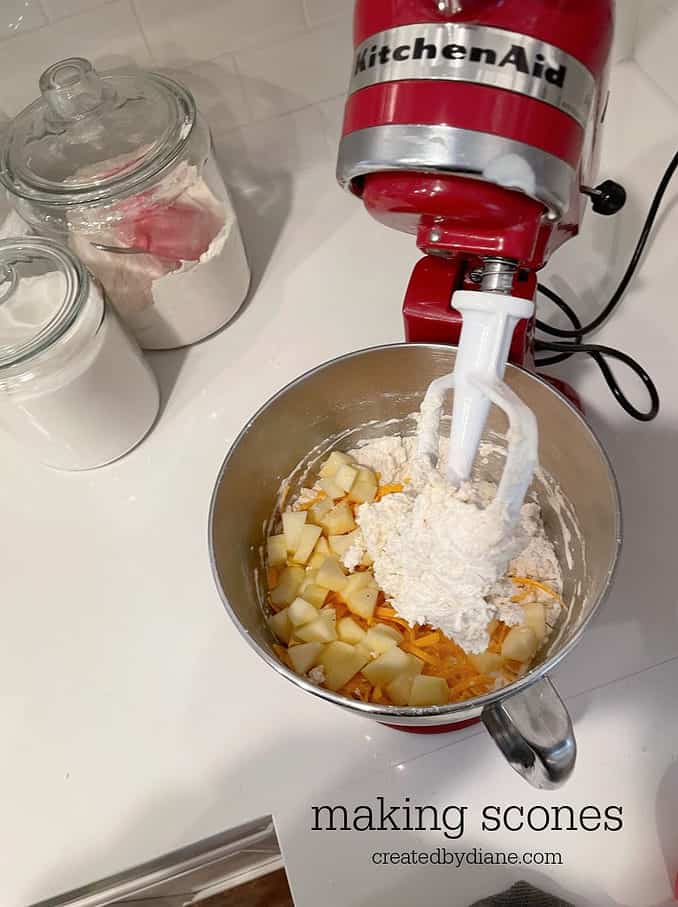 These cream scones are made with a mixer, you can mix them by hand if you prefer. Don't overmix the dough as it'll make the dough tough.
Okay, let's go ahead and go through the steps in making these sweet apple and cheddar scones!
To begin, preheat your oven to 375°. Line a baking sheet with parchment paper.
In a bowl of a mixer, add your flour, baking powder, baking soda, and salt. Turn your mixer on low to combine.
While the mixer is slowly mixing,  drizzle in the heavy cream and turn up the mixer to medium to combine.
Next, add the apple and cheese. It's important to note here that 1 cup of cheddar cheese is equivalent to 4 ounces–not 8 ounces. Cheese is measured a bit differently than flour or cream. Mix until just combined–the mixture will look like crumbs, but still hold shape when pinched together.
From here there are a couple of different ways you can approach this. If it's your first time making scones, then using a 3 tablespoon scoop to form the scones may be the easiest approach. Simply scoop and press the dough into the scoop to hold its shape, then drop onto the parchment-lined baking sheet.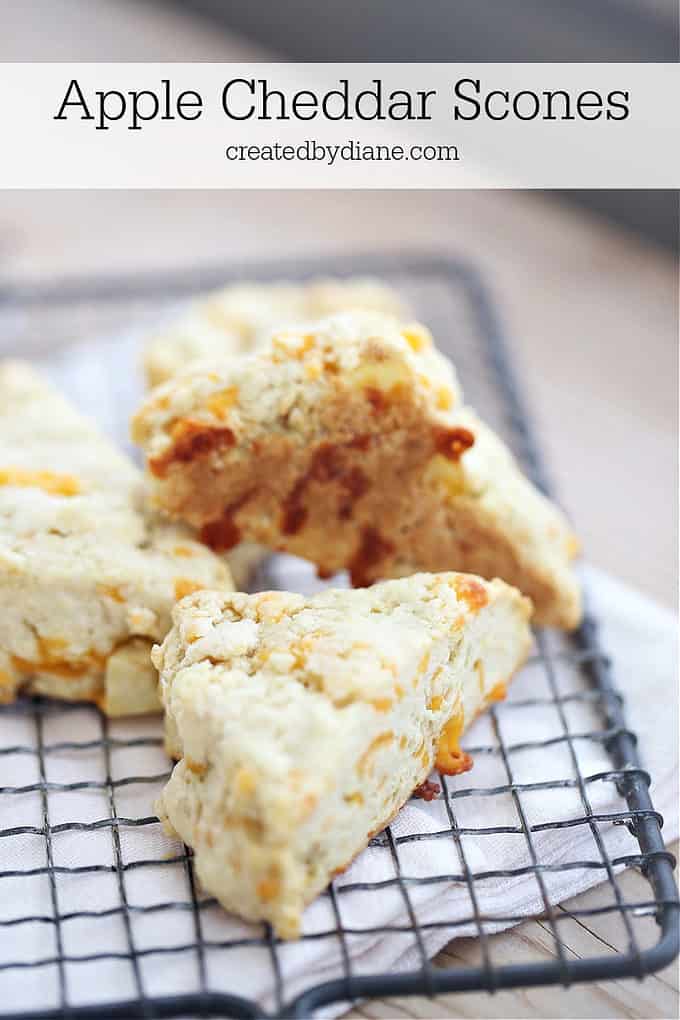 Or, if you prefer to do the shaping by hand (which can be very therapeutic),  turn the mixture out onto waxed paper and pat it into place, or roll it into a desired thickness (an inch or less works fine). Next, cut it into triangles using a knife or biscuit cutter.
Once you've scooped or cut all your scones and placed them on your baking sheet, add a thick piece of shredded sliced (large shred) cheese to the tops of each scone if you prefer.
Bake approximately 15 minutes, or until a toothpick comes out clean and scones feel "light" when picked up, versus "heavy and wet". If scones are not done, add one minute.
Finally, enjoy your creation, and let me know what you think!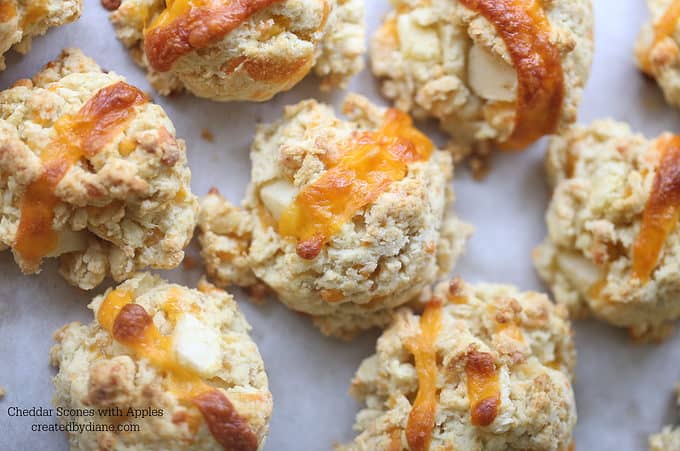 Frequently Asked Questions
Can I leave out the apples?
Yes, you can omit the apples if you prefer. If you'd like more savory flavor add in some garlic powder and even parsley, oregano, or Italian seasoning.
I don't have a mixer, can these be mixed by hand?
Absolutely! I'm relatively certain they didn't have Kitchen Aids in the 17th and 18th centuries, so by hand is fine–just don't overmix!
I don't have cream, but I'd like to make these. Is there something I can use as a substitute?
You can use milk and butter–though they won't be as tender or moist as a cream scone, they'll still be delicious! To substitute cream simply replace 1 cup of cream with ½ cup of butter and ½ cup of milk. 
What do scones taste like?
They are much like biscuits. It'll all depend on what you're adding to them. Plain scones are really buttery and have a slight sweet tanginess. There are numerous ingredients such as apples and cheddar that you may directly add to the dough to change up its overall flavor. You can also serve jam, custard, or flavored butter with them. 
If you're a huge bacon fan, you can go ahead and add 1/2 cup of cooked chopped bacon to the scones when you add the cheese. It'll give these a great smokey flavor complimenting the apple and cheddar cheese.
Apple Cheddar Scones
Tender cream scones, no butter, no eggs needed to make these apple cheddar scones.
Author:
Diane Schmidt, Created by Diane
Recipe type:
Appetizer, Breakfast, Bread, Biscuit, Scones
Cuisine:
American, English
Ingredients
3 cups all-purpose flour
1 tablespoon baking powder
2 tablespoons sugar
1/2 tsp baking soda
Pinch salt
1 1/2cups cream
1 cup apple peeled and diced
1 cup ( 4 oz) shredded cheddar cheese
Instructions
Preheat oven to 375°
In the bowl of a mixer add the flour, baking powder, baking soda, and salt. Give the mixer a mix on low to combine.
Then drizzle in the heavy cream and mix on medium to combine.
Add the apple and cheese and mix until just combined, the mixture will look like crumbs, but moist.
Scoop with a 3 tablespoon scoop and press the dough into the scoop to hold its shape, then drop onto parchment lined baking sheet.
Or turn the mixture out onto wax paper and pat it into place, or roll it into desired thickness and cut it into triangles.
Add a thick piece of shredded cheese to the tops of each scone.
Bake until a toothpick comes out clean and scones feel "light" when picked up versus "heavy and wet". But don't overbake.
These baked for 15 minutes at 375°.
Test the scones with a toothpick, add 1 minute at a time if needed. Larger or thicker scones may take a minute or two longer.