I love breakfast, but I prefer to go beyond eating just "traditional" breakfast foods.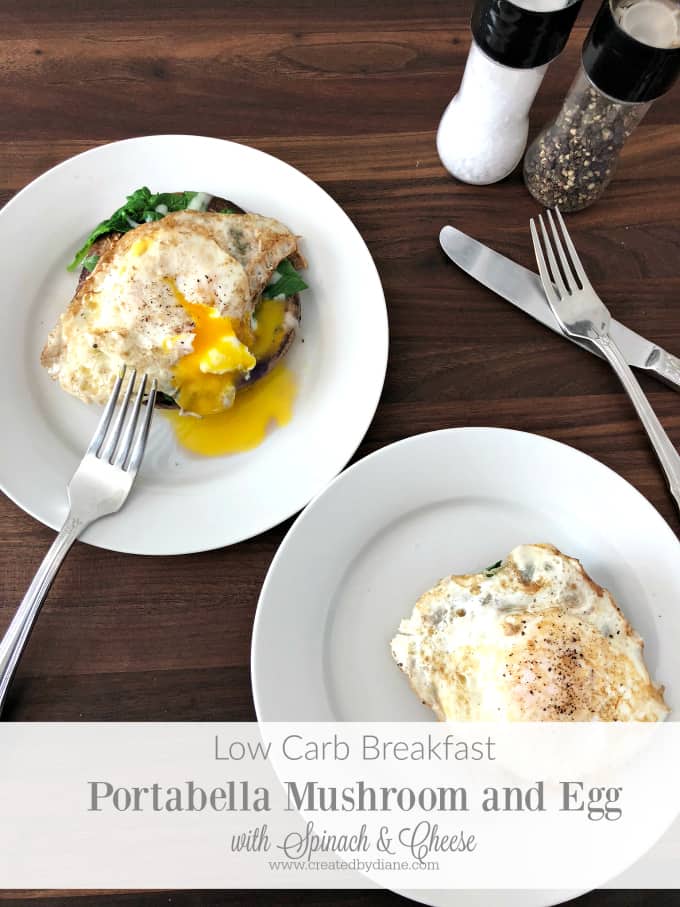 This portobello mushroom and egg stacked up with spinach looks fancy but is very easy to prepare and tastes amazing.
 I enjoy making breakfast with a twist, I get tired of the same old thing.
I try to incorporate more vegetables into meals and this is not only full of vegetables it's filling and is a great low carb breakfast.
Portobello mushrooms are a tasty and healthy base for all the delicious toppings in this recipe.
These make a fabulous brunch entree as well because they're so elegant and colorful. Heck, we love it so much around here, we serve it for breakfast, brunch, lunch or dinner, it's that good!
More mushroom recipes: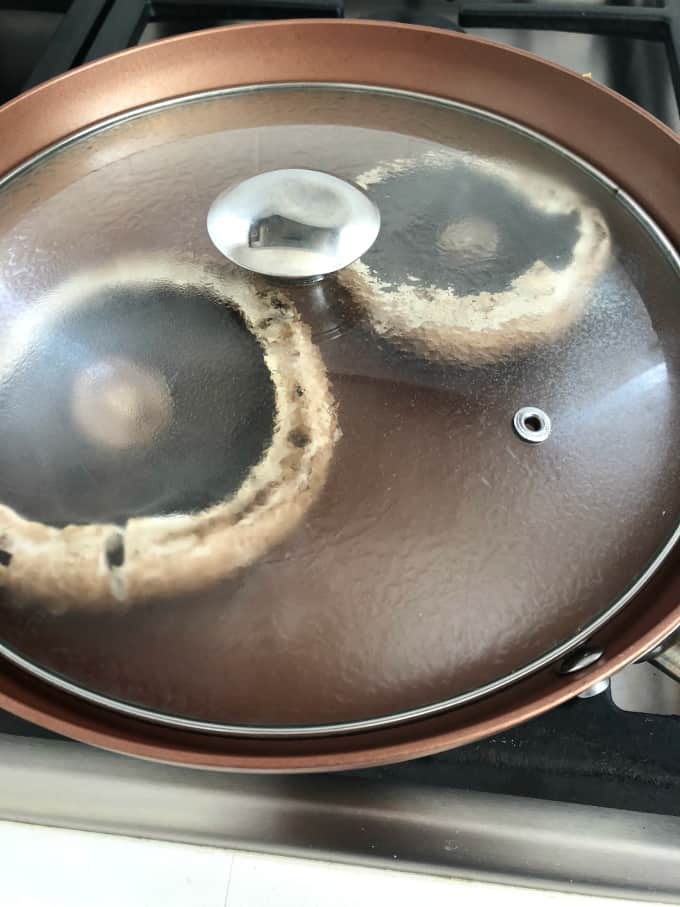 I start by cooking the mushrooms in a skillet with a lid on them.
I add a little bit of water to the pan to create steam to cook the mushrooms quickly.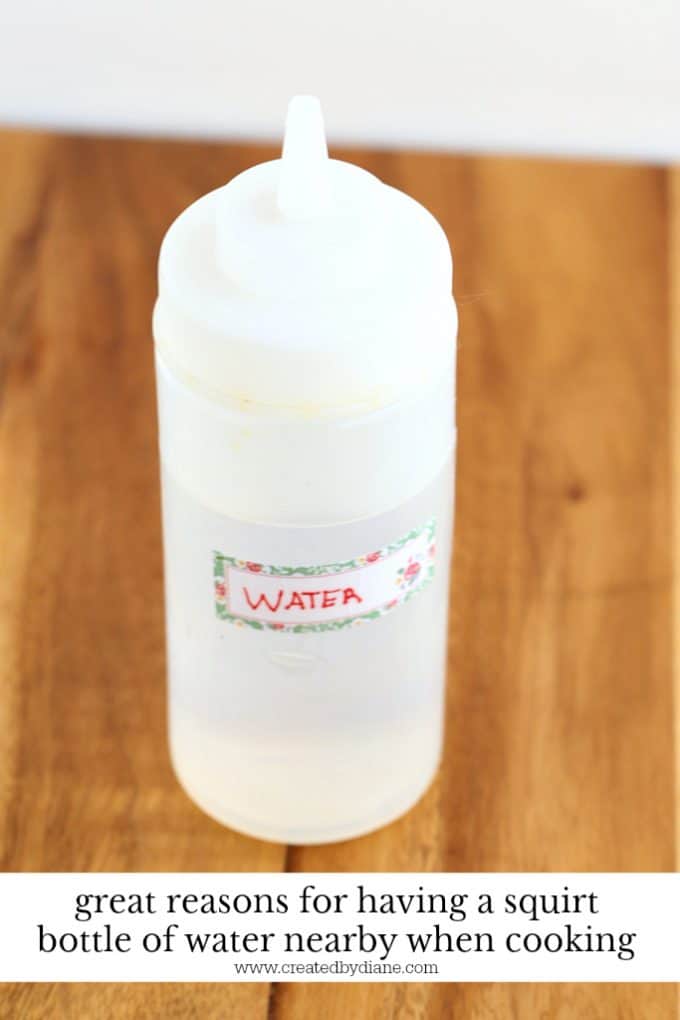 The main reasons I keep a squirt bottle of water nearby when cooking too:
add when a sauce or pan is drying out and I don't want something to burn. A few drops does wonders when cooking!
to create steam great when cooking vegetables, the cooking process goes quicker without making the vegetables soggy.
when reheating chicken in a pan, add a few drops of water so the chicken doesn't dry out.
it's convenient to have nearby, you don't have to grab a glass and then fill with water and get it back to the stove, cooking can be time sensitive and I love having the squirt bottle nearby.
be careful when adding it to a hot skillet especially if there is oil in it, it will steam up and can burn you. Best thing to do it to turn off the burner, let the pan cool then add some water and continue cooking.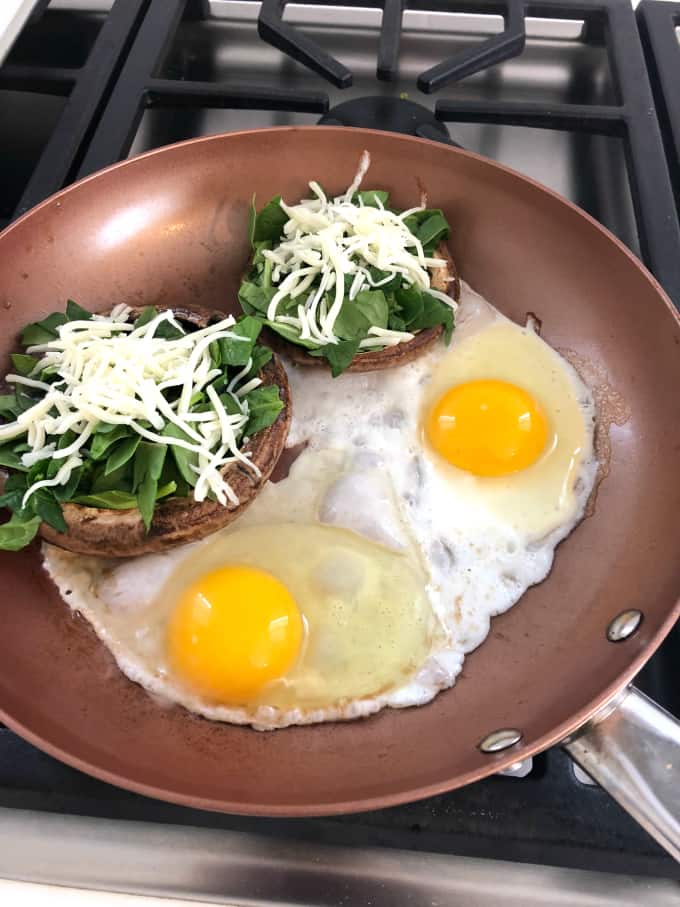 As soon as they start to become tender…
I top them with some raw spinach and mozzarella cheese ( you can use any variety of cheese) and then I add some butter, then eggs to the other side of the pan and cook them until the centers are just setting up(Cook your eggs how you prefer them).
You can also cook them in a separate pan. I like to avoid too many dishes, so I tend to cook things all in one pan.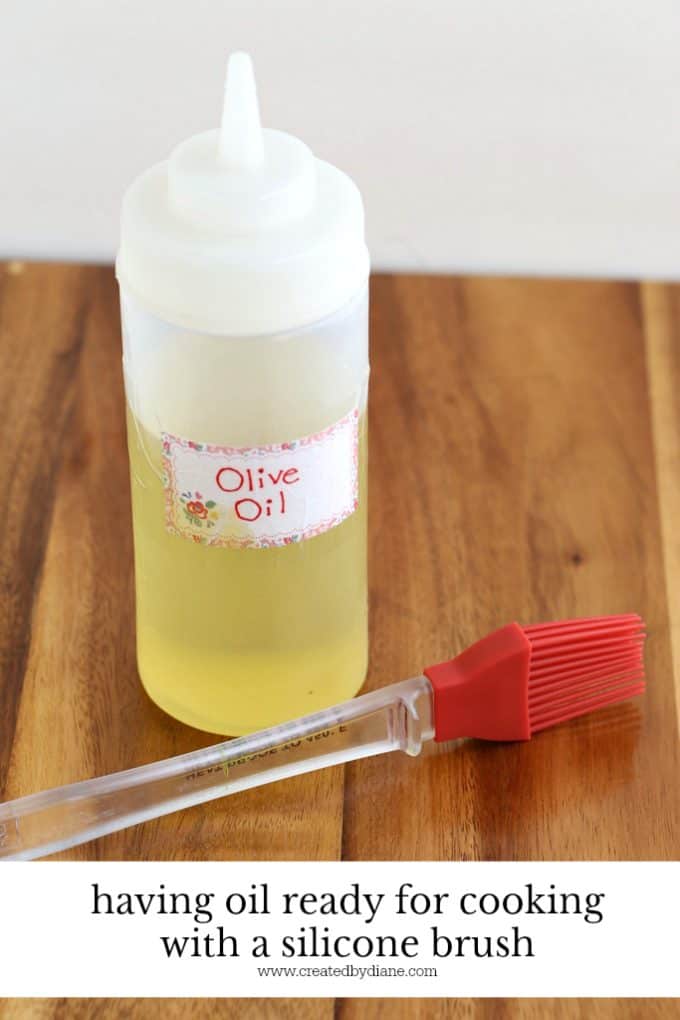 I keep my oil in a squirt bottle too and use a silicone brush to oil my cooking pans, I find I use less oil and having it nearby without a screw on lid on it allows me to use it quickly.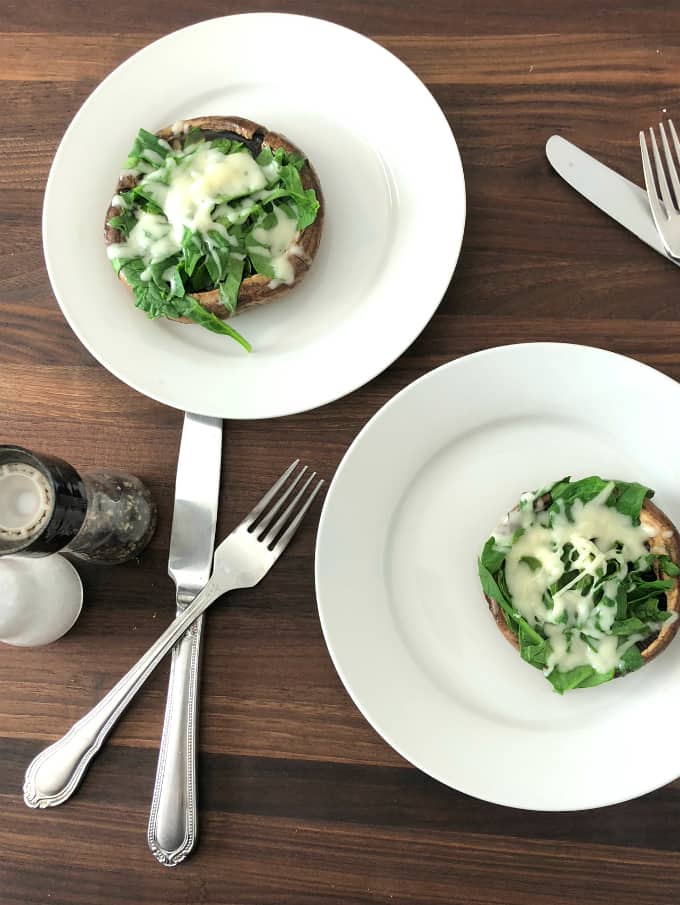 One thing is for sure, have plates ready when cooking breakfast.
Eggs can go from beautiful to overcooked very quickly. I like my eggs to run, often I leave my husbands egg in the pan for another minute he likes them firmer.
I love this new pan I got mainly for cooking eggs, otherwise, I use a cast iron skillet. The new pan I got was rated really well for cooking eggs, and I've been using it for a few months and love it!
Fun fact: portobello mushrooms can grow up to five inches in diameter and are just the mature version of the white button or brown crimini mushrooms. 
Low Carb Breakfast Portabella Mushroom and Egg
Ingredients
2 portabella mushrooms
1 cup raw spinach
1/4 cup shredded mozzarella cheese
2 eggs
Instructions
Heat a skillet and place the portabella mushrooms in the pan, add a few drops of water and place a lid on top and cook until they begin to become tender, this only takes a couple minutes.
Top the mushrooms with spinach and cheese.
Oil the other side of the pan, crack the eggs and begin cooking them, place a lid on top, turn eggs when the bottoms have firmed up.
Continue covering eggs until the desired doneness is achieved.
Place mushrooms on a plate, add eggs and enjoy!