Avocado Corn Cakes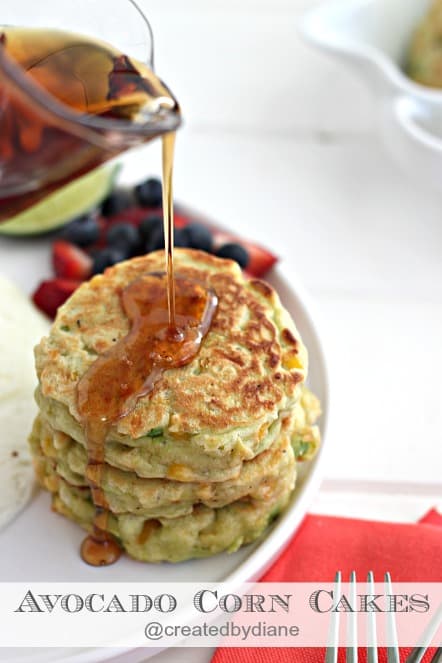 Breakfast just got a kicked up a notch with these Avocado Corn Cakes
they are so delicious, they are enjoyed with syrup or sour cream appealing to both
the sweet and savory breakfast lovers…
these are great for brinner too…you know breakfast at dinner time,
Not going to lie here….I couldn't stop eating them, neither could anyone else.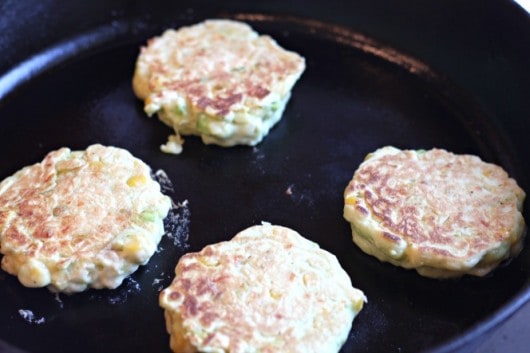 Mix up the batter and place three tablespoon size scoops of batter into a heated skillet on medium, they will be ready to turn when they get firm on the edges. I placed a lid on them for minute to trap in some steam and help them cook quickly, flip them over then cook for another minute on the other side.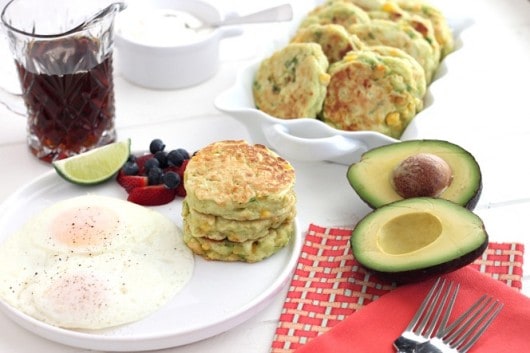 I like mine with sour cream, that's how I like potato pancakes too.
I'm always looking for savory breakfast items and this, this is my new favorite.
Do you have a favorite topping for savory pancakes?  Maybe it'll be good on these too.
I served the avocado corn cake with eggs and fruit. I love that California Avocados go so well with breakfast and can't wait to make some more creative recipes with them. Replacing avocados for some other breakfast choices like cream cheese, peanut butter or butter will not only save you calories and saturated fats  it will give you added nutrition too.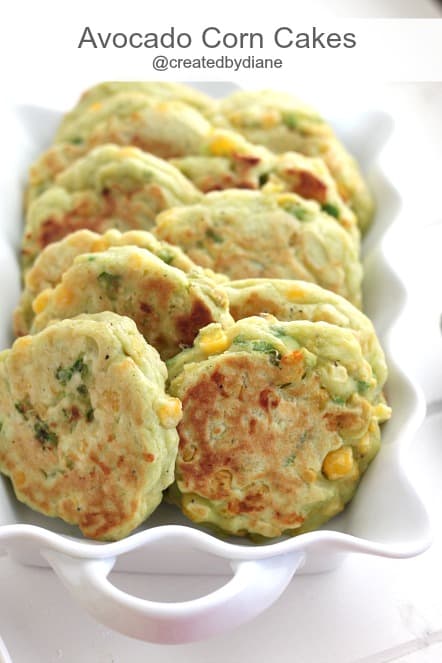 I am going to go out on a limb here, but these can go way beyond the breakfast table, and well I think they would go with fried chicken really well,
ok….I'm am actually starving right now and that all sounds super-delicious to me!
If you want to spice up these a bit, add some diced jalapeños and cilantro is also good in these, I'm thinking pepper jack cheese could be the way to go here….that I will try next time.
The guys put Cholula hot sauce on them and loved it, so spice them up if you like!
Avocado Corn Cakes
Ingredients
2 cups frozen corn (thawed)
1 1/2 cups flour
2 teaspoons baking powder
1 teaspoon salt (coarse)
1/4 teaspoon black pepper
1 scallion diced
2 eggs
1 tablespoon melted butter (cooled)
1 avocado
1/4 cup cheese (cheddar or a cheddar blend)
1/2 cup milk
(optional) add chopped cilantro if desired 2 tablespoons
Instructions
In medium bowl mix corn, flour, baking powder, salt, pepper, scallion.
In small bowl, whisk eggs and better together, then add it it the avocado diced, along with cheese and milk.
Place wet ingredients into large bowl with dry ingredients and mix thoroughly.
Lightly oil skillet and place three tablespoon size scoops of batter
cook on medium heat (to medium low heat) about 2 minutes or until the batter is lightly golden on the bottom and getting firm on the edges
covering with a lid will help them cook quicker and rise nicely
flip cakes over and cook another 1-2 minutes
Notes
This recipe easily halves for a smaller batch if needed, perfect when you have 1/2 an avocado.
! to thaw frozen corn, place it in a bowl with water while you gather all the ingredients, changing the water a couple times, drain corn well in strainer before adding it to the recipe
I'm woking with California Avocados to bring you some delicious recipes, all opinions are my own. I happen to love California Avocados and am glad they are in season now!