Penne ala vodka, simply put penne pasta with vodka sauce recipe. It's simple and delicious and a recipe you'll make again and again.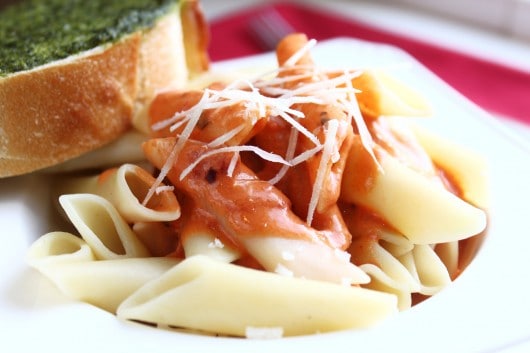 You will not believe how easy it is to make this fabulous pasta sauce. It's almost too easy. You'll think there is more to it, but I'm sharing all my secrets on this one, but let us let everyone think it's WAY more difficult than it is, OK?!
Ingredients for a great vodka sauce
vodka
heavy cream
tomato sauce 
crushed red pepper flakes
salt and pepper
This sauce will coat a pound of pasta nicely, the recipe can easily be multiplied for more portions.
This is not only great over pasta but makes a great-tasting pizza sauce too.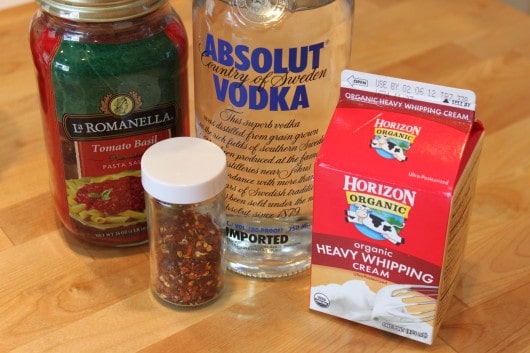 In a medium saucepan, heat tomato sauce and vodka,
stir in cream. (simmer sauce over medium heat) don't boil cream sauces, they can separate and become grainy.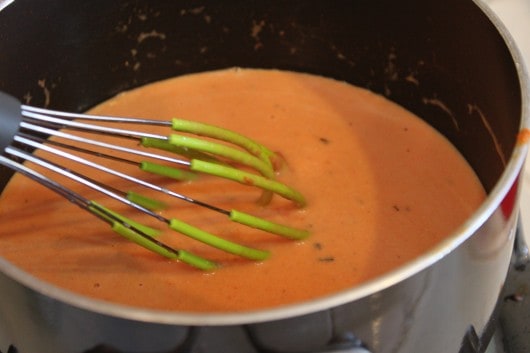 Add crushed red pepper flakes and salt and pepper to taste.
Heat thoroughly.
Serve over one pound cooked Pasta. Top with grated cheese.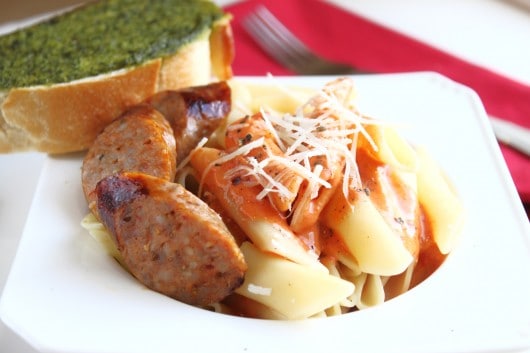 I served this with toasted bread with pesto sauce and spicy Italian sausage, it's a delicious meal that only takes minutes to make.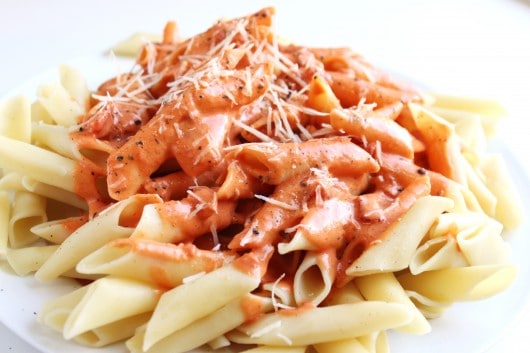 This is a go-to meal, once you make it, you'll most likely make it again and again, it's so delicious!
How do you make vodka sauce taste better?
There are so many things you could add to make it more to your liking.
Add some fresh basil
fresh or dry oregano
saute fresh garlic in some oil before adding the other ingredients
add diced onions to the pan first
Instead of using sliced sausage if you want to add meat, add ground beef or ground sausage, saute the meat first (with garlic ic you choose) then add the remaining ingredients for a rich-tasting sauce.
If you want a cheesy sauce, add in half-cup grated parmesan cheese.
(flavor add-ins can be adjusted depending on which type of tomato sauce you're using and how flavorful it is)
You can substitute half and half for heavy cream, you can add butter to the sauce for a silky and rich flavor. You can also reduce the amount of vodka to your taste. 
Penne with Spicy Vodka Sauce
This delicious smooth creamy pasta sauce has a really great kick from the vodka (alcohol gets cooked off) and a hint of spice from the crushed red pepper flakes.
Author:
Diane Schmidt, Created by Diane
Cuisine:
American, Italian
Ingredients
1/2 cup Vodka
1/2 cup cream
2 cups tomato sauce (marinara sauce, or tomato paste and pasta water)
¼ – ½ teaspoon crushed red pepper flakes
pinch salt and pepper to taste
Instructions
In a medium saucepan, heat tomato sauce and vodka, stir in cream.
Add crushed red pepper flakes and salt and pepper to taste.
Heat thoroughly.
Serve over one pound cooked Penne Pasta (or favorite shaped pasta)
Top with grated Parmesan or Romano Cheese.
Serve with garlic bread and a vegetable like broccoli, zucchini, or spinach.