I'm sure I've mentioned it many times how much I love blueberries, and if you're like me you will LOVE this!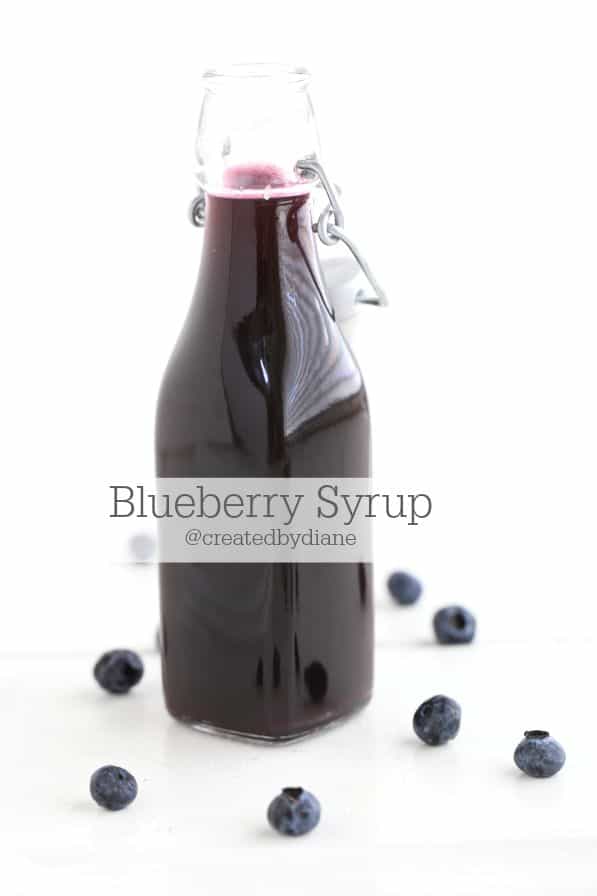 Blueberry Syrup
Pin this on Pinterest to save it for later!
Follow Created by Diane on Pinterest to see some delicious recipes!
There are MANY uses for this syrup and I know I haven't even thought of them all.
I love this fresh blueberry syrup in lemonade, Italian Cream Sodas (click here for how to make Italian Cream Sodas) It's delicious over ice cream and I will be sharing another recipe using it soon.
Grab yourself some blueberries and let's get started!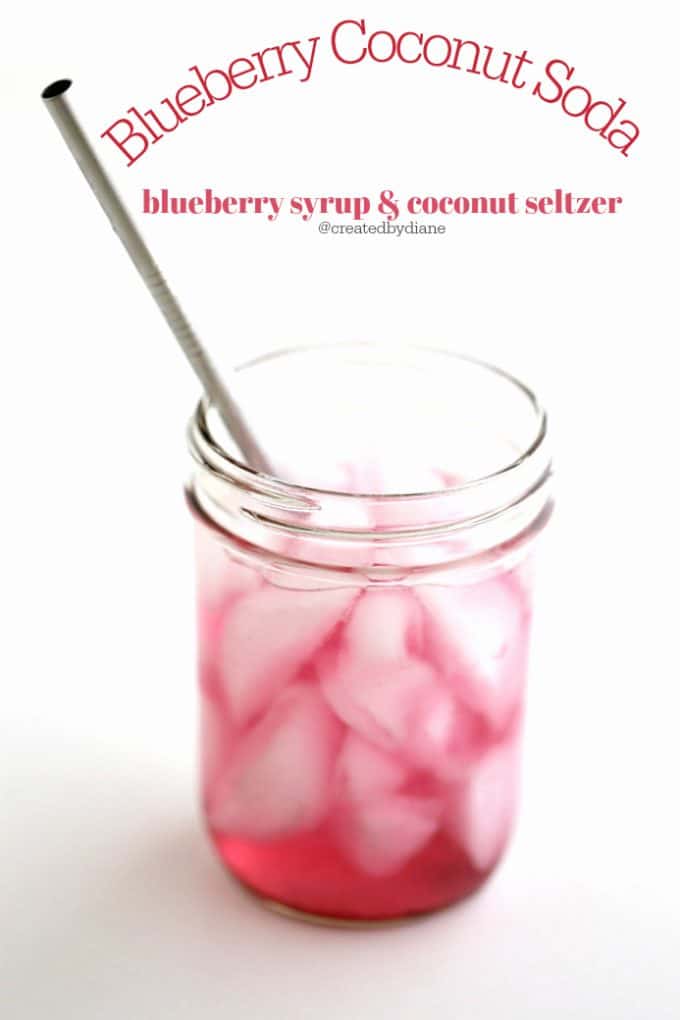 This is my new favorite drink. I add ice to a glass and a couple tablespoons of blueberry syrup and then fill it up with coconut seltzer. It's refreshing and delicious and not overly sweet!

Blueberry Syrup
Ingredients
1 cup sugar
1 cup blueberries
1 cup water
Instructions
In a medium saucepan bring all ingredients to a boil, turn the temperature to medium and cook 2 minutes.
Pour mixture into a strainer and press with the back of a spoon or use a berry strainer press to remove all the flesh of the berries.
The result is a silky smooth blueberry syrup.
Allow the syrup to cool completely before refrigerating, it will keep for up to 4 weeks in the fridge.
You can serve it hot over pancakes and go ahead and throw on some blueberries and whipped cream too, that is the way I like them!
Notes
The better the fruit, the better the syrup. It's best to choose sweet delicious berries. If the blueberries you have are not the best tasting, adding in a teaspoon of vanilla extract or lemon extract will help give you a better tasting syrup. Some times we can't control what the berries will taste like, especially if they are not in season.
If you do LOVE blueberries you may want to check out these blueberry recipes I've made:
Blueberry Banana Chocolate Chip Cake– a flavor EXPLOSION.
Blueberry Scones-a true favorite
Blueberry Curd-so delicious you will want to eat it by the spoonful!
Lemon Blueberry Bread Pudding– an anytime favorite
My mom's Blueberry Pie recipe – Oh how I LOVE this pie!
Blueberry Oatmeal Breakfast Cookies-I could eat these EVERY Day for breakfast!
I often use this Berry Press Strainer. If you make a lot of syrups and sauces and other items with fresh fruit and find you are always pressing things through a strainer, this is GREAT! I love mine.

This post includes an affiliate link.