Blueberry Basil Lemonade Recipe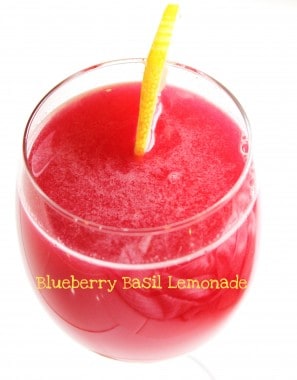 It's officially summer in my house, the kids are off on summer break.
Since they go back to school in August, they don't call it summer vacation anymore, it's just a break.
I love when my kids are home. Yes, no homework or projects may be one reason,
but I really feel sometimes that I hardly get to see them and they are growing so fast!
I now have two in middle school. Wow has time flown by. I hope they aren't too old to have a lemonade stand this year because
I think this Blueberry Basil Lemonade would be the best lemonade to serve at a lemonade stand, along with homemade cookies of course.
If you've never had blueberries or basil in your lemonade you are in for a real treat with this recipe.
It's so yummy and it brings ordinary lemonade to a whole new level.
If you're looking for a great cocktail, add some vodka… it's delicious!
But on its' own this is the perfect summertime drink, perfect for serving to passer buyers at your lemonade stand.
Look what I found…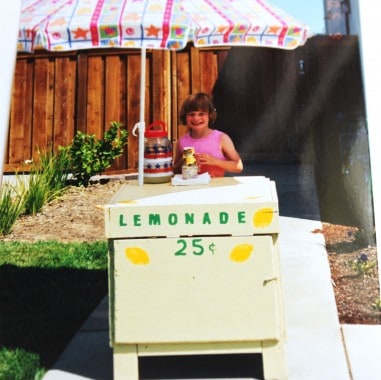 This was taken in 2002. Wow!  my little girl has grown! I just LOVE looking at older photos.
Don't let time fly by, enjoy some delicious lemonade!
Blueberry Basil Lemonade
For each lemon or ½ cup lemon juice add ¼ cup sugar ¼ cup blueberries 4 fresh basil leaves 12-18 oz water depending on how strong you like your lemonade
Ingredients
For each lemon or ½ cup lemon juice add
¼ cup sugar
¼ cup blueberries
4 fresh basil leaves
12-18 oz water depending on how strong you like your lemonade
Instructions
Blend it with an immersion blender then strain it. Pour over ice in a shaker, strain, and serve. If you prefer your lemonade on ice, fill a glass halfway with ice and enjoy.
For a "Hard" lemonade add a shot or two of vodka