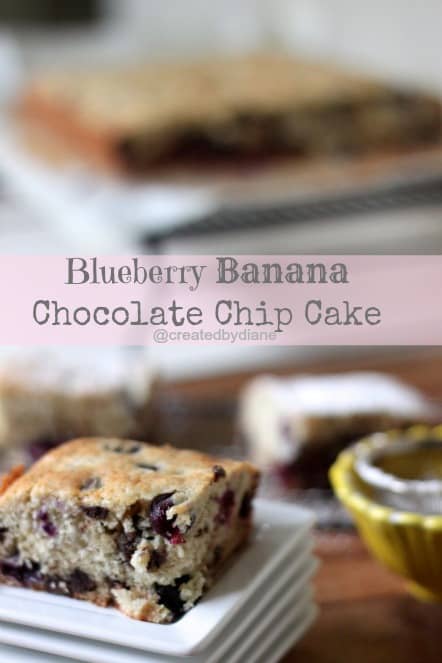 I'm not sure if I prefer this for breakfast or a midnight snack best, but really this Blueberry Banana Chocolate Chip Cake is good any time of day.
It's perfect to wrap up and take on the go in the morning. It's perfect to eat right before bed. It's healthy* really…just think of all that fruit in it. This is the cake that gets asked the question, how many pieces are we allowed to have? You don't want to know what I answer, as you can see I already think it's healthy 🙂
You could stop by and friends house with this and believe me, they will make you a cup of coffee or tea and invite you in, even if they are still in their PJ's.
This cake is so full of yumminess and it's ridiculous, but I didn't think "ridiculous cake" would be the best title, but now that I've typed it, I think that may just be the best name for it.
I'm all for ridiculous, when it comes to cake. Load it up with everything yummy and I'm there.
If you like loaded up cakes, fruit or not and want to share it with me, leave me the recipe or link to your favorite one in the comment section at the bottom of this post. I'm all for trying more CAKE!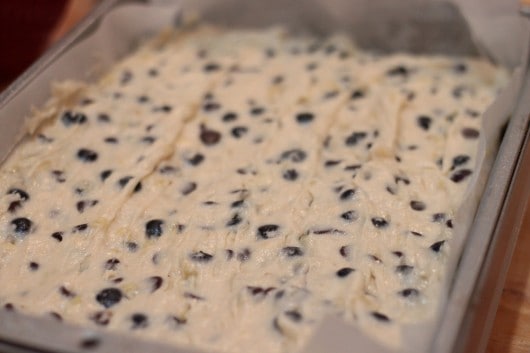 Lining a 13×9 pan with parchment paper makes it easy to remove this cake after it's baked and cooled.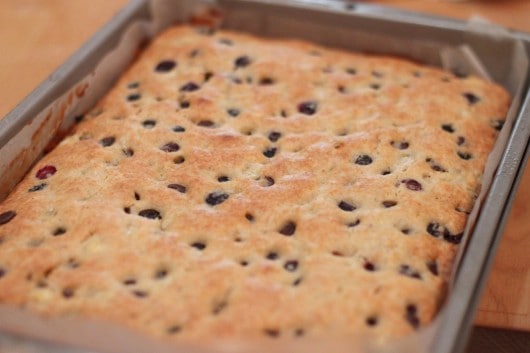 Bake it until it's golden on top.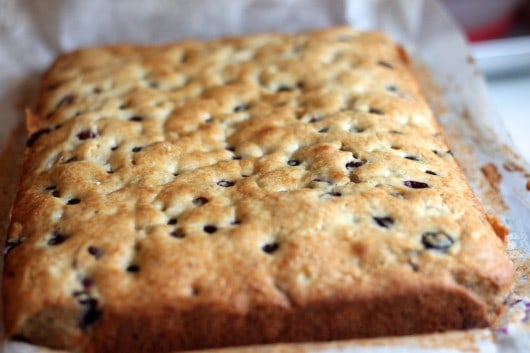 Once it's cooled for about 5 minutes, you can carefully hold the parchment on two sides and lift the cake out of the pan.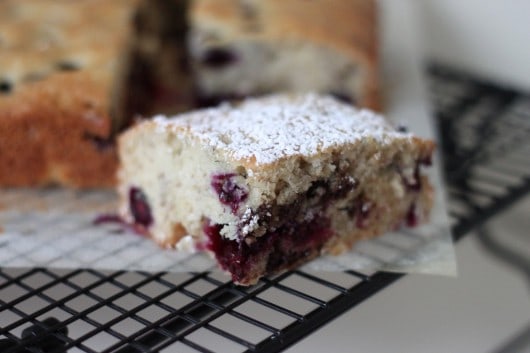 Now is the time to hurry up and slice yourself a piece, before ANYONE else knows it's ready!
I dusted mine with powdered sugar.

Blueberry Banana Chocolate Chip Cake
Breakfast Cake or Anytime Cake...it's cake, perfect for every moment of the day.
Ingredients
½ cup butter
1 cup sugar
1 egg
3 bananas sliced
3 tablespoons milk
2 teaspoons vanilla extract
2 cups cake flour
1 teaspoon baking powder
½ teaspoon baking soda
½ teaspoon salt
2 cups blueberries
1 cup chocolate chips
Instructions
Line a 13x9 pan with parchment paper and spray with a baking spray.
Preheat oven to 350 degrees.
Cream the butter with sugar in mixing bowl with paddle attachment.
Mix in egg until combined.
Add in sliced banana, milk and vanilla.
Mix in the flour, baking powder, baking soda and salt.
Stir in blueberries and chocolate chips.
Spread batter in pan and bake for 30-35 minutes or until toothpick comes out clean.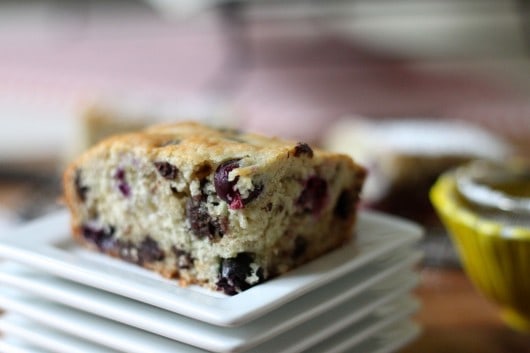 This cake comes out lighter than most banana cakes I've had, I really like it that way. Makes me feel like I can eat more than one piece, and I usually do.
*do not take my nutrition information seriously. I know it's still cake.