Grab and straw, you will want a sip on this…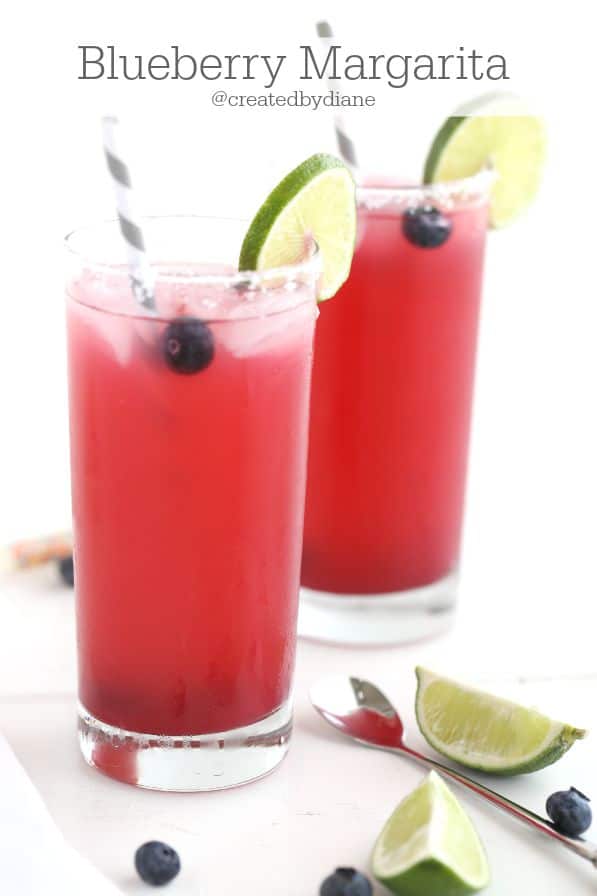 Blueberry Margaritas
Pin this on Pinterest to save it for later!
Follow Created by Diane on Pinterest to see some delicious recipes!
Oh do I LOVE Margaritas, icy cold and I'm all about fun flavors.
What I don't like is thick artificial flavors and a weak drink. That is on my LIST, you have one too right?!?
It's the list of all the tiny annoyances! Ok, maybe it's just me with my invisible list.
The skin of blueberries gives off a SUPER-pretty hot pink color, and well…I think it's gorgeous!
They are magical little berries if you ask me.
Get my recipe for Blueberry Syrup HERE! Believe me, it's worth the few minutes to make it 🙂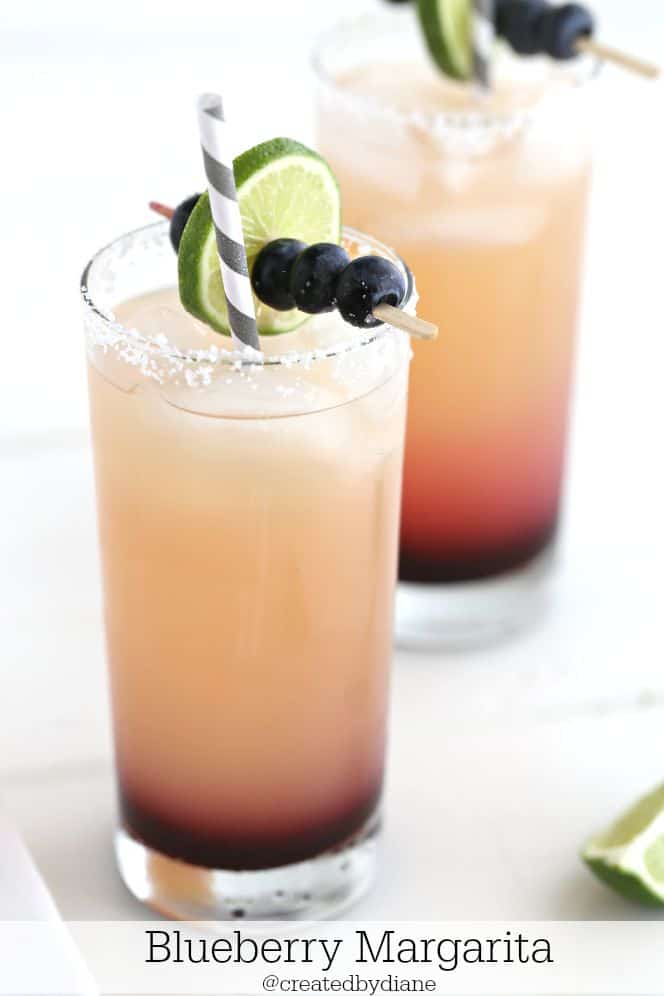 Can you believe this is the same drink…it is!
Be sure to make the blueberry syrup first. If you make it right before making the drinks place it in a bowl, over a larger bowl full of ice and cold water to chill it quickly.
Then grab your drink shaker (drink shakers are so great, don't discount it and just start pouring your drink into your glass)
Add the tequila and fresh lime juice to the shaker with plenty of ice, shake it up and get all the liquid really cold.
Then rim your glasses with lime and salt,
pour in the shaken mixture and then add in your blueberry syrup. If you place the blueberry syrup in bottle you will be able to pour it into the glasses without spilling.
Then garnish your drinks with lime and blueberries!
Don't forget your straw!
When the blueberry syrup is poured into the drink and it falls to the bottom, giving the drink a cool layered effect. It looks great served this way!
With a quick stir, it' mixes right in and you're all set for Sippin'!!!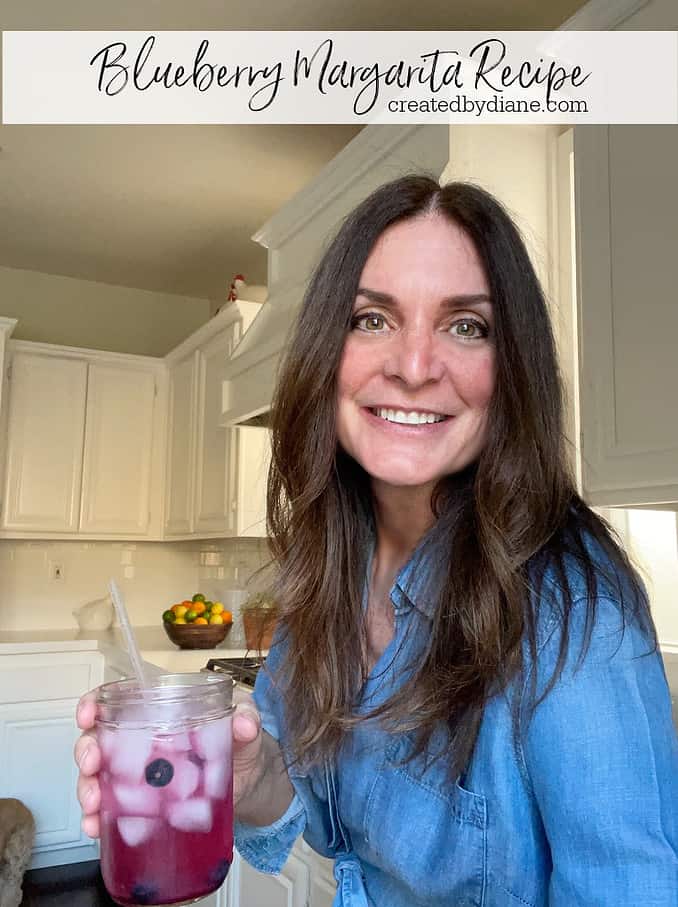 Don't forget to take a look at the Blueberry Syrup Post for more Blueberry Recipes.

Blueberry Margarita
Ingredients
2-4 oz tequila (I use 4, some say it's strong. I don't agree)
2 oz fresh lime juice
Blueberries for garnish
Lime slices for garnish
Instructions
In a cocktail shaker add tequila and lime juice with ice and shake to mix and get everything icy cold.
You can add the blueberry syrup to the shaker if you like to serve the drink all mixed up, or you can add the syrup after pouring it into the glasses. It has a layered effect and the syrup drops to the bottom, then just stir before drinking.
Either way, it's pretty and delicious.
Rim the glasses with lime and salt.
Pour the mix into a glass of ice, and strain out the ice you have in the shaker, that ice is already melting. *that's a tip for a really cold drink! Lots of fresh ice.
Garnish with lime slices and drop in some blueberries.
Notes
*If you prefer a QUICK and easy margarita and have made the blueberry syrup, simply rim your glass with salt. Pour in ready-made margarita mix (that has the tequila in it) and add an ounce or two of blueberry syrup. A delicious drink doesn't get any quicker than that!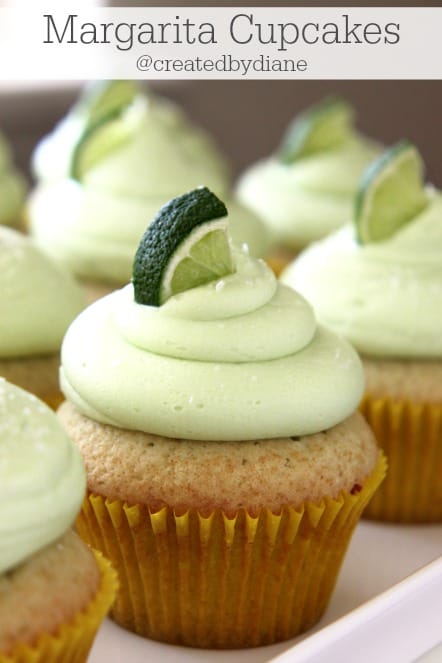 If you love Margaritas you will have to check out these fun Margarita Cupcakes I made!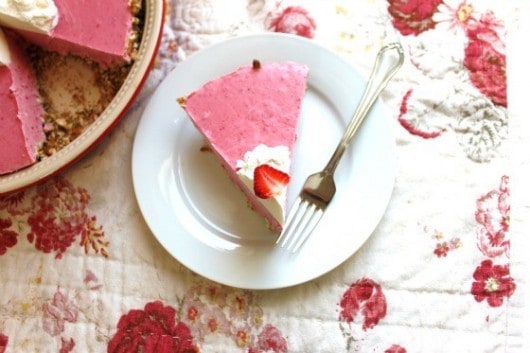 or how about this Frozen Strawberry Margarita Pie…it's super-delicious!
Do you have a favorite Margarita item…I'd love to hear about it, leave me a comment and let me know what it is 🙂