Grab some lemons, you're gonna LOVE this Lemon Syrup Recipe, use it in place of all your simple syrup needs, as it gives added flavor.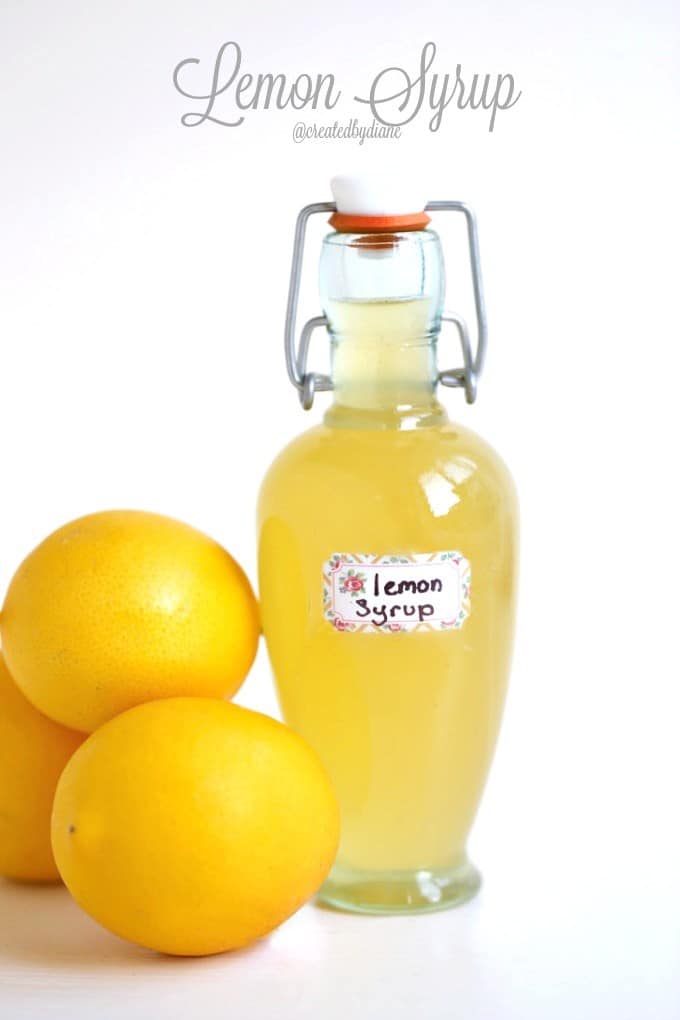 Don't miss one delicious recipe and get my FREE e-cookbook click here!
This lemon simple syrup recipe is easy to make and delicious on so many things.
One of the BEST parts of this time of year is… LEMONS. Yes, lemons.
I bet you thought I was going to mention snowflakes or the adventure of a New Year.
Meyer lemons season is in full swing and oh they are my favorite lemons, so juicy and have such great flavor.
This syrup can be made with any variety of lemons, I just happen to love Meyer Lemons.
What can you do with fresh lemon juice?
Oh, the options are endless and this syrup needs to be at the top of your list.
What is lemon syrup?
Lemon syrup is s lemon infused sugar syrup, perfect for all your simple syrup or syrup needs in general. Great to add to drinks and desserts. I have a whole list of ideas just waiting for you to make.
Do I need to refrigerate simple syrup?
Yes, it stays freshest in the refrigerator.
Can you freeze lemon simple syrup?
Yes, you can freeze it in glass jars or sealed plastic bags for 6 months.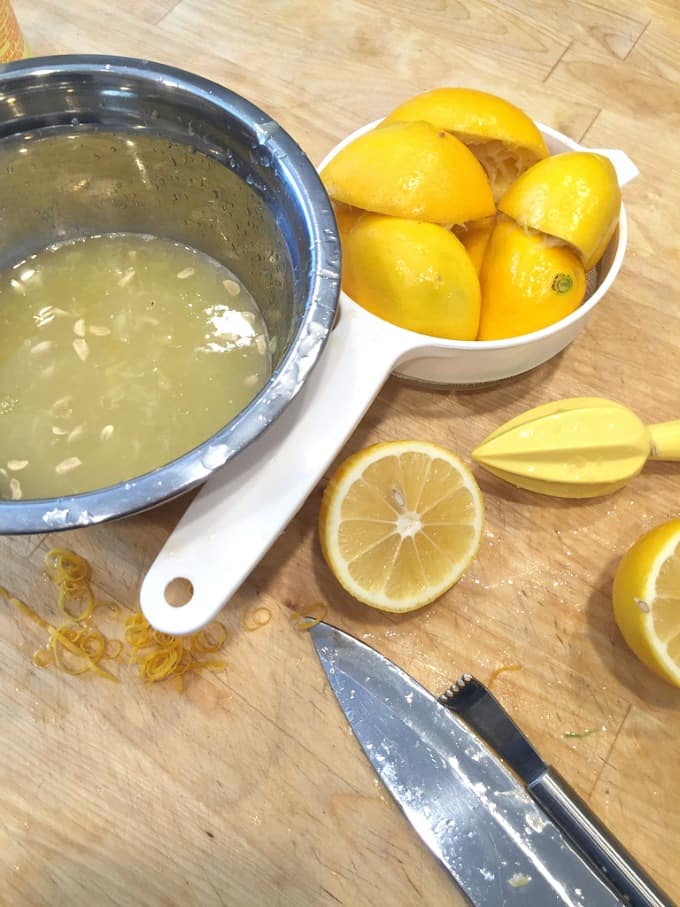 Zest lemons before cutting if you like to keep the lemon zest for recipes. I put it in the freezer sometimes perk up my favorite recipes.
Slice and juice lemons, then strain the pits out.
This is a great gift item!
Now, here is a list of great uses for this lemon syrup:
I've even added lemon syrup in my Blueberry Margaritas, use equal parts of blueberry syrup and lemon syrup, oh so yummy!
I can't wait to hear what you decide you like it on best.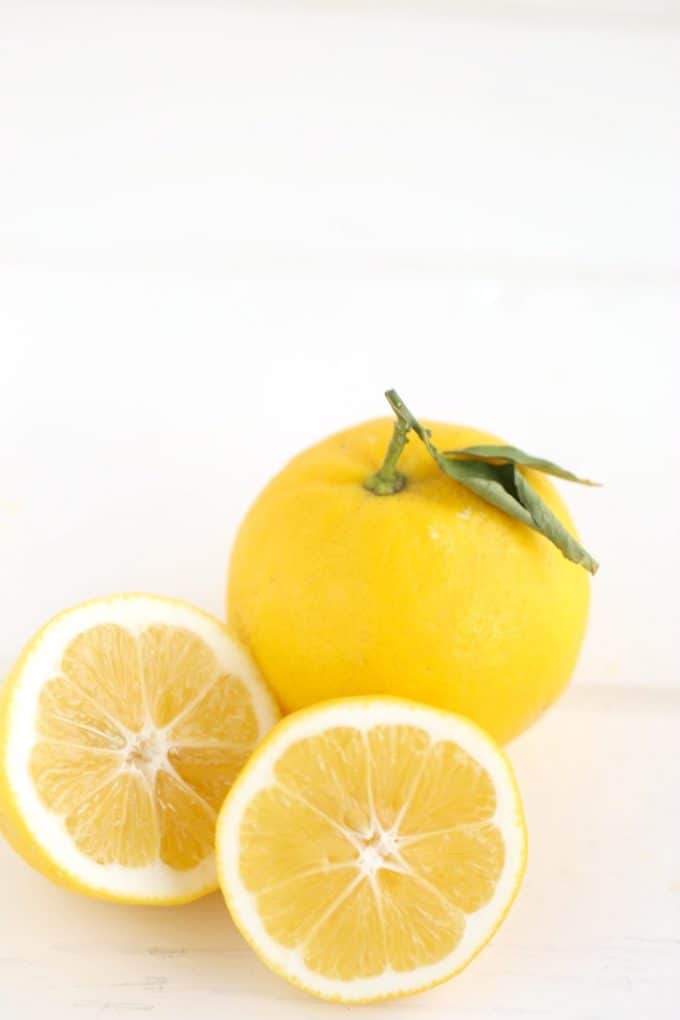 There are many varieties of lemons and that will change the flavor of the items you make.
Depending if the lemons are tangier or sweeter. Meyer lemons are sweeter, while Eureka lemons and more tangy.
If you're asking yourself what to do with lemon syrup, here is a whole list of ideas!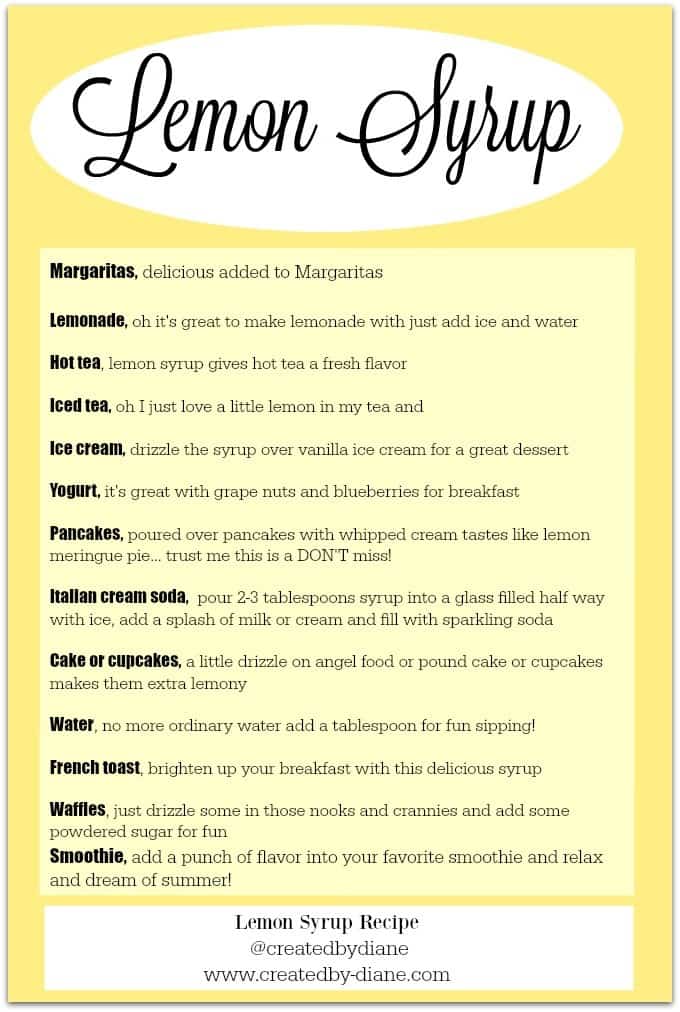 I LOVE lemons, and have lots of lemon recipes to try: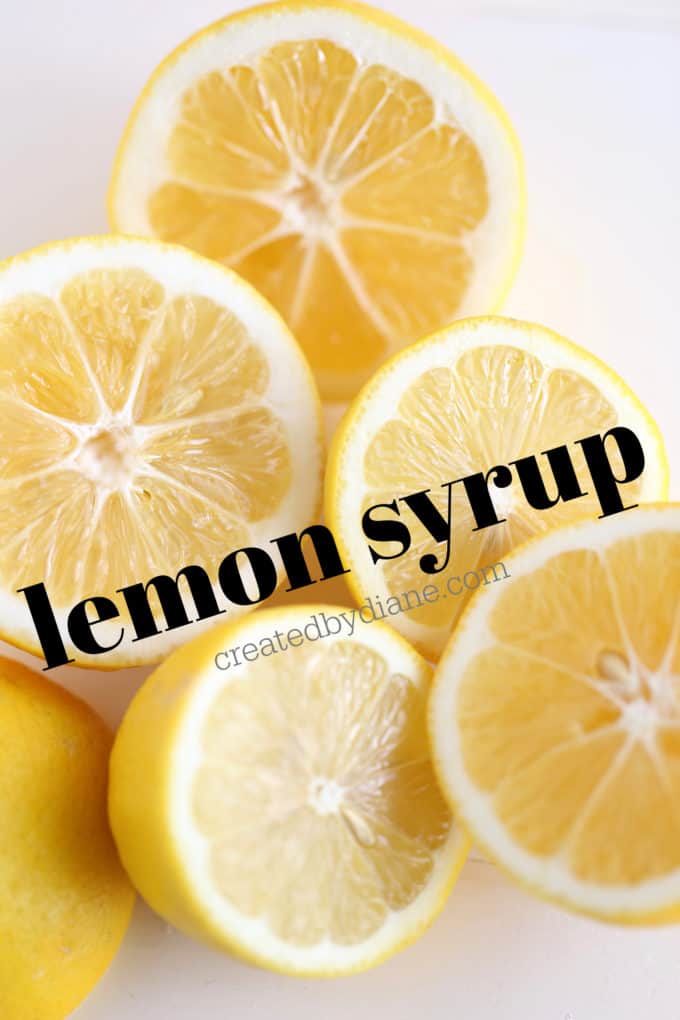 Lemon Syrup
Ingredients
1 1/2 cup fresh squeezed lemon juice (about a pound of lemons)
1 cup water
1 1/4 cups sugar
Instructions
In a medium saucepan bring lemon juice with water and sugar to a boil.
Let cool, place in jars.
Refrigerate syrup, stays great for a month.
Notes
I prefer Meyer Lemons
How many lemons you will need will depend on the size of the lemons and the variety. I used 4 Meyer Lemons.
If you'd like a less tangy flavor you can add a teaspoon vanilla extract.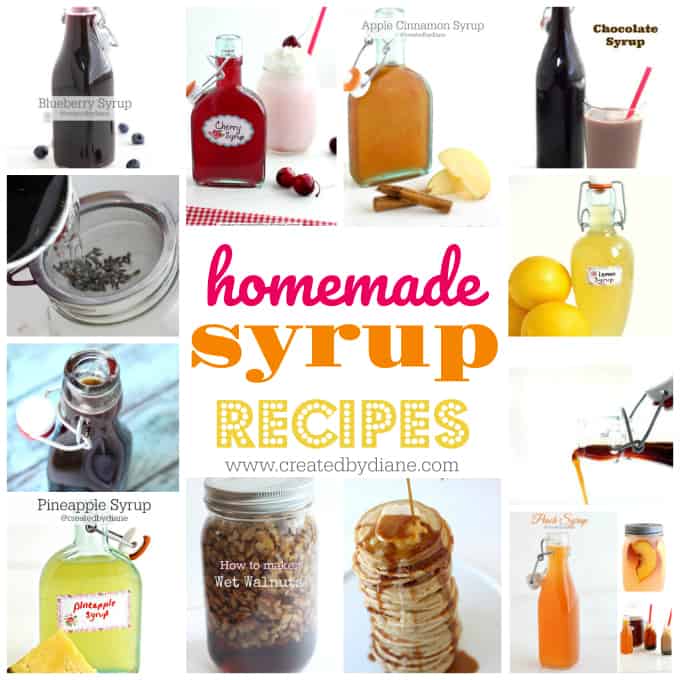 Click on the links below to find each syrup recipe:
Thanks so much for stopping by to see this recipe!
Sharing this post is appreciated and encouraged. Use the share buttons at the top and bottom of the post, there are many options to all your favorite social media channels and you can also email it to a friend. Print out the recipe to enjoy it on your next kitchen adventure. Please don't copy and paste the full post, it's prohibited without written consent from me. Recipes including wording and photographs are Copyright of createdby-diane.com.
Please enjoy this recipe and click here to sign up for email updates to receive recipes in your inbox.
~Diane