Blueberry pie recipe using fresh or frozen blueberries, I prefer fresh blueberries. This pie is simple to make and always puts a smile on everyone's face when it's served.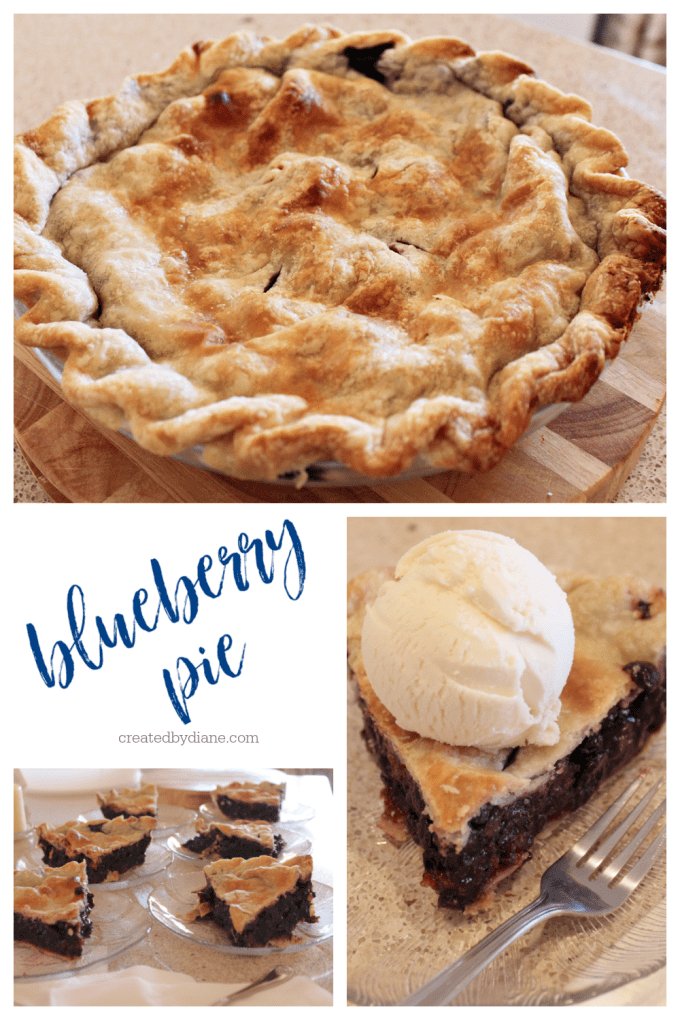 THE one and only blueberry pie recipe you'll ever need. My mom knows blueberry pie is my favorite and it's one recipe I postponed making for the longest time because I really enjoy it when she makes it for me. 
I love how some recipes are exactly the same as when you were young. This blueberry pie holds some special memories for me. And just thinking about it makes me feel so wonderful.
My mom is happy to share her Blueberry Pie Recipe with me and all of you. She's been making this pie my whole life, and it's always so delicious.
Really it's the BEST blueberry pie I've ever had. And trust me, I order pie everywhere I go!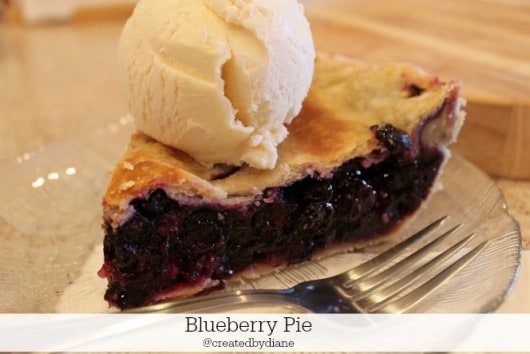 I prefer my blueberry pie COLD…
so she makes it the day before.
That way it has plenty of time to get cold, and as you can see as you slice it, the pie doesn't fall apart… I kinda like that A LOT!
As you can see the pie is full of blueberries. It's a thick pie with a double crust. Just perfect if you ask me.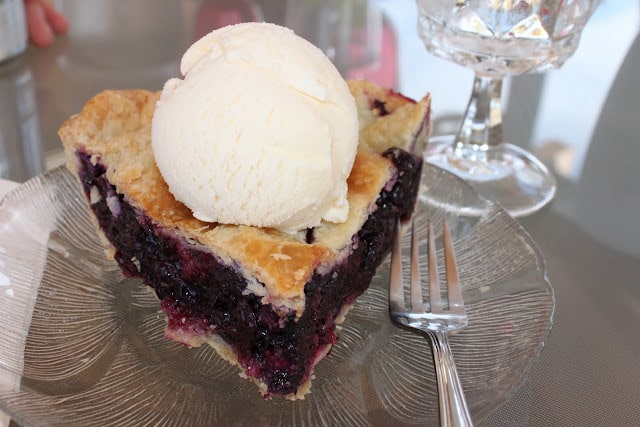 Should I use fresh or frozen blueberries?
You can use either one. My mom says she's used both and even a combination of them in pies with great results. Do not thaw the frozen blueberries if you use frozen berries, put them in the pie frozen.
What can I use instead of tapioca to thicken the pie filling?
You can use 1/4 cup cornstarch instead of tapioca, but my mom prefers the tapioca.
Below you will find 2 recipe cards, the first for the pie crust, and the second for the pie filling.
here are the portions for a LARGER 3-quart casserole for a deep dish pie, instructions are the same.
3-quart casserole deep dish

10 cups berries

3 tablespoons butter

1 1/2 cups sugar

1/3 cup mini tapioca

1 teaspoon cinnamon
double pie crust for top and bottom
pie crust for blueberry pie, this is enough for a top and bottom crust for blueberry pie
Author:
Diane Schmidt, Created by Diane
Recipe type:
Dessert, Pie
Ingredients
2 cups unbleached flour
1/2 teaspoon salt
1/3 cup cold butter
1/3 cup vegetable solid shortening
Using a pastry blender - blend until all flour is absorbed
Now add 6 tablespoons ice water all at once
Instructions
Quickly using a fork, mix well or put all ingredients in a food processor and pulse it to combine.
Form a ball lightly with your hand. Cut the ball in half, place one-half covered in the fridge, and roll the other half out over a lightly flowered surface with a rolling pin.
Place the rolled crust on the pie plate - trim the crust with scissors leaving a half-inch to hang over the rim.
Fill the pie with filling
Then top the tip with the remaining crust rolled out.
Crimp the edge of the pie crusts together.
Blueberry Pie Recipe
The ONLY blueberry pie recipe you'll ever need, this is my mom's recipe she's made my whole life. This recipe is for a double pie crust for a 10" pie plate.
Author:
Diane Schmidt Created by Diane
Ingredients
10 inch pie plate
6 cups blueberries (fresh or frozen)
1 cup sugar
2 tablespoon butter
1/4 cup tapioca
1.2 teaspoon cinnamon
Instructions
Place the unbaked crust in the pie plate.
Pile the filling high in the center of the pie crust.
Add pats of butter to the top of the blueberries
Roll the remaining dough, fold in half gently place it over the filled pie
Trim the edges of the crust so they are both even
Leave one-inch of crust past the edge of the pie plate
Flute the edge of the pie dough, then cover the edges with strips of foil.
Brush the top of the pie crust with some heavy cream or milk to brown the crust a bit.
Make 4 small cuts with a knife for the steam to release as it bakes.
BAKE 425 preheated oven. Bake until some blueberry juice starts bubbling
Set timer 50 minutes, and every 5 minutes till done (mine takes 1 hr. 5 min.)
Bake pie in the center of the oven.