If there is one thing I love it's sweet and savory together! These lemon rosemary shortbread cookies are not only adorable but hey flavor is amazing. Salty and sweet with the great flavor of rosemary, a cookie even non sweet eaters enjoy.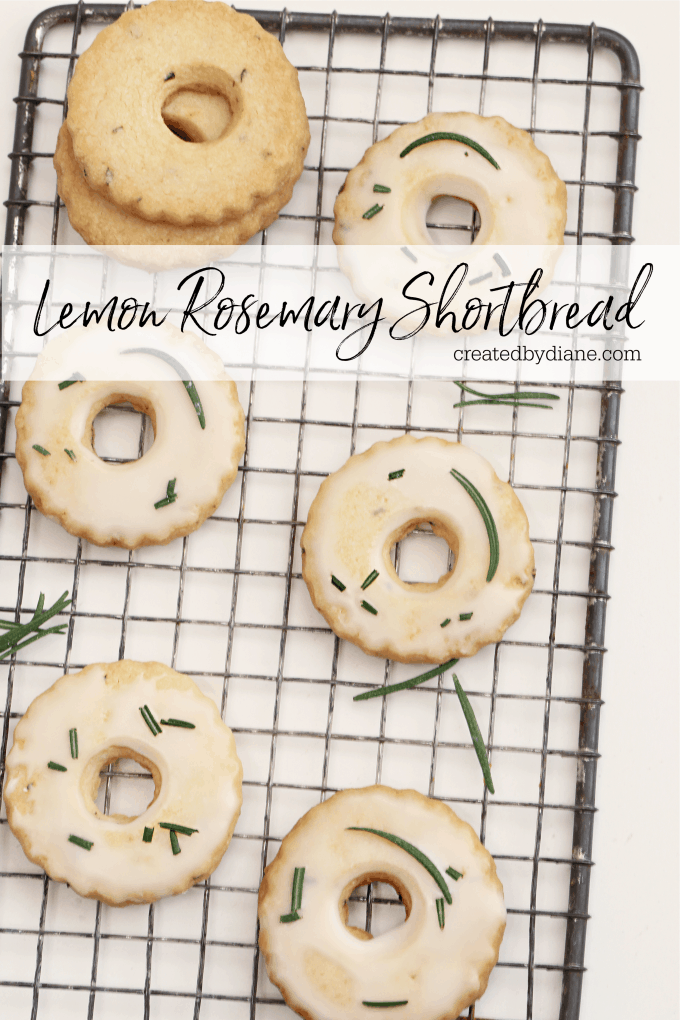 I just love fresh flavors and the combination of fresh lemon juice and fresh rosemary gives these tender shortbread cookies a real punch of flavor.
You can cut these into andy shape you'd prefer. I made wreaths. trees would be a great option with the rosemary on top too.
For wreath shaped cookies, you can use 2 sizes of round cookie cutters or thin metal open end of a large piping tip to cut the center, a donut cutter is another option. You can use scalloped edged cutters or smooth edges.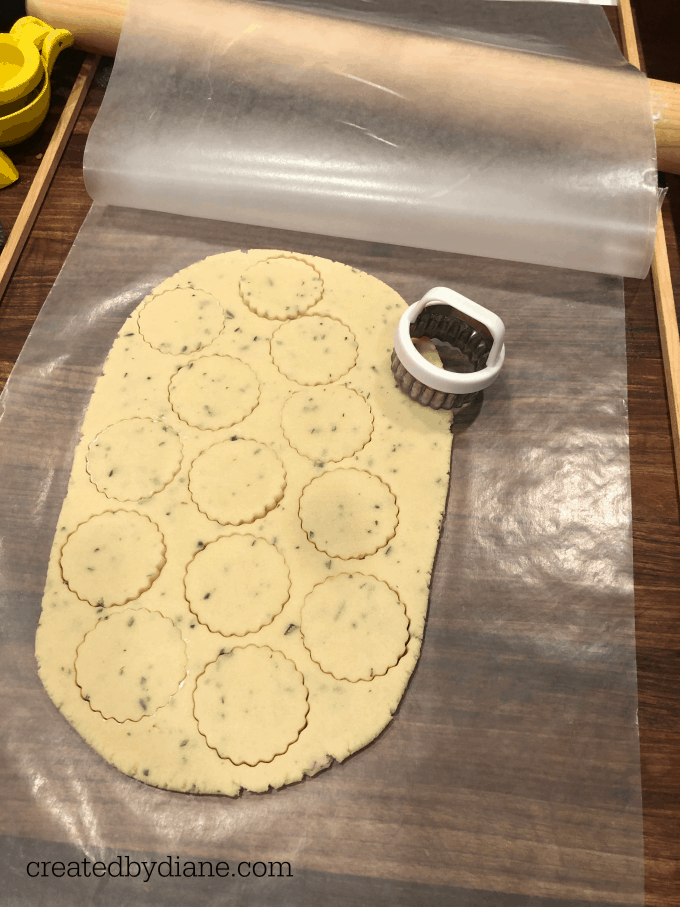 This dough rolls out easily and does not spread when baked, be sure to place the cookie sheets with cut out cookie dough on them for 10 minutes, to chill before baking. This will firm up the butter and allow for a flakey cookie and will prevent the cookies from spreading.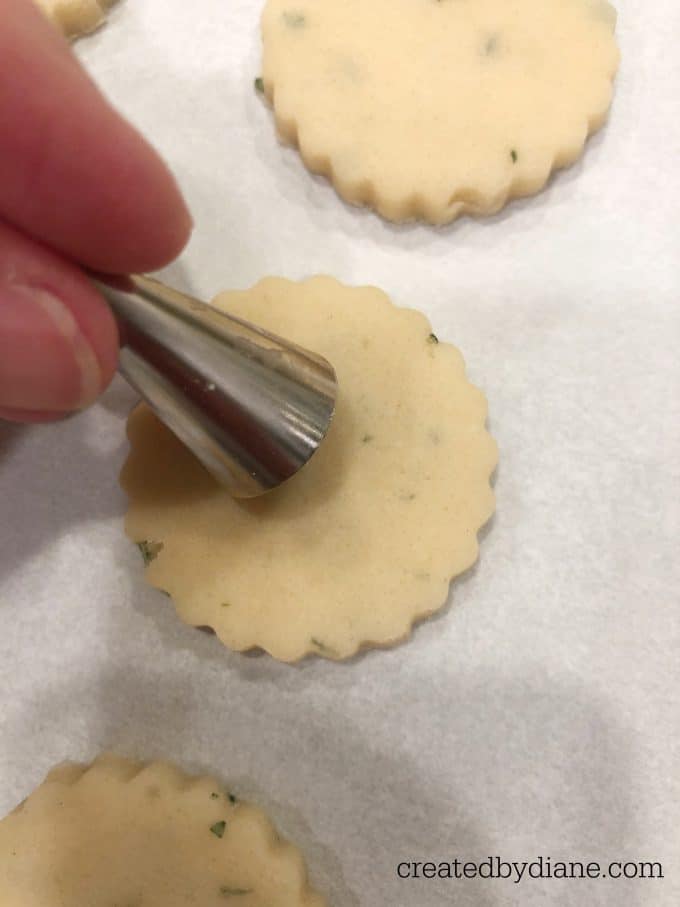 Dip the cookie cutter (or piping tips) into flour to prevent the cookie dough from sticking.
I have these scalloped cutters and I also have this set which has more options as they are reversible to smooth round on the opposite side.
Place the cookies on parchment lined baking sheets, these are pre-cut and easy to use, these are brown and these are white.
Thick baking sheets (like a bakery uses) I find bake with the best results.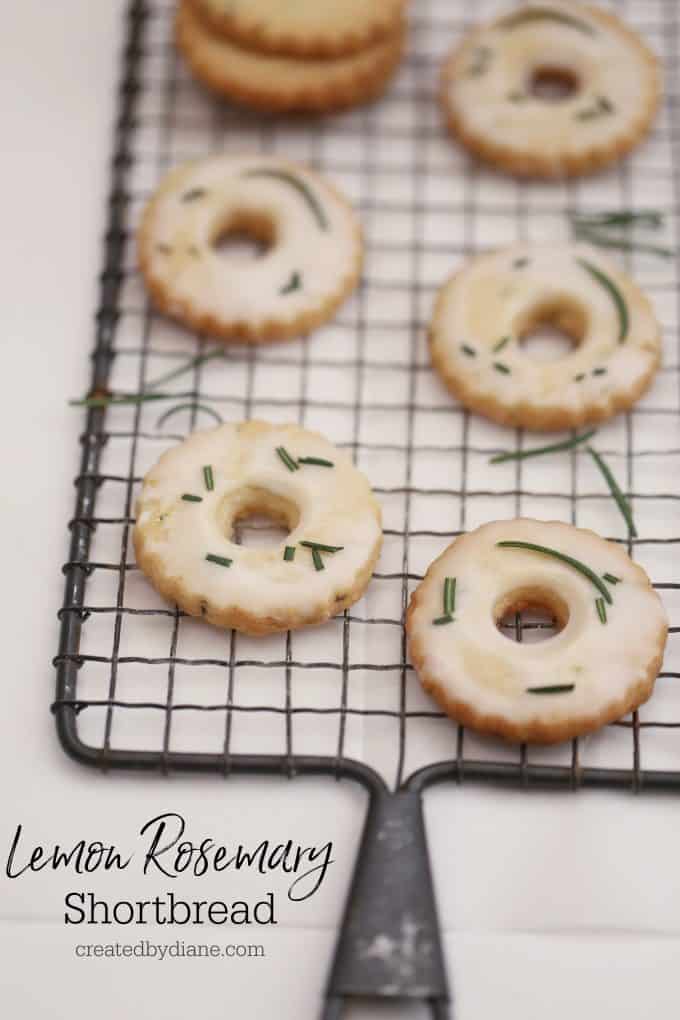 These have a delicious glaze icing, but can be served plain, I added pieces of fresh rosemary, I think the combo of hte sweet icing and rosemary makes them irresistible!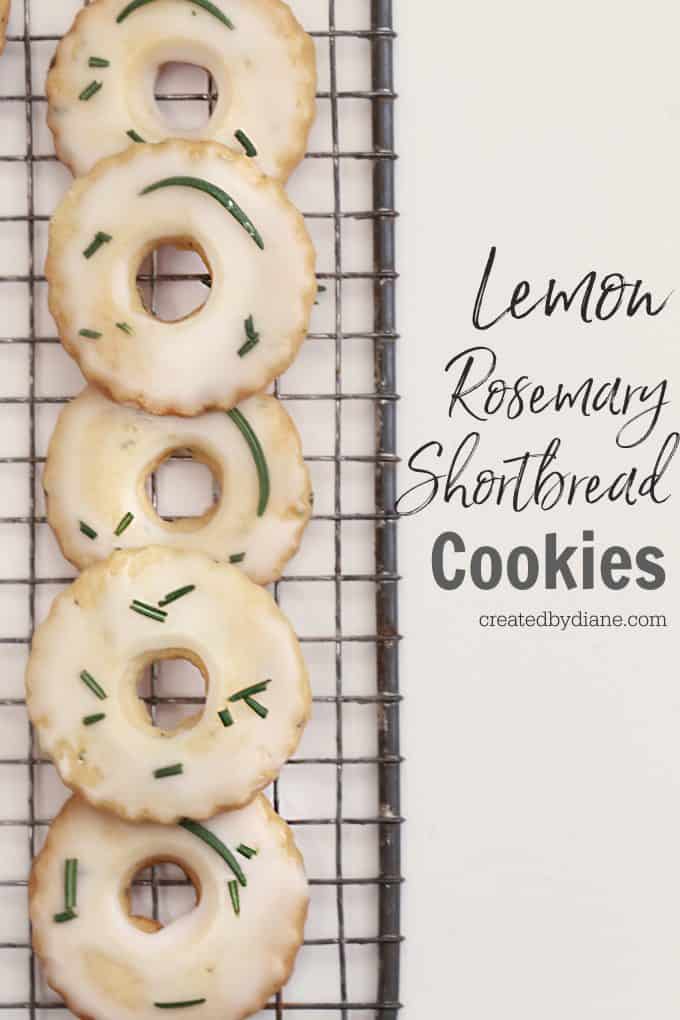 If you use sweet butter, add 1/4 – 1/2 teaspoon salt. Salt really enhances the flavor in these cookies with the lemon and rosemary. But if you ask me, I like salt in all my cookies. Like I mentioned I love a salty-sweet combo.
If you do too, try these:
Lemon Rosemary Shortbread Cookies
Buttery and sweet and a hint of saltiness all in one bite, with the flavor of fresh rosemary and lemon makes these shortbread cookies irresistible.
Author:
Diane Schmidt, Created by Diane
Cuisine:
American, Scottish
Ingredients
Cookie Ingredients
1/2 cup salted butter, room temperature
1/4 cup powdered sugar
1 teaspoon vanilla extract
1 tablespoon fresh chopped rosemary, additional pieces for decoration
1 cups all-purpose flour
1 tablespoon fresh lemon juice
1 tablespoon fresh chopped rosemary
Icing Ingredients
½ cup powdered sugar
1 tablespoon warm water
1 tablespoon lemon juice
fresh rosemary for garnish
Instructions
Preheat your oven to 350°
In the bowl of a mixer beat butter until it's light in color and fluffy.
Add in powdered sugar, vanilla, lemon, and rosemary and mix completely.
Add in the flour, scraping down the sides and bottom of the bowl.
Mix on medium speed then on high until the cookie dough pulls away from the sides of the bowl.
Roll cookie dough into a ball, so the dough is smooth.
If the dough is moist or sticky flour your hands and tap the flour around the dough.
Roll out the cookie dough in between parchment paper, wax paper, or plastic wrap to avoid adding additional flour and drying out the cookies.
With a rolling pin, roll out cookie dough to ¼" thick. I use two 1/4" wood dowels to make sure all the cookies are the same thickness.
Cut cookies out with a cookie cutter, I used a 2" scalloped circle, with a large piping tip to cut the inner circle.
Place cookies on a parchment-lined baking sheet.
Place the baking sheet in the refrigerator for 10 minutes, and allow the dough to be completely cold.
Then remove the baking sheet from the refrigerator and bake the cookies for 15 minutes. The cookies should be fairly pale, lightly golden on bottoms and edges.
Do not over-bake or brown shortbread, it will become dry and crumbly.
Allow cookies to cool completely.
Once cookies have completely cooled, prepare icing, by mixing the powdered sugar with the warm water and lemon juice until the icing is smooth. (add more sugar f needed for desired consistency)
Drizzle the icing over cookies, or dip the tops of the cookies into a dish with icing and allow excess to run off.
Add pieces of rosemary for decoration before the icing sets up.
Place cookies on a cooling rack until the icing dries completely.