Lemon Sprinkle Cookies may just be my NEW favorite cookie!   
It's all about lemon this week at my house,
it seems like I've made everting with the wonderful taste of LEMON.
I just love the colors of these sprinkles they are so bright and cheery, and these cookies not only look like spring they smell like it too.
All wonderful and fresh.
Is it me or do all men love lemon, every time I make lemon desserts the men go crazy for them. I kid you not!
With these they could not even like sprinkles and will LOVE them, I was told that too, by said testers.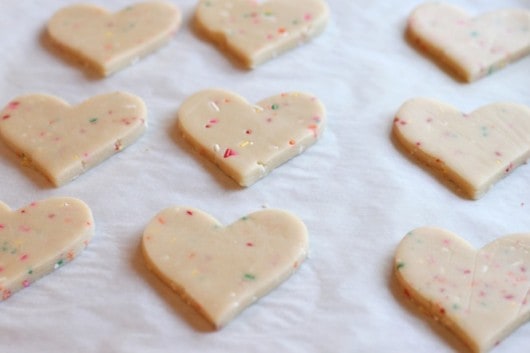 I rolled the dough between wax paper sheets to 1/4 inch thick using two wooden dowels on each side of the rolling pin so they were all the same size.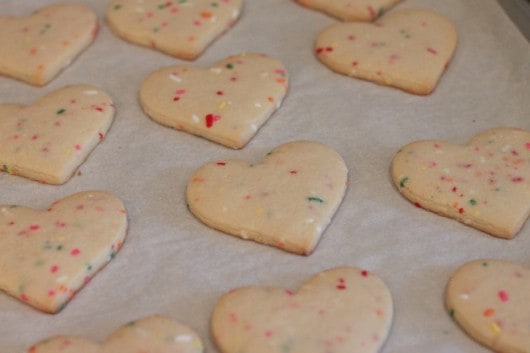 This is a great cookie recipe as it doesn't spread much so the cookies really hold their shape.

Lemon Sprinkle Cookies
Ingredients
1 cup unsalted butter
1 ½ cups powdered sugar
1 egg
2 teaspoon lemon baker's emulsion (lemon extract if you don't have emulsion)
1 teaspoon vanilla extract
2 ¾ cups all purpose flour
2 teaspoons baking powder
1 teaspoon salt
2 tablespoons sprinkles
Instructions
Cream together butter and powdered sugar.
Add the egg, vanilla and lemon flavors.
Add in the flour, baking powder, and salt and sprinkles.
Mix until the dough is well blended and smooth.
It will pull away from the sides of the mixer bowl.
Roll out the dough between wax paper sheets for 1/4 inch thick and cut with cookie cutter.
Bake at 400° for 7-8 minutes.
Lemon icing
Ingredients
1 1/2 cups powdered sugar
1 tablespoon corn syrup
1 tablespoon water
1 teaspoon lemon extract
2 drops egg yellow coloring
Instructions
Mix all ingredients with a whisk or spatula until smooth and adjust consistency with a little more water or powdered sugar as needed for desired consistency for piping.
I use a 10 second icing, in the bowl I drag the spatula across the icing and in 10 seconds you can no longer see the line that a made.
I piped the icing onto the cookies with a piping bag fitted with a #2 tip and pressed the iced cookies into a shallow dish of sprinkles for them to stay and be pressed into the icing, so they wouldn't fall off when the icing dries.
Allow icing to dry for several hours before stacking or packaging cookies.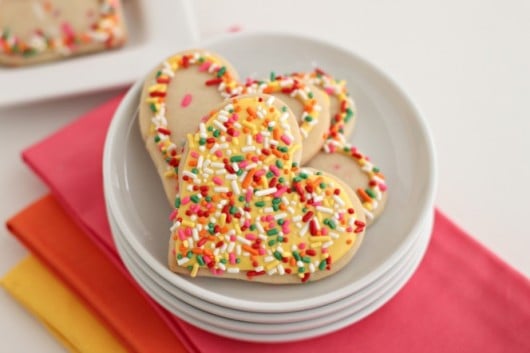 I piped the edge of most of the cookies and flooded in a few of them, I pressed the cookies with wet icing into a shallow dish of sprinkles so the sprinkles stay on the cookie and don't fall off when the icing dries.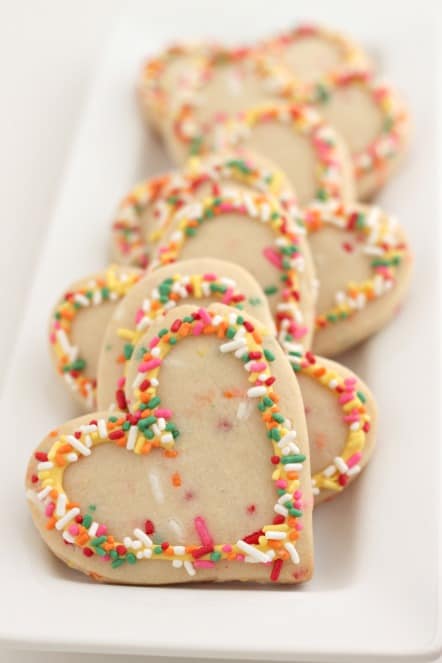 I can just look at these and smile,
cookies make me happy 🙂