I love lemon and lemon curd is one of the most delicious items ever! I love it with lemons scones, vanilla cupcakes, on a slice of buttered toast and so much more.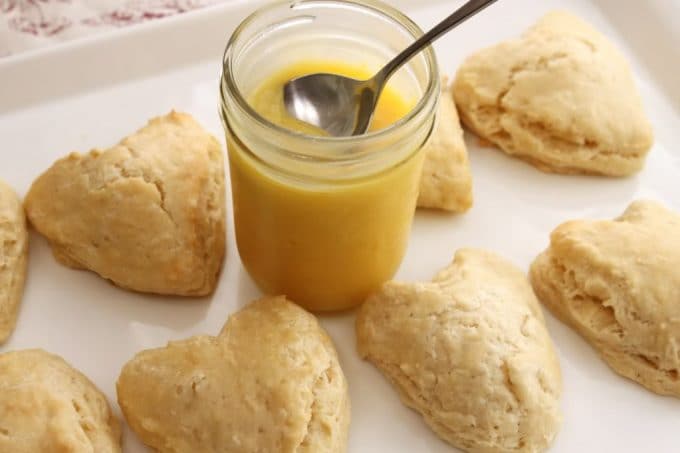 I've included the two recipes, one for stovetop lemon curd, or microwave lemon curd.
I used to make it on the stove, but more recently have made it in the microwave with great results. Either option is delicious.
If there are any lumps in the lemon curd, be sure to press it through a fine strainer and press it with the back of a spoon. Lemon curd should be silky smooth.
Whisk it well to ensure it's smooth without any straining needed.
My mom recently gave me lemons, he has the BEST lemons… they are Meyer Lemons (a hybrid lemon made from lemon and mandarin orange which makes them a little sweeter), but if you want the lemon curd tangier use Lisbon or Eureka lemons.
Whenever I have an abundance of lemons I often make lemon curd I love it with lemon scones, vanilla cupcakes, cake, and on buttered toast.
If you love LEMON just like me be sure to check out these lemon recipes as well: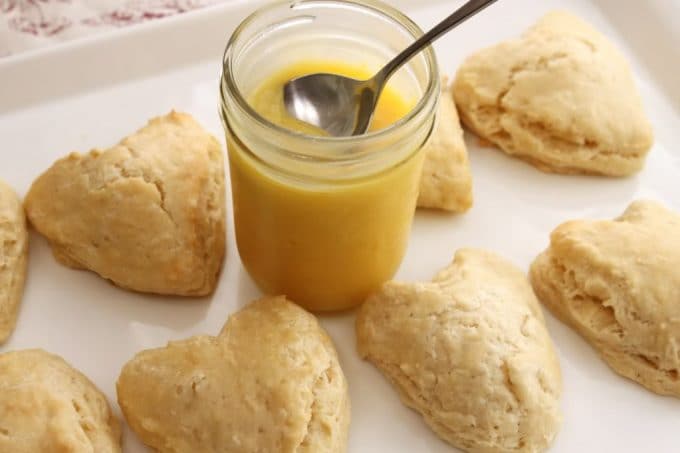 Printable Lemon Scone and Lemon Glaze Recipe
I have another post about LEMON SCONES HERE.
Lemon Curd Recipe
creamy lemon dessert spread or filling, great on cake, filled in cupcakes, scones, toast and so much more
Author:
Diane Schmidt, Created by Diane
Cuisine:
American, French
Ingredients
1 cup lemon juice, fresh squeezed
1 cup sugar
6 egg yolks
10 tablespoons of butter, cut into tablespoons
Instructions
Mix lemon juice and sugar in a saucepan, heat until completely melted and sugar is dissolved.
Add butter and heat until completely melted.
Slowly pour that mixture into whisked egg yolks in a bowl, whisking continuously until everything is well combined.
Return mixture to stove and heat until it's thick and coats a back of a spoon.
Notes
If there are any lumps in the final lemon curd, press it through a fine strainer.
MICROWAVE Lemon Curd Recipe
Easy lemon curd recipe that is made in the microwave, silky smooth and delicious. Great on baked goods.
Author:
Diane Schmidt, Created by Diane
Cuisine:
American, French
Ingredients
1 cup granulated sugar
1/2 cup fresh lemon juice
2 egg yolks, from large eggs
3 large whole eggs
1/2 cup salted butter (or unsalted butter with a pinch of salt) 1/2 cup butter = 4 oz butter, 8 tablespoons butter, 1 stick butter. Cut into small pieces
Instructions
In a glass bowl whisk the sugar, eggs, egg yolks, and lemon juice.
Add in the butter.
Microwave on high for 45-60 seconds.
Carefully remove from microwave and whisk.
Continue to microwave at 45-60 second intervals until the mixture reaches 180° and easily coats the back of a spoon (thick). This will take 3-4 minutes.
Place plastic wrap on top of lemon curd and place in the fridge for at least 2 hours until fully chilled, or place the bowl on top of an ice bath without allowing any water to get into the lemon curd, stir it often so it chills evenly, this will take about 30 minutes to completely chill in an ice bath if you'd like it to chill quickly.