Deliciously creamy, this Swiss Meringue Buttercream Frosting is the perfect topping for your next cake, cookie, or cupcake!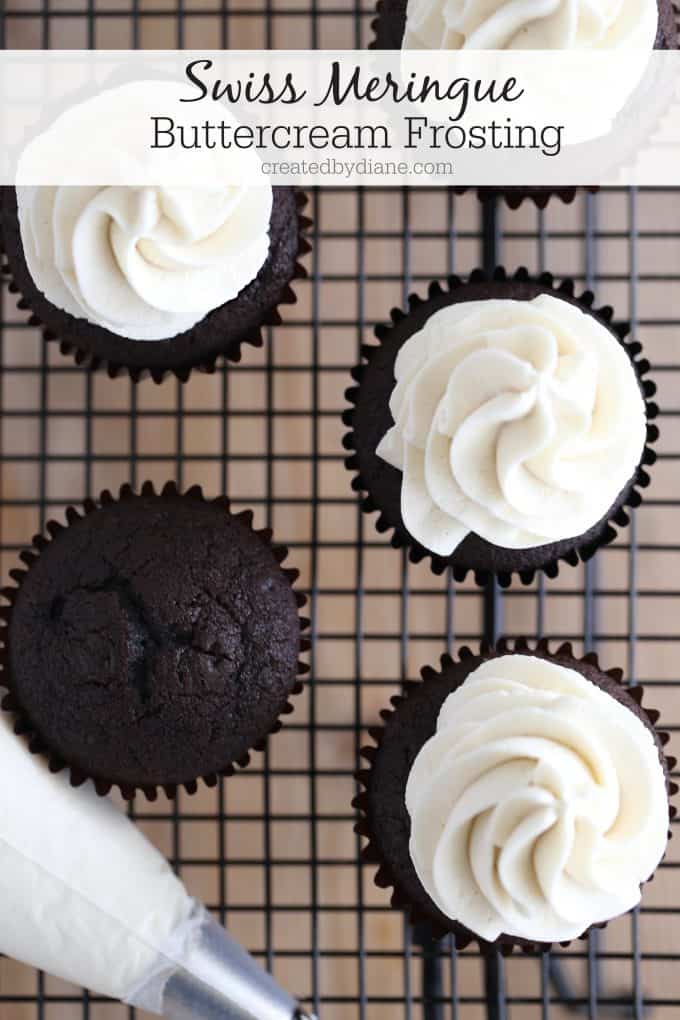 Which do you like more than frosting or the cake?
No need to choose really, as items like these adorable cupcakes are the perfect combination.
These chocolate cupcakes are topped with this smooth creamy Swiss Meringue Frosting, it's a few more steps than American Buttercream, but it's not as toothy sweet, has a smoother texture, and may just be your new favorite topping to baked goods.
I'm sharing this silky-smooth Swiss Meringue Buttercream for its ease, soft and creamy, and just a perfect topping to these cute chocolate cupcakes.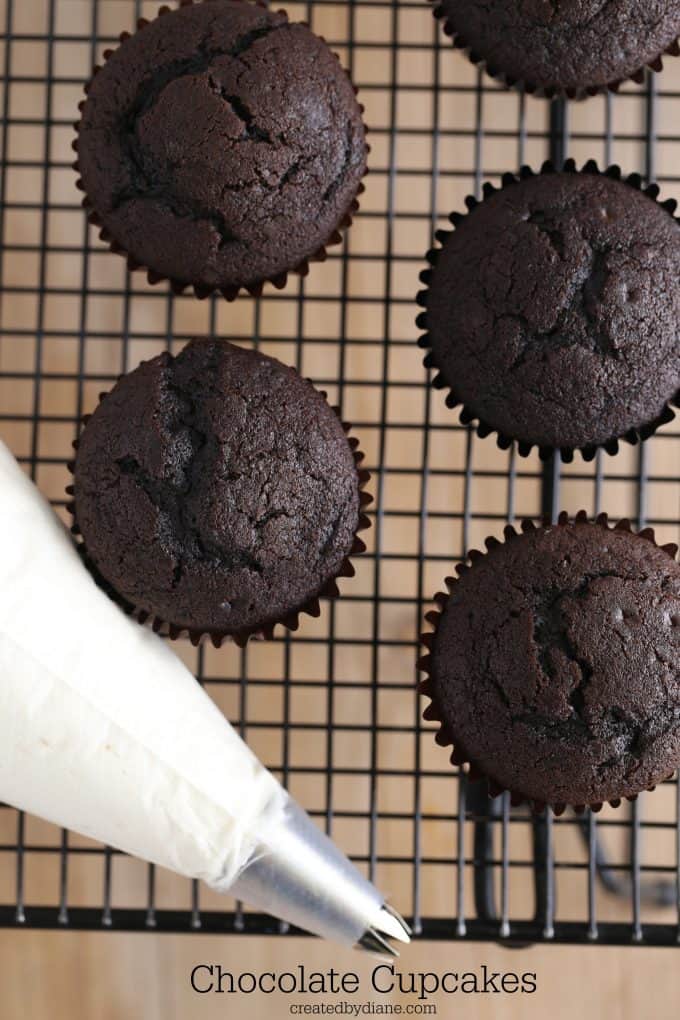 If you're looking for cupcake recipes be sure to check out my recipes for:
Meringues can be used in so many different ways such as a topping to a Baked Alaska or my Smores Cake. There are so many uses, and that's because there are slightly different versions out there of meringue and they are separated into three distinct categories: French, Italian, and our focus today, Swiss. They are differentiated by how the main ingredients are combined and whether or not they are heated. These are frosting, they are more stable than simple meringue that you'd find something like a lemon meringue pie.
French is the least stable and can be folded into cakes and souffles but is often used as the cookie form. Italian meringue frosting is one of my all time favorites frostings and Italian Meringue is the sturdiest of the three, and like the swiss version we'll be using today, can be used in buttercreams as well as for decorating pastries. 
A few tips to keep in mind for meringue

 
The fresher the eggs the better! This is because they're more acidic and viscous.

Cold eggs are easier to separate, but room-temperature egg whites whip up faster. 

Be meticulous about separating your whites and yolks, even a small amount of yellow can potentially alter the finished product.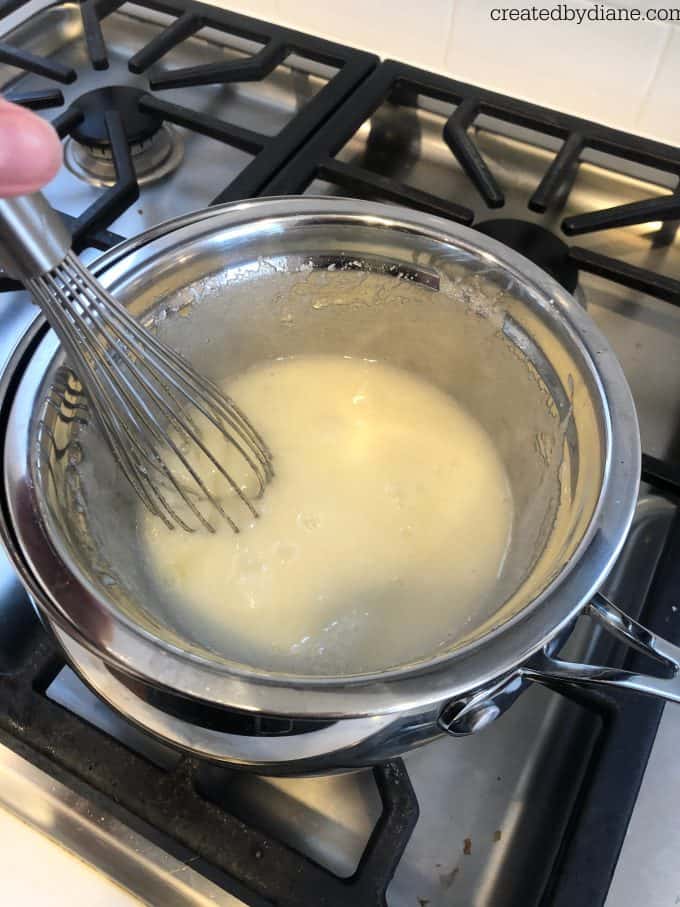 If you're ready, grab your double boiler, and let's get started!
A stainless-steel bowl inside a stainless-steel saucepan is one of the easiest ways to create a double boiler.
After you have separated your whites from your yolks, fill your double boiler to just below where the top bowl will sit. You do not want the water to touch your top bowl, this will cause your eggs to scramble.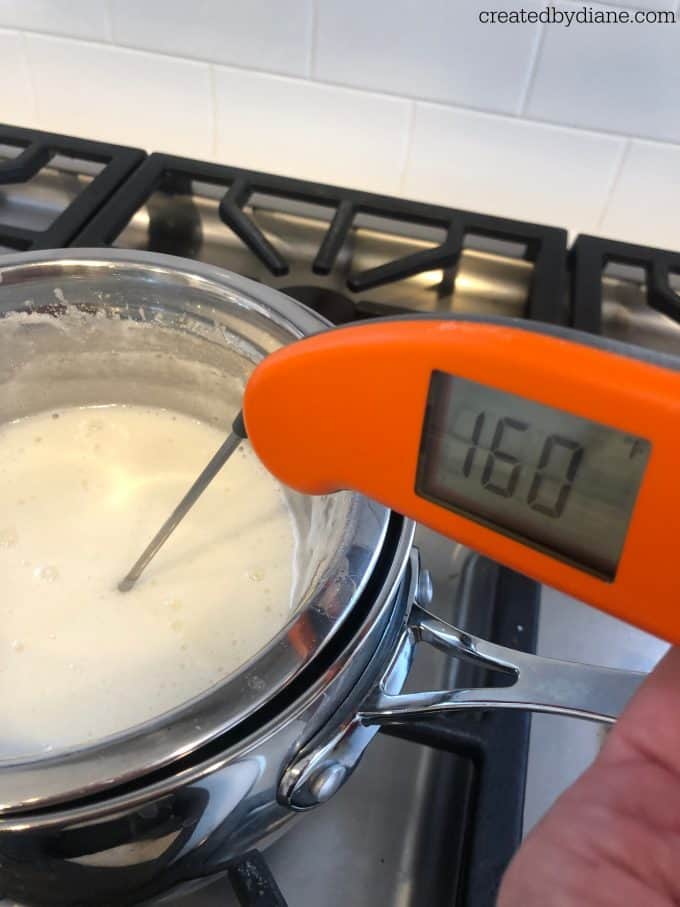 Add your eggs and sugar to the bowl, while the saucepan is heating over high heat,  stirring the egg mixture slowly, bring your mixture to 160°.
I use
this great thermometer
, it's waterproof, it's instant read so displays the temperature really quickly and easily, I do not know what I would do without it.
Remove from heat and place the mixture into the bowl of a mixer.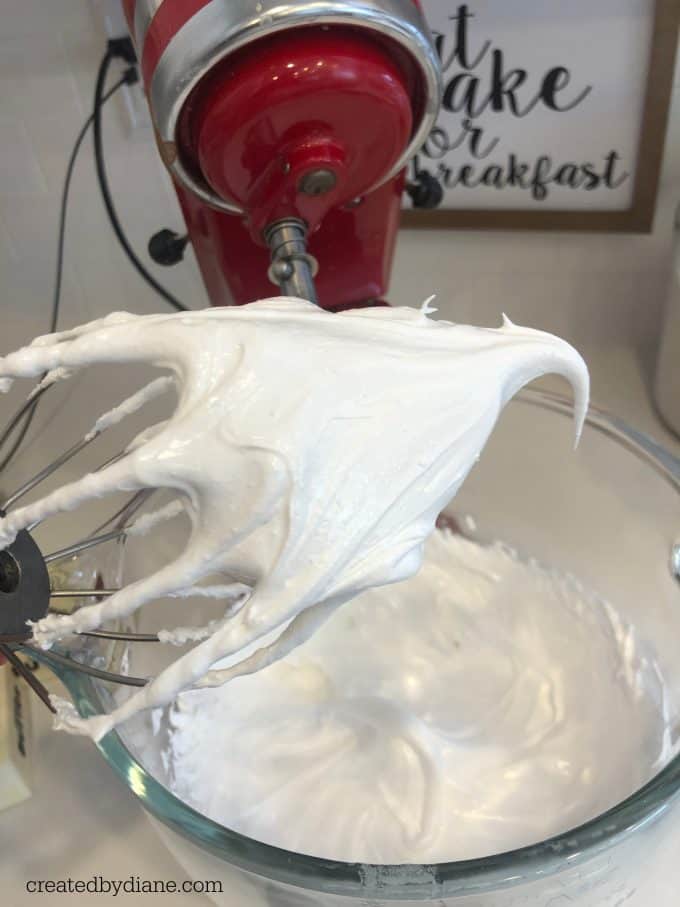 Whip it until stiff peaks begin to form and the mixture cools. The sides of the mixing bowl should be cool, not warm.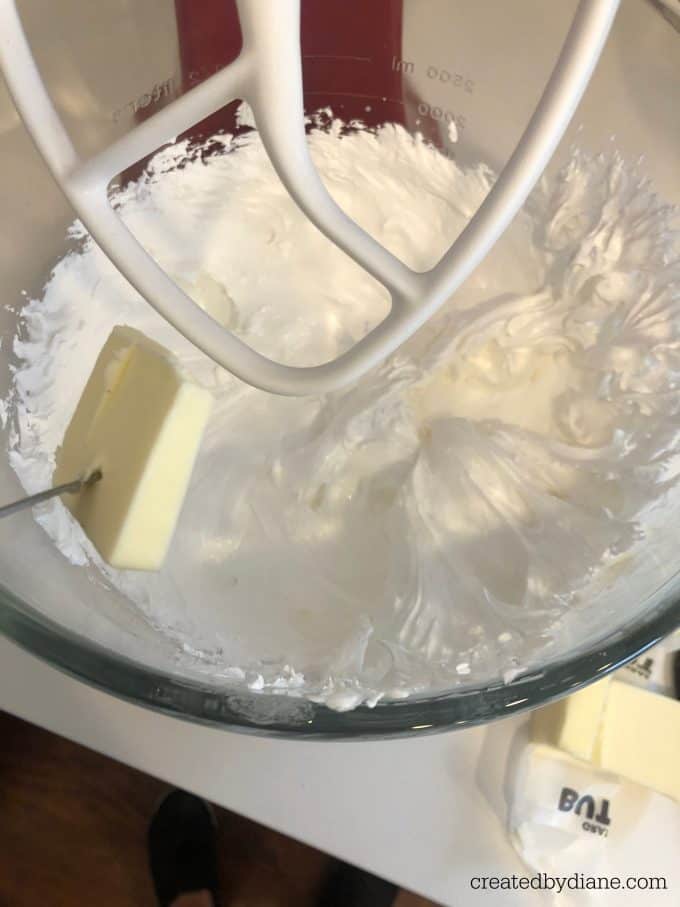 Then on medium speed add in the butter 1 tablespoon at a time, the mixture may look clumpy, separated, or look runny, just keep mixing.
Once it becomes thick, test it by spreading a small amount with a spatula.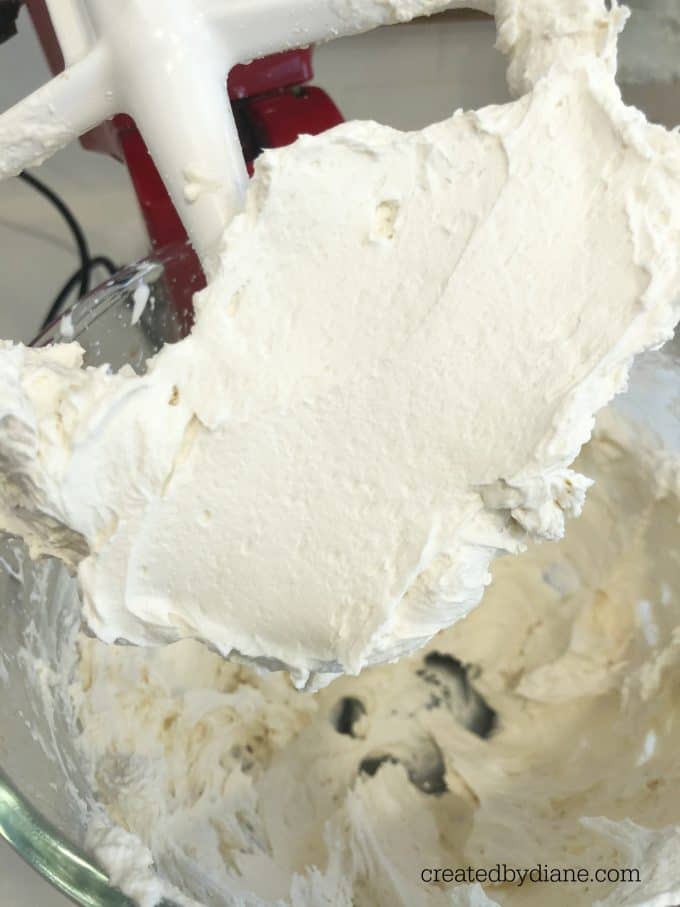 It should spread smoothly. 
If it's smooth but a little runny, put the bowl in the fridge for 10-15 minutes, and then mix again until thick and smooth. Finally, add in vanilla extract and combine!
That's it, you're ready to decorate some goodies such as this Lemon Cake… oh I can just imagine the delicious combo now!
I know there's always a host of questions swirling in your mind when you are attempting a recipe for the first time, so please ask me anything you think of! I do have a few questions with answers below to address common queries:
Can I over-mix my meringue frosting?
I'm sure you can overmix just about anything, but this frosting needs to be whipped, so be sure to follow the steps and mix it well. You'll have to mix it more if the egg and sugar mixture becomes grainy and clumpy (before adding butter). Sometimes it will separate altogether, it'll come back together when whipped. If it seems warm, place the mixing bowl in the fridge for 5-10 minutes, then continue mixing It's like magic when it comes together.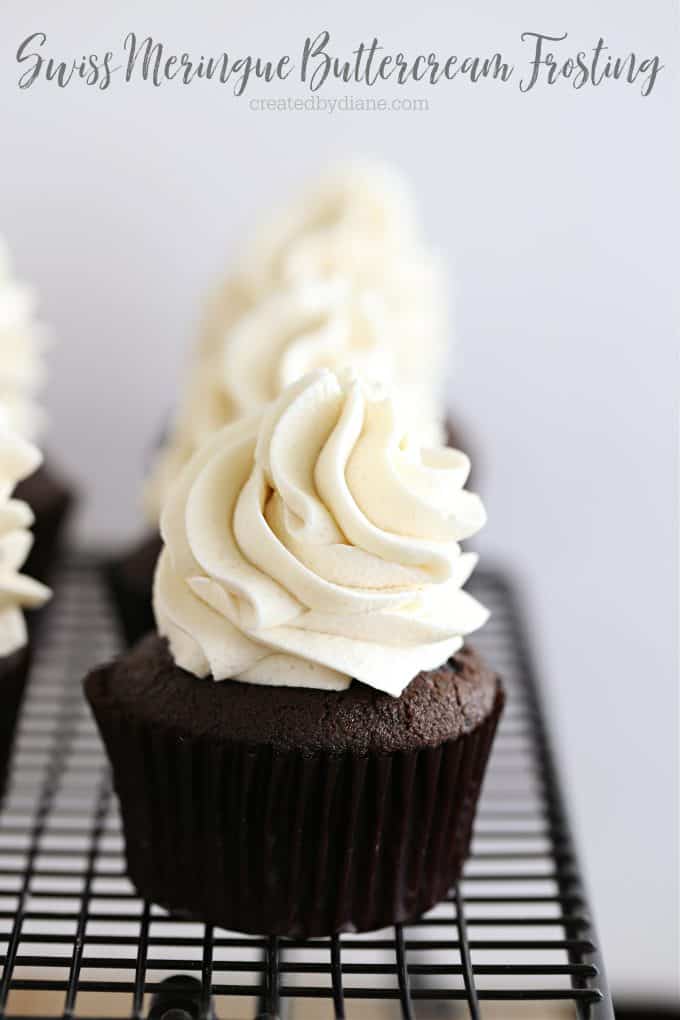 Still have more questions about meringue?
So what is meringue exactly? This simple sweet is egg whites whipped with sugar in its most basic form.
The air whipped into the whites causes them to expand in volume and the sugar stabilizes and sweetens it. At this point, a stabilizing agent such as cream of tartar, or my favorite a meringue powder,  can be added and the mixture can be piped into little cookies and baked for a crunchy sweet treat, such as my Raspberry Rose Meringue Cookies.
Swiss Meringue Buttercream Frosting
Author:
Diane Schmidt, Created by Diane
Ingredients
3 eggs whites (from large eggs)
3/4 cup granulated sugar
1/2 cup butter, cold
1 teaspoon vanilla extract
Instructions
In a double boiler, over high heat bring egg whites and sugar to160°
(A double boiler is when you have a pan of boiling water with a bowl on top without the water touching it to gently cook the item inside, in this case, egg whites and sugar)
Stir or whisk until the mixture reaches 160°.
In the bowl of a mixer whip the egg white mixture to stiff peaks and keep mixing until the mixture cools, this takes about 10 minutes. The sides of the bowl shouldn't be warm if they keep mixing.
Then on medium speed add in the butter 1 tablespoon at a time, the mixture may look clumpy, separated, or look runny, just keep mixing.
It will then become thick and when spread with a spatula it's smooth.
If it's runny, put the bowl in the fridge for 10-15 minutes.
Then mix more until it's thick and smooth.
Add in vanilla extract and mix to combine.
Notes
serving size will depend on how much you put on the items, like cupcakes... if you spread it with a spatula it'll cover more cupcakes than if you pipe it high with a piping bag as I did in the photos.