This Coffee Swiss Meringue Buttercream Frosting adds that perfect mocha touch when topped onto delicious chocolate cupcakes!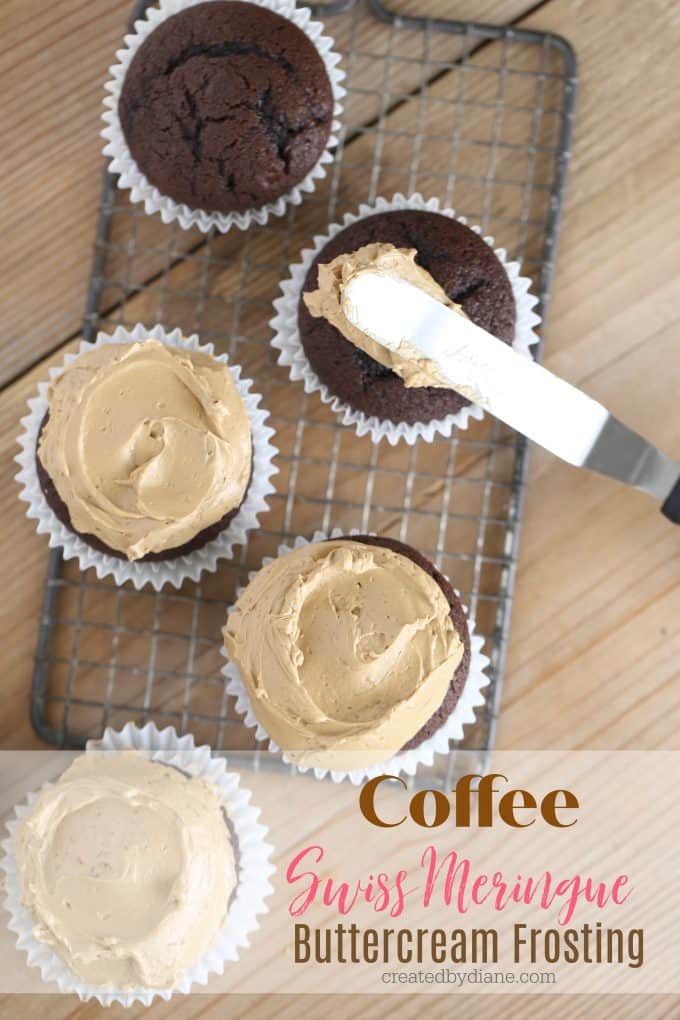 Whether you are a big coffee drinker,
or prefer your sweet treats coffee flavored like coffee ice cream… tiramisu, mud pie, or maybe you'd like to try some new treats like coffee cookies or coffee scones.
If you're looking for great coffee flavored items try this coffee syrup or make a quick decadent Dalgona Coffee, you won't believe how fun this is.
Coffee is my drug of choice – well that and baking of course.
So mixing the two seems very natural (to me).
The frosting is amazing…
add the frosting to your favorite Chocolate Cupcakes as I did, or cake recipe such as this 8 Inch Round Chocolate Cake, or use it as a decadent filling to these fun and festive Cannoli Cones, which are great for a quick no-bake dessert.
Swiss Meringue Buttercream frosting can be used in so many ways. And meringue in general is a great way to diversify your toppings for cakes and cookies. There are three different kinds of meringue that can be used in sweets and treats and they are French, Italian, and Swiss. Each has a different application and a different way to make it. But all of them are delicious. A few of my favorite are:
If making meringues makes you nervous, let me add a little encouragement, it's not as hard as it sounds, and I'll be walking you through it, step by step. Practice makes perfect, and if you like meringue as much as I do, you'll be an expert in no time!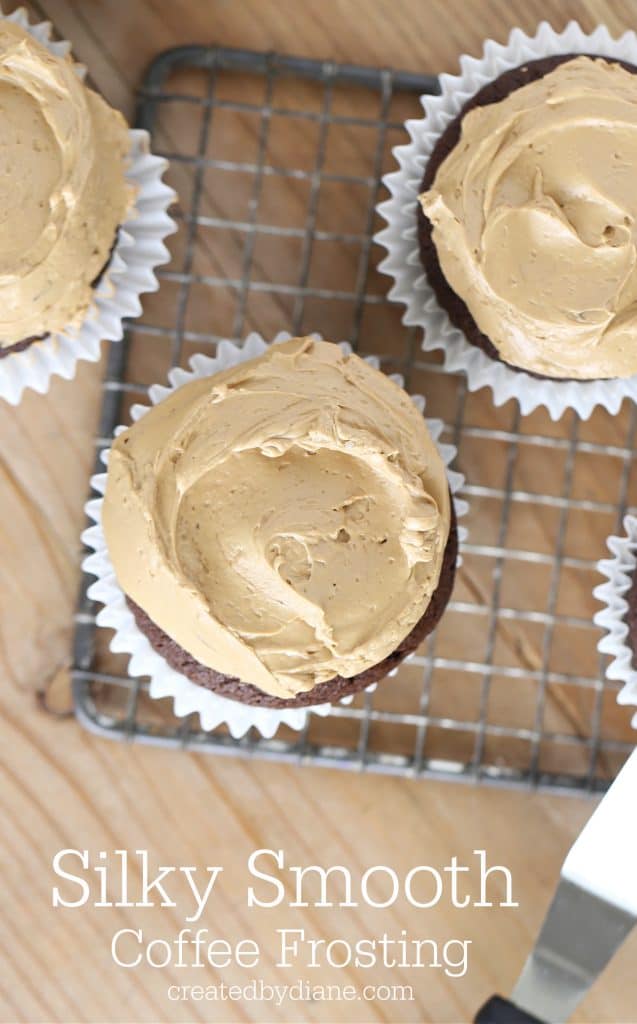 Before we start, here are a few tips!
The fresher the eggs the better! This is because they're more acidic and viscous.

Make sure your eggs are cold. The whites will be easier to separate from the eggs this way and cold whites make a more stable meringue. 

Be meticulous about separating your whites and yolks, even a small amount of yellow can potentially alter the finished product.
Let's begin!
After you have separated your whites from your yolks, fill your double boiler to just below where the top bowl will sit. You do not want the water to touch your top bowl, this will cause your eggs to scramble.
Add your eggs and sugar to the top portion, over high heat and stirring slowly, bring your mixture to 160°.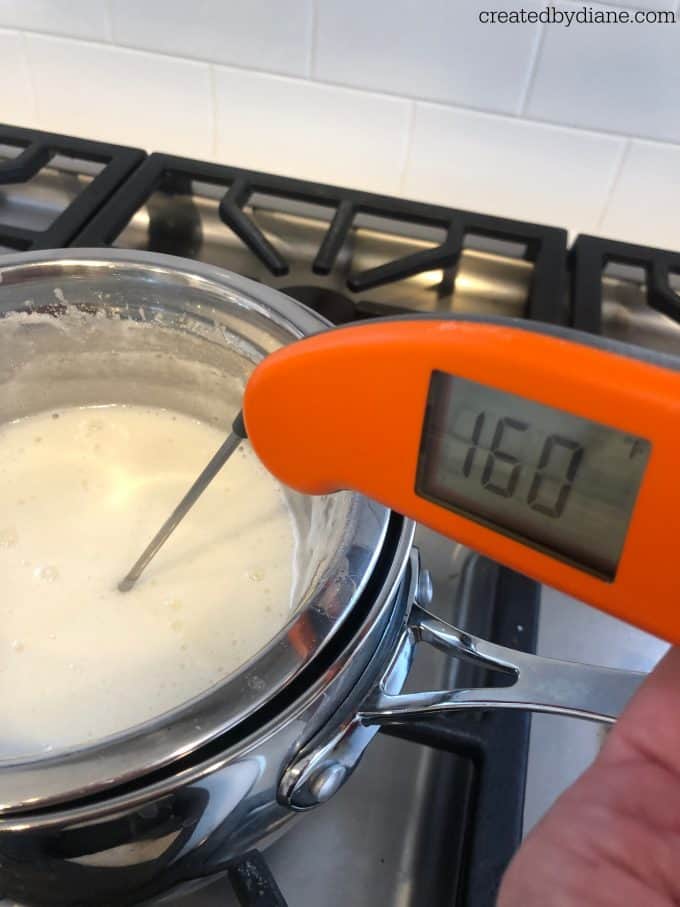 Remove from heat and place mixture, along with the coffee mixture into the bowl of a mixer. Whip it until stiff peaks begin to form, scraping down the sides of the bowl until the mixture cools.
Then on medium speed add in the butter 1 tablespoon at a time, the mixture may look clumpy, separated, or look runny, just keep mixing.
Once it becomes thick, test it by spreading a small amount with a spatula. It should spread smoothly. 
If it's smooth but a little runny, put the bowl in the fridge for 10-15 minutes, and then mix again until thick and smooth. 
Now you're ready to add this delicious frosting to whatever your heart desires! Chocolate is my go-to… but this frosting would easily pair well with these Vanilla Bean Cupcakes.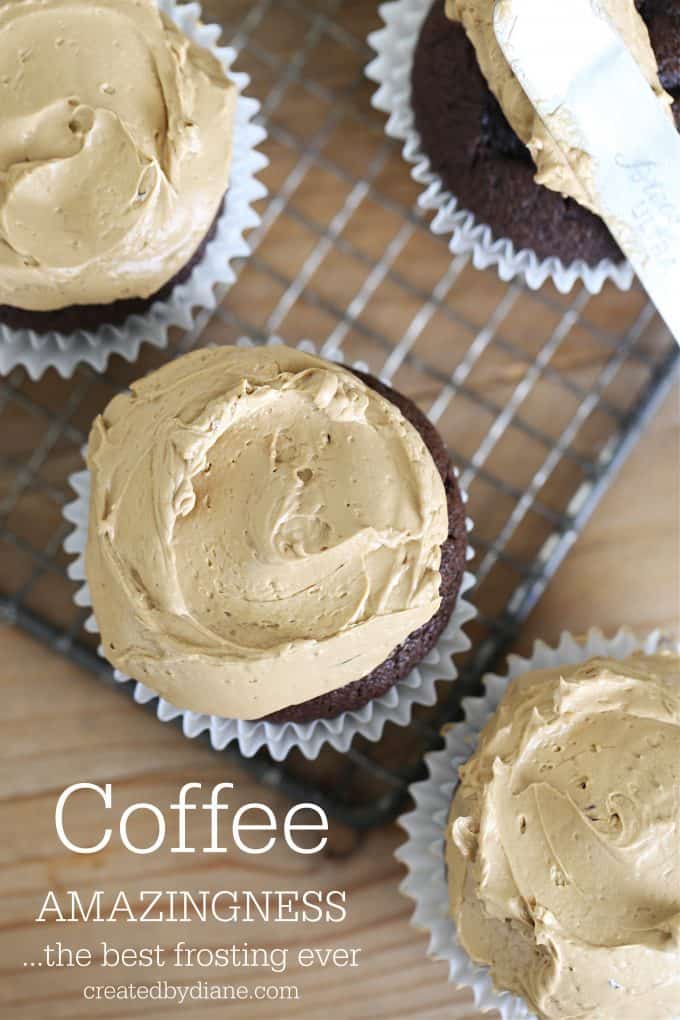 Could I use this as the topping to a Baked Alaska?
No, you'll want to use the recipe for Italian Meringue so you can brown it nicely. 
Can I make ahead and store this frosting?
I prefer baking items ahead of time, but when it comes to the frosting… it's best to make it right before you want to use it, the texture is at its best. 
I don't have a stand mixer, can I use a hand mixer instead?
Absolutely, though you do want to use a steel or glass bowl, not plastic as it can have adverse effects on your meringue.
I want to make this into a mocha frosting, what should I add?
Add in 2-4tablespoons of unsweetened cocoa when mixing the eggs so it melts in nicely, it'll give the frosting a delicious flavor.
Coffee Swiss Meringue Buttercream Frosting
Silky smooth caffeinated frosting every coffee lover will dive into.
Author:
Diane Schmidt, Created by Diane
Recipe type:
Dessert, Frosting
Ingredients
3 large eggs whites
3/4 cup granulated sugar
1/2 cup butter, cold
2 teaspoons instant coffee
Instructions
The first step in making this is done in a double boiler, a double boiler is when you have a pan of boiling water with a bowl on top without the water touching it to gently cook the item inside/ Over high heat, bring egg whites and sugar to 160° while stirring or whisking until it reaches the temperature.
In the bowl of a mixer whip the egg white mixture to stiff peaks and keep mixing until the mixture cools, this takes about 10 minutes. After the first minute of mixing, add in the instant coffee. Continue mixing until the sides of the bowl shouldn't be warm if they are, keep mixing.
Then on medium speed add in the butter 1 tablespoon at a time, the mixture may look clumpy, separated, or look runny, just keep mixing.
It will then become thick and when spread with a spatula it's smooth.
If it tastes too buttery, keep whipping it.
If the mixture is runny, put the bowl in the fridge for 10-15 minutes.
Then mix more until it's thick and smooth.