It's no secret how much I LOVE cookies and hearts too…
and Spritz Cookies are ALWAYS a good idea, these are filled with a deliciously whipped chocolate ganache.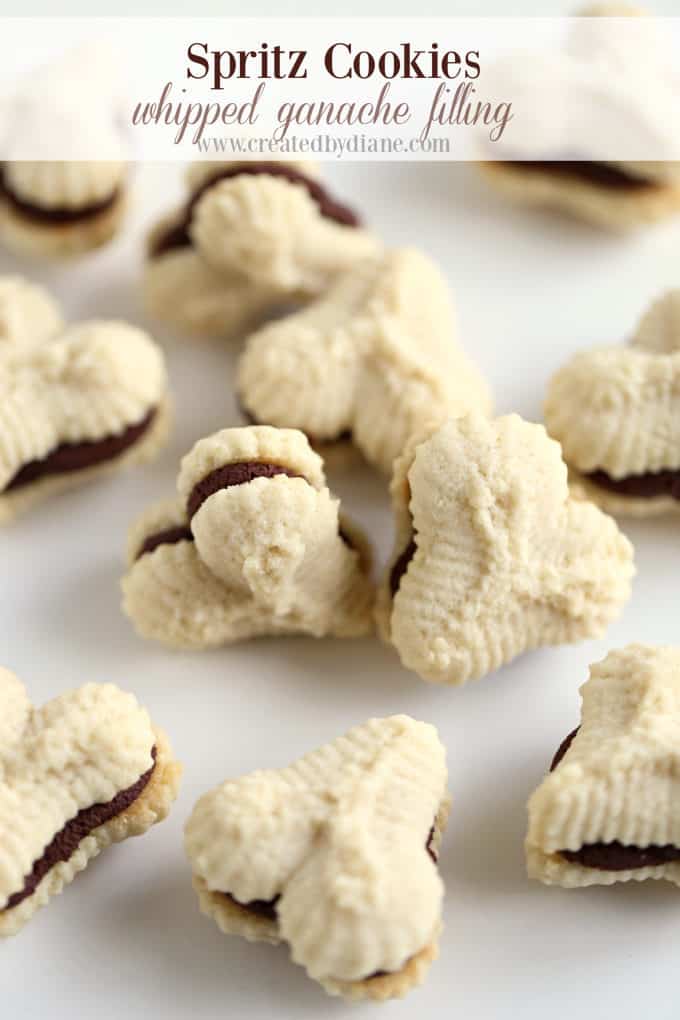 No matter what time of year it is, cookies are ALWAYS a good idea.
Just seeing a jar or platter of cookies is often excitement enough, 
especially if you know they will be great tasting cookies.
Spritz cookies are delicious and buttery and tender!
I've filled spritz cookies before with frosting, but it's quite soft and the ganache is thicker and doesn't squish out of the cookies as easily when bitten into,
plus this whipped ganache tastes amazing!
And if you've visited here before you know I LOVE hearts and have a fun post full of heart-shaped cookies and desserts HERE, take a look they are so cute!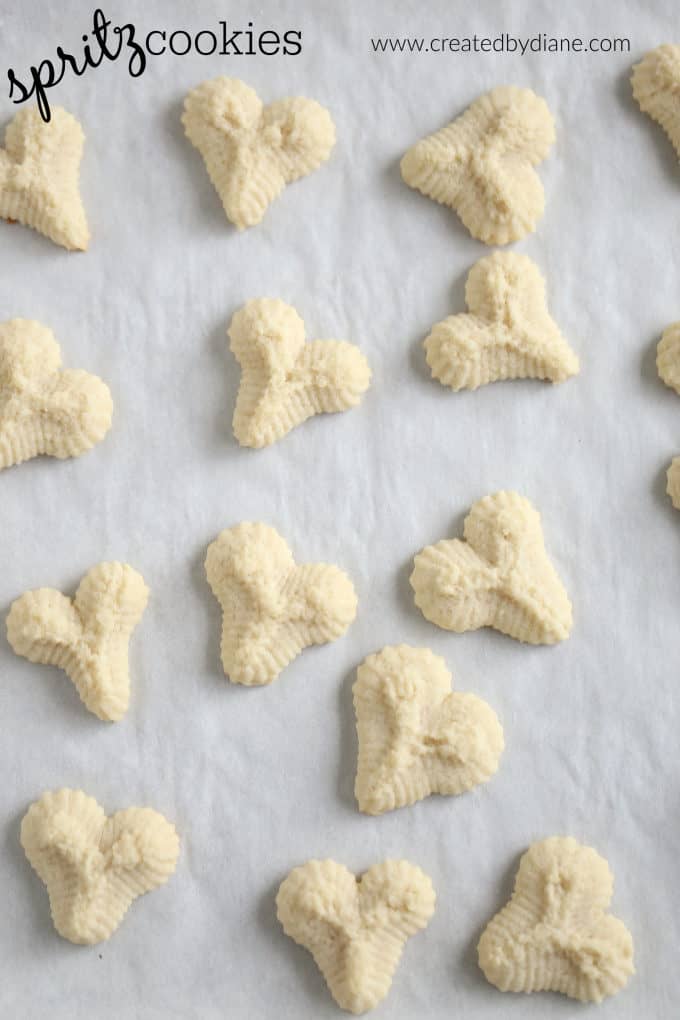 These cookies are adorable on their own, and extra fun when filled!
pink heart cookies with chocolate frosting, soft and squishes when bit into, the ganache is better. Chill frosting to firm it up. 
The best thing about spritz cookies,
one batch makes a lot of cookies
there are many shapes to fit all sorts of occasions
the cookie dough can be colored any color to fit any theme you prefer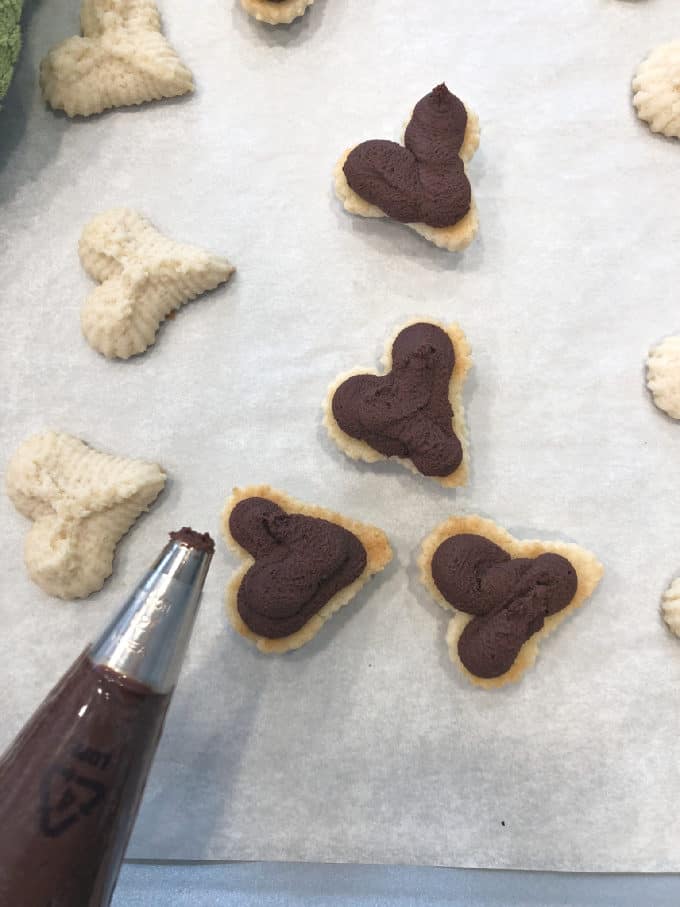 Now onto the filling, it's a whipped ganache!
It has a rich chocolate flavor, is easy to make and tastes amazing!
I used a round #12 piping tip to pipe it onto the cookies.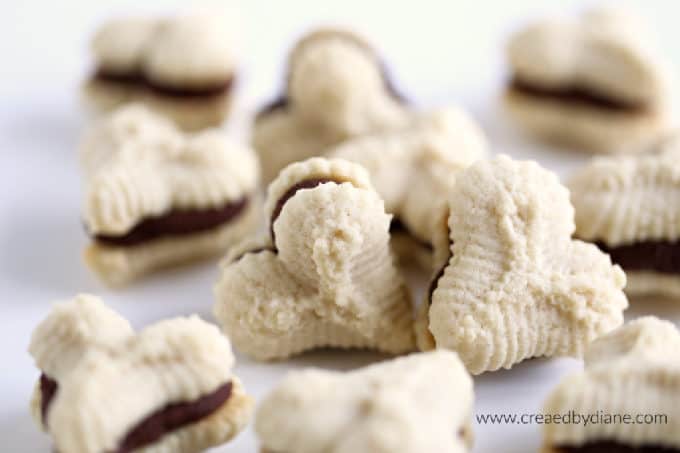 I think sandwich cookies are just about the cutest things ever!
Click for my other sandwich cookies: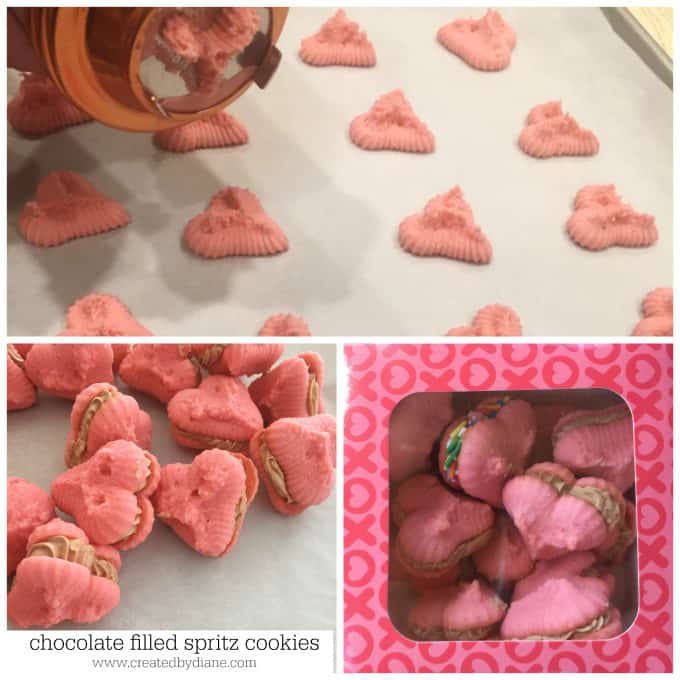 Here are some spritz cookies dyed pink, just a little bit of food coloring adds some fun to any cookie!
Here is a fun post on Spritz cookies that I found trying to see how long spritz cookies have been around with some history thrown in too.
And more info on cookie presses with history on the aluminum company that made the ever popular Mirro press (that I use). 
The Mirro Aluminum Company was in business from 1909-2003 so even though they do not make cookie presses anymore, there are plenty of them still out there, just check your local thrift store or online like eBay. I have two presses and love how you can easily make batches and batches of delicious pretty cookies quickly!
There are many other cookie presses made now, so with a little looking, I'm sure you'll find one you like if you don't already have one.
Spritz Cookies
Ingredients
1 cup unsalted butter
1/2 cup granulated sugar
1 egg
2 teaspoons vanilla extract
2 1/4 cups all-purpose flour
1/4 teaspoon salt
Instructions
Preheat oven to 375°
In the bowl of a mixer beat butter with sugar then add in egg and vanilla.
Mix in flour and salt on medium until well blended and the dough pulls away from the sides of the bowl without over mixing. Overmixed dough will result in dryer, tougher cookies. You want the dough to be tender so the cookies come out soft and not dry.
Place dough into cookie press, with heart attachment.
Press cookies onto a parchment lined baking sheets at least an inch apart.
Bake for 7-9 minutes, remove cookies form oven when edges or bottoms are just golden.
Allow cookies to cool completely before moving or filling.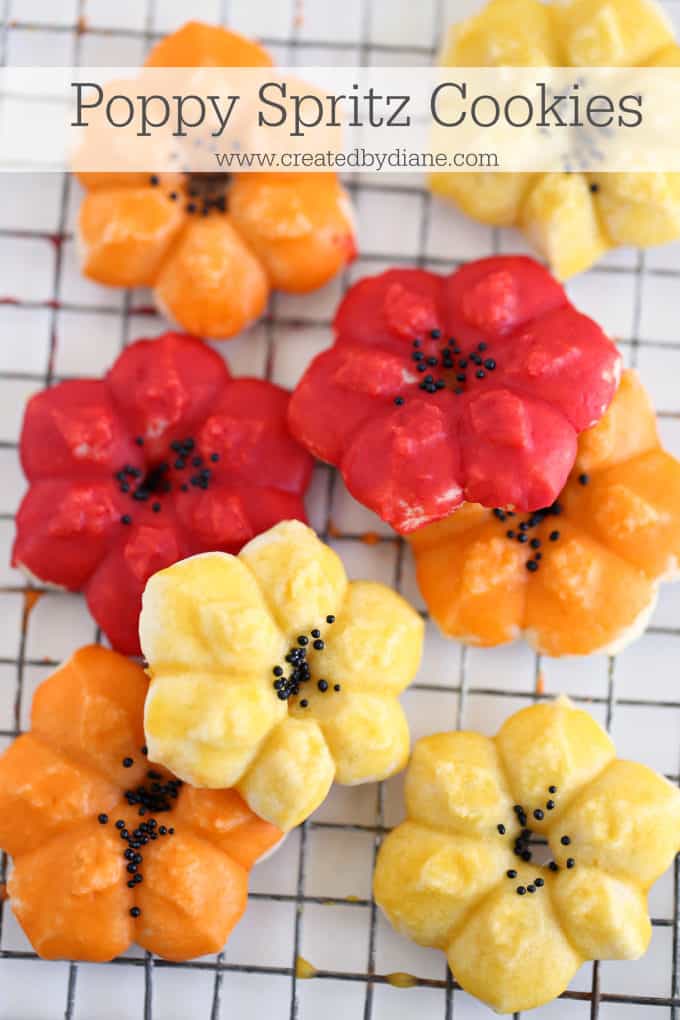 HERE is a recent post of POPPY SPRITZ COOKIES I shared, these are really worth checking out.