Macaroni Salad is often the best side dish and truth be told a main dish if you have minimal ingredients on hand and are hungry!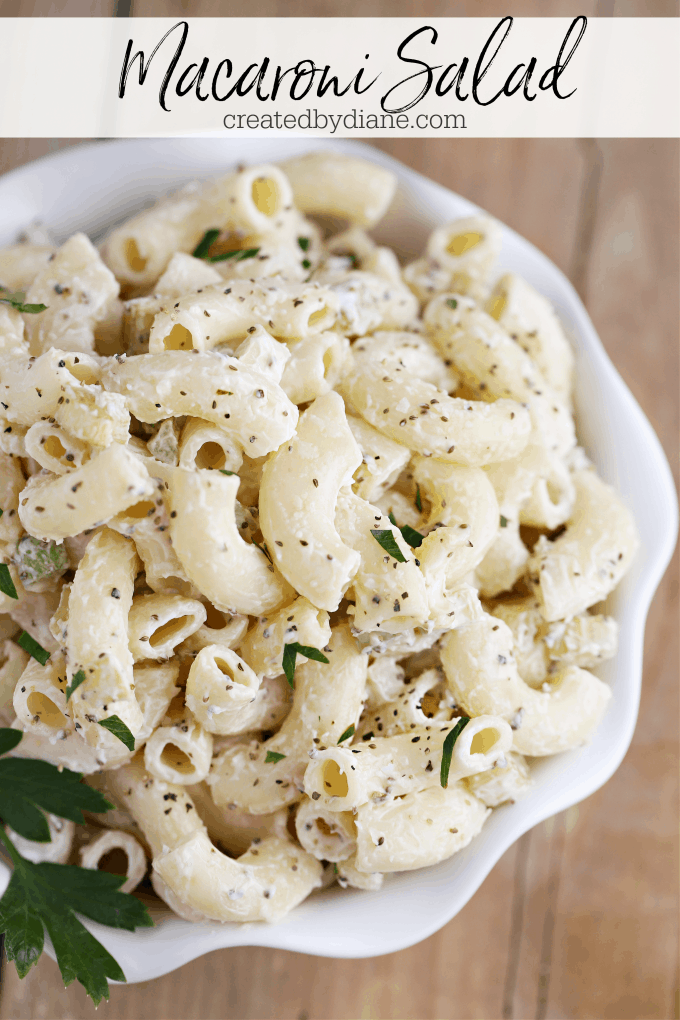 Creamy, plump, and savory, this old fashioned macaroni salad will knock your socks off!
This dish is good for any occasion!
Holiday…
It's got you covered.
Need a great side dish for a party… Done!
Looking for a dish to go with your next BBQ adventure favorite tv series…
Yes, yes, and yes!
And this dish brings with it a touch of nostalgia which almost everyone can relate to, as some form of this salad has been a regular at family gatherings since at least 1962, when the first recipe was published. And variations are seen regionally But others say it was invented in 1914, with the American versions being flexible allowing for additions of tuna or chicken. In New Zealand and Australia, it's traditionally cooked with shell pasta instead of elbow macaroni. And in the Philippines, it's a sweeter dish served with fruits and jellies. Add in a grated carrot to ensure the pasta doesn't dry out if you plan to make this ahead of time or if you desire more moisture in the recipe.
The macaroni salad I'll be walking you through today is what most of us see as classic macaroni salad and most remember most.
And it's just perfect as a side dish for BBQ or my Instant Pot Pulled pork or Instant Pot Ribs Or it can be served with Fried Chicken, hot dogs, or one of my 30 Ways to Make Rotisserie Chicken. However you decide to pair this macaroni salad, you won't be disappointed as this salad will be a star.
Ideas and Tips for this dish:
This recipe lends itself well to Tuna Noodle Salad easily – just add a can of drained tuna or chicken and stir! You can also use one can of drained chicken or 1-2 cups cooked and chopped chicken. It's a versatile recipe that can be added to in order to suit the needs of yourself or your guests!

Made with homemade mayo really elevates this simple dish and it's much easier! Here is my fail-safe recipe for

homemade mayo

!

I'm always surprised how much pasta results from 1 pound of large elbows cooked, they are thin and plump and tender, and easy to chew. However, if you like a firmer feel to your pasta just use smaller elbow macaroni.
Now, let's get down to making this quick and delicious side dish.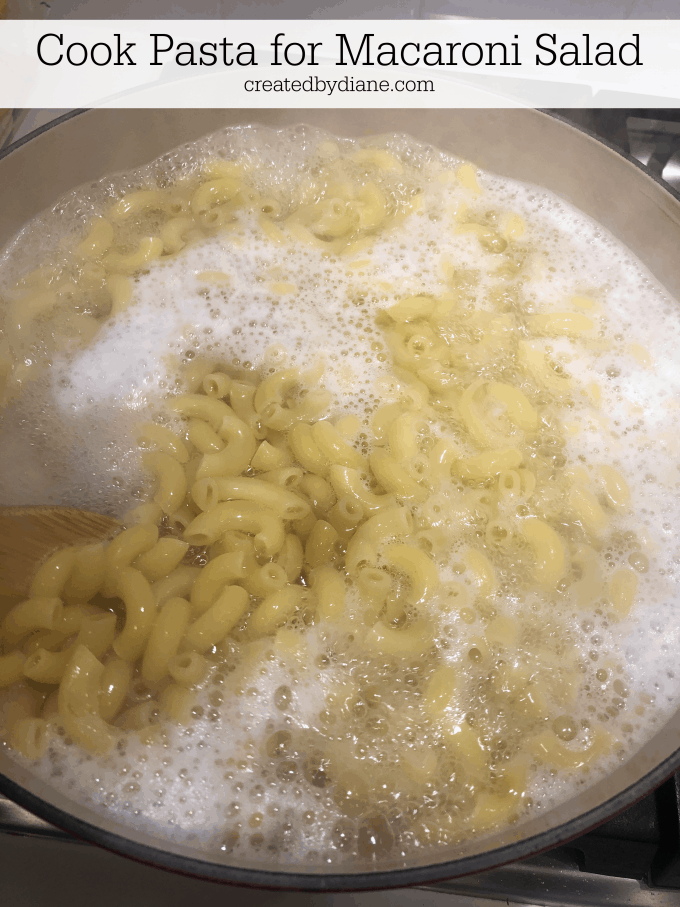 Bring water to a rolling boil on your stove and then cook pasta according to the package. Once pasta is cooked, drain and rinse in cold water, until the pasta is cold. Let it drain again. Not doing so will prevent the dressing from sticking. 
Be sure to cook the pasta in enough water so it cooks evenly, salt the water to give the pasta flavor, and stir the pasta as it cooks so it doesn't stick together.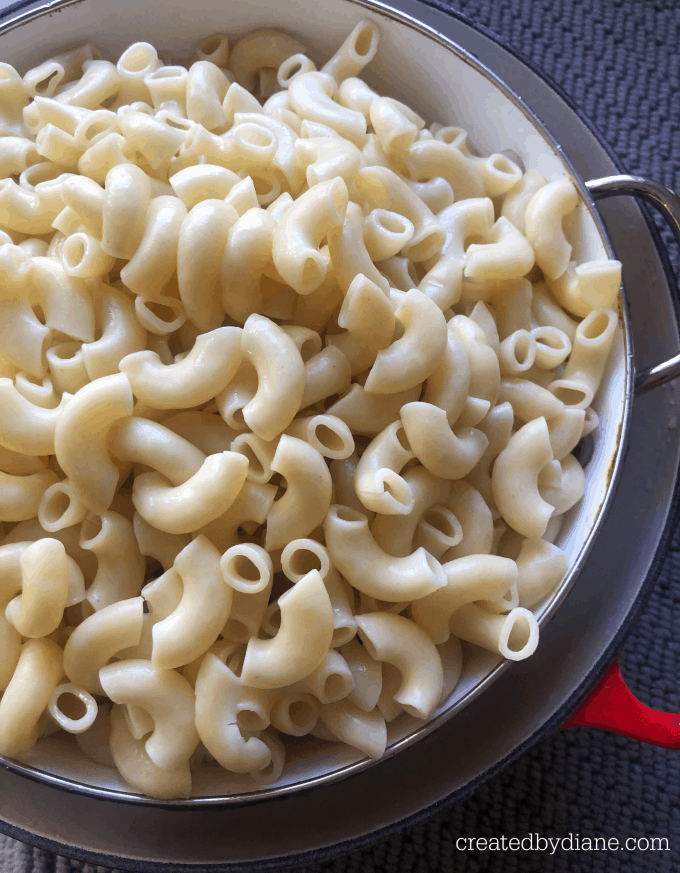 While the pasta is cooking get the mayo and get everything else ready.
Mix the pasta with mayo, celery seed, salt, and pepper. Using a spatula, combine the pasta and dressing in a large bowl. Mix gently and thoroughly.
At this point, if you'd like to add in any additional items you may do so now!
Store the macaroni salad in the fridge until chilled for best flavor, about 2 hours.
Additional items that can be added
1 teaspoon mustard

1 tablespoon vinegar

2 tablespoons relish, drained

1/2 cup red onion, diced or 2 green onions sliced

1/2 cup shredded carrots

1/2 cup red pepper, seeded and diced
Can I double this recipe?
Yes, you can! Keep in mind large elbows make a really large portion, of course you can easily multiply this recipe for parties and larger gatherings.
Recommendations for mayo-free?
In today's food market there are lots of mayo replacers such as veganaise. You could also use sour cream or Greek yogurt – however, these will change the flavor profile and make it more tangy. You could do half mayo and half sour cream as a start!
What are other ways to tell if my pasta is done?
The best rule of thumb for cooking anything is to taste it. If the pasta is mildly chewy but doesn't stick in your teeth, it is done. If it's hard or sticks to your teeth, cook it 1 minute more and test again. Since you'll be chilling the pasta right away with cold water, you won't want it as firm as you would if you were going to stir it with a hot pasta sauce.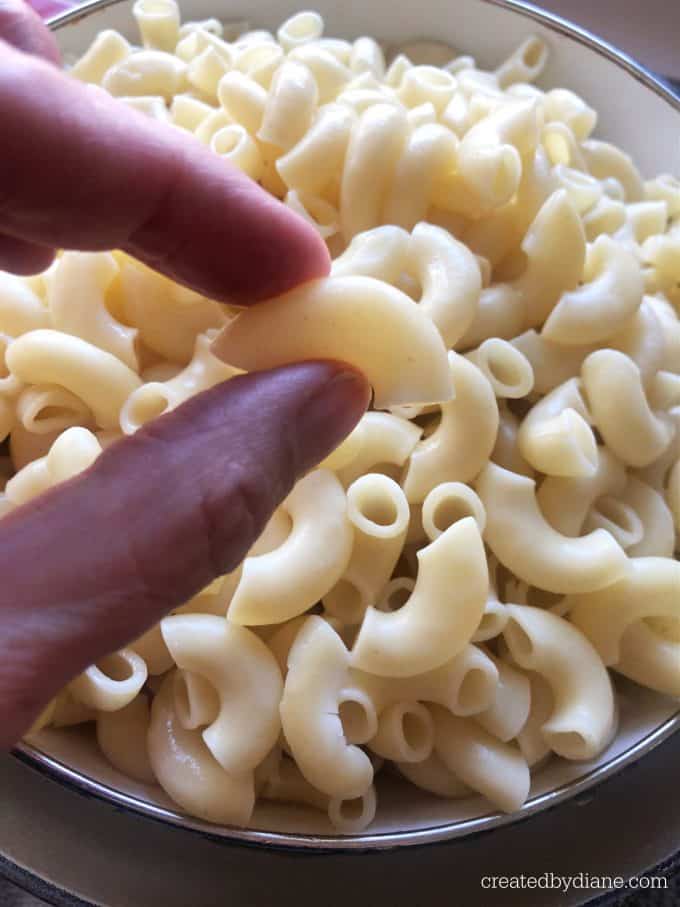 Large macaroni noodles are smooth and are a great choice for this classic recipe, you can use any variety of pasta shapes, like large shells, ditalini, penne, and spirals. But the classic elbow is the most popular and the mayo goes really nicely on such a smooth noodle.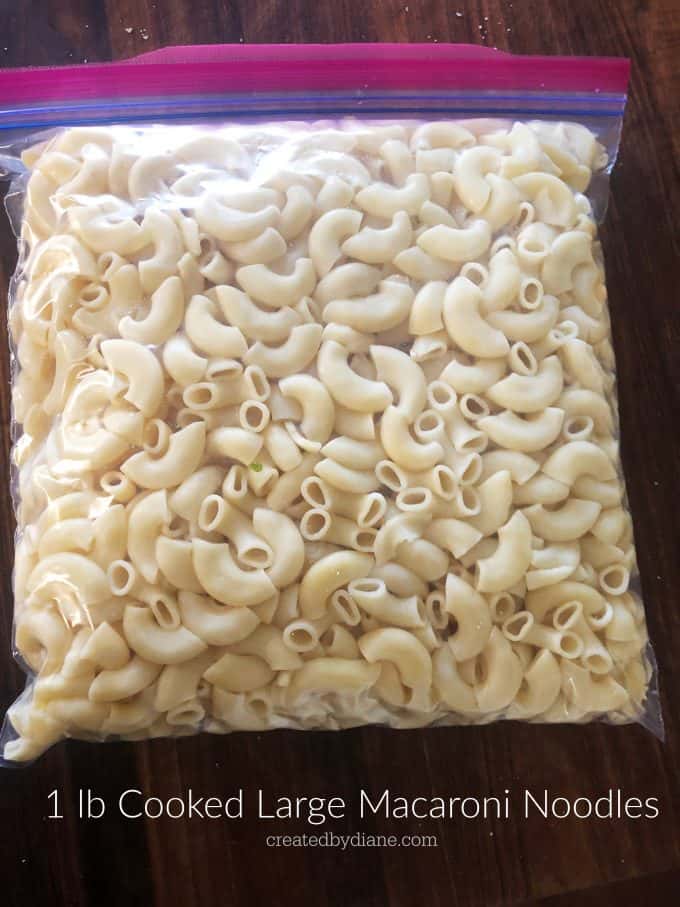 As you can see 1lb of large macaroni noodles cooks up quite a bit, and fill a gallon zipper bag to full capacity. So feel free to split it and make two different pasta salads with it. Like this Caprese Pasta Salad, be sure to check out my other pasta salad recipes.
How long does macaroni keep in the fridge?
Up to 5 days, remember to keep it cold, if it's hot outside, place a bowl of ice eater under the serving bowl to keep it cool. 
Is it really best to make this ahead of time?
Yes, if you wait to make it last minute there really isn't enough time for the pasta to chill well. At a minimum make it 2 hours ahead of time, but it's really great if you make it the day ahead. If you plan to make the macaroni salad more than the day ahead, prep and chop all ingredients and cook pasta, store them separately then toss it together the day before serving or the morning of serving.
Macaroni Salad
A creamy and delicious pasta recipe that is great with grilled foods, BBQ, burgers, chicken, beef and perfect to bring to parties and
Author:
Diane Schmidt, Created by Diane
Ingredients
1 lb large elbow pasta, or similar smooth noodle shapes like ditalini
1 cup mayonnaise, homemade or purchased( I prefer mayo or Hellmans)
1 teaspoon celery seed
1/2 teaspoon salt
1/4 teaspoon black pepper
options add-ins
1 cup diced celery
1/2 cup shredded carrots
1/2 cup diced red onion
2-3 green onions sliced
23 tablespoons sweet or dill relish, drained
1-2 teaspoons mustard
1/2 cup red pepper, seeded and diced
Instructions
Cook pasta according to the package, then drain and rinse in cold water, until the pasta is cold.
Allow it to drain again (excess water will prevent the mayo from sticking)
Mix the pasta with mayo, celery seed, salt, and pepper.
Add in any additional items, if desired.
Place the macaroni salad in the fridge until chilled for the best flavor about 2 hours.