Fresh and delicious cilantro lime sauce that will have you craving tacos in no time at all!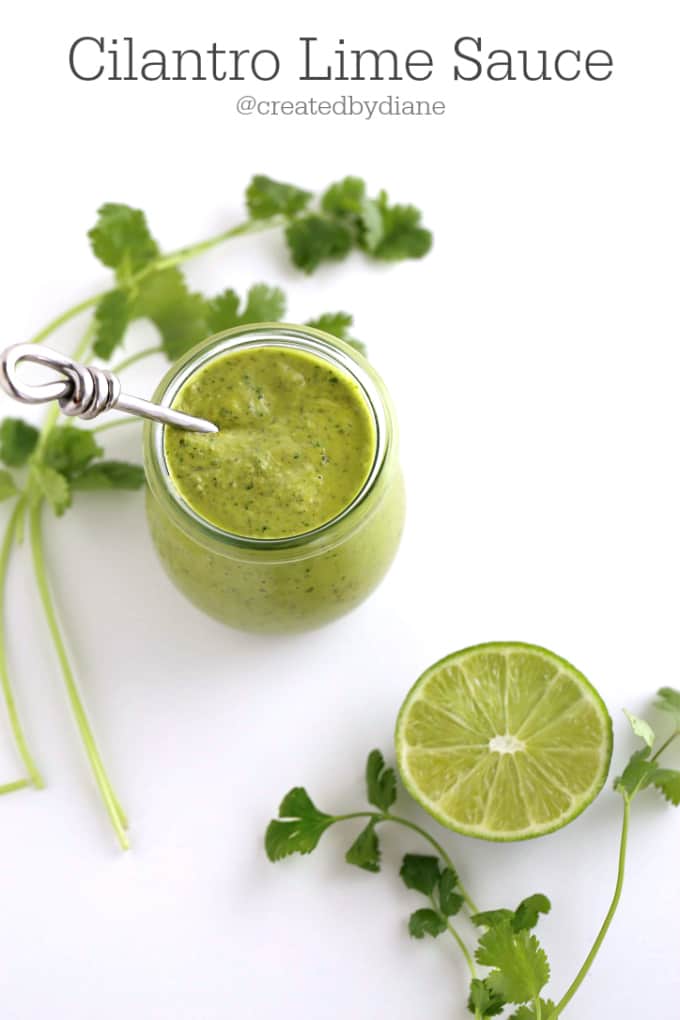 I love the fresh flavor of cilantro.
Fish tacos are always a favorite around here,
I was playing around in the kitchen to come up with a sauce with cilantro that doesn't involve ingredients I don't usually have on hand. (namely tomatillos, lots of green sauces call for tomatillos which I love, but this sauce uses items I already have on hand all the time)
Fish tacos are always a favorite, I often make them with shrimp or scallops.
I made this Cilantro Lime Sauce and enjoy it on so many things, like pasta, vegetables and well…
chicken, beef you name it,
this sauce is irresistible.
This sauce is great on TACOS
any kind of tacos…
Beef, Chicken, Fish, Shrimp, Scallop you name it this is a sauce that is perfect on them.
It's really easy to whip up and lasts all week in the fridge so enjoy it all week long, if it lasts until then.
Now, this sauce just doesn't stop with tacos, it's great over pasta or rice and is a great sauce to drizzle over some roasted or grilled vegetables.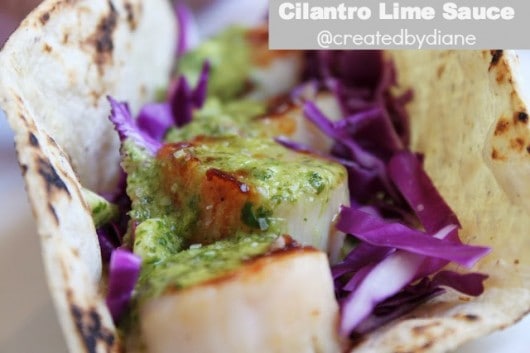 Luckily, I had the ingredients on hand and could whip up a batch really quick for lunch.
I had scallops in the freezer and quickly thawed them in cold water.
Minutes later this is what I had for lunch…
I grilled the scallops in my grill pan, heated corn tortillas, added shredded red cabbage and topped it off with the
Cilantro Lime Sauce, it was so delicious.
I was so glad I had enough scallops…I ate three tacos.
What other options for this sauce are there?
If you'd like this sauce creamy, you can add an egg, or a 1/4 cup heavy cream, or an avocado.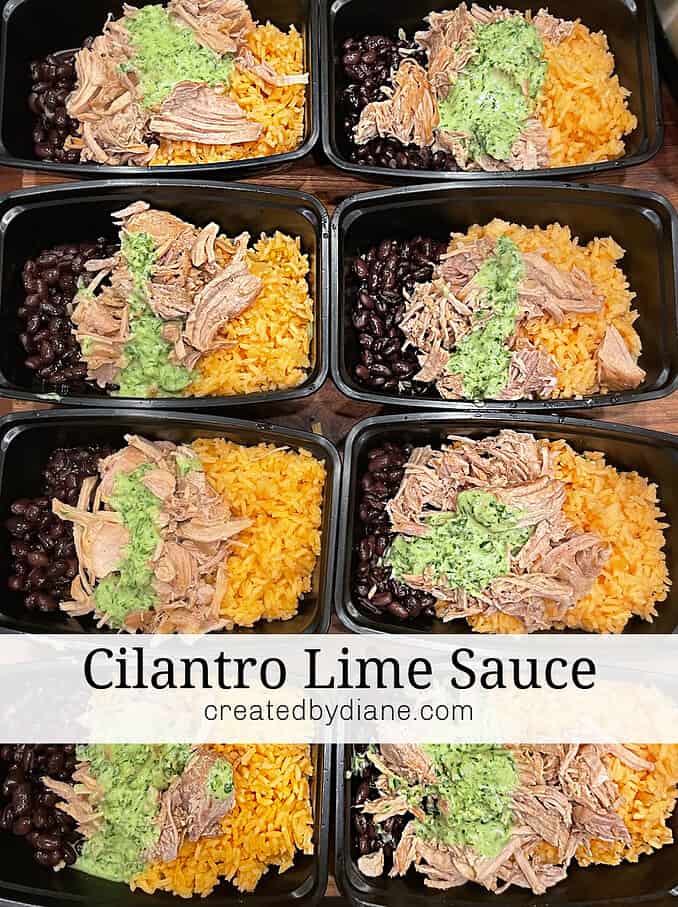 I often make taco bowls for meal prep and have a post here with all the details at least 15 servings and believe me they're so delicious they get devoured fast!
Cilantro Lime Sauce
the perfect sauce for all Mexican food, corn, beef, pork, chicken, tacos, scallops, shrimp, fish, and more.
Author:
Diane Schmidt, Created by Diane
Recipe type:
condiment, sauce
Ingredients
1 bunch Cilantro (about 3/4 cup chopped)
1 lime, juiced
1 garlic clove, minced
3 scallions, chopped
2 tablespoons canned diced green chilies, or canned diced jalapenos if you like spicy foods.
1/3-1/2 cup oil (vegetable oil, avocado oil or use a very light olive oil) add more oil as needed to get the consistency you want.
pinch of salt
*optional 1 egg
Instructions
You'll process the ingredients with an immersion blender, traditional blender, or food processor.
Add all ingredients together in a blender and drizzle in the oil until the sauce thickens and emulsifies.
I sometimes add an egg to make the sauce thicker and creamier.