guacamole with goat cheese and bacon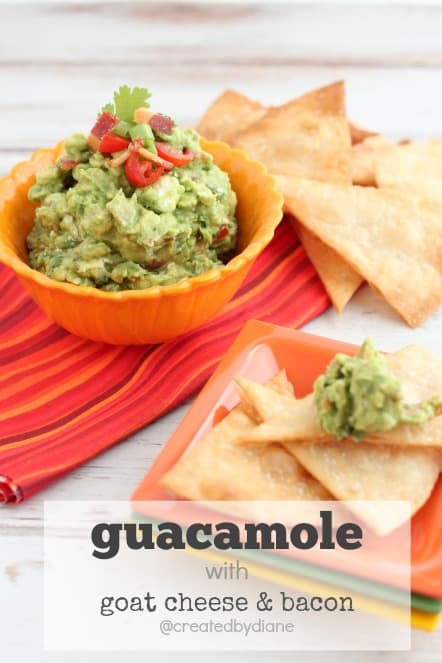 Creamy, lightly smokey, slightly tangy and oh so delicious,
is the only way to describe this guacamole.
It went fast…real fast.
So go ahead and grab yourself some ripe California Avocados, they are in season right NOW, just one more reason to LOVE this time of year.
The go to chip for salsa and guacamole might be corn tortilla chips,
but one bite of fresh flour tortilla chips and this guacamole with goat cheese and bacon and I might be able to change your mind that these are PERFECTLY delicious! Light and crispy and just irresistible.
HOW MANY AVOCADOS DO YOU NEED FOR HOW MANY PEOPLE?
Depending on how many people your guacamole is going to serve, a good rule of thumb is 1/2 an avocado per person when making guacamole for a crowd.
When are chips and guac needed:
well they are needed before, during, and after just about any event, whether big or small.
Great for parties, when people arrive, to slather on top of tacos and nachos, and after dessert when you want a crunchy snack.
Perfect when you realize you kids still have 2 more weeks of school, when it appears everyone else's kids across the are finished on only have a day or two to go. I love when my kids are home for summer!
Great for days when you are about to start cleaning your house, car or anything else…even starting laundry. It all will be better is you have some of this to start the task off with, trust me. It helps!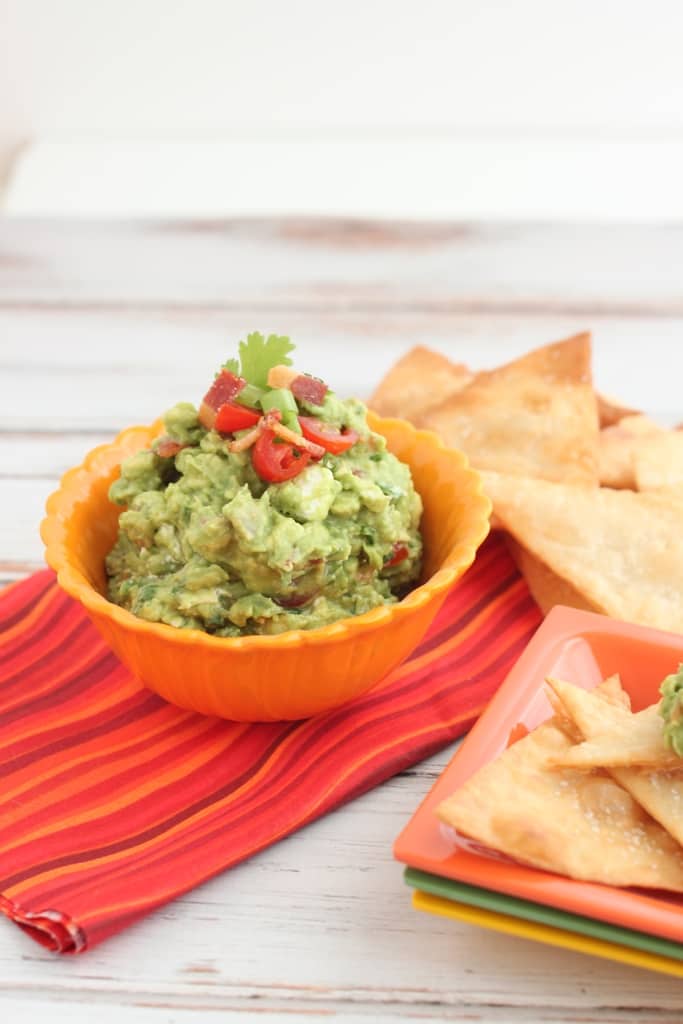 guacamole with goat cheese and bacon
Ingredients
2 large ripe California Avocados
3 pieced cooked bacon diced
1 1/2-2 oz goat cheese (cut into small pieces)
1 tablespoon fresh chopped cilantro
10 grape tomatoes diced or 1 medium tomato diced
1 lime juiced
1/4 teaspoon cumin
1/2 teaspoon salt
2 scallions diced
flour tortillas
oil for frying tortillas
Instructions
Cut, dice and remove avocado in the skin and place it in a medium bowl.
Mix in bacon, goat cheese, cilantro, tomato, lime juice, cumin, salt, and scallions.
Cut flour tortillas like a pie to create triangles.
Heat oil to 375 degrees in a 4-inch deep pan to prevent splattering, place some cut tortillas in oil and cook until golden, drain on paper towel and salt as desired. Repeat until will all cut tortillas in batches don't overcrowd pot or the may stick together and not fry evenly.
Notes
Flour tortillas have a lighter flavor than corn tortillas and they allowed for the delicious goat cheese and bacon taste in the guacamole to really come out. Of course, this guacamole would be delicious with corn tortillas but for a fun change try flour tortillas