Cherry Cheesecake Skillet Cookie Pie.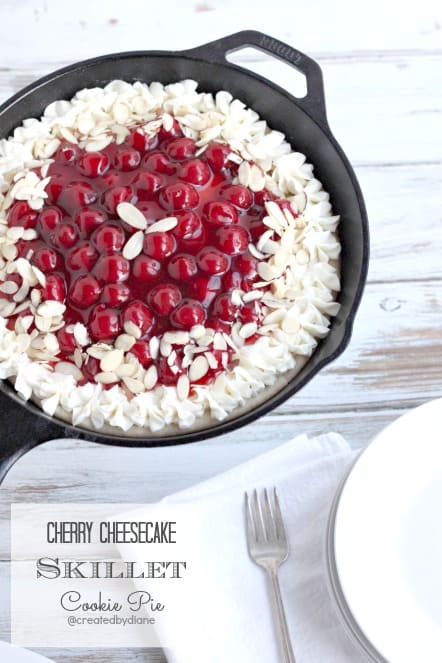 Who likes quick-easy and impressive?
I sure do,
and this skillet cookie fits that perfectly.
The Holiday rush is already upon us and our calendars are filling up quickly with things to do, people to meet and of course what food we are going to be enjoying.
This is by far one of the easiest desserts that look like you've spent all day making.
The bright red cherries and so perfect for this time of year.
This is also perfect for those last minute get together, whether you are hosting it or you end up getting the invite this is one dessert you could make quickly and bring with you and since it's in the skillet it's easy to transport. I love that!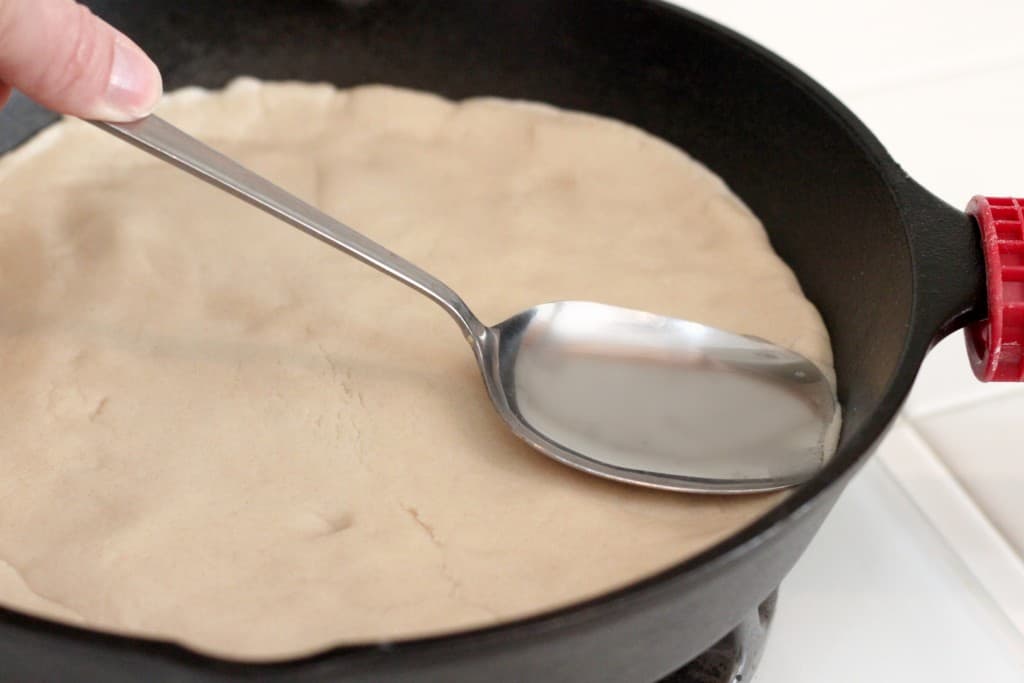 Press the cookie dough into the skillet so it's smooth. I used the back of a flat spoon, the bottom of a metal measuring cup would work equally well too.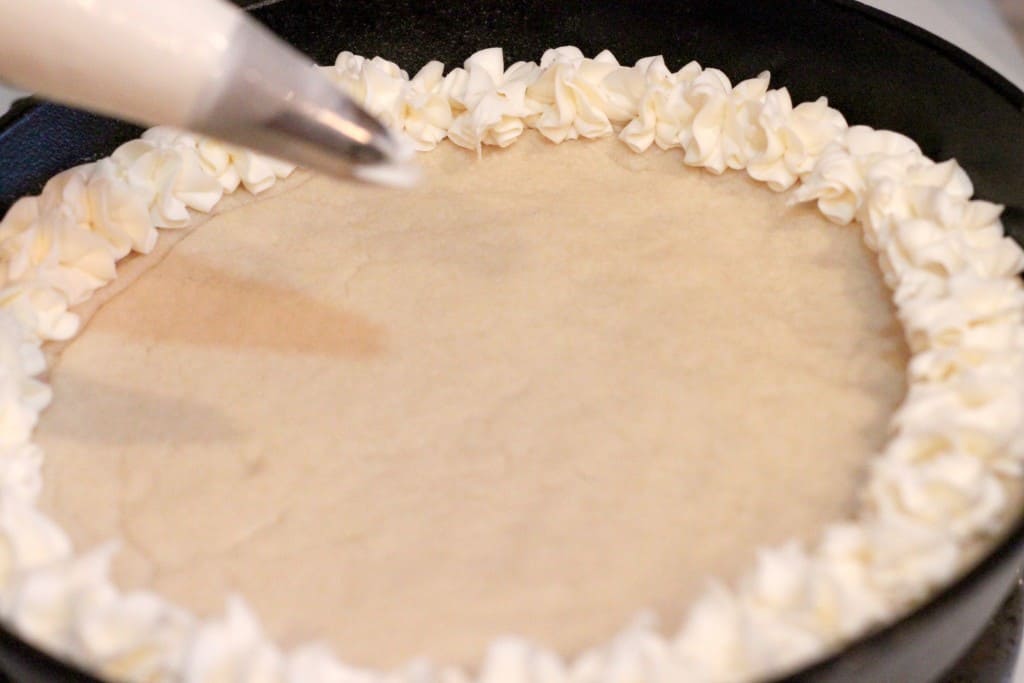 When the cookie is completely cooled. Pipe the edge with frosting.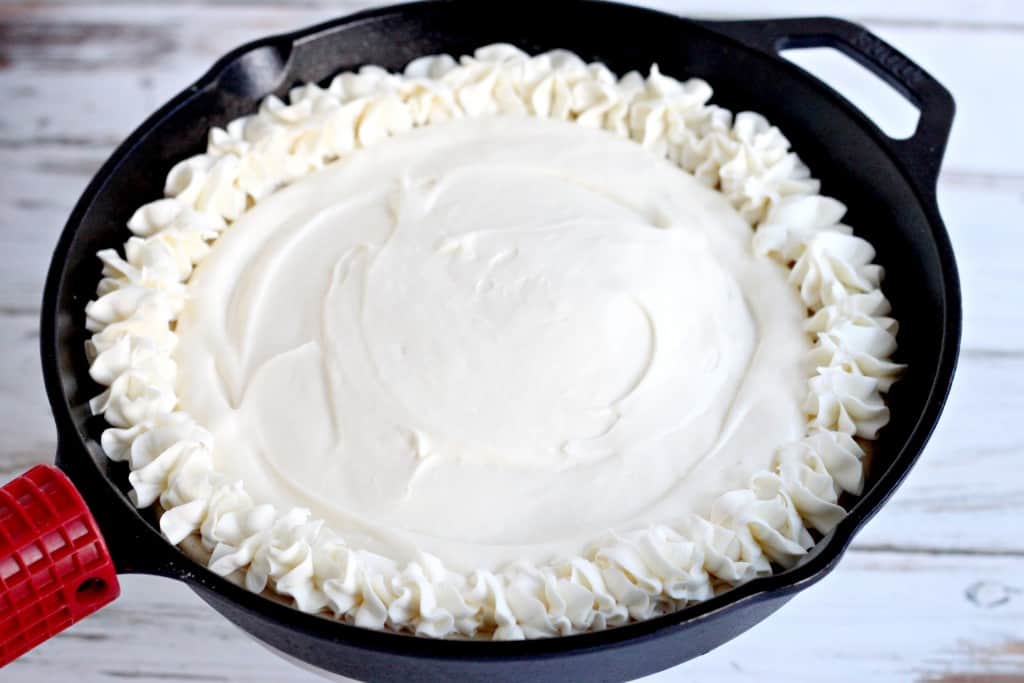 Next, spread the cheesecake cream to the piped edge. I piled it up in the middle a bit so it wasn't completely flat.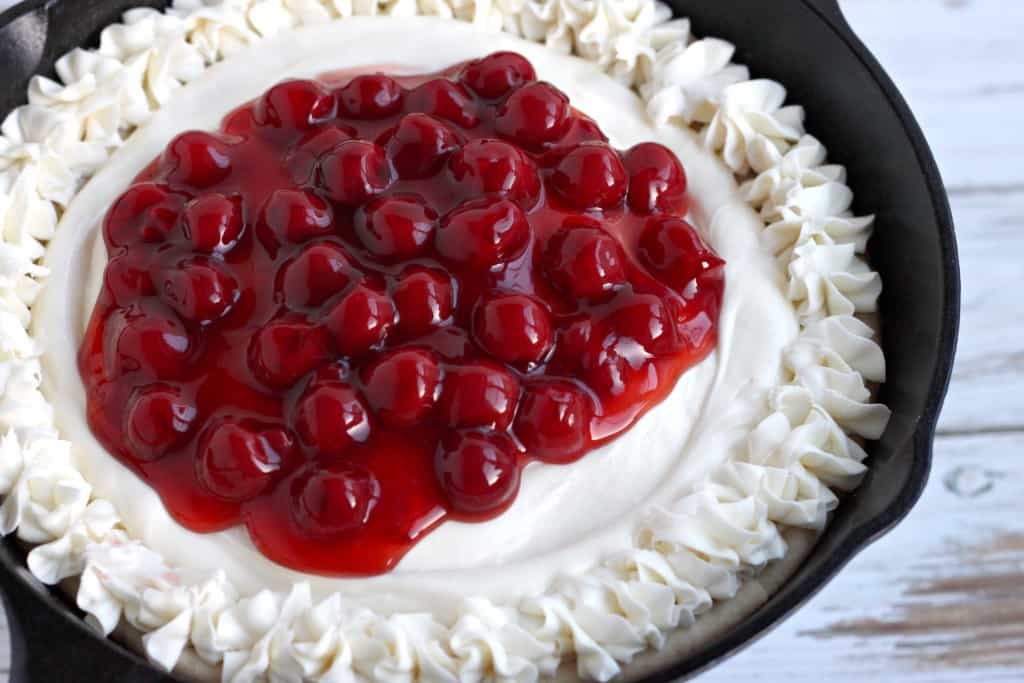 Now pile on the pie filling.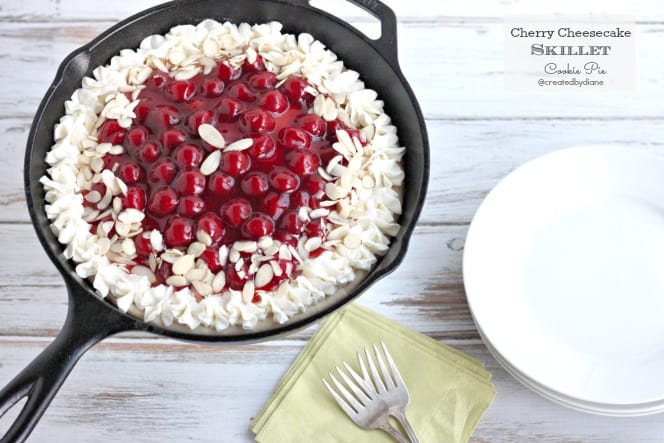 Add some slivered almonds on top and you are all set to serve this super-easy and pretty pie.
THIS is the skillet I use and love and I use it so much I have 3 of them and more in other sizes too, it's a kitchen must have.

Cherry Cheesecake Skillet Cookie Pie
Ingredients
1 16.5 oz Pillsbury sugar cookie dough
1 cup flour
8 oz cream cheese (room temperature)
7 oz marshmallow creme
1 21 oz can cherry pie
1/2 cup Pillsbury Vanilla Frosting
1/2 cup slivered almonds
Instructions
Preheat oven to 350 degrees F.
Mix cookie dough with flour
Heat 10 inch cast iron skillet over high heat for 2-3 minutes or until heated.
Remove pan from heat and press cookie dough into pan with the back of a spoon.
Bake for 12-15 minutes or until lightly golden on edges.
Allow cookie to cool completely.
Mix room temperature cream cheese and marshmallow creme together in bowl with mixer until smooth and creamy, this is the cheesecake filling.
Place frosting into a piping bag with a large star tip and pipe around the edge of the cookie.
Spread the cheesecake mixture from the center to the frosted edge.
Place the cherry pie filling on top of the cheesecake mixture.
Decorate with slivered almonds.
This is a whole new way to look at cherry cheesecake, don't you think?
One of the best parts about this recipe is you could substitute the cherry filling for any flavor you like, I can't wait to try it with blueberry and oh….. lemon, that sounds delicious too.

Pillsbury invited bloggers to create some new recipes using their cookie dough, all opinions are my own.