I just LOVE cherries and wanted to combine my love of margaritas with cherries in a refreshing and delicious drink to carry me through the summer!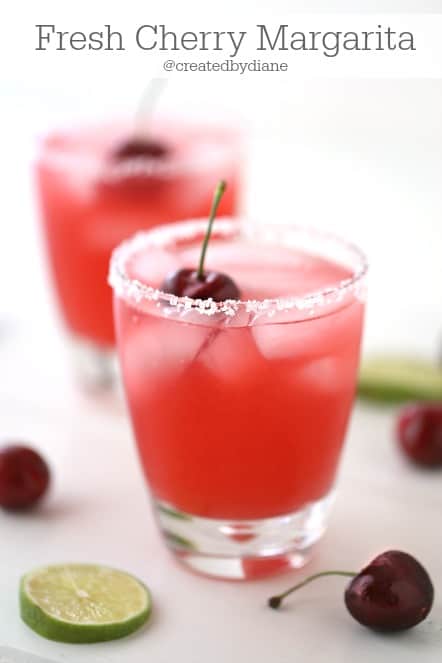 I buy LOTS of cherries, and wow do I enjoy eating them.
I can hardly get the bag in the fridge without devouring half of it!
Sometimes that just means I need to buy two bags really.
When I stock up on cherries I always make a batch of Cherry Syrup…I just love it.
You can make cherry syrup for these or you can muddle the cherries, the choice is yours.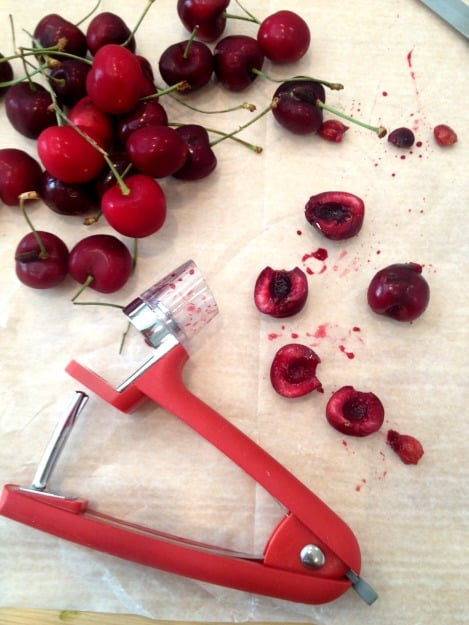 A cherry pitter is invaluable to a cherry lover!
Do you have a favorite recipe with fresh cherries, I'd love to hear about it. Let me know in the comments.
I love this Cherry Lime Curd I've made and Fresh Cherry Scones and this Cherry Guacamole. If you love cherries you'll have to give those a try too!
You can either muddle the cherries for the drinks or you can use the cherry syrup I recommended making. Either way you will have a fresh delicious flavor. No artificial flavors going on here and how can you resist that gorgeous color!
If you love fresh drinks but often fruit sweetness can vary, that is why it's great to make some simple syrup to have on hand to be able to adjust the sweetness in drinks. I've infused it with fresh lavender too and it's great in so many drinks even iced tea or lemonade. To make those drinks "boozy" I just add some vodka. Yep, school is finally out here. I think having kids in school is now a days is way harder on the parents than it was years ago, my parents say to me, they have no idea how parents now do it. We're required to make sure our kids have all their assignments in and that we are checking the grades online and I think it should go back to making the student accountable. Ask them all to turn in their papers to the teacher, not a bin the teacher checks later. Most often if you didn't do an assignment each and every person in your class knew you were slacking off….so the fear of people knowing you weren't doing what everyone else was used to be the motivation to turn assignments in on time. I wish it were still that way. But it's a whole new generation out there and I guess they just don't care. They don't mind looking like the slacker! Teachers tell me so many kids don't turn in homework/classwork and sad to say my kids are guilty of that too….so that is often a source of stress in our house and that means most of my stress will be relieved…at least for the summer……time to celebrate ,I'll be sitting back and enjoying some Cherry Margaritas!
Fresh Cherry Margarita
Ingredients
5 oz tequila
1/4 cup fresh lime juice
1/4 cup water
1/4 cup cherry syrup (recipe here https://www.createdby-diane.com/2014/07/how-to-make-cherry-syrup.html)
fresh cherries for muddling and garnish
Instructions
In a drink shaker add tequila lime juice, water, cherry syrup and shake with ice to get the drink ICY cold.
If you cherries are really ripe the syrup will be flavorful and sweet, if they aren't super flavorful muddle 6 cherries in the drink shake and strain as you pour the drink into the glasses. (alternatively you can muddle 10 or so cherries per drink and you will want to adjust the sweetness with simple syrup then)
Pour over a rimmed glass with lime and salt and half full of ice.
Garnish with a cherry.
Notes
alternative: You can muddle fresh cherries and add additional sweetener if you don't want to make the cherry syrup. But trust me, once you make the syrup you fill find lots of things to enjoy it on.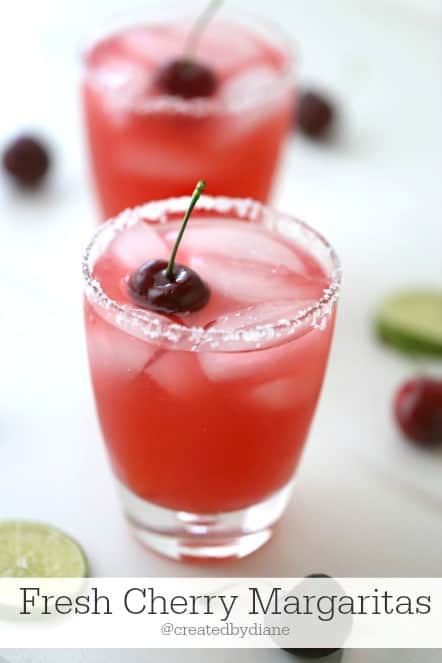 BRING on SUMMER!