Cherry pie with a twist!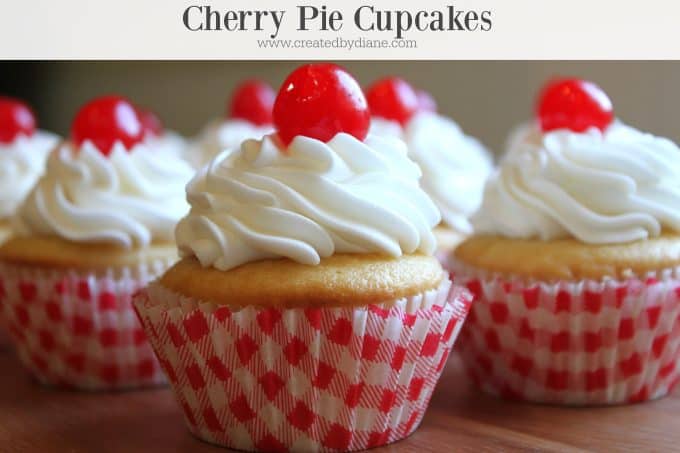 These scream HAPPY!
These cupcakes are filled with cherries and topped with delicious frosting and the cherry on top makes them super cute!
These are great for everyday celebrating, BBQ's, Cookouts and get-togethers.
These are easy and quick to make using a box cake mix, with a little a little adjustments to make them super-yummy.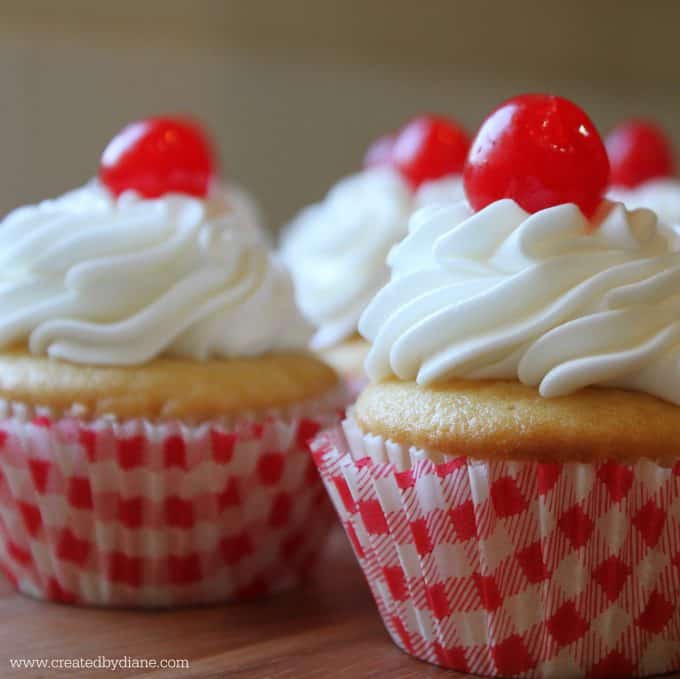 Cherry Filled Cupcakes
Ingredients
1 box vanilla cake mix (and ingredients to prepare them from package instructions)
1 cup flour
1 can (21 oz) cherry pie filling
Frosting
1 cup shortening
5 cups powdered sugar
3 tablespoons heavy cream
24 maraschino cherries, well drained
Instructions
Heat oven to 350°F (325°F for dark or nonstick pans). Place paper baking cup in each of 24 regular-size muffin/cupcake cups.
Make cake batter as directed on box for 24 cupcakes add a cup of flour, this will help the filling not fall to the bottom of the cupcakes.
For each cupcake, spoon 3 tablespoons batter into a muffin cup, then spoon 2 teaspoons pie filling onto center of batter. Bake and cool as directed on box for 24 cupcakes.
In a large bowl, beat shortening, powdered sugar and heavy cream with electric mixer on medium speed until creamy. Place frosting in decorating bag fitted with a star tip. Starting at outer edge of cupcakes, pipe frosting in spiral pattern, gradually elevating to a peak in the center. top each with a cherry.
Notes
frosted with a star tip

I made this recipe originally for Betty Crocker, and just had to share it with you to be sure you didn't miss it!