Fresh Cherry Scone Recipe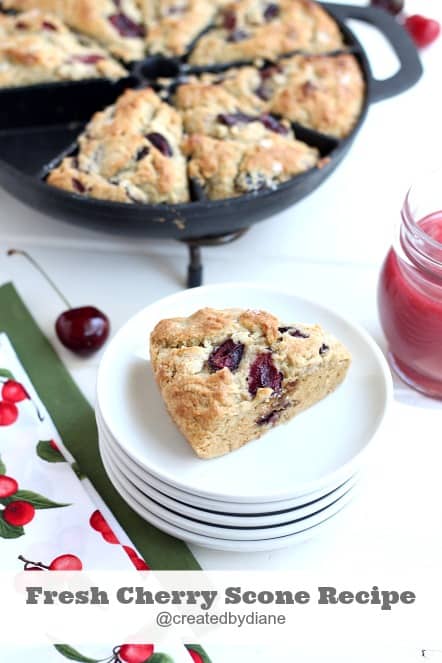 Stock up on cherries NOW,
these scones are my NEW favorite…
and I served them with Cherry Lime Curd so really they were Double DELICIOUSNESS!
I'm thinking of grabbing a few extra bags of cherries and pitting them and freezing them so I can continue to make these for the rest of the summer.
I known cherry season is short and I'm freaking out a little…it's not like I know the exact day they won't have cherries….why don't they tell me, I want SPECIFICS!
In the meantime, while the CHERRY people get it together and pinpoint the last cherries I will see, I will stock up.
I wash, dry and pit the cherries, cut them in half, then place them on a cookie sheet lined with wax paper and freeze them until firm them place them in a zipper bag.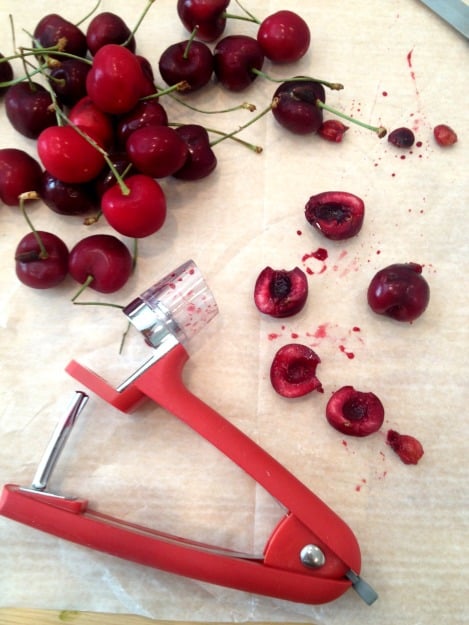 The cherry pitter is the life saver here, I have a couple but this one from OXO is my favorite.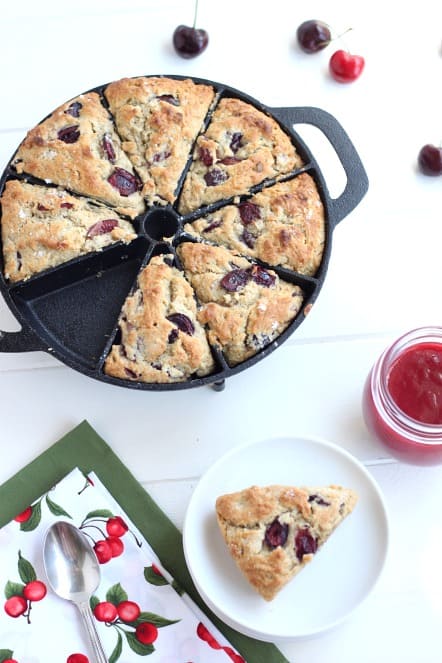 I'm also freaking out over this Cast Iron Scone Pan, it's from Old Mountain a super-sweet and thoughtful friend gave it to me, so I made scones to thank her….she said she was in a store on the way home from a trip and was trying to decide which piece of cast iron to get me then she saw the scone pan and knew that was the one she would get, she said it's because she loves my scones and they are her favorite thing I make. She is one of my official samplers. She lives across the street and gets to try EVERYTHING!
I LOVE her so much for thinking of me, and I am LOVING this scone pan more than I can possibly say!
The scones baked up light and fluffy, it must be the design that helps them rise so much.
Fresh Cherry Scone Recipe
Ingredients
1 cup fresh cherries, measure after pitting and cutting in half or quarters
1 cup flour (plus about 1/4 cup additional flour)
1/4 cup brown sugar
1 1/2 teaspoons baking powder
1/2 teaspoon salt
1/4 cup cold unsalted butter
1/4 cup heavy cream
1 teaspoon vanilla extract
1 egg
Instructions
Preheat oven to 400 degrees
Blend flour, brown sugar, baking powder, and salt.
Cut in cold butter with pastry cutter until mixture resembles coarse crumbs.
Add in heavy cream, egg, vanilla extract. Mix until all combined.
Gently stir in cherries until they are barely incorporated.
Darker cherries that are overmixed with turn the dough blueish, so just fold them.
If your cherries are soft and not firm, freeze them for 10 minutes so they mix easier.
Place dough into a greased cast iron scone pan (the scones don't get as crisp in the cast iron but they taste great) I have pre-heated my cast iron and tried it also and the timing was about 15 minutes, but they still didn't get a crisp edge.
Alternatively, I like to GENTLY knead out on the dough on a lightly floured surface. Use extra flour if dough is sticky.
Knead may be to strong of a word for these fruit scones, GENTLY FOLD the dough over twice to combine it on a well-floured surface.
Bake scones on a parchment lined baking sheet for 20 minutes at 400 degrees.
Notes
Scones are like biscuits do not over mix.
Feel free to add in more flour, these fruit scones are on the sticky side, but as I mentioned I really just FOLD the dough over to combine the cherries into the dough.
You can use 1/2 cup cherries if you are rolling them out, or they are over ripe to ensure the dough won't be too wet.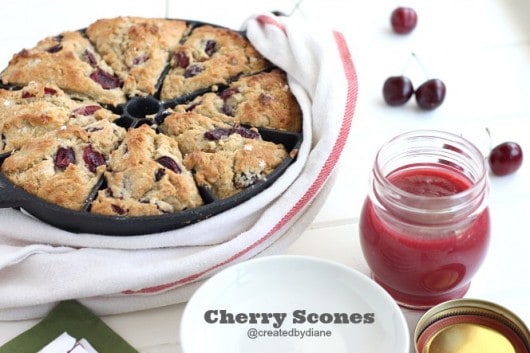 After receiving some reader questions I made these scones 3 times to test the recipe to be sure it was accurate in measurements and they are. I do find fruit scones to be more challenging as they definitely have more moisture in them, simply don't over mix the dough, flour your hands and the surface well and just fold the dough over two times to cut them into triangles to bake them or place the dough in a cast iron scone pan. This is a small batch recipe, it makes 8 small scones.
Now I'm off to the store to get more cherries!
If you like cherries you will want to try this Homemade Cherry Syrup and Cherry Italian Cream Soda.