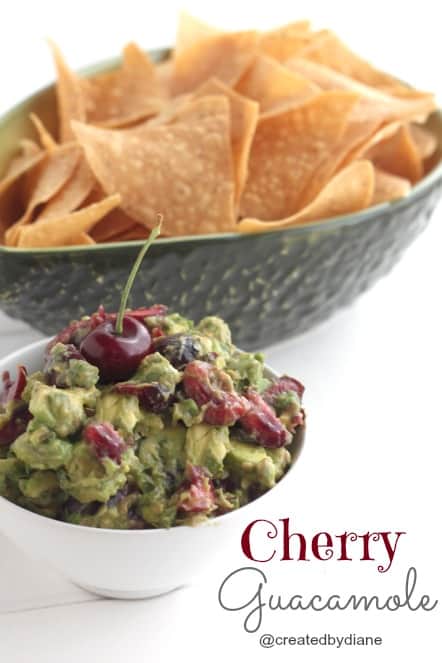 I'm still stocking up on cherries every time I see them.
And this is one recipe I will be making again and again, it's creamy and sweet and lightly spicy with the jalapeño.
I may even add more jalapeño next time. There is a big difference with the spiciness of jalapeños, so of course you have to watch before you put too many in. If they are really spicy, you can roast them first. One store near me has the spiciest jalapeños and another has WAY more mild jalapeños. As soon as I cut into one I can tell by the smell if it's spicy or not….
that and my eye will start watering if it's the really spicy one.
*don't rub eyes after cutting a jalapeño, that hurts…trust me! If I'm working with the really spicy jalapeños I wear gloves…when I remember
Now if you don't like anything spicy, you don't have to add jalapeño at all, you could add bell pepper if you like those.
It's great to have options, but one thing this guacamole just can't be without is the cherries. I am just loving cherries this year. Did you see what else I made with cherries, Fresh Cherry Scones, Cherry Lime Curd, Cherry Syrup.
So don't pass by the cherries…grab them!
Cherry Guacamole
Ingredients
2 ripe California Avocados
1 jalapeño diced
1 scallion diced
2 tablespoons cilantro chopped
1/2 lime, juiced
1/2 teaspoon salt
1 cup pitted fresh cherries cut into quarters
Instructions
Cut and dice avocado and place into a medium bowl
Mix in jalapeño, scallion, cilantro, lime and salt.
One it's all mixed well, stir in cherries.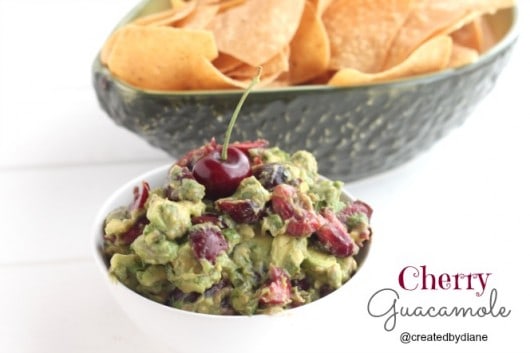 Cherry Guacamole is a great variety for fruit lovers, it may sound unique, but I'm sure everyone said the same thing when they tried mango salsa and oh don't forget how delicious Pineapple Guacamole is too!