Oatmeal is not just for breakfast…
Here you'll find over 20 recipes using oatmeal that you will want to make pronto!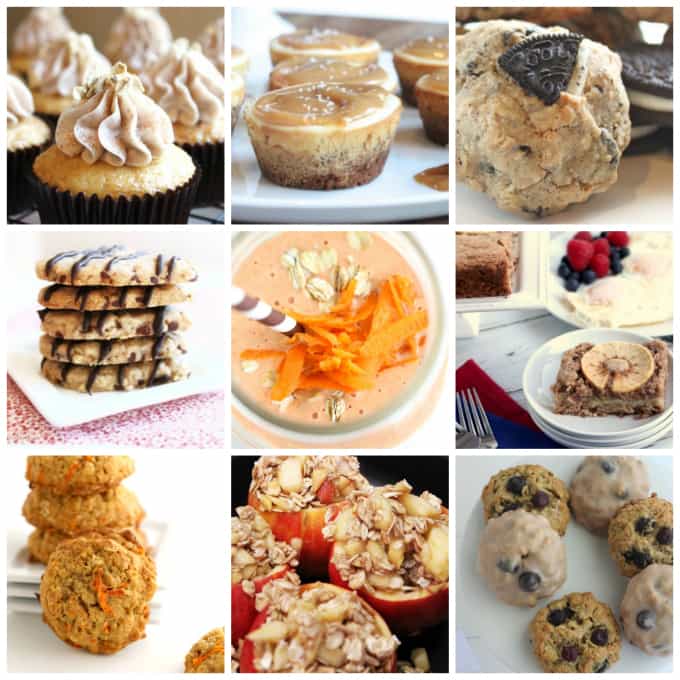 Oatmeal is a staple in my kitchen.
It's not only a really perfect item to enjoy for breakfast,
it's AWESOME in baking.
Don't you agree?
Well, let me give you more reasons to break out a canister of oatmeal and start enjoying some new recipes.
Oatmeal is yummy!
Oatmeal is a must have in the kitchen
Oatmeal is heart-healthy and filling which makes oatmeal recipes the perfect comfort food!
You'll be sure to find a new favorite recipe in no time!
You'll find recipes from cupcakes to smoothies and cakes to cookies….
take a look!

Oatmeal Cupcakes with Cinnamon Sugar Frosting– these cupcakes are irresistible, cinnamon sugar frosting… WOW, you have to give these a try.
Salted Caramel Cheesecake Oatmeal Cups– The bottoms are made with oatmeal, and well… CHEESECAKE and salted caramel, a winning combination.
Oatmeal Oreo Cookies– Oreos stuffed inside these oatmeal cookies makes them creamy and sweet and wonderful.

Oatmeal Chocolate Chip Cut Out Cookies– I love how cute cut out cookies are and these not only have oatmeal they have mini chocolate chips and the texture is amazing. Drizzled with melted chocolate makes them even more fun.
Carrot Cake Oatmeal Smoothie– All the great taste of carrot cake in a quick easy smoothie, perfect for on the go breakfast!
Cinnamon Apple Oatmeal Breakfast Bars– Don't forget breakfast with oatmeal doesn't just come in a BOWL!


Carrot Cake Oatmeal Cookies– These cookies are crisp on the outside, which is so GREAT and the chewiness inside makes them a comfort cookie through and through.
Stuffed Apple Crisp– Aren't these stuffed apples TOO CUTE!
Blueberry Oatmeal Breakfast Cookies– my kids LOVE when I make them cookies for breakfast, so does my hubby too. These are great to make ahead of time and have them at the ready for busy mornings.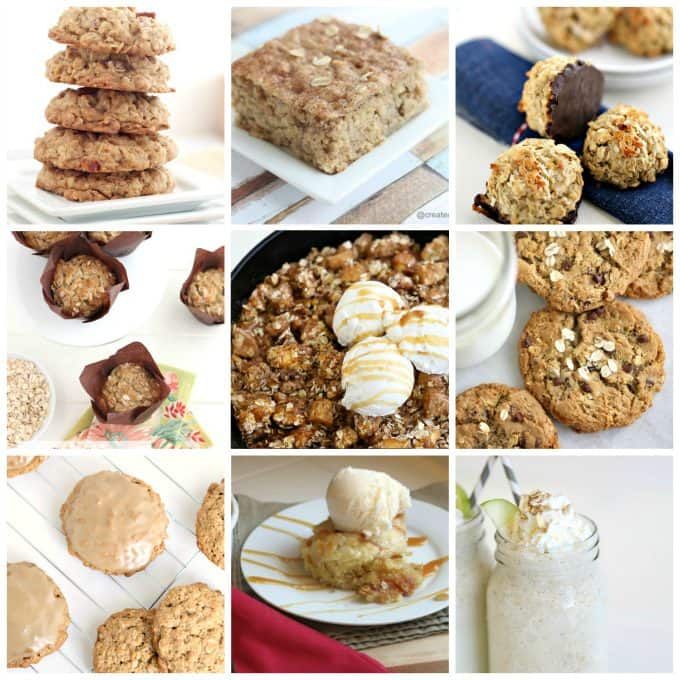 Now OATMEAL adds so much texture to recipes and it's one reason I LOVE it so much.
Which recipe will you try first?
Will is be one with apples in it, banana, coconut, or bacon. MMM…. I'm starving just lookin at all these.

Oatmeal Maple Bacon Cookies– OMG, Maple and Bacon and Oatmeal… yum!!
Oatmeal Cinnamon Banana Cake– This banana bread is just SO MUCH More than ordinary banana bread!
Coconut Oatmeal Cookies– The great flavor of toasted coconut in these oatmeal cookies takes ordinary oatmeal cookies to a whole new level.

Brown Sugar Banana Nut Muffins– The brown sugar in these muffins is so fantastic, a perfect muffin with great flavor.
Skillet Apple Crisp– whether I plan it out or not I always have apples, and oatmeal and that sure makes this dessert an EASY decision to make anytime!
Oatmeal Chocolate Chip Cookies these large bakery style cookies are irresistable!

Banana Maple Oatmeal Cookies– These glazed cookies are unforgettable to anyone who even SMELLS them, they are Large in size and BIG on flavor.
Caramel Apple Oatmeal Cobbler– This dish is warm and comforting and easy to make.
Apple Cinnamon Oatmeal Smoothie– Apples and Cinnamon are additional heroes in this fun smoothie, perfect for a fussy eater anytime they need something quick and delicious!