Oatmeal Cinnamon Banana Cake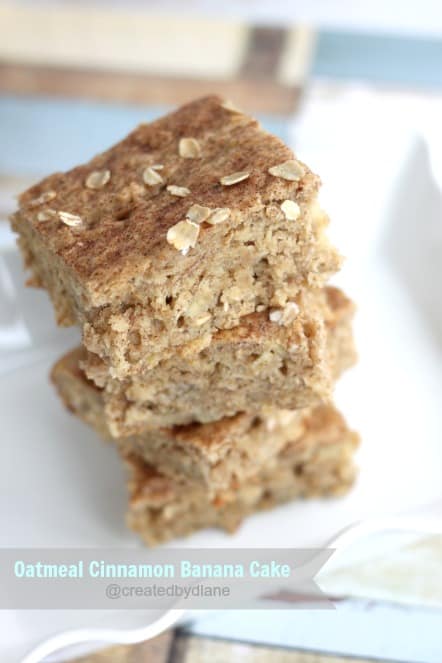 This is the perfect item to have all stacked up on the kitchen counter.
It's irresistible, I know that for a fact because pieces were disappearing…coincidentally as soon as someone walked would walk by.
There goes 1…2…3…pieces,
I had to hurry and get a piece for myself.
I just love easy cakes like this. Perfect for those bananas sitting on the counter, and great when you need to bring something over to a friends house to have coffee.  Well I for one and waiting for the calm after the storm to die down. Or in English, things to settle down a bit now that the kids are out of school and my car may have a chance to sit in the garage and rest for a whole day. I'm envious of those who their kids ride the bus. My mom and I talk about how things have changed and she still can't believe there aren't busses to bring my kids to school and how it takes me 30 minutes to get each child from school each day and they get out at different times. Yep, it's a good hour and a half plus per day I will gain back at the least now that summer is here. I think I'll be making this to stop by to some visit with some friends this summer and sit, relax and catch up. Yep that is what I have planned. I just don't think people stop by and sit and chat they way they used to everyone is so busy, busy, busy. I'm tired of busy! Busy is so over-rated!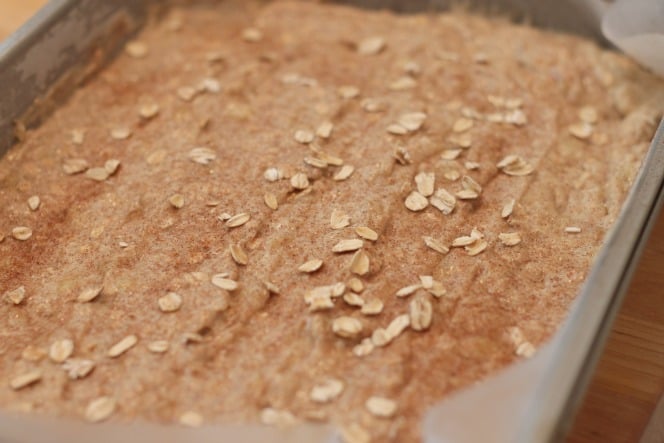 Mix up the batter, spread it in a pan, and sprinkle it with cinnamon and some oatmeal and bake it. Yep, it's that easy.
Oatmeal Cinnamon Cake
Ingredients
½ cup butter
1 cup sugar
1 egg
3 bananas sliced
3 tablespoons milk
2 teaspoons vanilla extract
2 cups cake flour
1 cup oats (regular, not instant)
1 teaspoon baking powder
½ teaspoon baking soda
½ teaspoon salt
1 teaspoon cinnamon
Instructions
Line a 13×9 pan with parchment paper and spray with a baking spray.
Preheat oven to 350 degrees.
Cream the butter with sugar in mixing bowl with paddle attachment.
Mix in egg until combined.
Add in sliced banana, milk and vanilla.
Mix in the flour, oatmeal, baking powder, baking soda and salt and cinnamon.
Spread batter in pan and bake for 30-35 minutes or until toothpick comes out clean.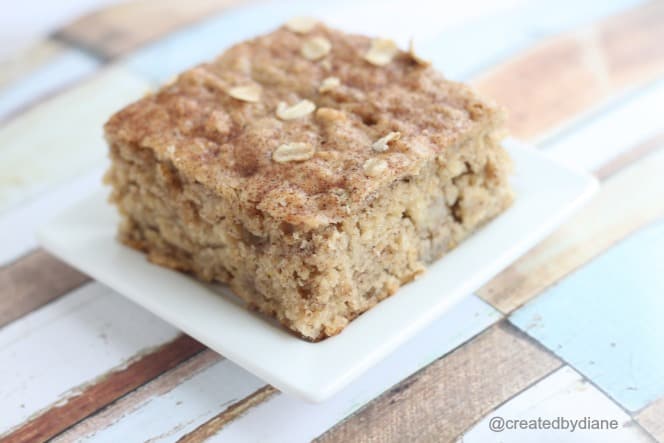 I'm sure my friend won't mind me stopping by when she sees this!