Crispy chewy cookies are a BIG deal to me. I love a cookie with great texture. These Oatmeal Chocolate Chip Cookies are the perfect combination of crispy and chewy.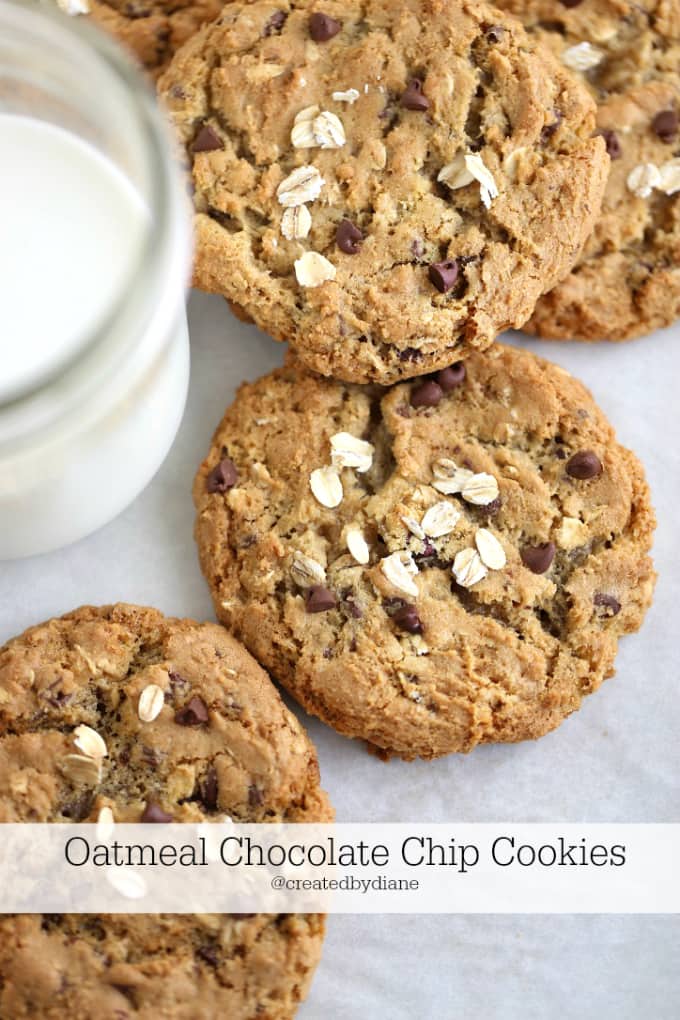 These are not just oatmeal cookies, and they are not just chocolate chips cookies…
They are the perfect combination of both!
These are generous sized cookies, everyone said they just loved seeing such big cookies and couldn't wait to gobble them up.
I topped each cookie with some oatmeal and pressed a few mini chocolate chips into them, they have a real bakery quality to them. A great bakery…. not just any bakery. I so with there was a great bakery nearby…. I miss old fashioned bakeries since I don't think I'll be walking into one anytime soon…. I'll just need to keep baking batches of these!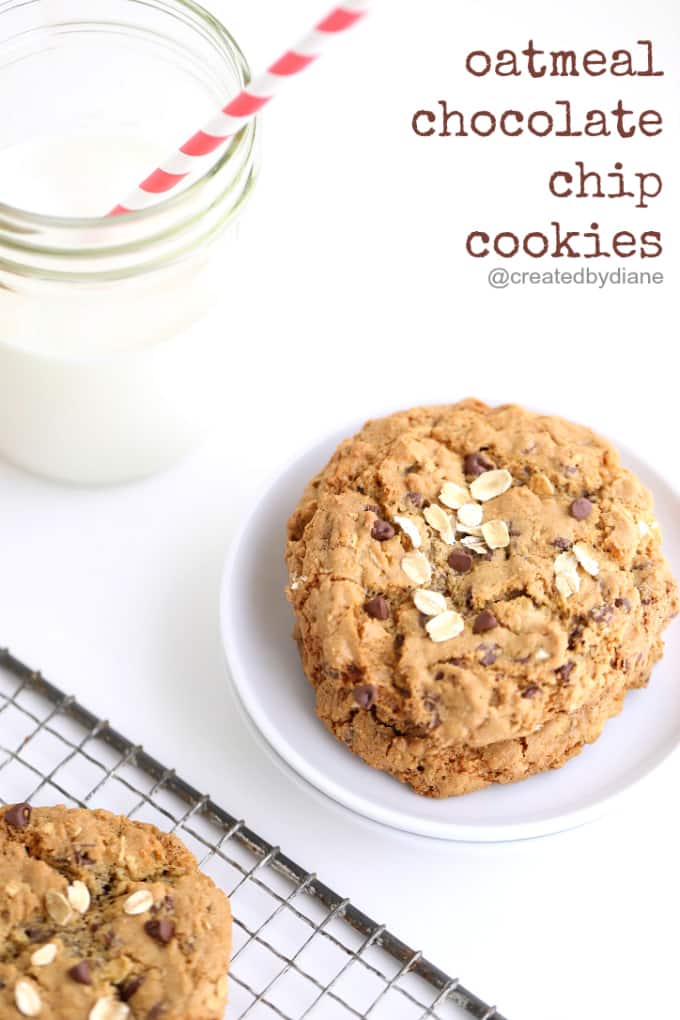 Pour a glass of milk and plate up a couple of cookies and enjoy!
You may not be able to dunk these cookies into the milk unless you break them in half unless you have a glass with a super wide rim.
Try a bowl if need be!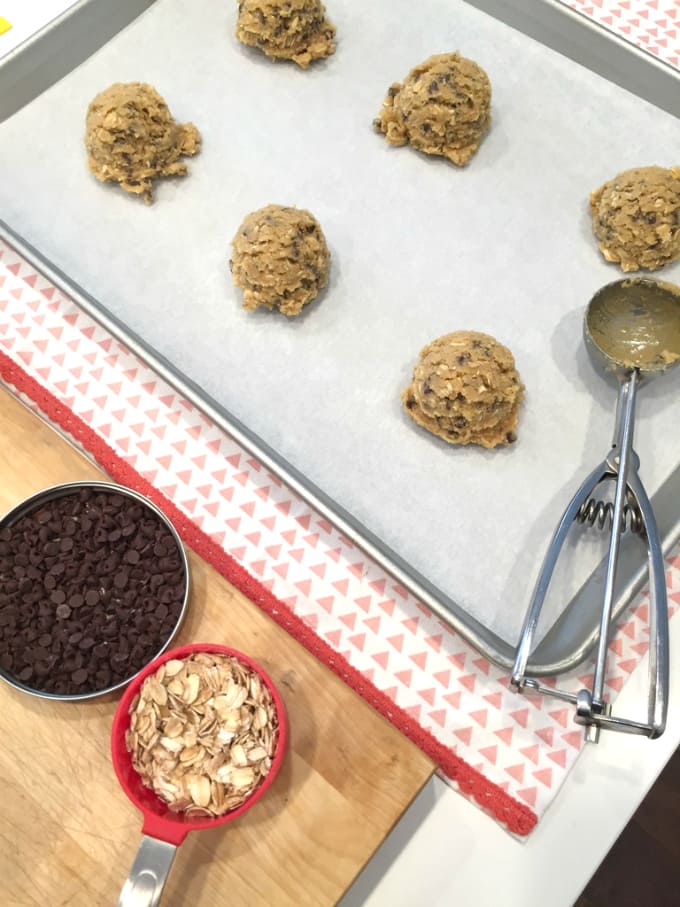 Place 6 cookies evenly spaced out onto parchment lined baking sheets for evenly baked cookies.
Have you gotten my COOKIE GUIDE yet? It's FREE, and it's a must for lots of tips on baking the BEST cookies, all the time.
These are the types of cookies that are great for EVERYTHING, everything from car trips, to after school snacks, parties and well breakfast… well if there is oatmeal in it, it's breakfast food, right?!?
It's almost BEACH season, and there is nothing better than bringing fresh baked cookies to the beach and well, these cookies are THE EXACT type of cookie everyone would love to have at the beach! I love going to the beach, feet in the sand, walking along the edge of the water and well…. eating snacks, sandwiches and enjoying COOKIES!
Oatmeal Chocolate Chip Cookies
Ingredients
1 1/2 cups butter (at room temperature for 30 minutes) I use salted butter.
3 cups sugar
2 tablespoons molasses
4 eggs
2 teaspoon vanilla bean paste (or vanilla extract)
4 cups flour
1 1/2 teaspoons baking soda
1 teaspoon salt
2 cups oats + 2 tablespoons for topping cookies (not quick oats. I use quaker old fashioned oats)
2 cups mini chocolate chips reserve 3 tablespoons for topping cookies.
Instructions
Preheat oven to 350°
In large mixer bowl beat butter with sugar until well mixed.
Add in molasses, eggs, and vanilla and mix on medium.
Mix in flour, baking soda, salt, and oats on medium until well combined.
On low add in mini chips and combine.
Use a 3 tablespoon scoop, and place 6 cookies on each parchment-lined baking sheet.
Bake for 15 minutes, the cookies will be golden in color, and slightly puffy, they will flatten out as they cool and finish cooking on the baking sheets.
This will ensure a chewy cookie inside without over baking the outside of the cookies.
A minute or two extra will make a dryer cookie, so keep an eye on your oven if your oven runs hot adjust accordingly. if you're unsure how well your oven will bake large cookies, bake 2 cookies at first and test the timing.
Allow cookies to cool on baking sheets.
Other Oatmeal items you may love:
Skillet Apple Crisp,
blueberry oatmeal breakfast cookies
,
brown sugar banana nut muffins
,
oatmeal maple bacon cookies
,
caramel cheesecake oatmeal cups
,
oatmeal cupcakes with cinnamon sugar frosting