Oh, the aroma of cookies and maple floating through the house…these smelled so good while baking, I was going crazy because I could hardly wait to eat them!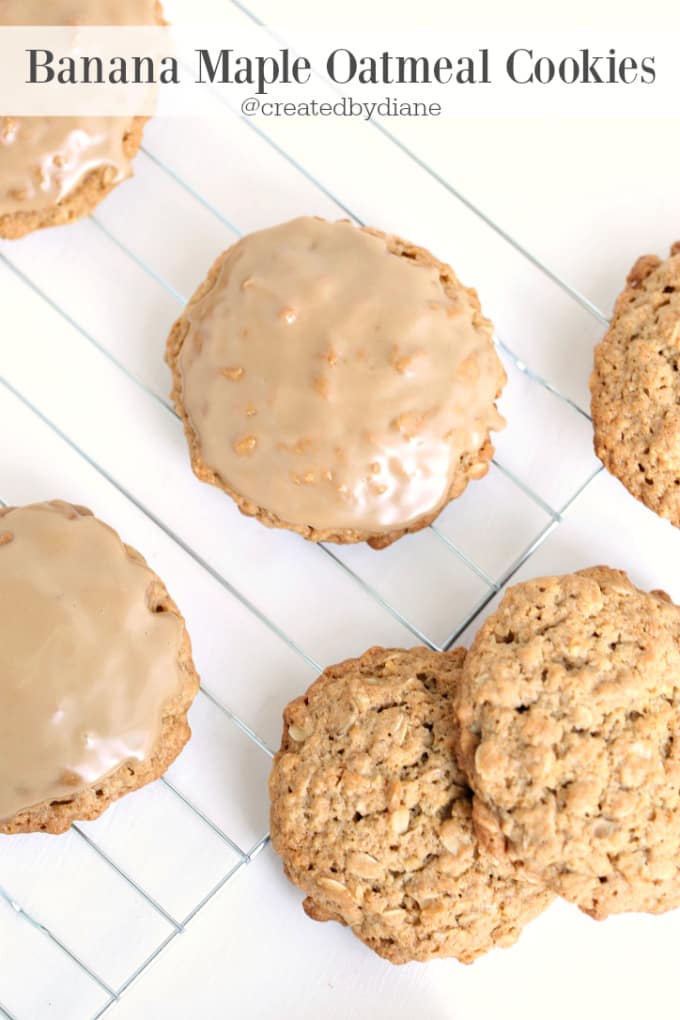 These cookies have all the delicious flavors of maple donuts
mixed with banana bread and
oatmeal cookies…
Now, THAT is quite the combination
and trust me they are DELICIOUS!
I wanted to create something new and different,
and I got the idea to pack all these great flavors into a cookie.
I wanted them to be easy to make too…
 it doesn't get any easier than drop cookies!
These cookies have become everyone's favorites. They are easy to whip up a batch at a moment's notice, and I always seem to have extra bananas which happen to be a good thing. 
If you have lots of bananas be sure to check out these other great recipes using banans:
Banana Bread with Chocolate Chips
and I have plenty more delicious banana recipes here.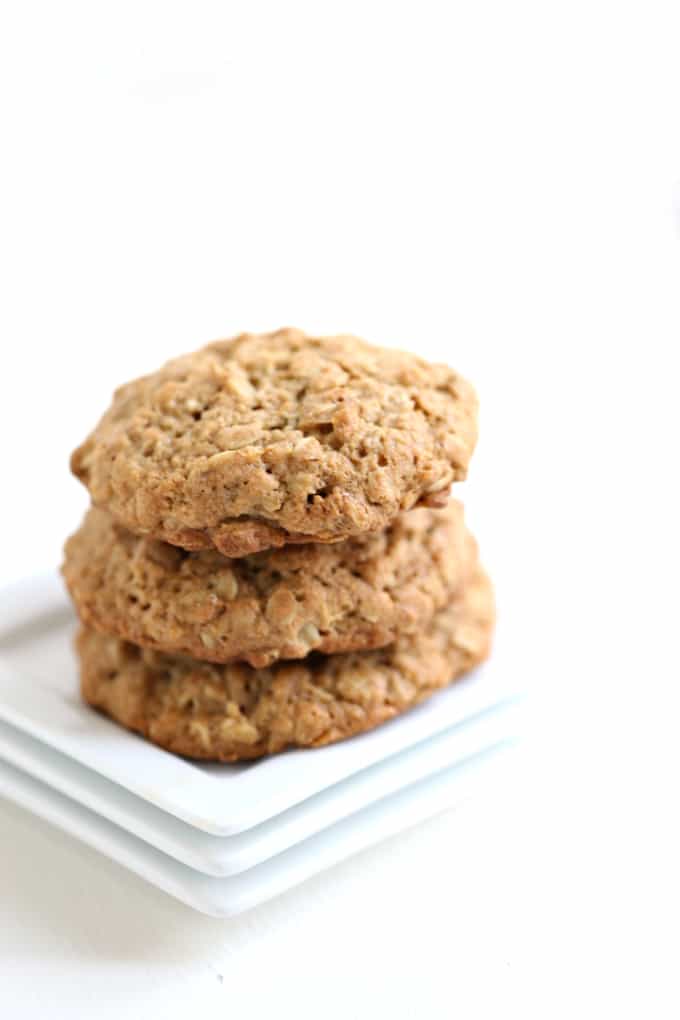 I cleaned up as the cookies were baking, and I couldn't wait to try them.
I had to wait, though, because I needed to glaze them first.
More waiting…
But thank goodness it doesn't take too long,
and you can ice them warm if you don't mind them dripping 🙂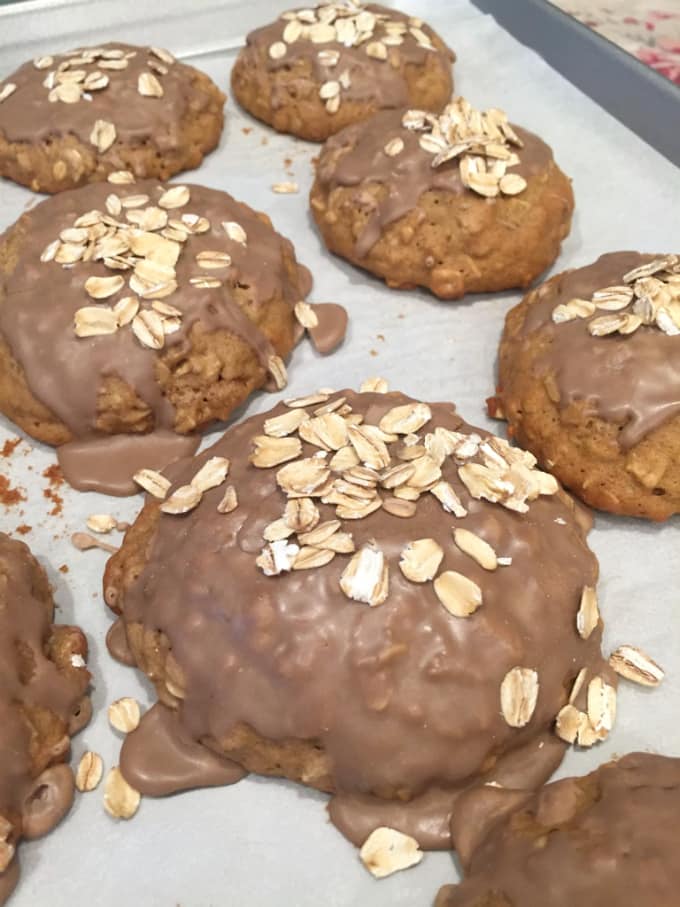 I made these a few times and this batch got iced warm and I added some oatmeal on top… these were so yummy.
 I took that first bite and almost did a happy dance
I could have done it, but I just decided to eat another cookie instead. 
It's kind of dangerous,
me being alone in the house surrounded by all those cookies.
Yes, I can practice SOME restraint…
well somewhat!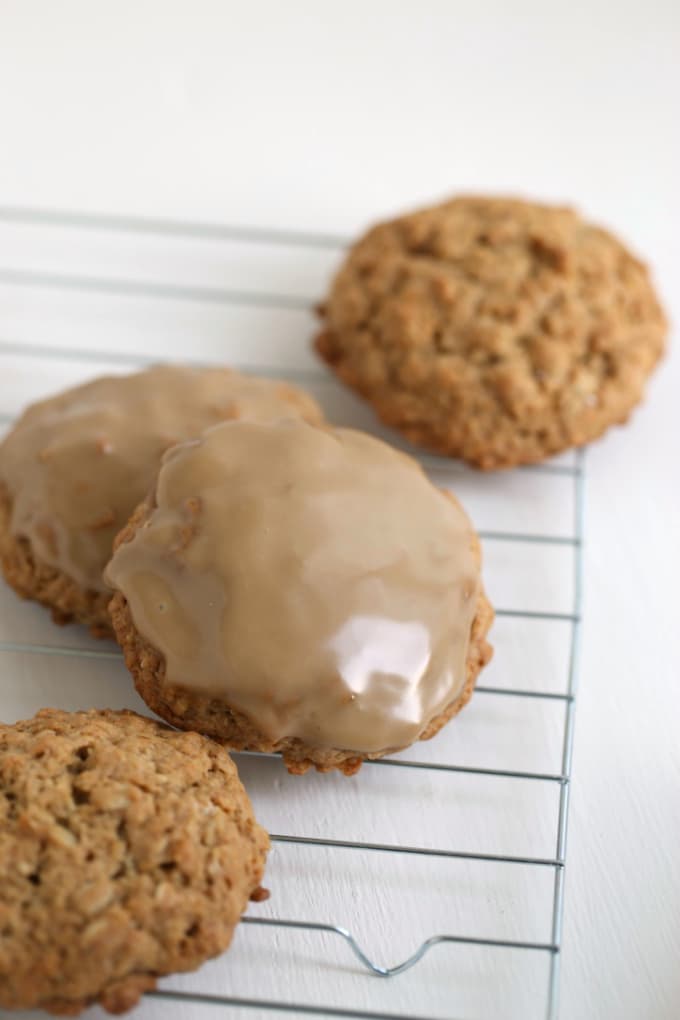 These are so delicious because of the three main flavors here.
The oatmeal provides the classic texture and taste we all love,
while the banana lends the fruity sweetness.
The maple glaze, though… 
it's the perfect topping!
On their own, the cookies are fabulous.
With the glaze, they are irresistible!
There's something about maple and fruit that go so well together, and it's amazing with banana.
These are soft cookies,
with a substantial bite that you can sink your teeth into thanks to the oatmeal.
The maple glaze gives it that sweet, rich finish – unexpected, yet wonderful.

A real treat.
I dare you to eat just one!
Banana Maple Oatmeal Cookies
the most delicious banana cookie ever full of oats and bananas and a yummy glaze icing to top them off with.
Author:
Diane Schmidt, Created by Diane
Ingredients
1/2 cup butter
1/2 cup sugar
1/2 cup brown sugar
1 egg
1 cup banana (2 bananas)
1 teaspoon vanilla extract
1 teaspoon maple extract
1 teaspoon banana extract
2 cups flour
1/2 teaspoon baking soda
2 cups oats (Quaker Old Fashioned Oats)
Instructions
In large mixer bowl beat butter and sugars.
Mix in egg and banana along with extracts.
On low mix in flour and baking soda.
Then mix in oats.
Drop 3 tablespoons of cookie dough onto parchment-lined baking sheets spacing the cookies out so so they don't touch when baking.
Bake at 350 degrees for 12-14 minutes or until you test them with a toothpick and it comes out clean.
Notes
maple glaze: one cup powdered sugar, 1/2 teaspoon maple extract, 1 tablespoon warm water, 1 tablespoon corn syrup. Mix all together and drizzle over cookies and allow the glaze to firm up before stacking cookies.