Stuffed Apple Crisp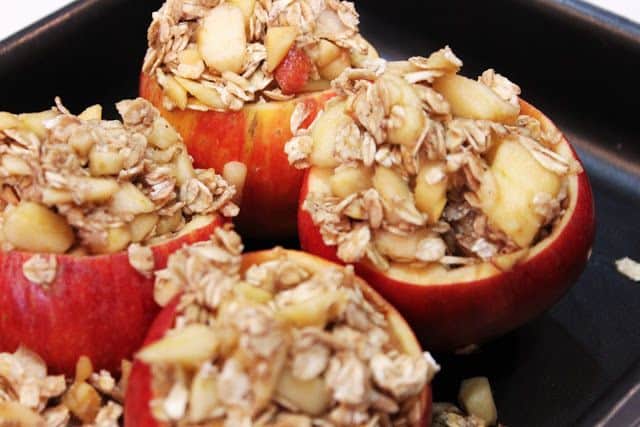 Any time you are looking for a super quick and easy dessert think
Stuffed Apple Crisp
I love the smell of baked apples, cinnamon, oatmeal and caramel 🙂
To make them I cut out the insides of the apples,
and didn't even worry if there were holes in the bottom of the apples.
I cored the apples first then took a knife with a thin blade about 6 inches long and cut about 1/4 inch inside the apple edge and then made slices from the center out to make the pieces mana

geable to get out. It only took a few minutes, looks harder than it was, really 🙂
I diced up the apple minus the core 🙂
added a cup of oatmeal,
a tablespoon butter,
two tablespoons brown sugar,
one teaspoon cinnamon
and 6 caramels I diced up (unwrapped of course 🙂
Mixed it all together, then baked them at 350 for 20 minutes.
It's a wonderfully delicious dessert!
It was only missing one thing….
ICE CREAM!!!
oh the perfect topping to a hot baked apple dessert, don't you think?