These cookies are over the top delicious! Oatmeal Oreo Cookies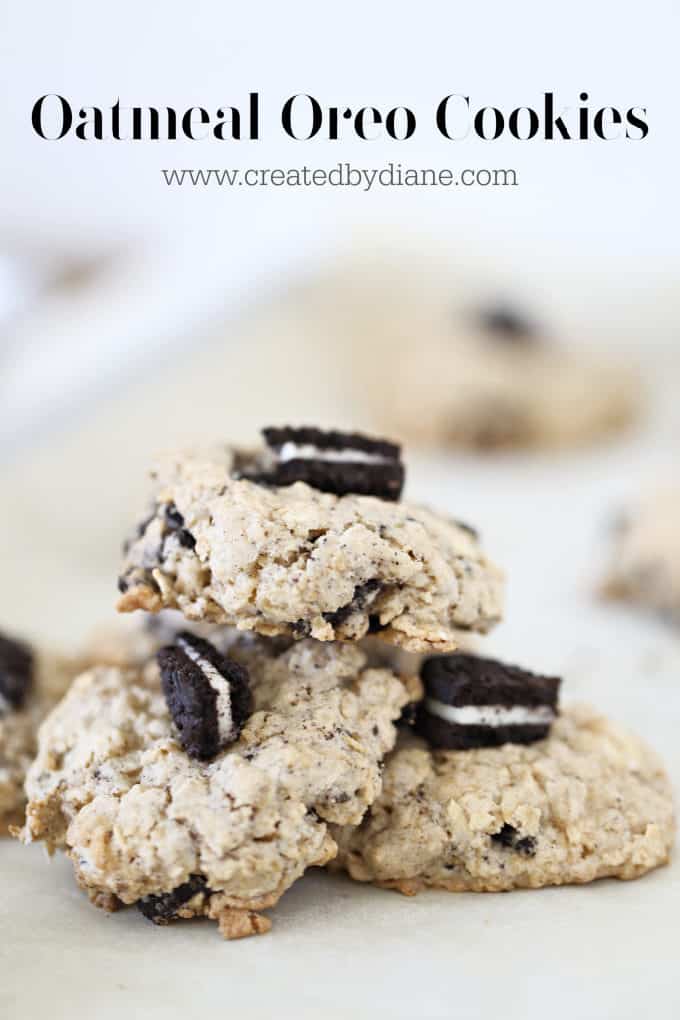 They will soon become everyone's favorite cookie, I'm convinced. 
No kidding everyone who bites into them LOVES them.
They have a really great flavor and texture.
They are BIG, they are CHEWY and they are stuffed with Oreo Cookies!
Everyone I know just LOVES Oreos, and well they are the number one selling cookie for good reason.
Yes, these are Oatmeal Cookies… with Oreo Cookies all stuffed inside.
These should go to the top of you must make list.
And believe me, they will be devoured FAST
they are that irresistible.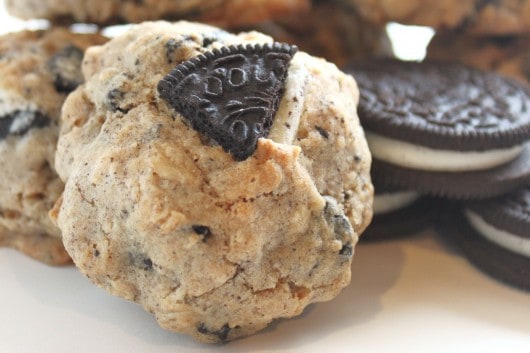 I made this batch above extra big… so yummy! They are made with a three tablespoon scoop.
I've made many batches and you can make them any size you prefer I like two tablespoons or three tablespoons, they have the best texture and creaminess to them. You can flatten the cookies a bit with your hand after you line the tray with the cookie dough, these cookies do not spread much.
I kinda like the MOUNDS of cookies they look like boulders!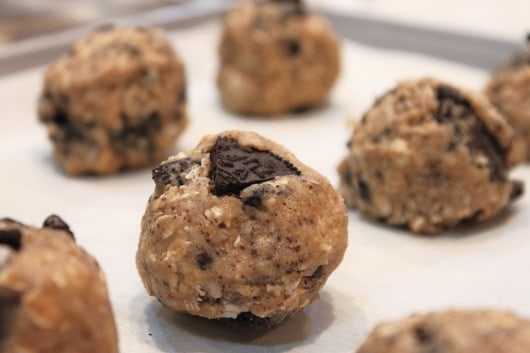 The filling in the Oreo Cookies gave these an extra chewiness that made it hard to stop eating these.
Sometimes good things come in BIG packages, like these extra large cookies. No messing around, small packages are great,
 but sometimes it's, go BIG or go Home.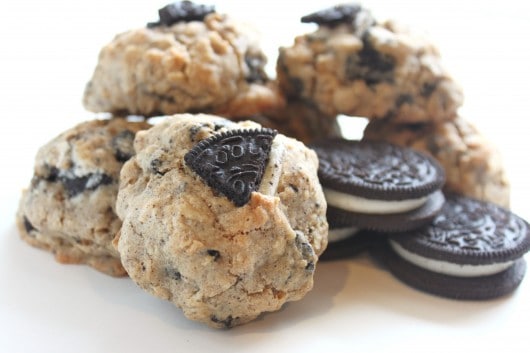 I top the cookies with a cut piece of oreo so they all have a nice chunk on top.
They really look great that way, but if you don't want to fuss with it, just mix all the oreo chunks in, some break up into smaller pieces and some stay larger.
They have changed the size of oreo packages over the years, I used two sleeves of Oreos, about 30 cookies, give or take. I don't count them each time I use them. But if you happen to buy a larger package (or smaller) that will give you a better idea of how many cookies I used.
If you LOVE Oreos be sure to check these out too:

If you love Oreos you'll love these recipes
I LOVE Oatmeal Cookies here are some more Oatmeal inspired recipes if you LOVE oatmeal too.
Oatmeal Oreo Cookies
Ingredients
1/2 cup softened butter
3/4 cup brown sugar
1/2 cup sugar
2 eggs
2 tsp. vanilla
1 1/2 cups flour
1 tsp. baking powder
1 tsp cinnamon
1 tsp salt
3 cups old fashioned oats
2 sleeves Oreo Cookies (about 10 oz.) I used double stuffed Oreos. Chop each Oreo into quarters.
Instructions
Beat butter and sugars on medium speed, add eggs vanilla, beat well. Add flour, baking soda, cinnamon, salt, mix. Mix in oats and Oreo pieces.
Drop by 3 Tablespoon size onto a prepared cookie sheet (I use parchment paper)
Bake at 350 for 20-22 minutes or until the bottom is golden.
Makes 2 dozen cookie
adapted from Quaker Vanishing Cookie Recipe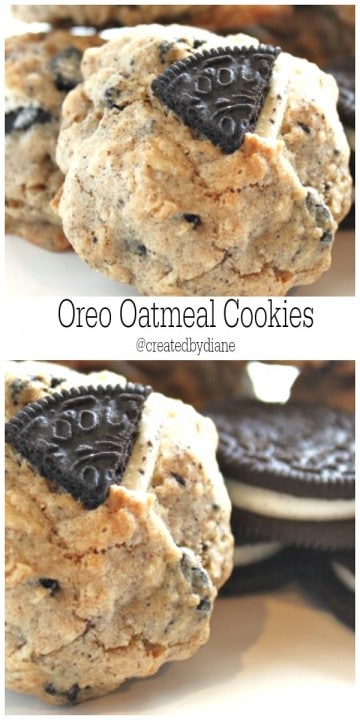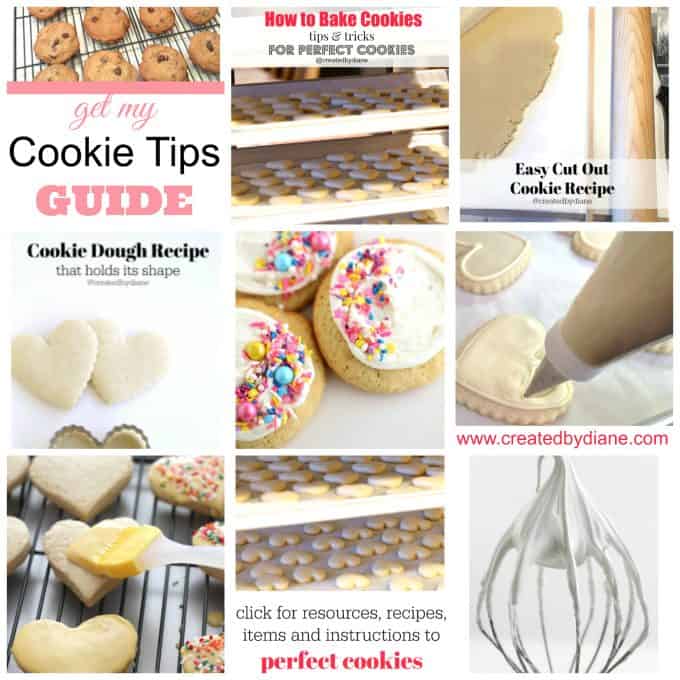 LOTS of info on baking cookies here: