Pretzel Wreath for any occasion, you can use any color candy melts or sprinkles to make these for all sorts of holidays and parties!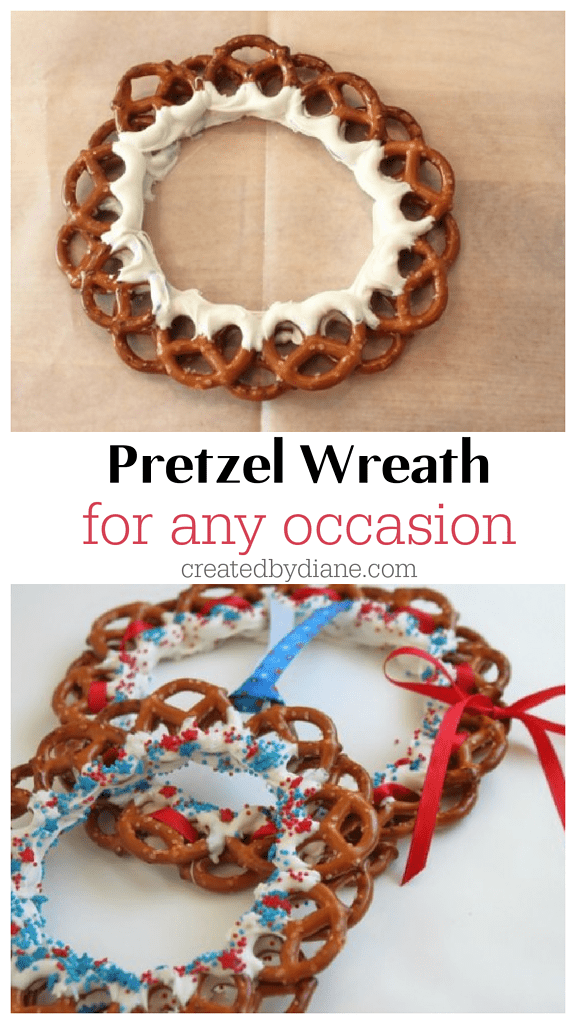 Many parts of the US are reaching record high temperatures. If you have a celebration to go to and want to bring a fun treat, this one won't heat up the kitchen! It's a pretzel wreath.
It does always seem to heat up by the 4th of July, or rain. Really I recall it going either way. Not too many memories of a 70 degree day. It always seems like it's over 100 or pouring buckets.
Hopefully this year will prove me wrong! See sometimes it's ok to be wrong, this would be one of those times.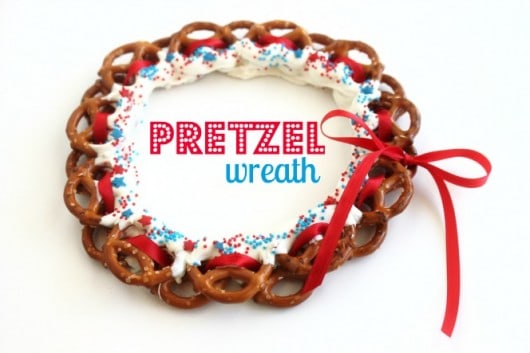 I can imagine these with all sorts of sprinkles and colored chocolates and ribbons making pretty edible wreaths for just about ANY occasion and the best part is the guys will say.
YES, pretzels go with beer. There seems to be some debate as to what desserts will be consumed while drinking beer. Have you noticed this or am I just nuts? Well just mention if you've noticed this.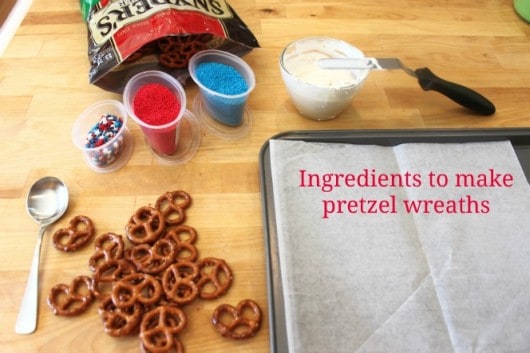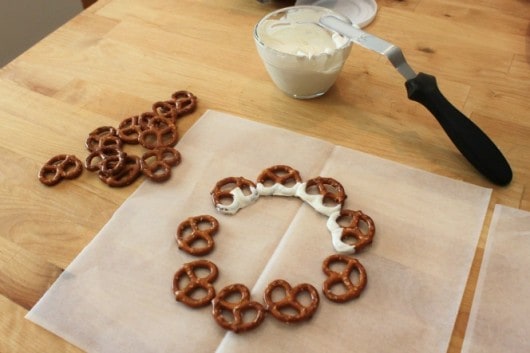 dip pretzels into melted chocoalte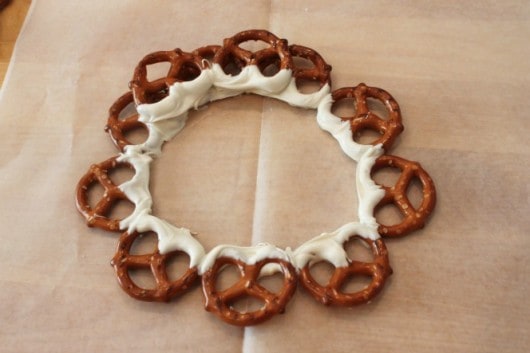 place pretzels in a circle after each on is dipped and alternate the second row, so that they are not stacked directly on top of one another but that the top pretzel is on top of two of the bottom pretzels.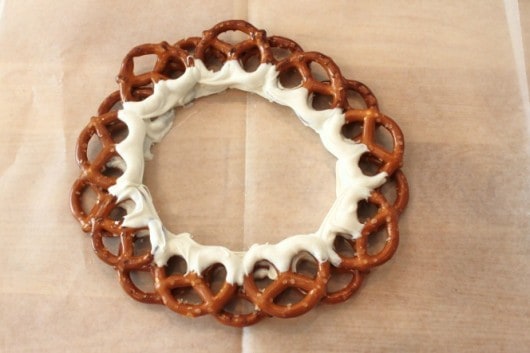 Once they are all dipped and place on top of one another…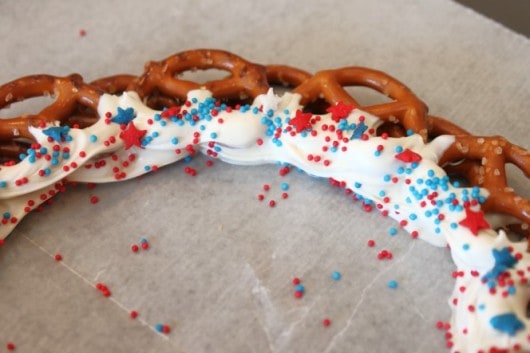 the fun begins 🙂
add sprinkles or whatever you'd like.
Nuts, coconut, mini M&M's I'm sure even candy worms would be fun.
Place tray in refrigerator for about 10 minutes or until chocolate is firm.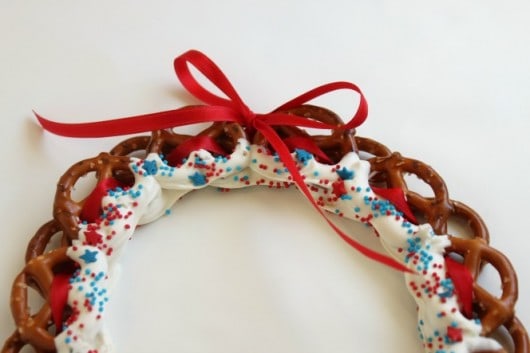 lace ribbon through the holes of the pretzels and tie a bow,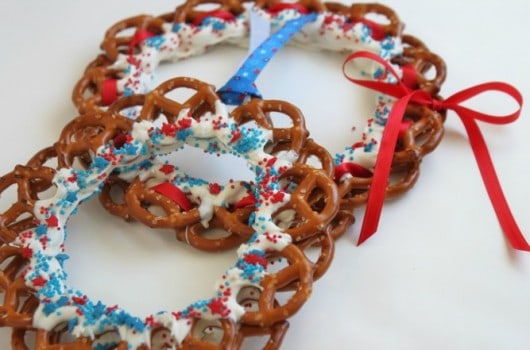 or just add a ribbon to one of the pretzels to hang or carry it by.
Ingredients
Pretzels
white chocolate
sprinkles (red and blue stars and nonpareils)
cookie sheet
wax paper
(refrigerator)
Instructions
Melt white chocolate at 20 second intervals in microwave at 50%
stir in between each heating
White chocolate burns easily, don't ever heat or it will be thick and hard.
Lay out the desired number of pretzels onto wax paper in a circle
Odd numbers seemed work best for this.
Dip one pretzel about 1/3 way into melted white chocolate at a time, replacing it back to it's spot on the circle.
Allow the pretzels to tough on the upper curved area so when the chocolate hardens it stays in the circular shape.
Use the same number of pretzels for the second row as the first and dip each pretzel 1/3 way into the melted chocolate and lay it over the first layer, alternating it so they are staggered on the first row.
Apply sprinkles while melted chocolate is still soft.
Place tray with wax paper and wreath in refrigerator for about 10 minutes or until chocolate is set up.
*carefully lace ribbon through the holes of the pretzel, trying not to touch the chocolate as it will become soft if your hands are warm, or tie small piece of ribbon onto one pretzel as a handle.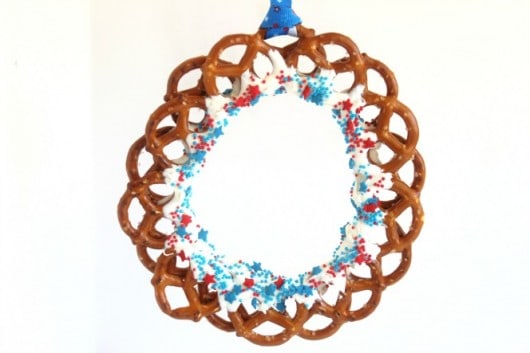 If I didn't think little critter would eat it, I'd hang it on my front door!

I saw a pretzel wreath years ago and after searching on Google I found some on Snyder's of Hanover website.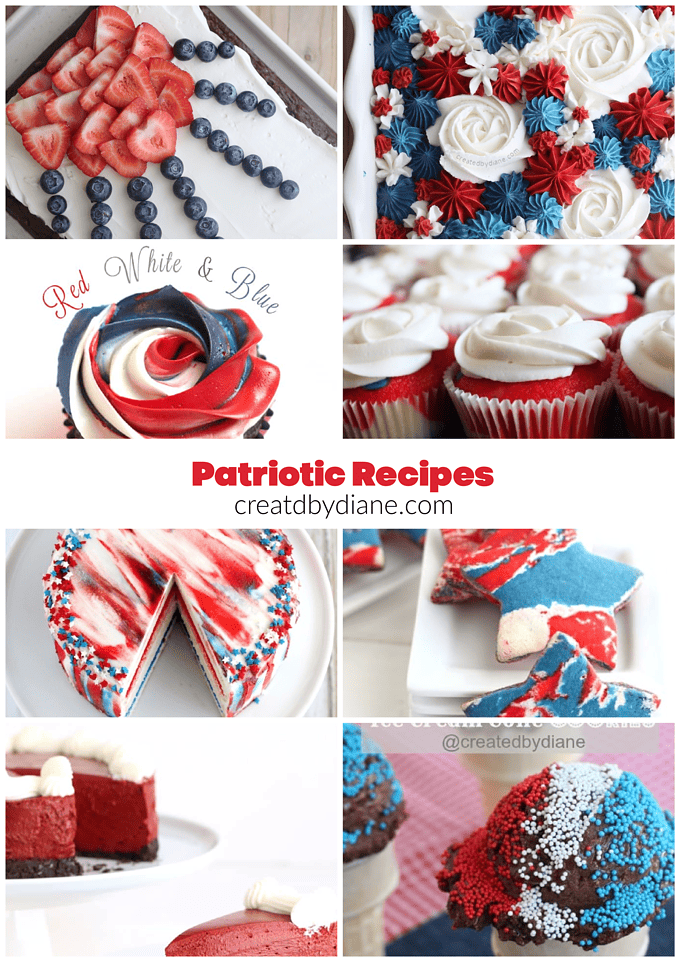 MORE Patriotic Recipes
Chocolate Ice Cream Shaped Cookies in cones with patriotic sprinkles