Often simple ingredients make for the perfect meals. These bean and cheese burritos are bound to become a favorite with all the fun options to take them from breakfast to dinner!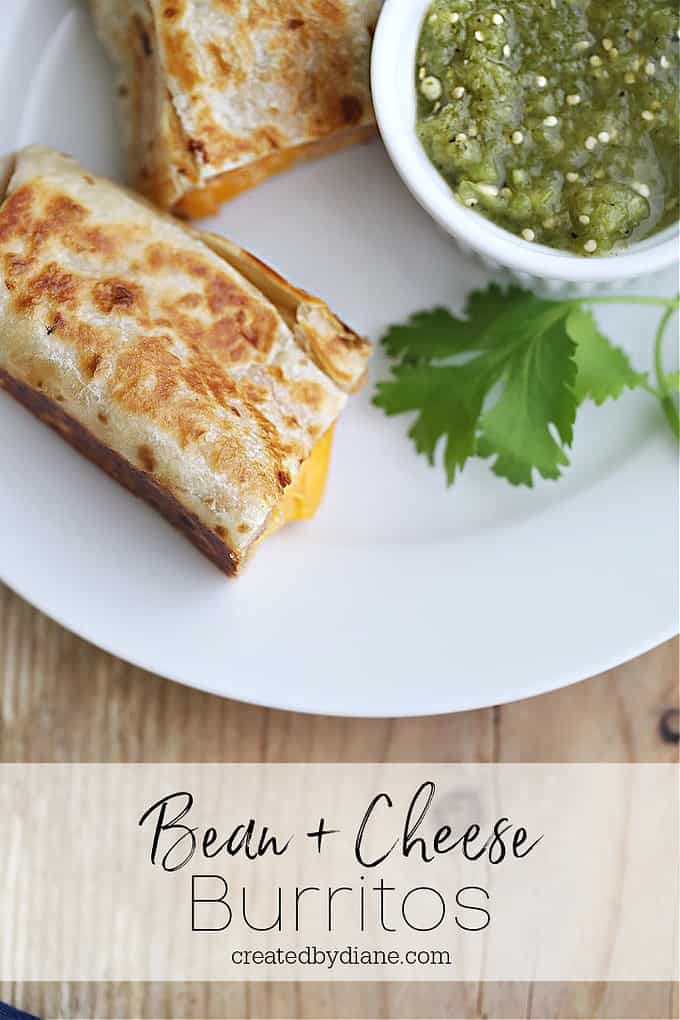 Why bean and cheese burritos?
Simply put they're easy, delicious, and customizable!
Yummy for breakfast, lunch, snack time, and make. a meal out of them, or enjoy when raiding the fridge at midnight.
They can be heated in the microwave, or toasted in a skillet for that nice golden crispness.
Want to turn them into breakfast burritos and add some scrambled eggs. And hot sauce… don't be afraid, a few drops will give it plenty of flavor without burning your tongue. Cholula is my fav… salsa is another great option Restaurant Style Salsa or Salsa Verde. 
Make it a meal with Pan Grilled Corn and Mexican Rice.
If you like burritos be sure to check out my Taco Cones.
I typically make burritos with 8″ flour tortillas. I'm able to make 10 burritos in minutes.
I roll each burrito in a piece of wax paper and place them all into a gallon plastic bag and place them in the fridge. They freeze, and reheat well too, so make plenty.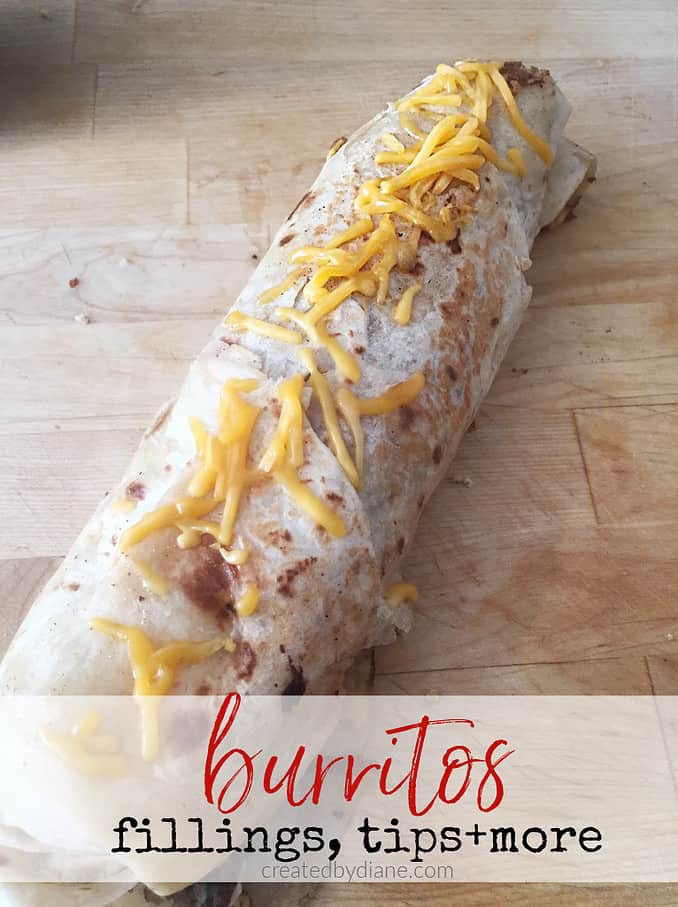 If you want larger burritos use larger tortillas or line up tortillas overlapping then add filling then roll them up. Multiply the filling amount to accommodate how many burritos you'd like.
Sometimes it's go big or go home… and the burrito above is 3 tortillas and made a fun snack when friends stopped by unexpectedly. It took just minutes to make and in no time we poured some drinks and sliced the burrito into serving portions and enjoyed.
What kind of beans to use in burritos?
The options are plenty: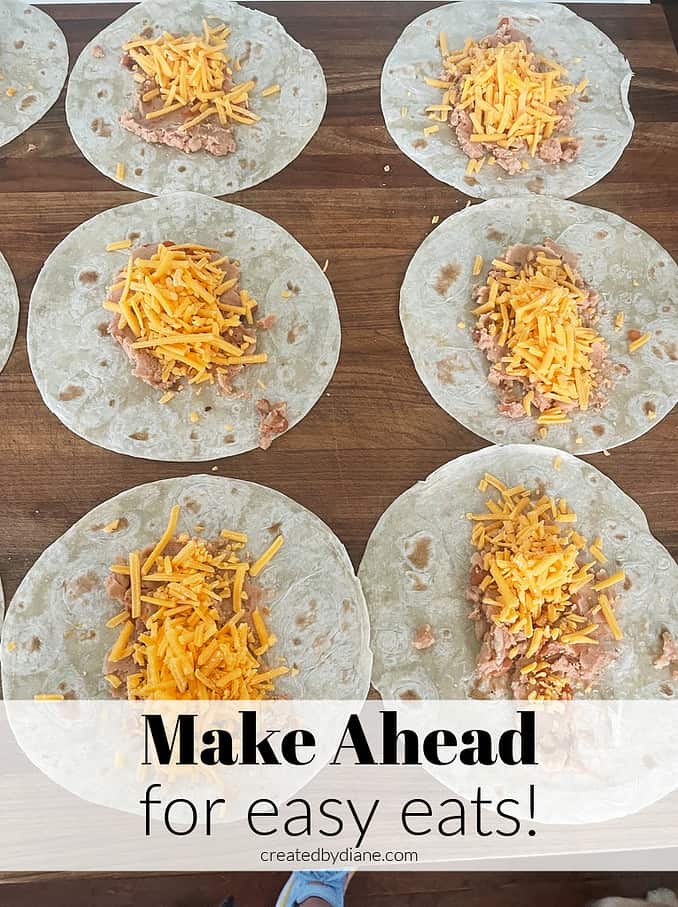 You can heat the beans or add them at room temperature if you're going to put them in the fridge to eat later, even if you're going to heat them in a pan, the beans heat really quickly so as soon as the tortillas brown a bit, the beans will heat through.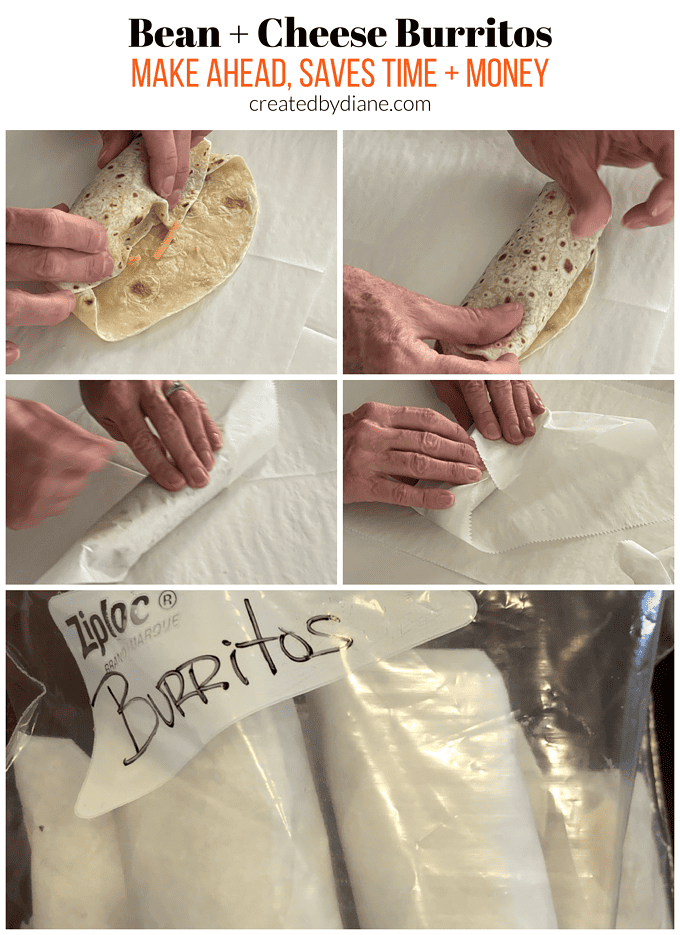 Looking for more options to fill burritos, the possibilities are endless: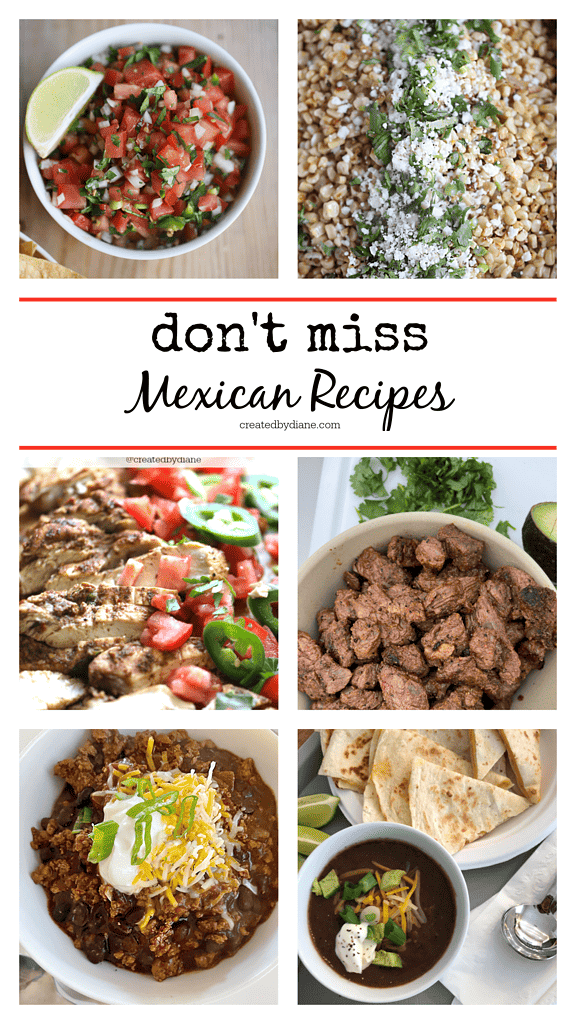 If you're looking for more items to serve with these burritos…
Add in some items to the burritos to make them more filling.
An easy item to add to breakfast burritos is frozen hash brown or tater tots, just microwave them and add them in.
Great on-the-go food, you can heat and eat when on the go. They can be eaten cold or room temperature, having food ready in a minute will save you time, and money and keep everyone's bellies full to avoid the dreaded Hangy feelings we all get when we wait too long to eat.

Bean and Cheese Burritos
These simple bean and cheese burritos go from breakfast to dinner easily, great options for add-ins, how to make and enjoy them all week. Fridge and freezer ready so you can enjoy food in minutes The portions given make 10 small burritos, multiply as needed..
Author:
Diane Schmidt, Created by Diane
Cuisine:
American, Mexican
Ingredients
1-1 6 oz can
2 c shredded cheese
10=8" flour tortillas
10 wax paper sheets
Options
hot sauce
scrambled eggs
cooked shredded chicken
cooked diced steak
more options in the post
Instructions
For easy wrapping of flour tortillas, they should be room temperature, if they are cold microwave them for 30 seconds so they are pliable, or they will crack/rip when rolled.
If you prefer them toasted and will be microwaving toast eh tortillas first in a skillet. Otherwise, prep the burritos and crisp it in a skillet in a few drops of oil.
Line the counter with 10 wax paper sheets.
Place a burrito on each piece of wax paper.
If you're eating the burritos immediately heat the beans, if you're prepping for later, there's no need to heat them. Scoop 3T of beans into each burrito (a 3-T cookie scoop works well)
Add any hot sauce or salsa.
Add cheese to the top of each burrito, and press down if the mixture is too high to widen it on the tortillas.
Wrap the burritos by folding the sides to the top, then fold over the edge towards you pull the ingredients toward you with the tortilla, and roll until it's all tucked in nicely.
Wrap in wax paper.
Place in a plastic zipper bag, store in the fridge, or freezer, or eat immediately.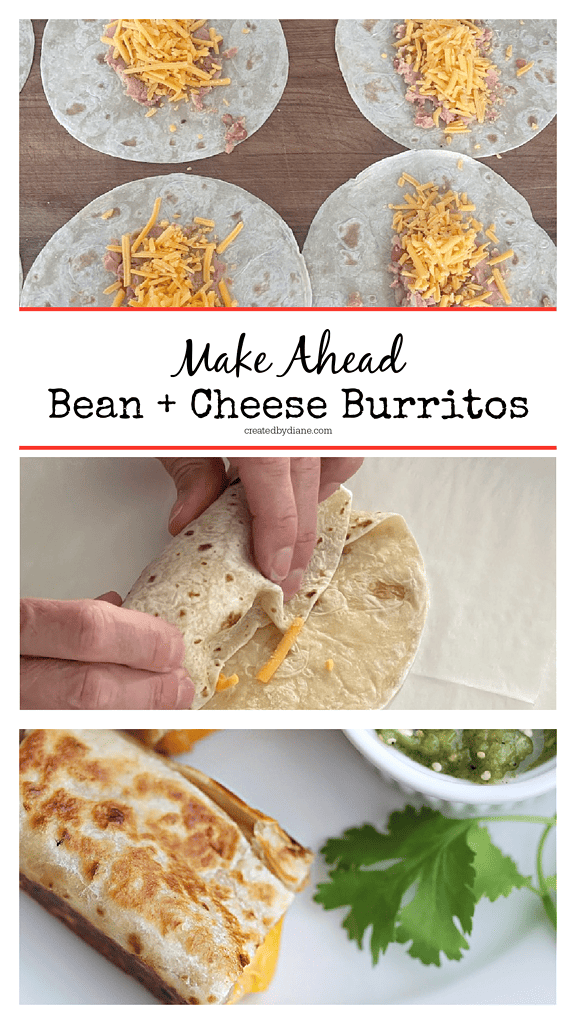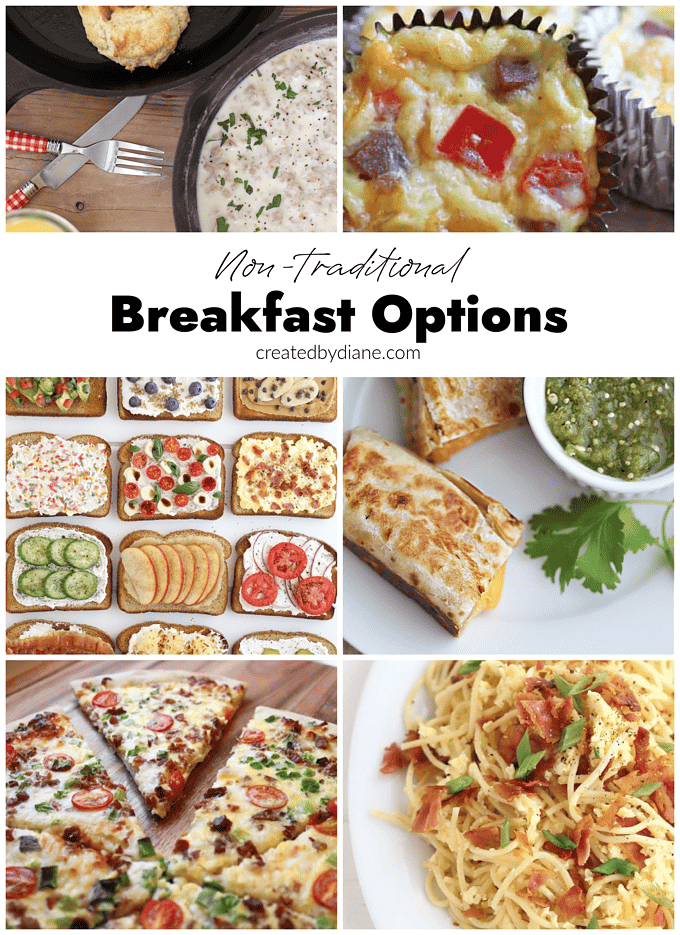 If you're looking for more fun breakfast items check out