I love carne asada… it's my absolute favorite to order when eating Mexican food. Some marinades are wet, some dry, some have tons of ingredients some have few. I've made many and wanted to share this great dry rub style with you.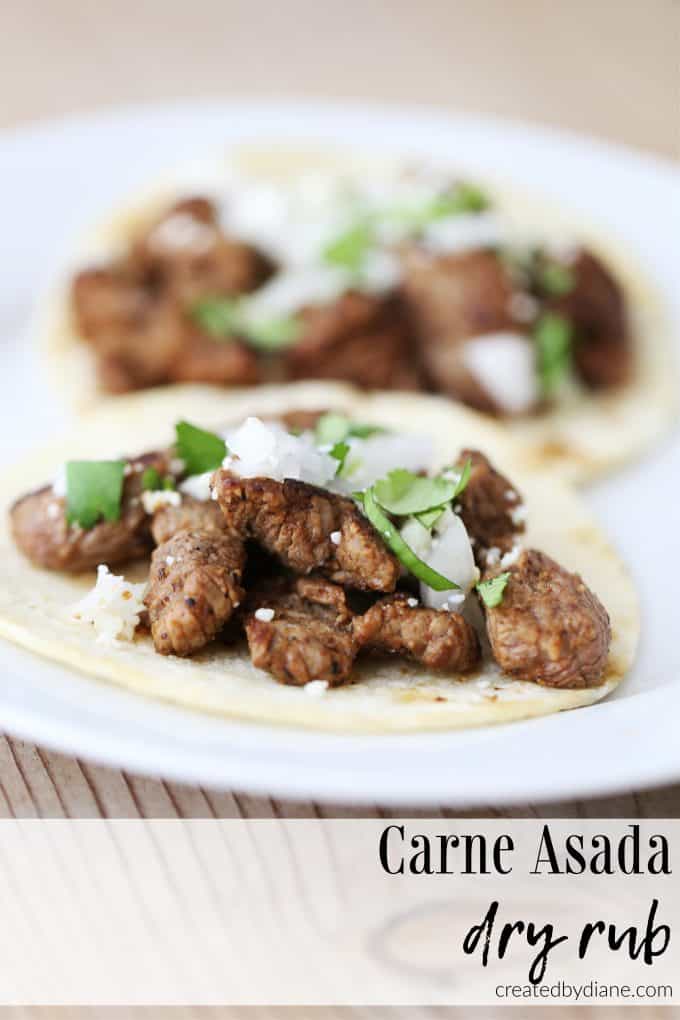 Benefits of a dry rub:
the meat will brown and crisp quicker as there is no liquid to cook off first
allowing the meat to be at the cooking temperature you'd like, with a crispness that is delicious.
You can leave the meat in large pieces if it's thin, if it's thicker, it'll be best to cut it small so it'll cook quickly and evenly. If you are cooking it in a cast iron skillet, small pieces work well. On the grill, large pieces are easier to handle.
Cooking on a grill slice the meat so it's thin but into larger pieces.
Cooking in a skillet you can cut the pieces small, they'll cook quickly, heat the skillet really well, so the meat will brown nicely. Don't overcrowd the pan, it's better to cook in two or more small batches than to have the pan overcrowded, the meat will steam, and will not have the nice browning that adds great flavor. A cast iron skillet work well for this.
Small pieces work well when fitting them into a tacos.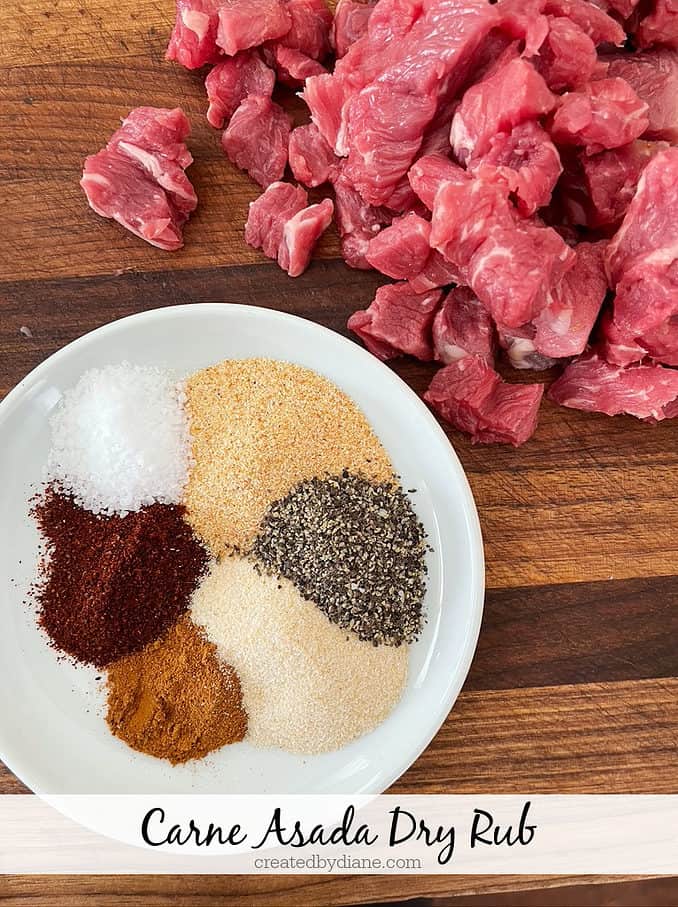 the best cut of meat for carne asada
skirt steak
flank steak
flap meat
tri-tip 
Lean tender meat, thin so it'll cook quickly and easily.
If you feel the meat is thicker than you'd like, there are a couple of options. First, pound it, this will make the meat thinner and more tender. You can filet it by cutting it thinner so large pieces cook quickly and evenly.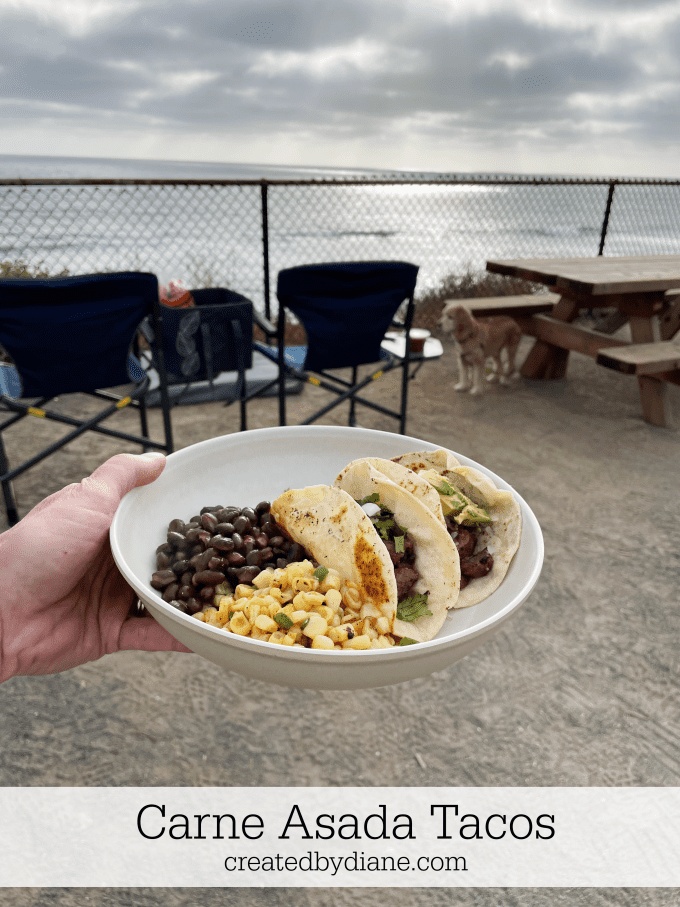 When we're camping I often roasted corn and serve it all with some beans, refried beans, or black beans with some taco seasoning added. I usually bring some tortillas for tacos, to use for scrambled egg burritos for breakfast, and to heat up and add some butter, cinnamon, and sugar for a fun treat.
If it's not really hot, I also like to bring mini chocolate chips and heat the tortilla add a little butter, place the chocolate chips on the tortillas and fold them over and allow the chocolate to melt, just another yummy sweet treat that takes minutes to make. Be sure to check out my Grilled Apple Tacos for more fun!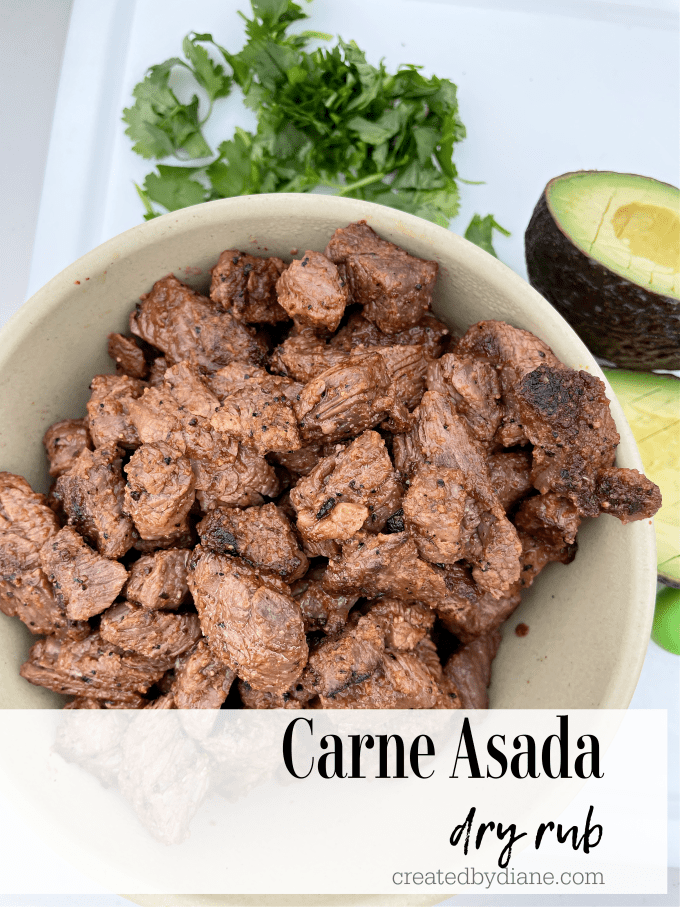 I like carne asada tacos just like they serve at taco shops with white onion, cilantro, and cotija cheese. The options are endless, pile on the toppings you'd like, avocado/guacamole, hot sauce, add in some diced tomatoes, corn, beans… make sure your tortilla is big enough to hold your toppings or go big and wrap it up like a burrito!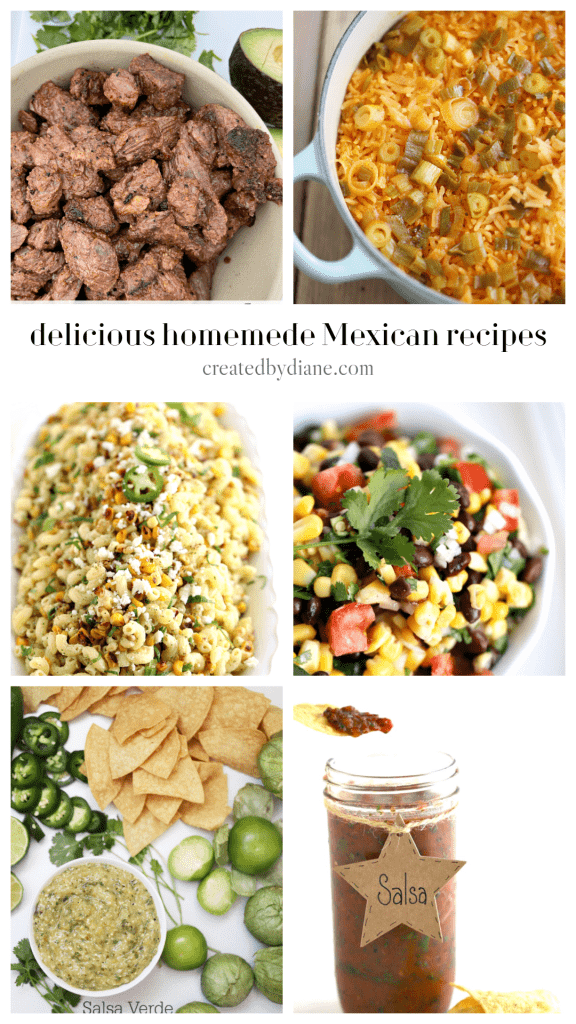 Great side dishes to serve:
If you're looking for a super quick marinade with minimal ingredients use some fresh garlic and Worcestershire sauce to marinate the meat, it'll be absorbed by the meat quickly so no need to let it sit, but you certainly can. Add some sliced onions and grill, or cook in a hot cast iron skillet so it browns nicely. It's great to have options, quick easy recipes are essential!
Carne Asada Dry Rub
A simple and delicious marinade to make perfect Mexican Style Carne Asada at home, for dinner, parties, nachos,
Author:
Diane Schmidt, Created by Diane
Recipe type:
Main Dish, Beef
Ingredients
2 lbs beef (skirt steak, flank steak, flap meat or tri-tip)
2 teaspoons onion powder
2 teaspoons garlic powder
1/2 teaspoon cayenne powder
1 teaspoon chili powder
1/2-1 teaspoon black pepper
1/2-1 teaspoon salt
If you want the marinade wet, add the juice of 2 limes
If you prefer a simplified flavor for meat, leave out the chili powder
Another simple marinade is using 2-3 tablespoons Worcestershire and 2 teaspoons fresh minced garlic
Instructions
This dry rub can be put on the meat before cooking or you can allow it to marinate for 30 minutes to a few hours or overnight.
Mix all the seasonings and apply it to the meat and rub it so that completely coats the meat.
You can leave the meat in large thin pieces, or cut it into strips, or dice it into 1-inch pieces. Large pieces work well on the grill, while smaller pieces work well in a cast iron skillet.
Don't overcrowd the pan if you're cooking it in a skillet, cook the meat in two batches so that it has time to get browned on the edges.
Cook beef to an internal temperature of 130° then allow it to rest a few minutes if you need to slice it.
I often make plenty of food and meal prep containers for the week, it saves a ton of time and is less expensive than being hungry and eating out, planning ahead works well with this meal.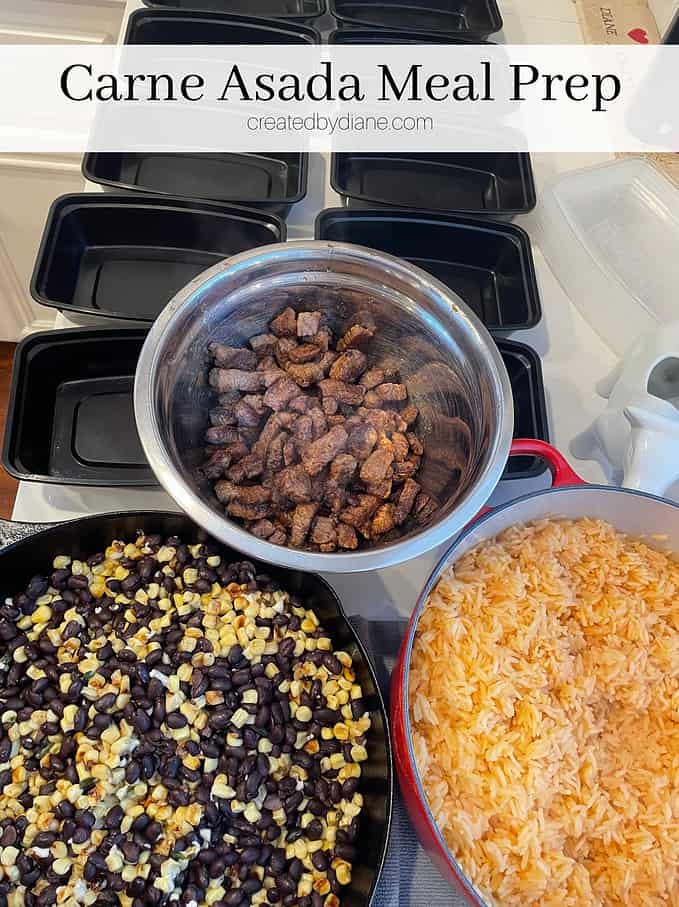 Mix some black beans (or pinto beans) with corn, or rice and pile on the yumminess!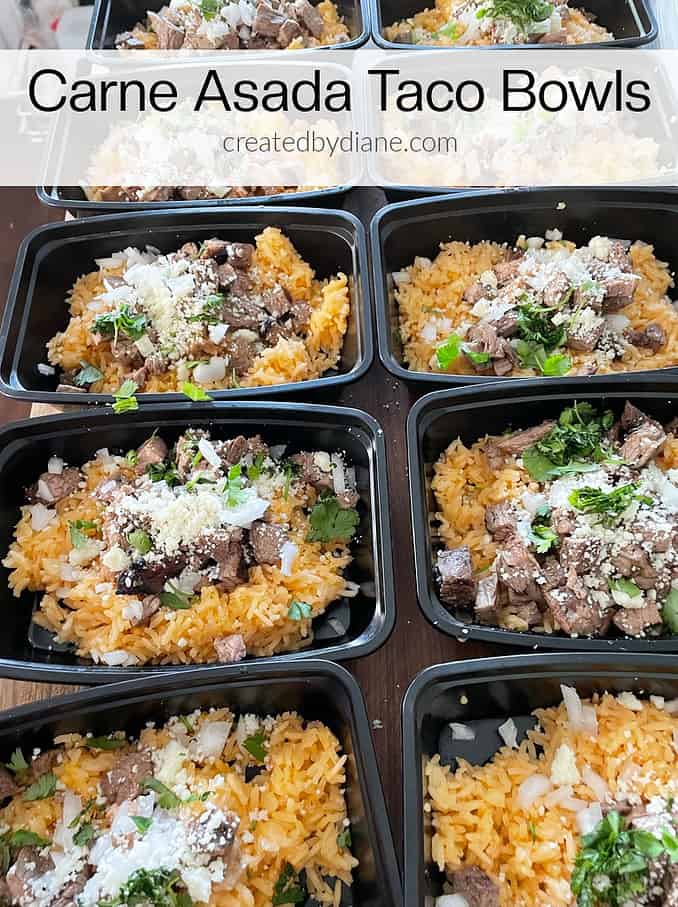 Top the "taco bowls" with onion, cilantro or pour on some cilantro lime sauce my personal favorite.