Pico de Gallo is so simple to make you'll wonder what took you so long to jump on the Pico de Gallo bandwagon!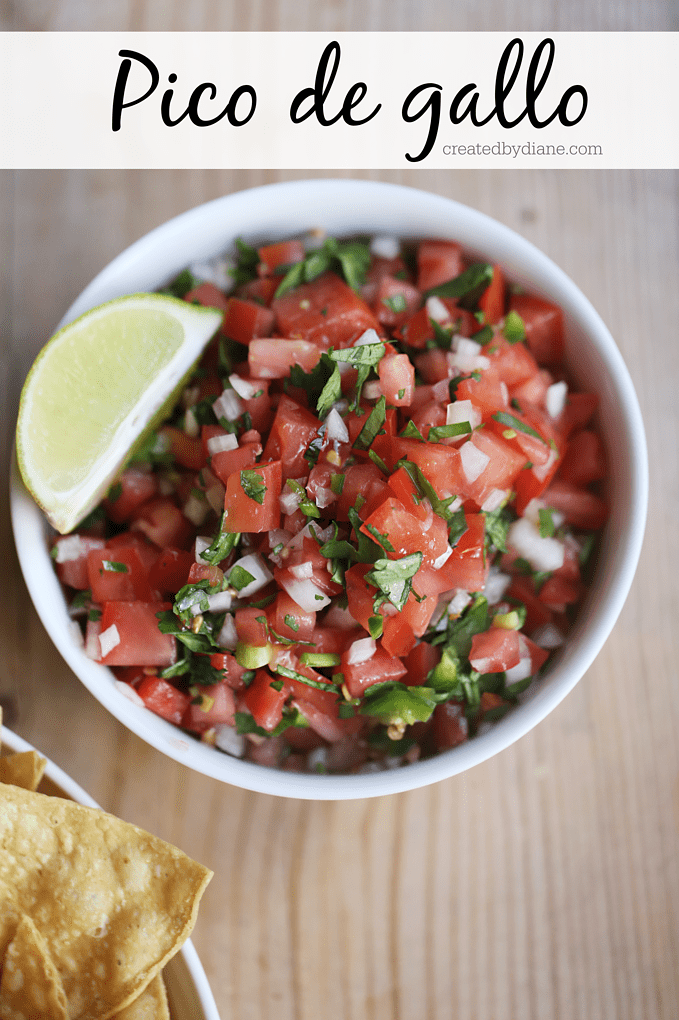 Pico de gallo, also known as Salsa Fresca is so simple and delicious, it can be made in minutes. It relies on the flavor of fresh tomatoes, so pick those carefully and you will have a great tasting salsa. I use Roma tomatoes, they are thick and dense and have a great flavor, and minimal seeds.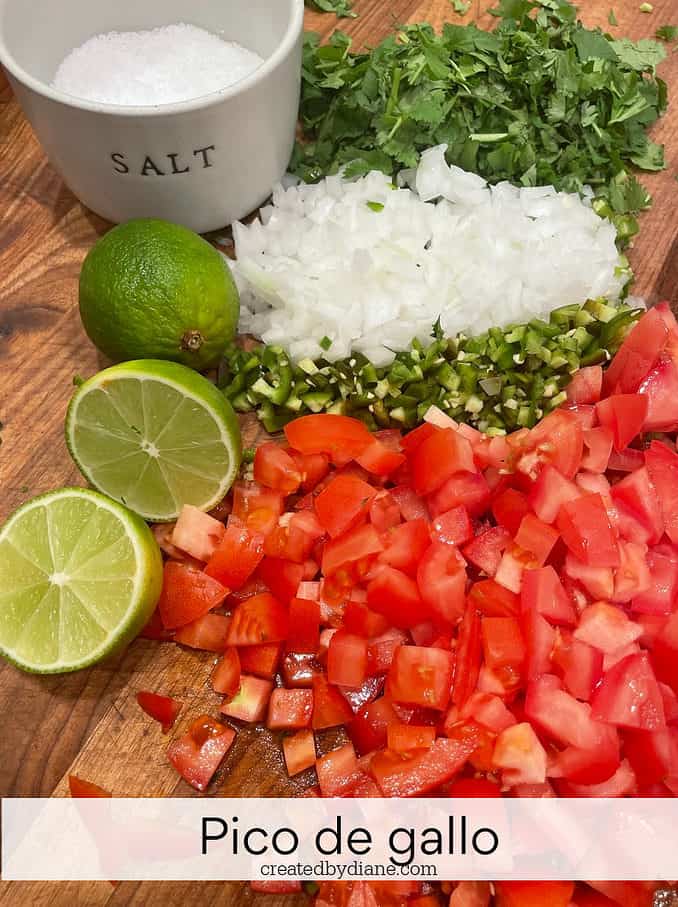 Ingredients
tomatoes
onions
peppers
cilantro
lime
salt
This fresh tomato salsa has all the delicious fresh flavors you'd expect. With the great colors of the Mexican flag, this salsa will be perfect on top of all sorts of Mexican dishes.
As I mentioned I use Roma tomatoes, but you can use any ripe tomatoes you find, even grape tomatoes work well.
The longer this salsa sits the more the tomatoes will release juice, if you prefer your salsa to not be juicy at all. Salt the tomatoes and let them sit in a strainer so the juice will not sit in the tomatoes and salsa.
Now, onto the onions… white onions are great for this recipe.  If you don't prefer the bite of the onion or if you cut into your onion and it's really firey, dice and soak the onion in cold water for 10 minutes to remove some of the bite, sharp or burning flavor.
Now we'll chat about the peppers… I use jalapenos and plenty of them I leave the seeds in, but you can remove the seeds if you don't prefer the heat. As soon as you dice jalapenos you'll usually know if they're spicey, but give a small piece a taste before you add them to know how much you'll prefer. 
Cilantro is really so delicious and absolutely nothing beats fresh cilantro. Add as much as you'd like I start with a cup of loosely packed leaves, then dice them. About a quarter to a half cup diced. 
Fresh lime juice is next, so slice the lime in half and juice it, use a reamer or a citrus press to release all the delicious citrusy juice.
Now, add the salt. I use coarse Kosher salt it has a great taste and if my preference in all cooking, table salt has an off flavor, sometimes metallic. Himalayan salt is also a great choice.
All this chopping reminded me to mention my new favorite knife, I just love it, it's so thin and sharp and easily cuts everything so well and I'm able to dice smaller with very little effort as well as it'll go through a sweet potato or thick dense item like butternut squash, spaghetti squash with ease.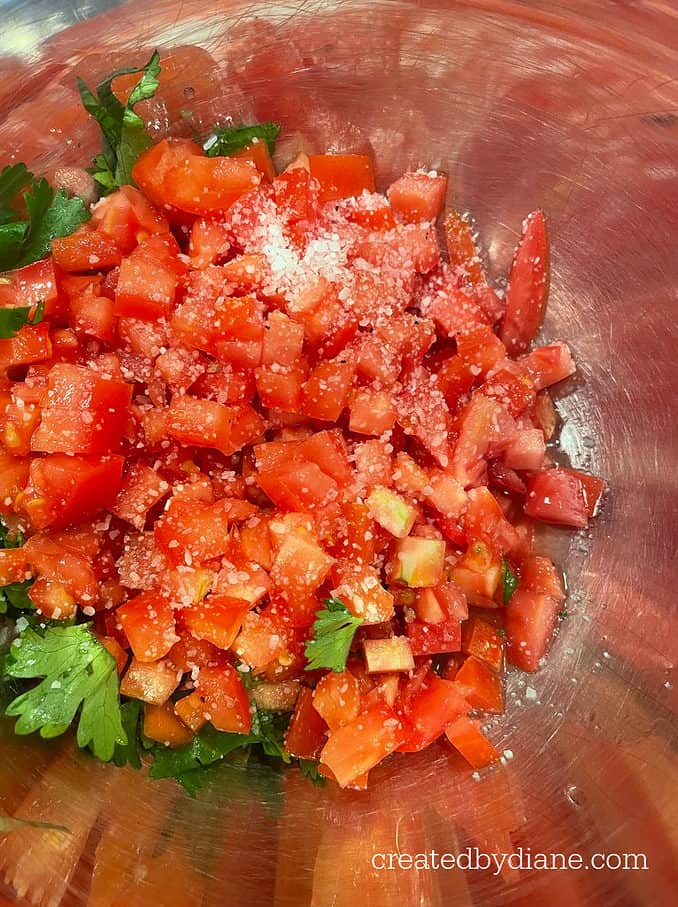 It's great served with chips or to pile on top of tacos or any Mexican dish, it's great on…
This easy pico de Gallo is sure to be your new go to item to make, there is never a time that chips and salsa aren't a good idea… don't you agree.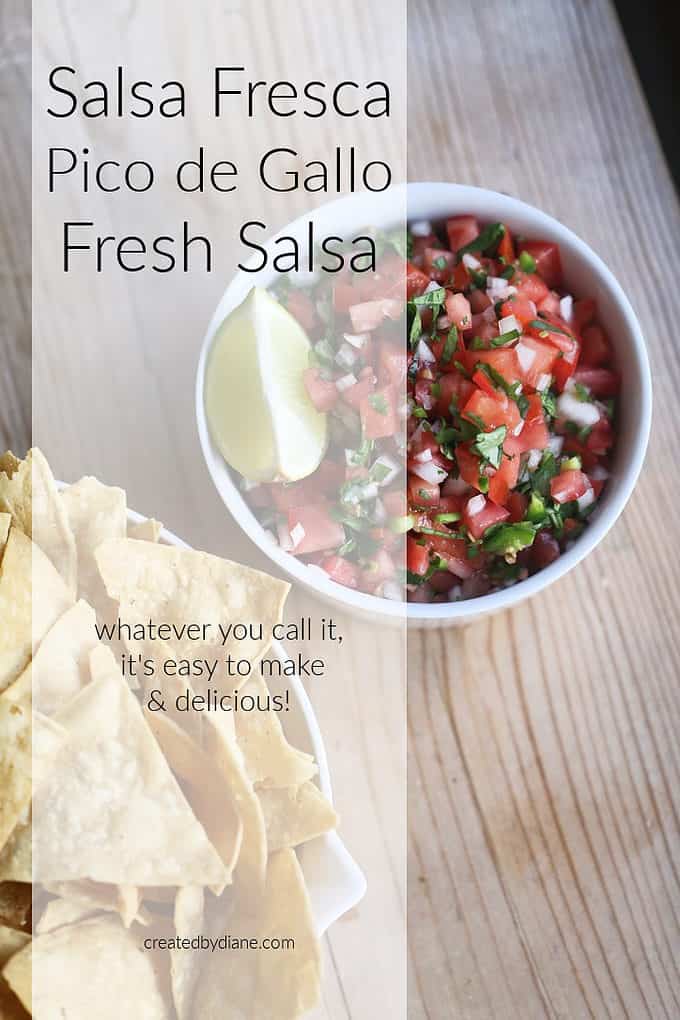 If you love salsa, be sure to check these out as well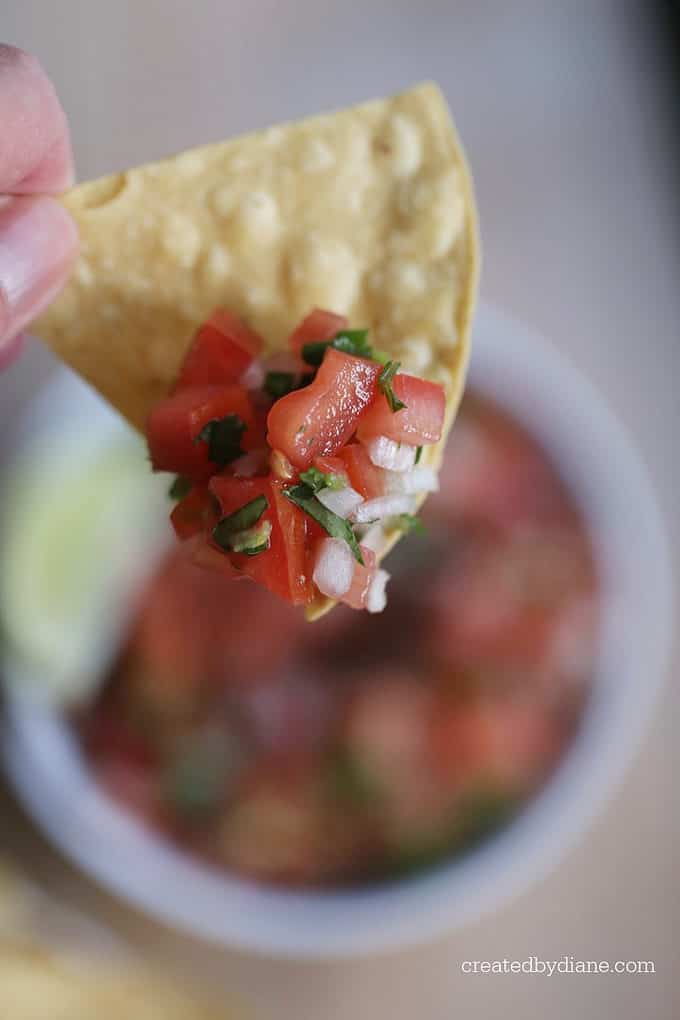 Maybe you'll want guac to go along with your chips and salsa, here is a great guacamole recipe and this one is over the top delicious with goat cheese and bacon.
Pico de gallo
Simple flavors marinade together for the most perfect flavor for dipping chips, topping tacos, and can easily be pureed for a smooth sauce over your favorite Mexican
Author:
Diane Schmidt, Created by Diane
Recipe type:
Appetizer, Sauce, Dip
Ingredients
5-6 ripe tomatoes, I use Roma tomatoes (about 1 1/2-2 lbs)
1/2 white onion diced (1/2-3/4 cup)
1-2 jalapenos diced (2 tablespoons-1/4 cup)
1/3 cup loosely chopped cilantro (small bunch)
1 lime, juiced (1-1 1/2 tablespoons)
1/2 teaspoon coarse salt or a little less table salt (adjust according to taste)
Instructions
Dice all ingredients and mix well.
refrigerate for an hour before serving so the lime juice has a chance to meld the flavors and bread down the tomatoes rendering additional juices.
Taste before serving and add additional salt if needed.
Notes
The longer this salsa sits the more juice will release from the tomatoes if you like it "saucy" make it ahead of time and store it in the fridge until ready to serve.