Today let's talk SAUCE…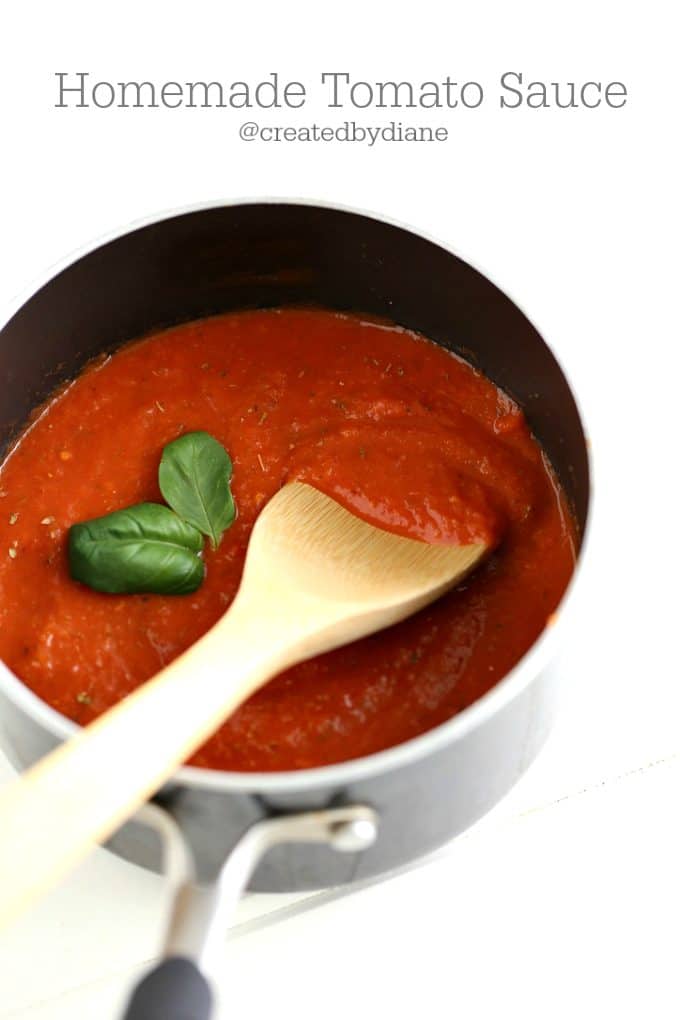 Knowing how to make a great sauce is key to so many recipes.
I'm not Italian, I don't call it gravy…. but I am really particular about marinara sauce (tomato sauce).
I LOVE Italian food, and at the heart of so much of it, is a great sauce.
No matter what you call it, sauce, marinara, gravy, the red stuff… just make a batch and you're ready to go!
If you prefer to just buy a jar of sauce, that's fine too. I give you some tips on what to add to it to make it taste even better along with my favorite jarred sauces I use in a pinch.
Over the years I have purchased many brands of tomatoes and I really prefer Cento brand and Tuttorosso brand.
If you want to purchase pasta sauce that tastes great, try Barilla's Marinara, Tomato Basil or Traditional Sauce or Victoria White Linen Marinara Sauce.
Often store-bought tomato sauces are too sweet for me. They remind me of frozen pizza, like food you'd feed kids when you don't want to cook, but you'd want it sweet enough that kids would eat it. Canned ravioli comes to mind. Let's just say I'm NOT a fan of sweet tomato sauce.
Now if you like your sauce sweeter, adding a carrot diced tiny will help sweeten it without added sugar.
Sauteed red and yellow peppers are a nice addition for added sweetness.
Now if you want it tangy, add some lemon juice, olives or capers.
I do like celery salt in my sauce sometimes.
I don't always add things into my basic sauce, but those are my additives of choice.
 Adding in a pound of browned ground beef or beef and pork is always
delicious too.
My favorite GO-TO meal is pasta with meat sauce. It's easy and delicious and everyone in my family loves it.
Does the brand of canned tomatoes matter?
Yes, I find a huge difference in flavor from brand to brand. I prefer Cento Brand their tomatoes taste great, they are from Italy, they are known for their "San Marzano" tomatoes. I buy peeled or crushed tomatoes typically. you can certainly try other brands, but you'll absolutely taste the difference, and you can really smell the difference in a good canned tomato as soon as you open the can.
Cento also makes a canned "pizza sauce" that is now my go-to sauce ready from the can anytime I want pizza. Get my recipe for pizza dough here.
*It only takes a few minutes to whip up a great tomato sauce, but if you're in a pinch and want to just buy pre-made tomato sauce, I'd suggest, La Victoria White Linen (available at Costco and grocery stores) or Barilla Marinara Sauce. 

Marinara Sauce
Ingredients
1 28 oz can crushed or peeled tomatoes*
3 garlic cloves minced ( or 1 tablespoon garlic paste, like Gourmet Gardens)
1 small onion (or 1/2 a large onion)
1-2 tablespoons olive oil
1/2 teaspoon salt
1/2 teaspoon dry oregano
1/4 teaspoon crushed red pepper
fresh basil
wine ( white Chardonnay is my favorite)
Instructions
Saute garlic and onion in oil over medium heat.
Add in tomatoes and cook until it begins to come to a boil.
Turn on medium-low and add in oregano and salt (and crushed red pepper if you like it a little spicy) Add in 1/2 cup wine if you prefer.
I love adding wine and crushed red pepper, this sauce
Cook sauce for 10 minutes.
Use an immersion blender to puree the sauce smooth if needed.
Add in some fresh diced basil and serve.
Notes
* crushed or peeled tomatoes, crushed tomatoes have texture, peeled tomatoes when pureed are often smoother so depending on what you will be doing with the sauce choose which type of tomato to use.
You can also blanch fresh tomatoes and peel them, then dice and cook them. The better-tasting tomatoes will result in a delicious sauce.
Now I've told you I LOVE pasta and I created an ebook with so many favorite recipes in it if you like pasta you'll want this ebook NOODLES dressed in delicious sauces and such!