Comfort food at its best! Sausage, peppers, and onions join in this delicious cheesy baked dish that will WOW you and your family!
Sausage Pepper & Onion Baked Ziti
Don't miss one delicious recipe from Created by Diane and get my FREE e-cookbook click here!   
My mom often made sausage, pepper, and onions on a roll just like we would get at the boardwalk in the summer, on the Jersey Shore!
I miss walking by the stands of food, the smell was intoxicating.
This dish comes together quick and is a crowd pleaser. Perfect for weeknight dinners and great GAME DAY food!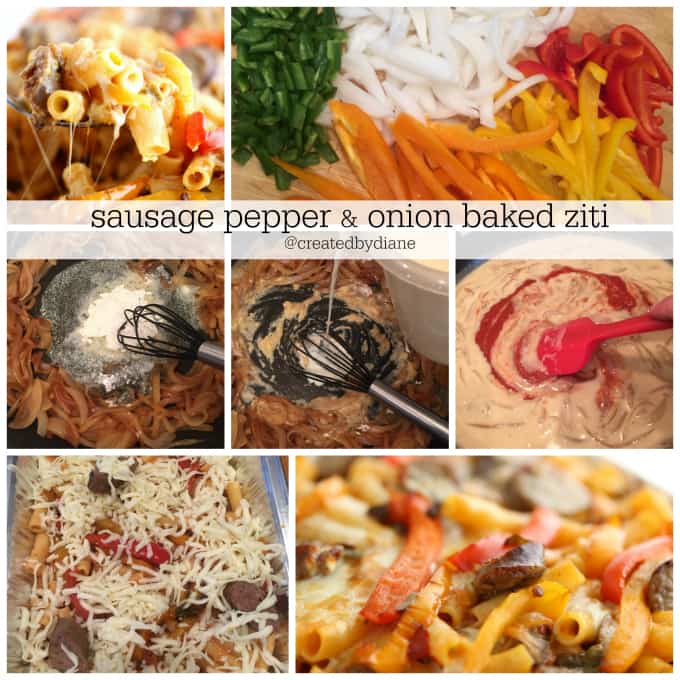 As the pasta is cooking, cook sausage in one pan and start the onions, when the onions are soft and golden make the sauce by adding butter and flour to the center of the pan and whisk in chicken broth and milk, then add some tomato sauce and oregano.
In another pan saute the peppers. I used red, orange and yellow bell peppers and a couple jalapeno peppers.
You can make this dish as spicy as you like, I used hot sausage and jalapenos, if you prefer it mild, leave out the jalapenos and use mild sausage. Want more spice add some crushed red pepper to the sauce.
Layer the pasta mixed with the sauce in a dish with the sausage, peppers and onions along with cheese and pop it in the oven… oh so yummy!
This is one of those dishes that will quickly become your go-to dish to make, for comfort when the weather starts cooling down. When you need a ONE dish meal that is easy to make and travels well to bring to a party. When you want to feed a crowd and one a satisfying meal. I could go on and on and rave over this, just as my family did!
This recipe is not made in one dish, but when it's all finished being prepared it's on one dish. But there is nothing wrong with washing a few dishes to get a meal that is AMAZING. It's one of the best tasting casserole dishes to bring to a friend… as many have told me they love when I bring this to them.

Sausage Pepper and Onion Baked Ziti
Ingredients
1 lb ziti noodles
1/2 large onion, sliced
1/2 red pepper, sliced
1/2 orange pepper, sliced
1/2 yellow pepper, sliced
1 jalapenos, diced
1 lb sausage (I prefer hot Italian sausage)
2 tablespoons butter
2 tablespoons flour
1 cup chicken broth
1 cup milk
1/2 cup tomato sauce
1 teaspoon oregano
2 cups grated mozzarella cheese
Instructions
Cook pasta according to package directions.
In a medium skillet saute onion until golden and soft.
Move onion to the outer edge of the pan and add butter and flour and whisk them together until it looks like a paste.
Slowly pour in the milk and chicken broth while whisking to create a creamy sauce, while stirring onion into the sauce.
Add in tomato sauce and oregano.
in another medium pan cook sausage and then slice it.
In a pan cook peppers until just softened.
Pour sauce over pasta.
Layer pasta with sauce along with peppers and sausage with cheese into three layers in a 13x9 casserole dish.
Bake at 350 degrees until cheese is completely melted, this takes about 15 minutes if all items have just been cooked. If the items you've cooked are cold or you prepare it all ahead of time, it will take at least a 1/2 hour to bake.