With a pound of ground beef, the most delicious dinner is only minutes away. These delicious Polynesian Meatballs are a great flavor combination of sweet and sour like you've dreamt of!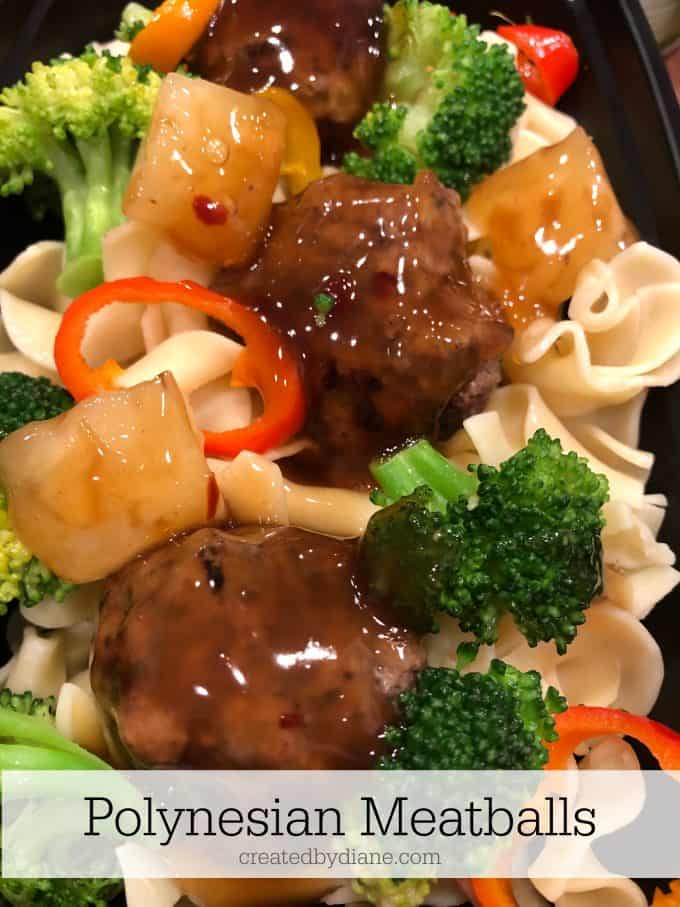 This recipe is courtesy of "Great Nan",
my husbands' grandmother…
a wonderful woman who served this delicious recipe on the day she welcomed me to her family. A very special day for me!
She made it as a meatloaf, which you can easily do as well. Just form the meat to a loaf shape and bake. 
There are many options for this dish, you can make it with turkey meatballs as well.
It a day I hope to remember my whole life for two reasons, I recall asking for the recipe about two bites into dinner, and to remember just how sweet she was, she had a wonderful sense of humor, was kind and caring, and served a spread to remember. I love visiting her, she always served tea, had cake and well… who can resist that!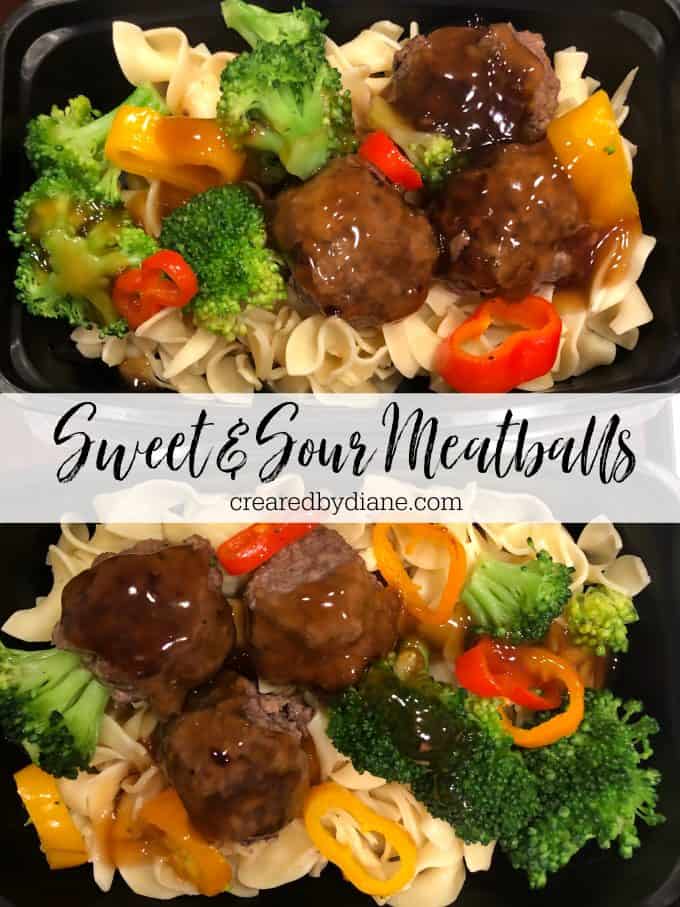 Options for this recipe:
The main part of this recipe is the delicious sauce.
The options are to make it with beef, chicken, pork, or turkey.
Mix the meat of choice with the ingredients as you would make a meatloaf or meatballs, or use boneless skinless chicken breasts or lean pork chops sliced into small pieces for easy cooking.
Serving suggestions:
You can serve the dish over egg noodles, or any pasta, or rice. Another option is sauteed cabbage for a low-carb option.
What vegetables go with this recipe:
Carrots, celery, peppers, onions, broccoli are great additions to this dish.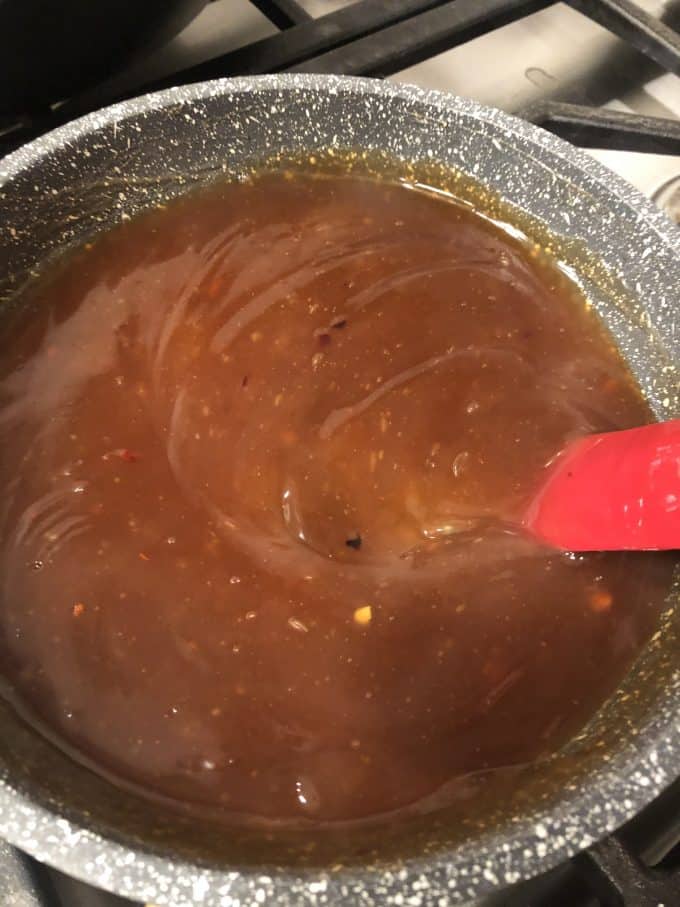 How do you make the sauce:
You'll begin by using the juice from a can of pineapple.
Reserve the pineapple until the end of making the dish to put the pineapple on top.
Next, you'll add cornstarch, soy sauce, brown sugar, and vinegar and mix the sauce smoothly, then heat it up until it comes to a boil and thickens.
In the meantime you'll make the main item and cook it, meatballs cook to 135° chicken to 165°, then pour the sauce over the meat or chicken.
You can cook the meatballs in a 350° oven for 15-18 minutes turning them over halfway through cooking, or you can cook them in a skillet.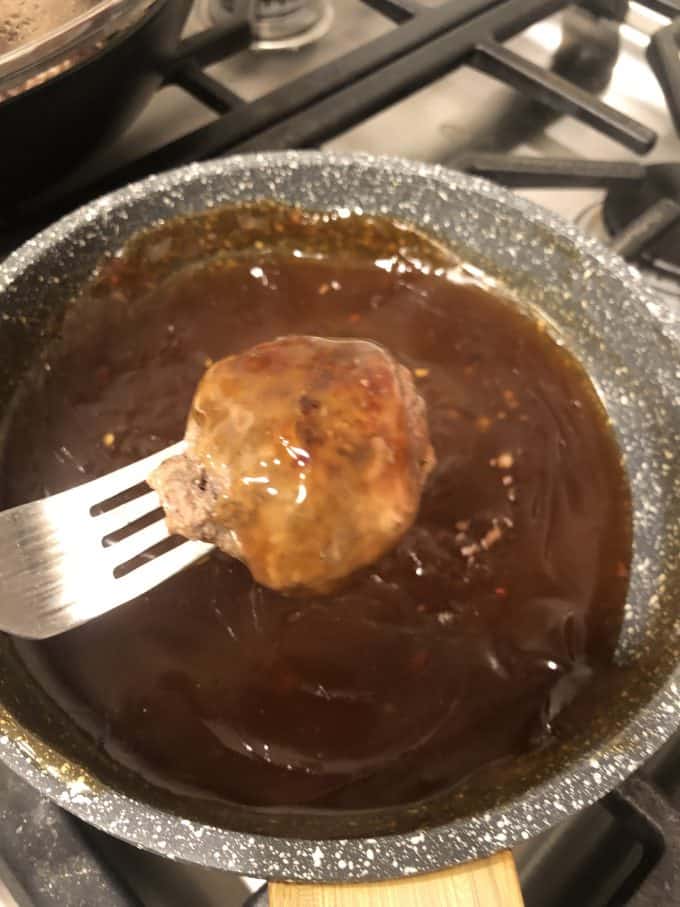 If you want to keep it simple just add some grated carrots, peppers, and green onions to the sauce, or cook the vegetables in a separate pan.
Plate the meal by putting the meatballs over the egg noodles, then add the sauce, and vegetables and top it with the reserved pineapple, if you want the pineapple hot add it to the sauce, the pineapple will heat very quickly.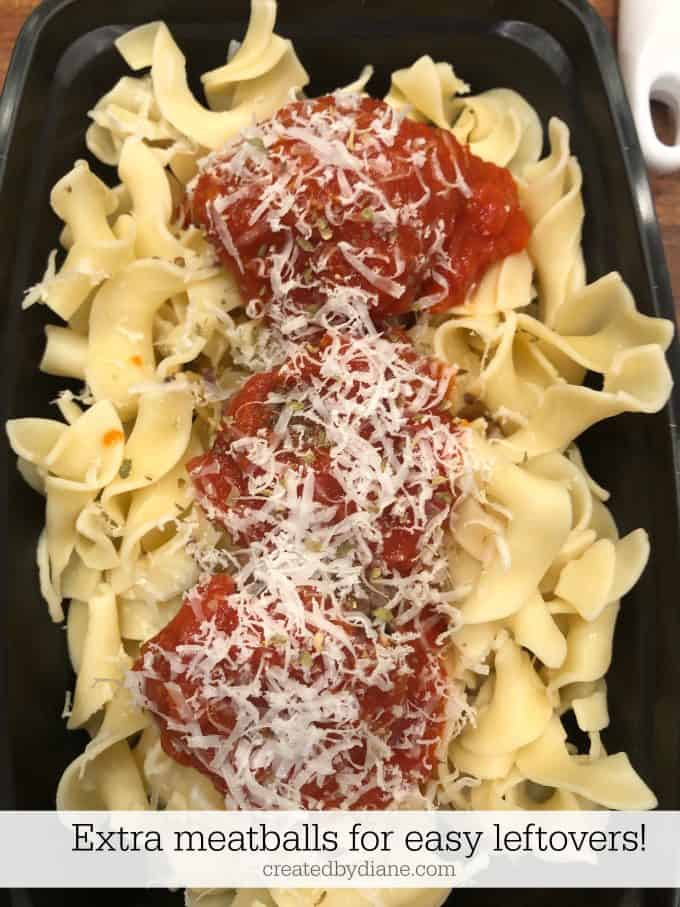 I often make 2 lbs of meatballs and then plate the extra servings with egg noodles and
marinara sauce
for a nice variety for my husband to take to work, this also works great if you have a picky eater and want another option but rally only make one meal.
One pound of meatballs yields 4 servings 1/4 lb of beef each portion. This recipe is easily doubled for more servings or to use the meatballs in another dish.
Other great ways to use extra meatballs… soup: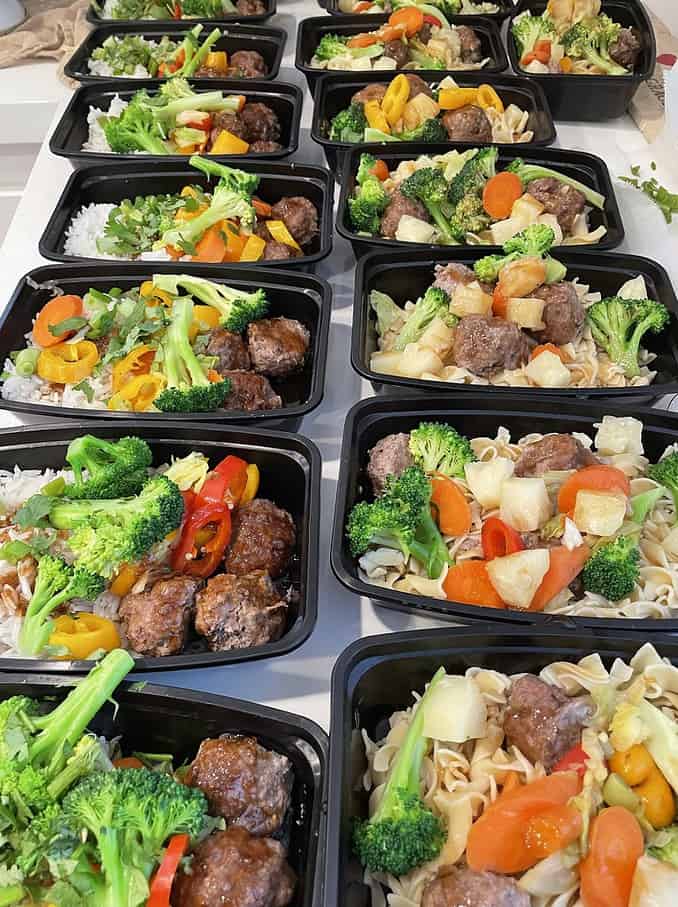 Polynesian meatballs with egg noodles
A delicious sweet and sour sauce over meatloaf, meatballs, chicken, or pork for a meal ready in 30 minutes.
Author:
Diane Schmidt, Created by Diane
Ingredients
Meatball/Meatloaf
1 pound ground beef
1 egg
2-4 Tablespoons milk (the leaner the meat the more milk you may want to add)
1/3 cup Italian breadcrumbs
1/2 teaspoon oregano
1/4 teaspoon garlic powder
sweet and sour sauce
1 20 oz. can pineapple chunks in pineapple juice (reserve pineapple and use juice for sauce)
1/3 cup vinegar (distilled or rice wine vinegar)
1-2 tablespoons cornstarch (the more used the thicker the sauce, add 1 tablespoon water to thin )
1 tablespoon soy sauce
1/2 cup brown sugar
pinch crushed red pepper, if you like a little spice
vegetables
1/2 cup sliced/diced peppers (any color/variety)
1 carrot, grated or sliced
3 cups cut broccoli
Instructions
Place all the ingredients into a bowl, mix well and portion out to the size meatball you'd like.
I often make them 2 tablespoon-sized for easy consumption.
Cook meatballs in a skillet on the stove, or bake them in the oven on a baking sheet at 350°
until the meat is 135°.
Turn the meatballs halfway through cooking to ensure they cook evenly.
Sauce
In a small saucepan add juice from the can of pineapple, brown sugar, soy sauce, vinegar, and cornstarch.
Whisk all ingredients for sauce and heat on medium until it bubbles.
Add in pineapple and peppers and heat for 1 more minute.
Serve over meat and noodles, or rice.
This sauce can easily be stretched to cover 2 lbs of meatballs, so go ahead and make extra meatballs!
Add the vegetables into the sauce or cook them in a skillet then add them on top of the meatballs and pasta.