If you're ever looking for a quick meal this is one of my favorites, it tastes like lasagna, but it's way more simple. It's full of all the yummy lasagna flavors, you can eat it low carb with no pasta, or a side of roasted cauliflower, or cook up some pasta for the full-on lasagna experience without all the time it takes of traditional lasagna. Plus this recipe's hero is the chicken, it's tender and delicious.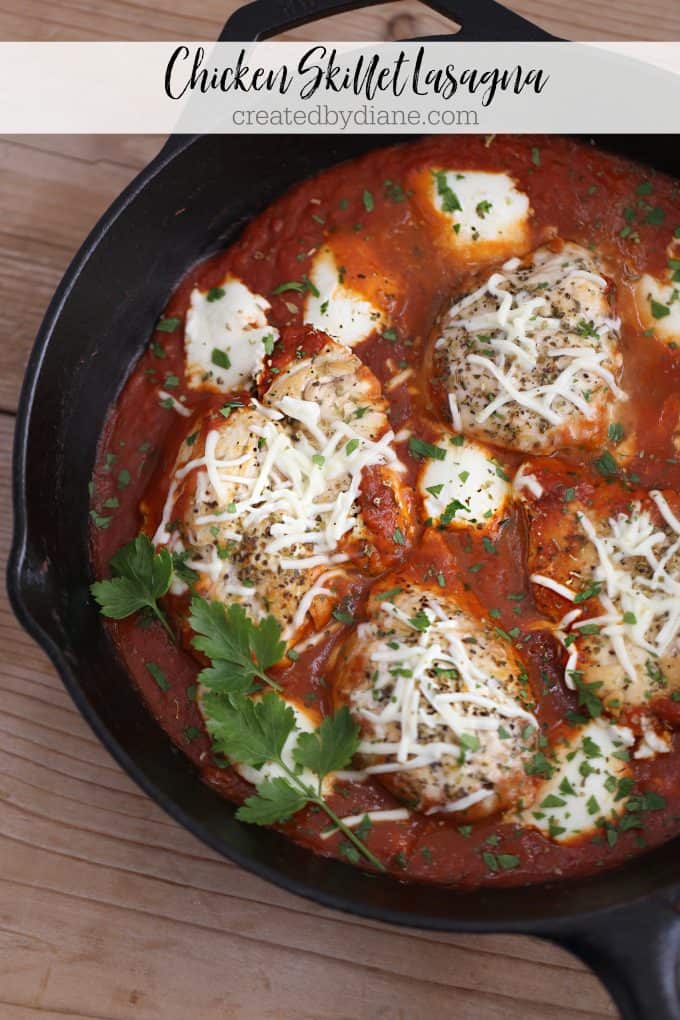 Select your favorite sauce, if you're looking to purchase a jar try Victoria-White Linen Marinara, Barilla-Marinara, or Tomato Basil, or make homemade sauce.
In this recipe, you can use chicken breast or ground chicken formed into patties, if you really want beef, make ground beef patties, brown each side then add the sauce and top with cheeses.
Serve this with a nice salad or broccoli and it's sure to become a favorite!
You can multiply this recipe easily to accommodate how many servings you'd prefer. 
Let's talk about chicken, I used chicken breasts. Depending on the size of the chicken breasts you have, you can cut them smaller if necessary, slice them in half so they aren't so thick or you can pound them thinner. it'll make the chicken more tender and the chicken will cook quickly and evenly. You can use "thin cut" chicken breasts for this recipe for easy prep.
This recipe can be easily multiplied to accommodate the servings needed.
I haven't tried baking this dish for larger servings yet, but I think it would work out well.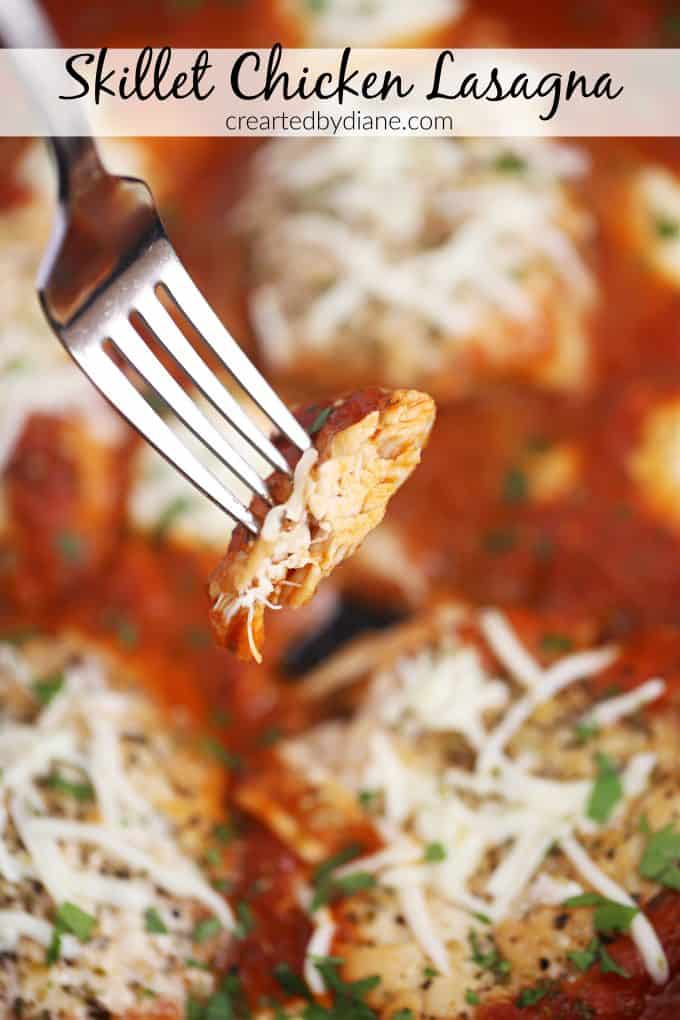 Which pan is best to cook this recipe in?
I cook mine in a cast iron skillet (which is typically a no-no due to the tomato sauce, but I serve it and then wash out the pan immediately) if you are not serving it immediately and want to hold the food over in the pan until ready to serve don't use cast iron it does not like the acidic sauce to be left int the pan, it'll eat away at the smooth finish and you'll have to re-season the pan) I like how the pan browns the chicken nicely, and would be great if using ground beef as well. 
Can you just assemble and bake this dish?
Absolutely, you can. If you're using ground chicken or beef I would brown them quickly on each side so the patties stay together well and bring out the flavor nicely before adding them to the baking dish. If you're using chicken breasts you can just add them to the dish, then pour on the sauce, spices, and cheeses and bake it at 350° for 25-30 minutes or until the chicken is fully cooked. This will also be helpful if you're making a really large portion of this meal.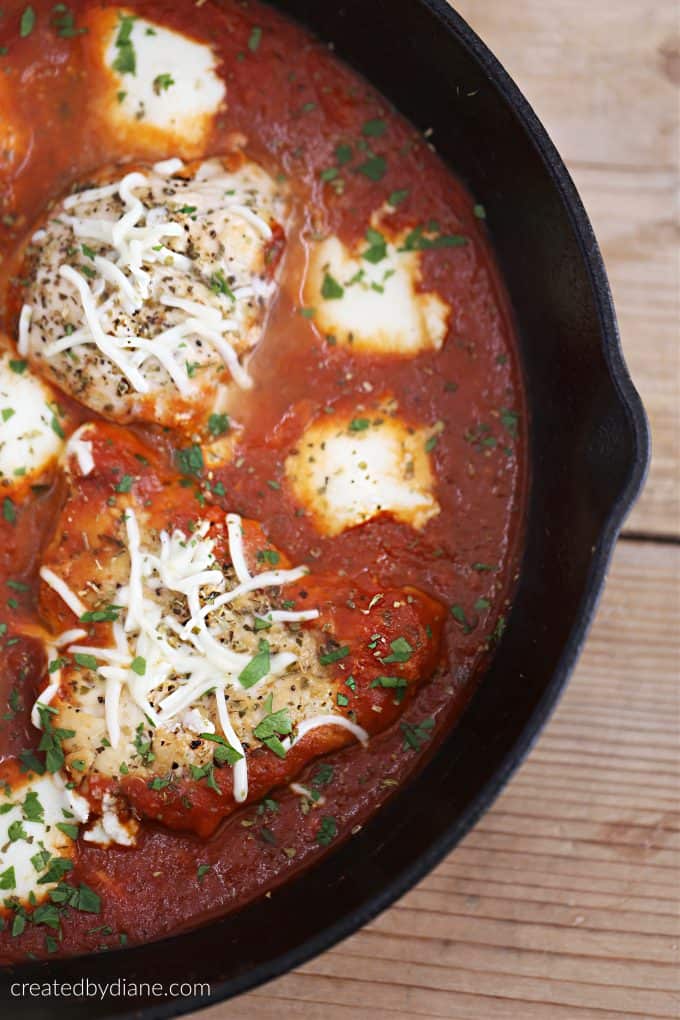 What else can I serve this chicken lasagna with?
I serve it with a big salad or broccoli. As mentioned a side of pasta or zucchini noodles would also be a great option. Be sure to check out my pasta sauce recipe post with other pasta options if you eat low carb.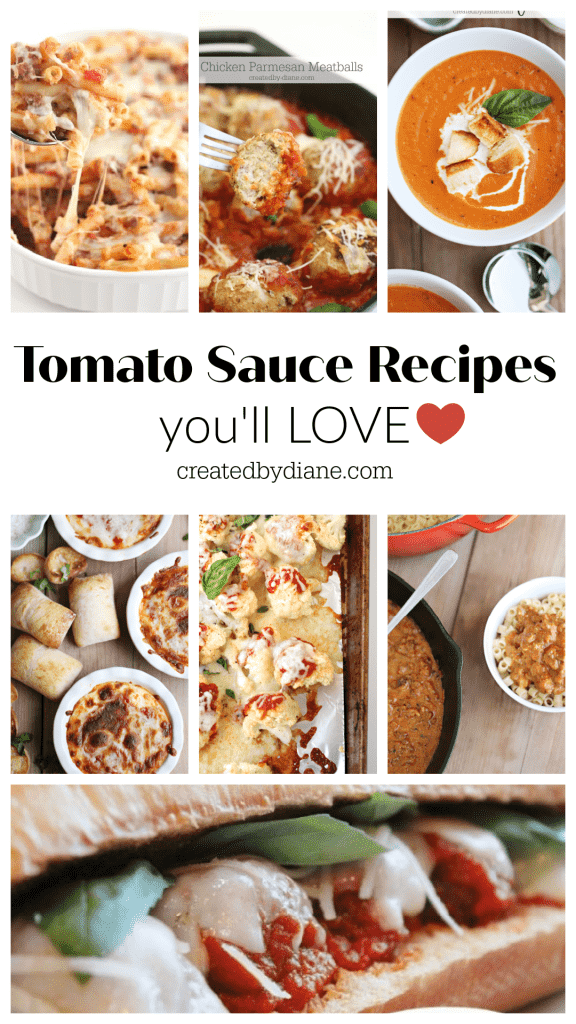 If you're looking for similar flavored recipes be sure to check out these:
Skillet Chicken Lasagna
tender cooked chicken in a delicious sauce with the addition of ricotta cheese and mozzarella. The perfect low-carb meal, great with a side salad of vegetables, or add a side of pasta for a total comfort food dinner.
Author:
Diane Schmidt, Created by Diane
Recipe type:
Main Dish, Chicken
Cuisine:
American, Italian
Ingredients
1- 1 1/2 lbs chicken breast
1 1/2 - 2 cups marinara sauce (homemade or store-bought)
1/4 cup wine (added to sauce if desired)
Add a pinch of crushed red pepper to the sauce for a little spice
1/ 4 teaspoon garlic powder
1/4 teaspoon dry/fresh oregano
salt and pepper to taste
1 cup ricotta cheese
1/2 cup shredded mozzarella cheese
Instructions
In a heated skillet, add a tablespoon of oil, and brown the chicken on each side.
Over medium heat, pour in the sauce (along with any additions you prefer, more garlic, wine, oregano, and crushed red pepper) and add salt and pepper to taste.
Add dollops of the ricotta cheese around the pan and even on top of the chicken if desired. Add as much as you'd like.
Then top the chicken with mozzarella cheese.
Place a lid on the top of the pan and allow the steam to heat both kinds of cheese well.
Remove the lid as the mozzarella melts.
Serve over roasted cauliflower, with a side salad, broccoli, or over pasta.