Homemade pasta tastes so delicious and I'm going to show you how easy it is to make.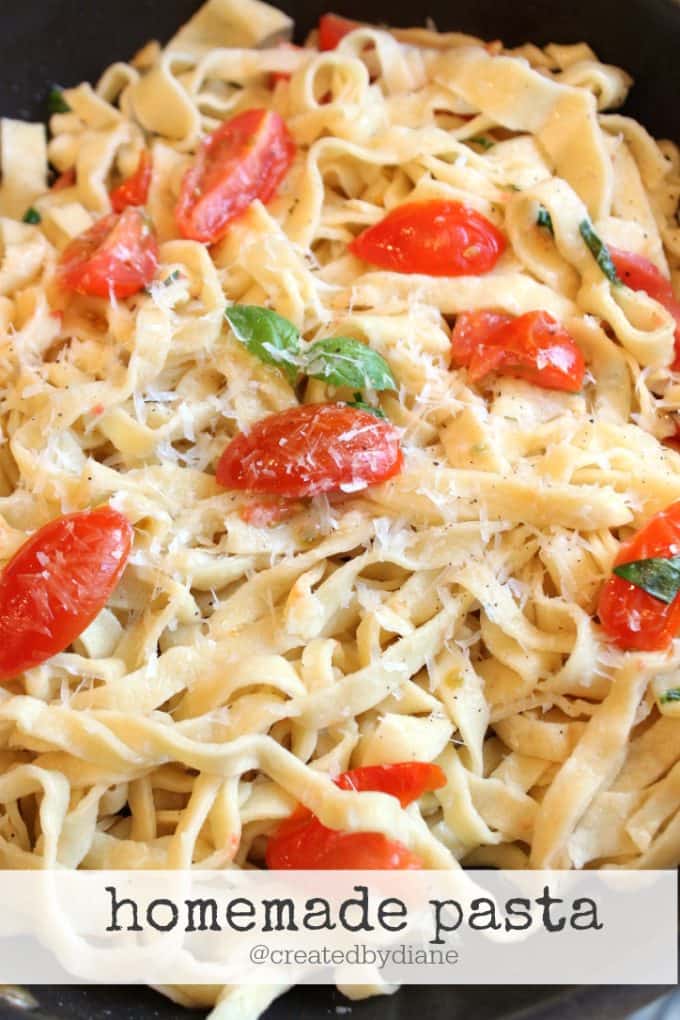 I don't have a fancy pasta machine,
this pasta is just rolled thin with a rolling pin, then sliced and cooked.
Now, I do prefer to mix the dough in a food processor,
It takes about a minute to pulse the ingredients together and I find that the dough doesn't get overworked so it's tender when rolling.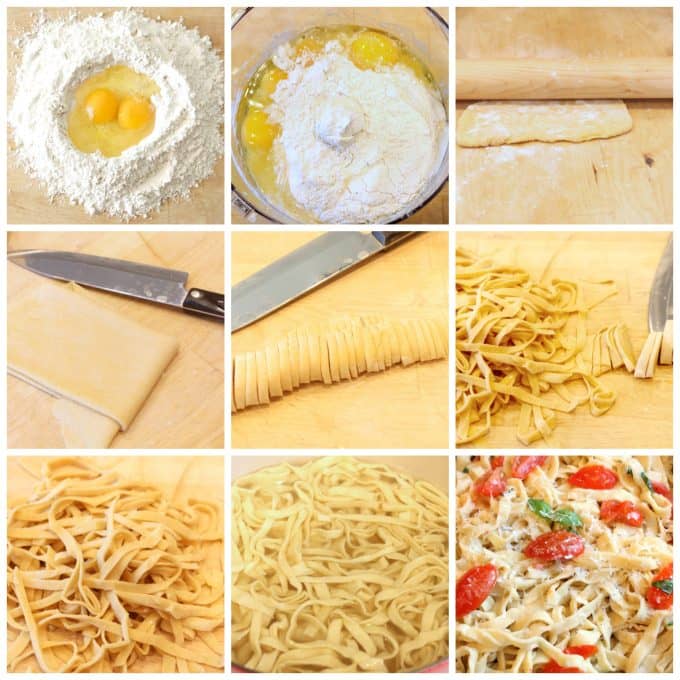 I made many batches and like 2 cups of flour, 3 large eggs, 2 teaspoons olive oil, and a pinch of salt to make the dough.
I tried making the dough with just 2 eggs and it was tough and hard to roll out. I tried it with a little olive oil and without and with oil won out, the dough was easier to roll out. After mixing the ingredients in the food processor I gathered the dough and formed a ball and allowed it to rest for 30 minutes.
I don't have a pasta machine to get the dough smooth and thin, but I'm thinking of getting one.
Rolling the dough takes a bit of time, and I typically make two batches.
One batch yields 1 lb of pasta and since we all love pasta so much I like to make two batches of dough. It heats up really well if you do have any leftovers.
I really love the flavor of the fresh pasta with a little butter and garlic sauteed with tomatoes and basil with salt and pepper and topped with some shaved Romano Cheese.
But it would be delicious with any sauce you choose.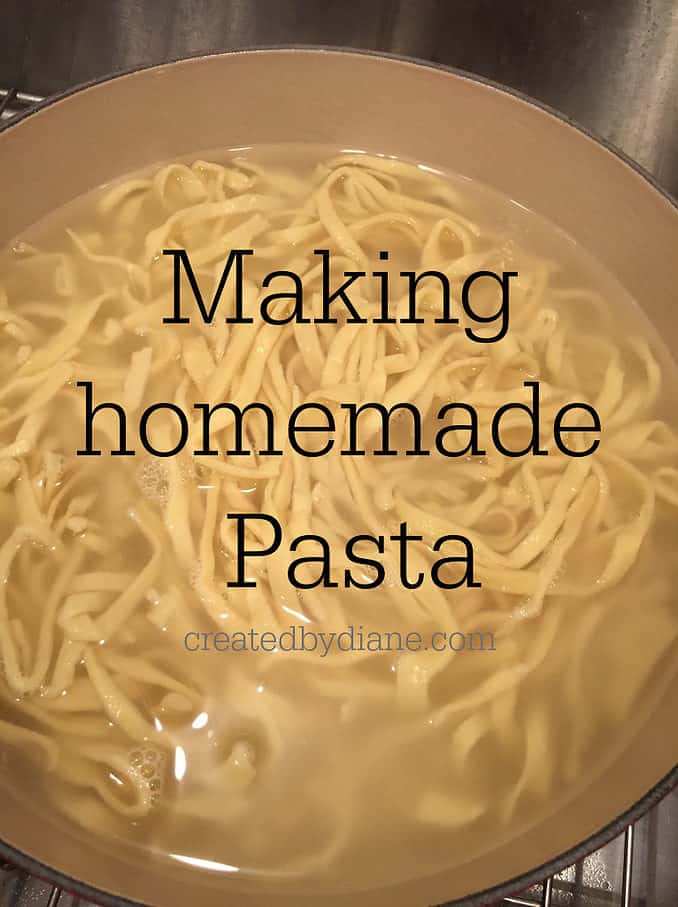 Is homemade pasta worth it?
Yes, it's worth the time and effort, it tastes delicious and is fun to make and will result in a totally delicious dinner.
Here are a few of my favorite sauces
homemade pasta
Ingredients
2 cups flour
3 large eggs
1/2 teaspoon salt
2 teaspoon olive oil
Instructions
In a food processor pulse all the ingredients together off and on for about 20 seconds.
The mixture should resemble crumbled egg yolks.
Open the lid and pinch the mixture together and if it pinches easily and stays together it's where you want it to be.
Place the mixture on a cutting board and work it into a ball by kneading it twice.
All the crumbled pieces will come together easily.
Flatten the ball into a disk and let it rest for 30 minutes under a towel.
(Begin boiling your water to cook the pasta now)
Cut the disk into two pieces.
Roll out the dough onto a lightly floured surface.
Keep rolling until it's thin. I roll it until I really think it could not be any thinner.
then roll out the second part of the disk.
roll the dough into a log, and slice it into pieces.
Unravel the pieces before cooking the pasta.
Salt your pasta water and cook pasta for about 2 minutes. Do not overcook the pasta or it will be mushy.
Fresh pasta will be al dente.
Add your favorite sauce and serve.
If you like this or any other recipe on Created by Diane be sure to share the post with the ones you love. You can click on the "share" buttons on the top and the bottom of each post, you can share it on social media or in an email.
~Sign up for email updates and GET delicious recipes delivered right to you! Plus get my free e-cookbook too.
Thanks ~Diane