Chicken Mozzarella is an easy dish to make and is always a favorite. This goes in the category of how to make dinner in under a half an hour.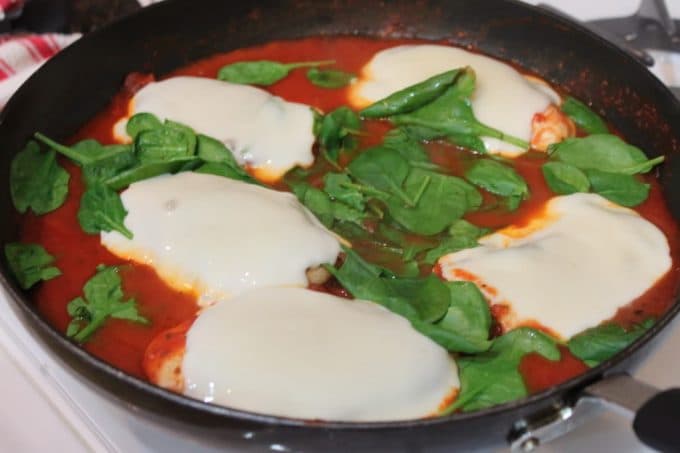 Every time I serve it someone says, it's tastes just like pizza.
It does, maybe I should name if Chicken Pizza.
I begin by boiling the water for pasta.
Then I pound the chicken thin or slice (filet) them in half.
Place tomato sauce in a shallow pan.
If I don't have homemade sauce, I use sauce with no sugar added.
I sometimes add white wine and oregano. Crushed red pepper if I want it to have a kick!
Place chicken on top of the sauce, cover until it's cooked about 15 minutes.
Then add a slice of Mozzarella Cheese on top and spinach cover for a minute or two until cheese melts and spinach wilts slightly.
By this time I'm draining my pasta.
Put pasta on each plate and a slice of chicken or two, scoop out some sauce and you all set.
A simple hot delicious meal.

Chicken Mozzarella
Ingredients
1 1/2 lbs boneless skinless chicken breasts (thin sliced if preferred)
1 1/2 cup tomato sauce (homemade or sauce with no sugar)
1/2 lb mozzarella cheese, sliced
1 cup or more fresh spinach
fresh basil leaves
Serve over pasta or zucchini noodles for a great low carb dinner.
Instructions
Heat skillet, place chicken and cook over medium-high heat turn over then, add in the sauce.
Heat the chicken in sauce over medium until the chicken is fully cooked.
Top chicken with mozzarella cheese slices, then place a lid on top and melt cheese.
Top with fresh spinach.
Add basil and serve hot.