I love lasagna, and who doesn't it is so delicious. This easy cheesy lasagna recipe is perfect in many ways,  the combination of meat, cheese, sauce, and pasta has outstanding flavor and easy to make so you can indulge and enjoy it any day of the week. 
You know when you've had a meal and the next few days it's all you can think about. Lasagna has that power!
If that happens to you, you're going to LOVE this… this simple lasagna recipe will give you lots of options to enjoy it for longer than one meal! YAY, lasagna for days, nothing sounds better.
This recipe makes 2 trays, you can cut the recipe in half if you want, but trust me you'll be happy you made two trays.
You can bake and freeze some, and keep it in the fridge to enjoy for days. Give a try to a friend or serve a large crowd. Each tray is 12 servings.
Lasagna layers are filled with beef, cheese, and pasta (lasagna noodles) baked to perfection with marinara sauce. 
There are so many options when it comes to the sauce, I prefer Barilla Marinara Sauce, White Linen Marinara Sauce (Costco sells White Linen), or of course Homemade Sauce.
Be sure to also check out my other baked pasta dishes, you'll find my collection of baked ziti recipes easy and delicious as well.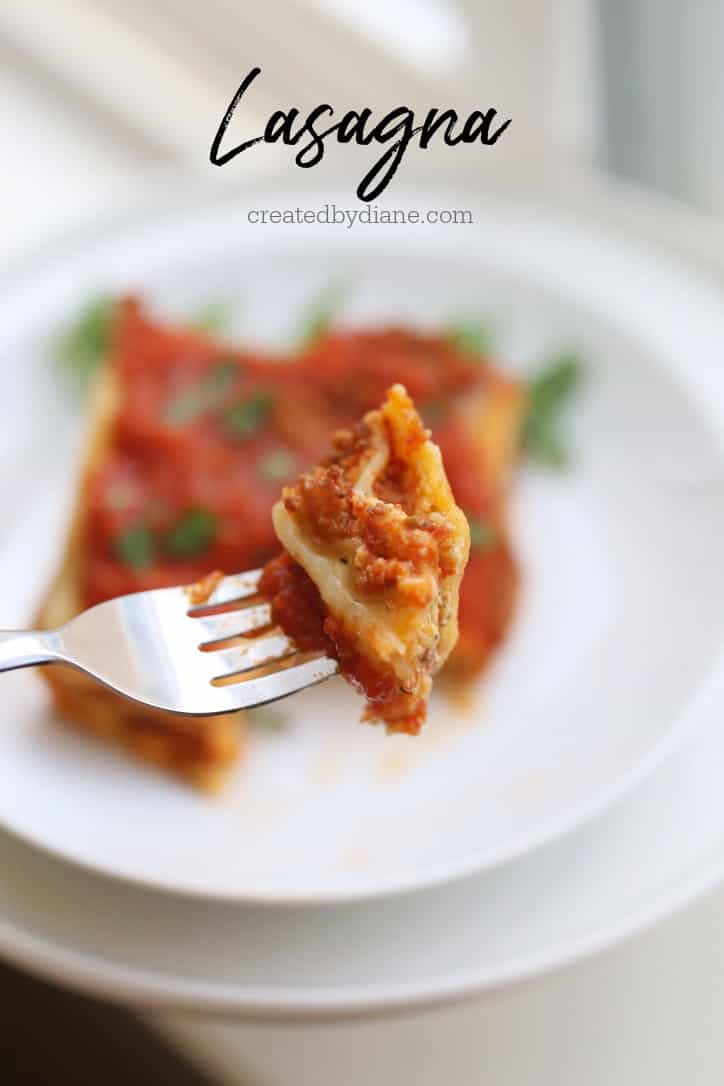 What tips make this lasagna recipe, easy?
YOu can use dry lasagna noodles, no boiling needed, jarred sauce saves time, and you can use pre-shredded cheese. Just mix the ricotta cheese mixture and cook the beef, then start layering the lasagna. It will help you get this simple lasagna on the table fast. Prep and bake the lasagna in disposable aluminum tin foil pans, they make for quick clean up, and they freeze well. And if you decide to share you don't have to worry about getting your pan back.
Do I have to precook the lasagna noodles?
No, I don't pre-boil the noodles. I make sure there is enough sauce that the noodles cook nicely when baked.
Do you cover lasagna when it bakes?
Yes, you bake it covered until it's almost done, then in the last 15 minutes remove the foil, and the cheese will continue to melt and get golden and bubbly.

How to Make It
See the recipe card below this post for ingredient quantities and full instructions.
lasagna noodles
marinara sauce
 ground beef 
mozzarella cheese
ricotta cheese
egg
oregano
garlic powder
salt and pepper
I made 3 layers of noodles for this dish, most lasagna is 3-4 layers. I like making it 3 layers there are enough noodles in the box of Barilla Lasagna noodles to make 2 trays so it seems the perfect amount and the serving size is great, not too heavy.
What pan is best for Lasagna?
I prefer a metal 13×9 pan or aluminum tin foil pans 
Steps to making lasagna
spread some sauce on the bottom of the pan (this portion does not need to have meat added)
lay the lasagna noodles over top the sauce
spread half the ricotta cheese mixture evenly over the noodles
add a third of the mozzarella cheese 
then spread the sauce mixed with meat
add a third of the mozzarella cheese 
repeat and finish with mozzarella and parmesan cheese
 Serve with a side salad, garlic bread, cooked sliced sausage, and roasted broccoli.
I used to bake lasagna in a 13×9 pan, but for super easy clean up I've been making it in disposable 13×9 tins. I often double the recipe when I'm going to make lasagna.
I often bake then freeze the second tray or refrigerate it, then cut the sides of the foil away and cut the lasagna into pieces to freeze servings that are easy to reheat when we get a hankering for lasagna again!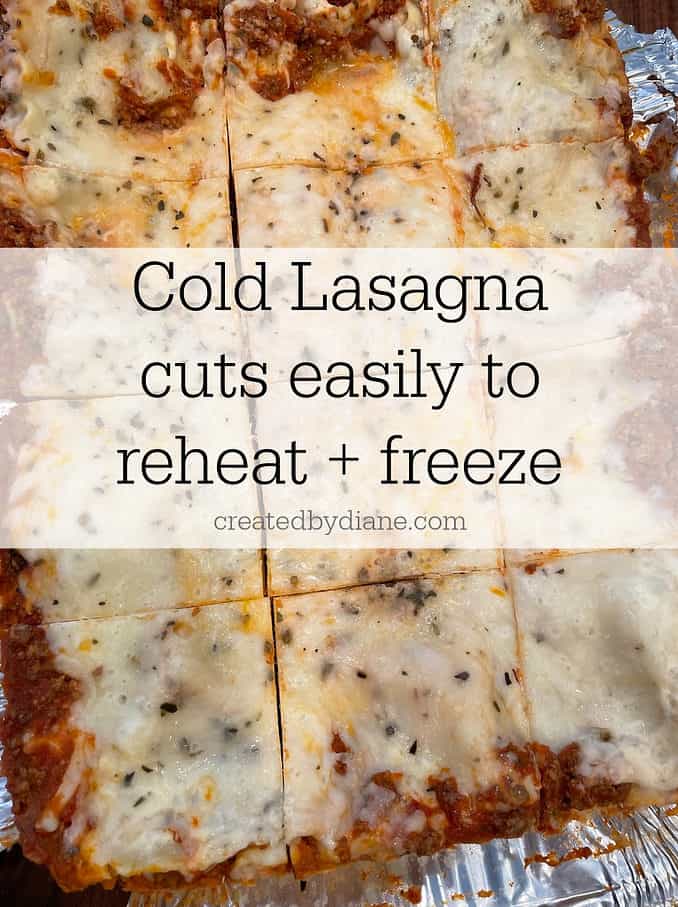 If I'm only going to serve one tray or bake it the day before I'm serving it. I cover and refrigerate it, then slice it when it's cold and have perfect portions.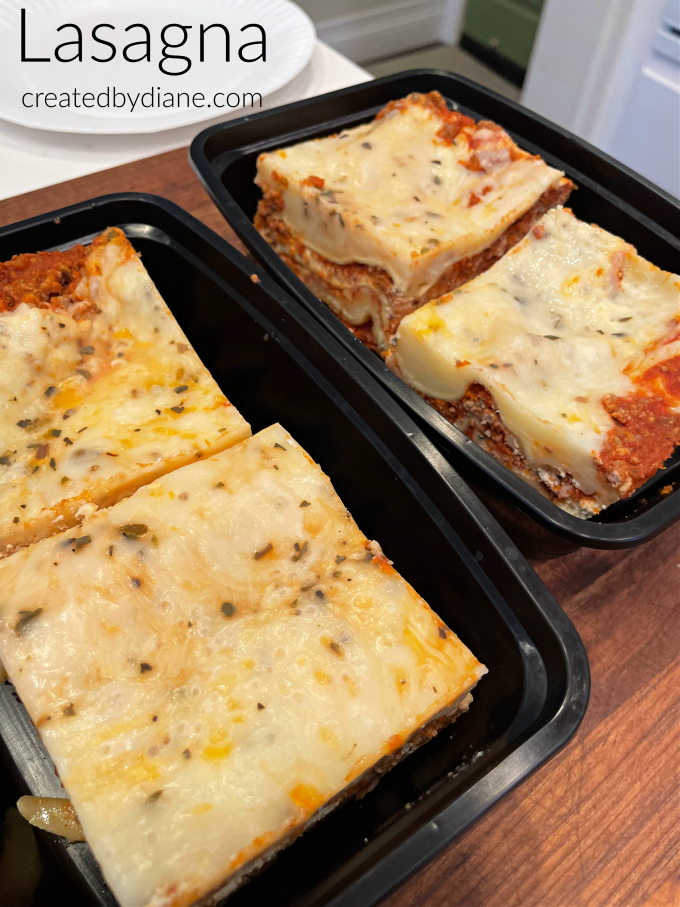 Then I heat the slices in the oven on a baking sheet or individual oven-safe dish (or heat in the microwave for leftovers) and heat so additional marinara sauce and place some on top of each piece.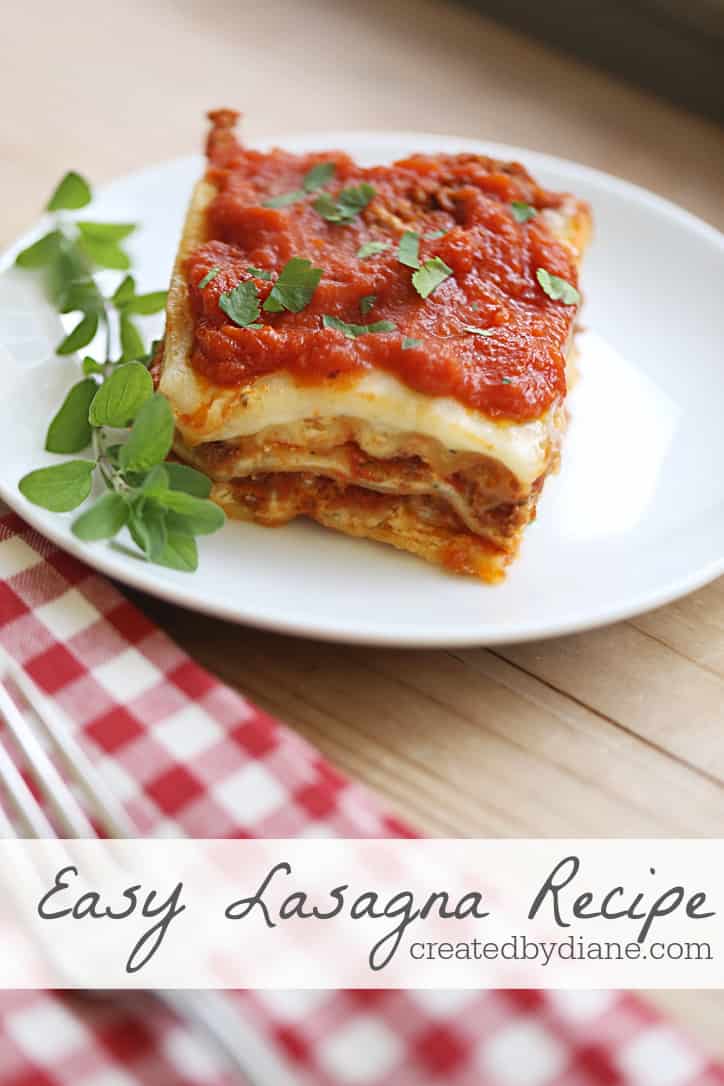 SERVE with additional sauce on top of the lasagna if desired.
If you love lasagna, give this delicious Chicken Lasagna a try!
If you need a lasagna style dish ready even faster give my 30-minute ravioli pizza a try.

AND… if you're interested in non-baked pasta dishes…
be sure to try these recipes:
Lasagna
This recipe will make 2 trays of lasagna, 3 layers thick and just the perfect portion size without it being too heavy. Layers of pasta, meat, sauce, and cheese are perfectly blended to easy delicious lasagna.
Author:
Diane Schmidt, Created by Diane
Recipe type:
Main Dish, Pasta
Cuisine:
American, Italian
Ingredients
2 lbs ground beef
Lasagna noodles 1 lb, enough for 2 trays of lasagna
2- 24 oz jars marinara Sauce
2 lbs grated Mozzarella cheese
8 oz grated parmesan cheese
32 oz whole milk ricotta cheese
1 large egg
½ teaspoon garlic powder
½- 1 teaspoon salt
¼-½ teaspoon black pepper
Instructions
Preheat the oven to 375°.
this recipe makes 2 13x9 trays of lasagna. Use metal or aluminum foil trays.
Begin by cooking the meat in a skillet.
Mix the ricotta cheese with egg, 4 oz romano cheese, garlic powder, salt, and pepper.
Have your sauce ready. The sauce can be hot, cold, or at room temperature.
Place some sauce about 1/3 cup into the bottom of the pans.
Then add 3 sheets of lasagna on top of the sauce (I do not boil my noodles)
Mix the sauce with the cooked meat, if you're sauce is really thick add 1/2 cup or more water so it spreads easily and the noodles have enough moisture to cook while baking.
Layer the ricotta cheese onto the noodles, then add some sauce, then mozzarella cheese.
Repeat topping the top noodles with mozzarella cheese.
Cover with foil, until it's almost finished cooking and remove foil to allow the cheese to become golden and bubbly,.
Bake for 45 minutes to an hour, or until fully hot in the center. Check with a thermometer that it's evenly cooked and the noodles in the center and tender.
Allow to cool and slice, or refrigerate and cut when cold for uniform pieces.
Serve with additional heated sauce on top.
Notes
Lasagna is so great reheated, that you can prep and bake this lasagna and cut and reheat pieces anytime. I often make it for holidays and bake it the day ahead, then reheat and top it with hot marinara sauce when serving.