Nothing could be simpler and tastier than this Lemon Buttermilk Pasta Sauce!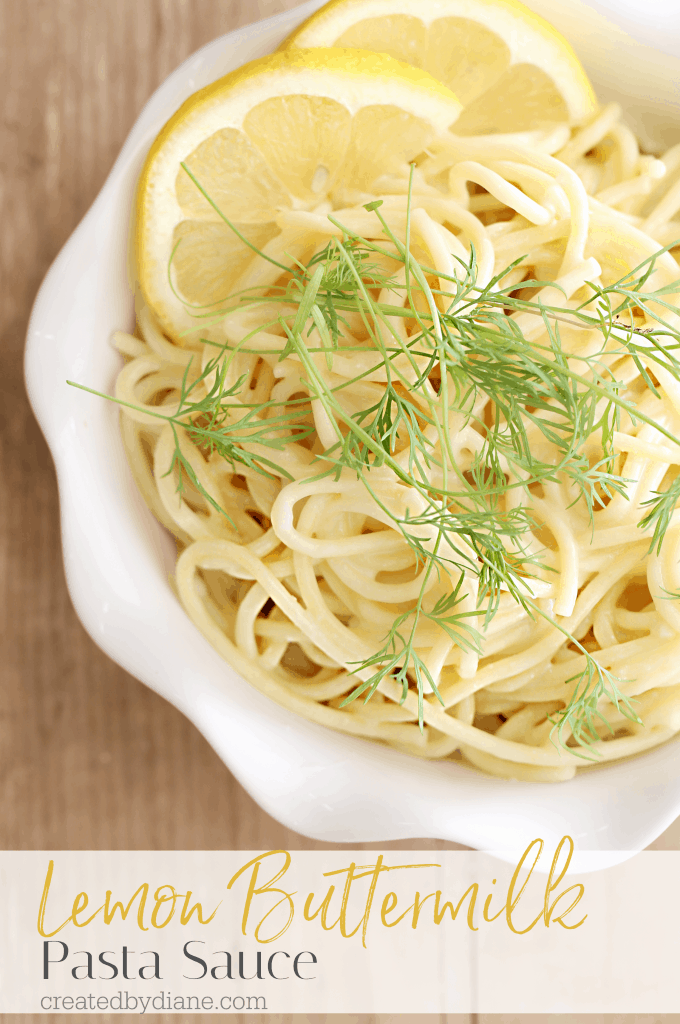 I love a good sauce!
And if it involves lemon, I'm all in.
Sauces have the power to transform a boring dish into something elegant and delicious. This sauce is so versatile, you can add in some marinara sauce if you're looking for a creamy tomato-based sauce. If you want to take this sauce up a notch add in some grilled shrimp or chicken or pile on the broccoli… you'll love it.
Buttermilk has a creamy tangy flavor, now add in some lemon and it's the perfect sauce for someone who loves a powerful flavor. If you don't like buttermilk, simply move on to another sauce recipe of mine here. I really love this tomato bisque recipe on pasta, give it a try.
This recipe was created with some extra buttermilk I had. I'm always looking to make things using what I have. I use buttermilk in Irish Soda Bread, Buttermilk Cornbread, Buttermilk Scones, and OMG these amazing Buttermilk Biscuits.
Now, this is for sure a buttermilk lover's dream, if you don't like buttermilk, check out one of my other pasta sauces here.
And as far as this dish goes, you absolutely could add chicken or even shrimp to it! The lemon pairs well with both proteins and you can change up your herbs to suit your tastes. Add thyme and chicken for more earthy flavors. Add some dill and shrimp for a fresh and light taste. You really can play around with it. 
I add chicken a lot of times as I always have some in the fridge, pre-cooked and ready to play with other ingredients. I have a recipe for How I Cook Chicken for the Week here on my blog!  I cook it ahead of time to accommodate my busy schedule. I'm always running here and there. And between creating recipes and family life, my schedule gets full quick!. So, having some prepped foods makes eating healthy easy and quick! You can pre-cook your chicken whichever way meets your needs. I love using a cast iron grill, but you could do it in an instant pot or whichever way works best for your busy life!
Having on-hand chicken is perfect for adding to salads, eating it on sandwiches, or any number of ways. Here are a few recipes I love using it for:
But let's get back to the sauce. People tend to shy away from sauces, but once you make one, you can make any amount of sauces out there. It's a kitchen must-know and I have written out the instructions for you in my blog How to Make a Sauce. But don't worry, I'm going to walk you through it here as well.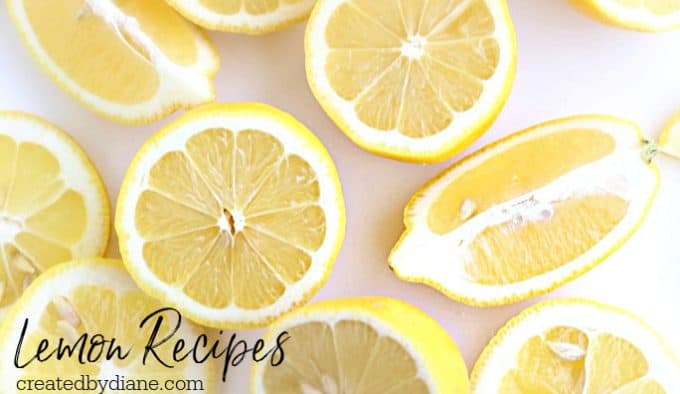 Find more of my Lemon Recipes HERE.
To begin:
While your pasta is cooking, in a skillet on medium-high heat add the butter and flour. Begin whisking to avoid burning your butter and flour.
Once everything is melted and the butter and flour and smooth, begin slowly pouring in your buttermilk while continuously whisking. The buttermilk, butter, and flour will combine to make a cream sauce.
Next, add your lemon juice and incorporate. Remove from heat.  At this point, you may add any additional items such as fresh herbs or Romano or parmesan cheese. Salt and pepper to taste.
Toss it into the pasta and plate it up with any accompaniments, chicken, shrimp, broccoli. Fresh herbs are key here for me, dill, basil… all yummy.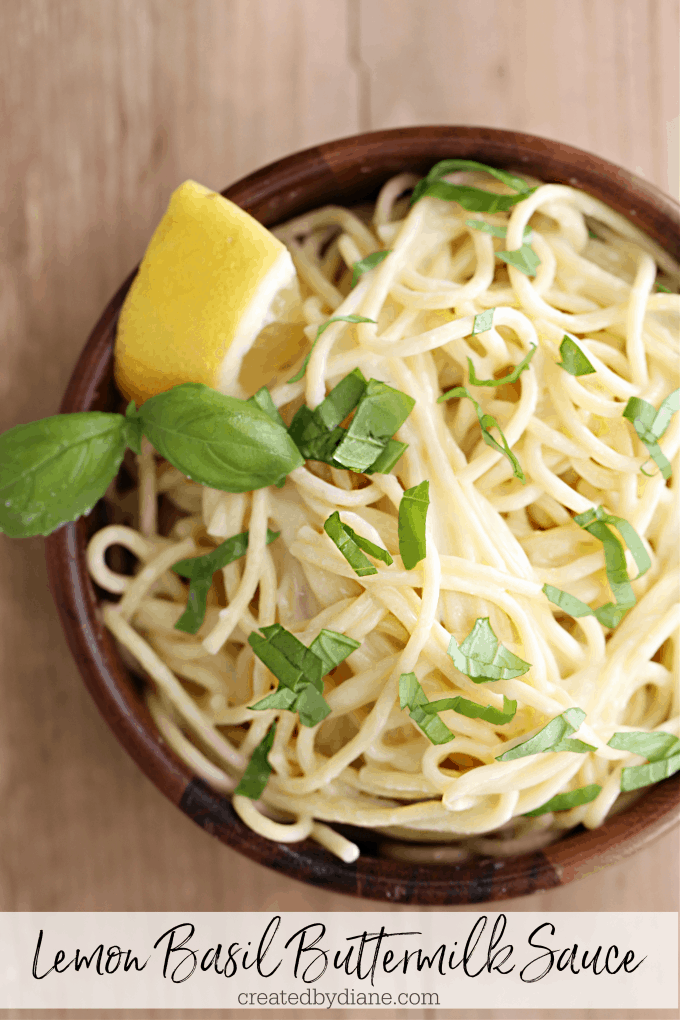 Could I replace the buttermilk with cream?
The short answer is you could however, the results won't be great as you'll need to add oil. Cream and buttermilk are two different animals. Flavor profiles are different as buttermilk is tangy, and cream is sweet. Also, buttermilk is low in fat and cream…well it's not. If you're looking for a cream-like based sauce that has fewer calories here's my recipe for a traditional milk-based gravy/sauce. 
Could I make this sauce ahead of time?
Again, here the answer is 'you could'. It's not ideal though. It really is better fresh, and it takes about the same amount of time to make it, as it would to reheat it. Plus, sauces when chilled tend to thicken, so you'd need to thin it out a bit when reheating.
What are your suggestions for fresh herbs?
Dill is excellent paired with the lemon, but you could add basil or rosemary. Play around with it, most Italian herbs will work well in this recipe.
This sauce is for anyone who loves things tangy, great for when you have extra buttermilk and a fun option to the often super cheesy sauces, but add in some cheese if you like!

Lemon Buttermilk Pasta Sauce
A deliciously fresh tasting lemony cream sauce with an extra delicious tanginess, perfect over pasta, rice, or vegetables for a light and delicious meal.
Author:
Diane Schmidt, Created by Diane
Recipe type:
Main Dish, Sauce
Ingredients
1 tablespoon butter
1 tablespoon flour
1 cups buttermilk, add more if you want it saucier
1/2-1 lemon juiced, about 2 tablespoons fresh lemon juice
Add fresh lemon zest, fresh herbs, 1/2 teaspoon chicken bullion, 1/2-1 teaspoon fresh garlic, or some lemon pepper seasoning for extra zing
8 oz pasta prepared according to package directions or serve over vegetables like zucchini noodles, squash, or broccoli
Instructions
While you prepare the pasta begin making the sauce.
In a skillet heat the butter with flour until the butter is melted.
then pour in the buttermilk slowly while whisking until the sauce is creamy.
Next add in the lemon juice, and any additional items.
Serve over drained pasta.
Garnish with fresh herbs or add chicken and a vegetable for a complete meal.
Add salt and pepper to taste and some grated cheese like Romano or Parmesan if desired.