I'm sharing with you my go-to meal. It's full of flavor, easy to make and EVERYONE loves it, so that's 3 reasons to make this pronto!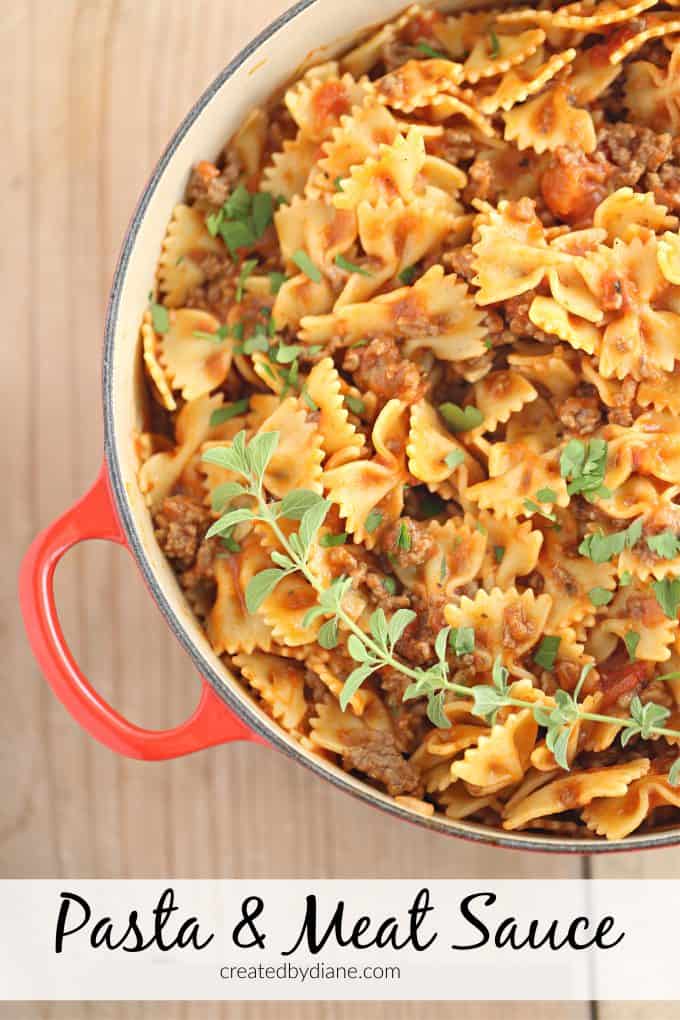 This is a go-to recipe for sure!
No matter what time of year it is, no matter what time of day it is, what day of the week it is, or who's at the dinner table, this meal is a crowd-pleaser.
And if you're looking to expand this meal, it's great served with a side salad, garlic bread, sauteed broccoli with garlic.
What shape pasta is best? I love penne and bow ties, as they are easy to eat and serve too many, but wide noodles like fettuccine and pappardelle are really fun. If you want to stretch the meal or serve it to kids, macaroni noodles are great. And don't forget about mini shells, they are a nice option as well.
Another great recipe to make is my baked ziti. it's my go-to dish to make and give when making dinner for others, it transports well and can be easily reheated when needed.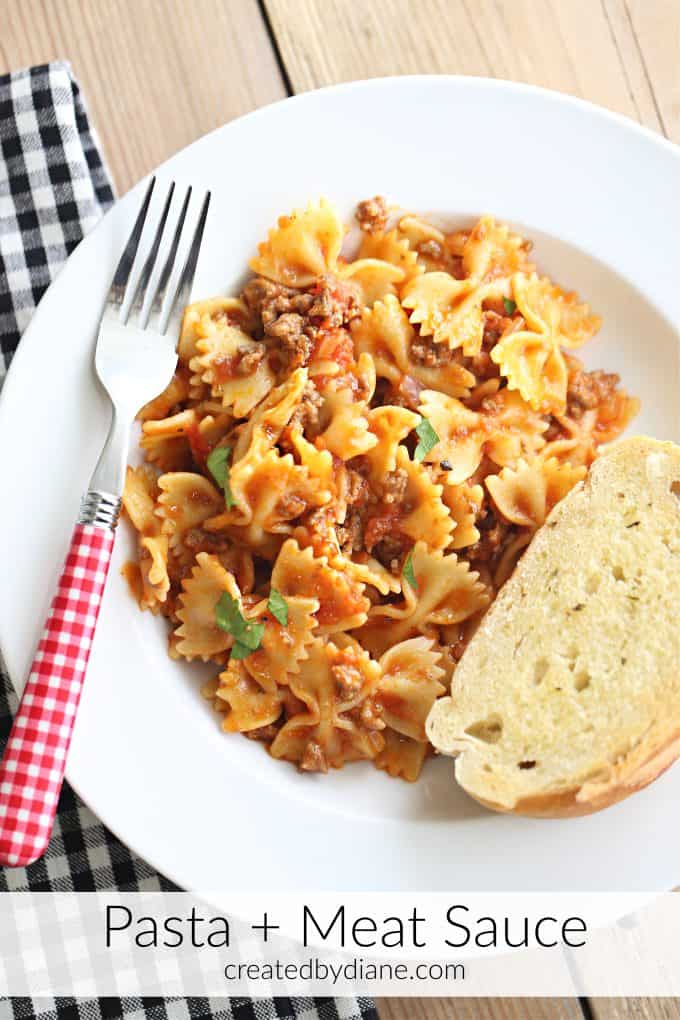 Impromptu company?
Serve this!
The three items I try to have on hand are:
pasta
sauce
ground beef (but since it doesn't have a long fridge life, I often buy it, cook it, and freeze it so I can pull it out at a moment's notice and have a freshly cooked meal that tastes like you spend more than 15 minutes making it!
Everyone coming over for the pre-game, game day, weeknight celebrating… you name it, this is the recipe to make,
and I'll give you plenty of options to make everyone happy.
Not a meat-eater, dice up mushrooms or add in some white beans.
add peppers and onions, too.
Use ground pork and beef for a great flavor combo,
add ground turkey or chicken for a lighter tasting meal,
add in diced or grated zucchini to kick up the veggies in this dish.
First, let's talk sauce. You can either make a sauce using my Tomato Sauce Recipe or buy a jar of sauce, but be sure to buy a great tasting sauce I suggest La Victoria White Linen or Barilla Marinara Sauce.
The Ratio I use is 1 pound pasta, 1 pound meat, 24 oz sauce.
Now to kick up the flavor and be sure this is the best tasing pasta and meat sauce, you can add in some fresh sliced or minced garlic, diced onion, about 1/4 cup white wine, a good pinch of crushed red pepper for some spice. Those are my go-to add-ins.
You can certainly change up the flavor profile a bit with a tablespoon of soy sauce or a teaspoon of sesame oil for a more Asian-inspired flavor. 
I don't always use the leanest beef, it gives the dish a dryer result and lacks a little on flavor. But if you're looking for some extra beefy flavor add in some beef bouillon, that'll sure kick up the flavor.
Add in sausage if you prefer, you can cook links or use ground sausage. 
Another great option is to make meatballs.
If you prefer chicken, use ground chicken or cut cooked chicken and add in a bit of chicken bouillon.
Want it to be creamy, add in a 1/2-1 cup heavy cream.

Want a different sauce…
Give this a try… 3 cups chicken or beef broth or milk or a combo of both, with some chicken or beef bouillon 2 teaspoons or more, cornstarch 1-2 tablespoons, garlic 2 cloves, and onion 1/2 cup diced.
I have lots of great sauce options here and lots of those sauces will work for pasta. I have a bunch of delicious pasta recipes here.
add cheese if desired, Parmesan or Romano cheese, I'm a huge Romano cheese fan, if you're looking for a cheesy dish… add in some mozzarella cheese.
Serve with a side salad, or a nice green vegetable like broccoli, spinach, or just add a side of garlic bread. All great options!
Be sure to check below the recipe card for how I send my family off to work with meals every day, they all say it's far better than eating out. 
Pasta with Meat Sauce
A go-to meal that everyone loves, pasta with meat sauce is sure to satisfy your hungriest eaters.
Author:
Diane Schmidt, Created by Diane
Ingredients
1 lb pasta
1 lb ground beef
1/4 cup onion diced
2 cloves minced garlic
24 oz tomato sauce
pinch crushed red pepper flakes
1/4 cup wine
Instructions
Cook pasta until al dente' use package instructions for specific shapes as all shapes of pasta cook at different times.
While the pasta is cooking...
Saute the beef in a skillet add in the onion and garlic, and allow the beef to saute until fully cooked 135°.
Add in the tomato sauce of your choosing (homemade or jarred) and then add a pinch of crushed red pepper or white wine according to your taste. Or add any other additions now, like cream, bouillon, or fresh herbs.
Toss the sauce with the pasta and serve.
This recipe can be easily multiplied for more servings.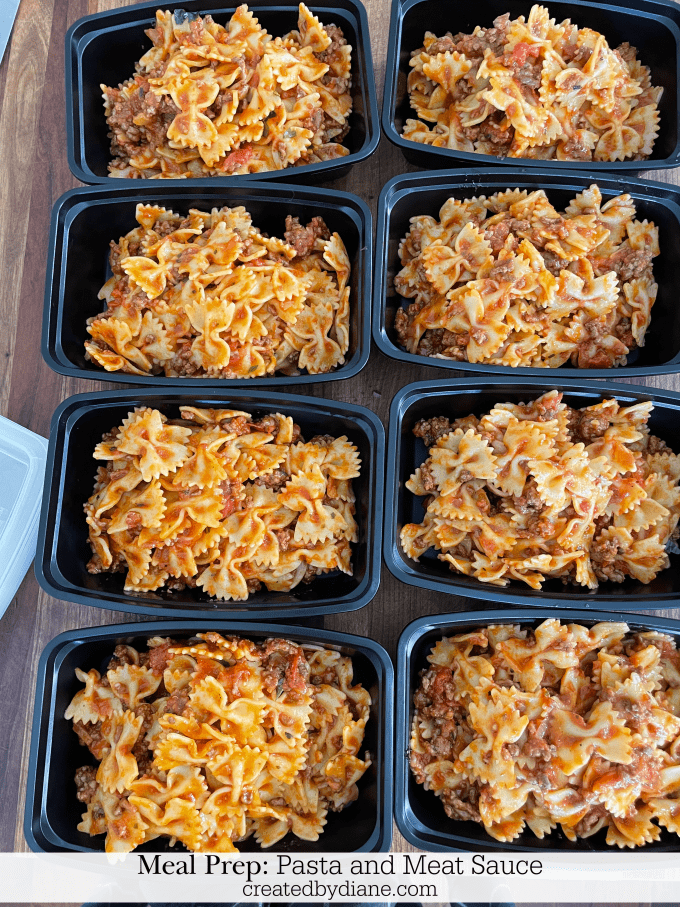 Meal Prep: If you want to be able to have meals ready to go, for lunch or dinner, or just open your fridge and want to have delicious tasting meals ready to heat and eat, this is one that always satisfies. I purchase 20 oz containers, online or at Sam's Club and pack the meals up every time I cook, that way all the food gets eaten. I place a sticky note on the shelf so they know what's in each container. I often have 3varieties of meals, so there are lots of choices, and as I make meals, I prepare extra so I there are meals ready to go, I don't have to cook every single day and it's great when the day doesn't go as planned and you can still have a homemade meal when you get home!
Other meal prep ideas:
Sweet and Sour Meatballs