Lemon blossoms are covering my lemon tree, we only planted it last year. I have high hopes it'll produce lemons soon, but the meantime we have LEMON CAKE. Which may be even better than just lemons.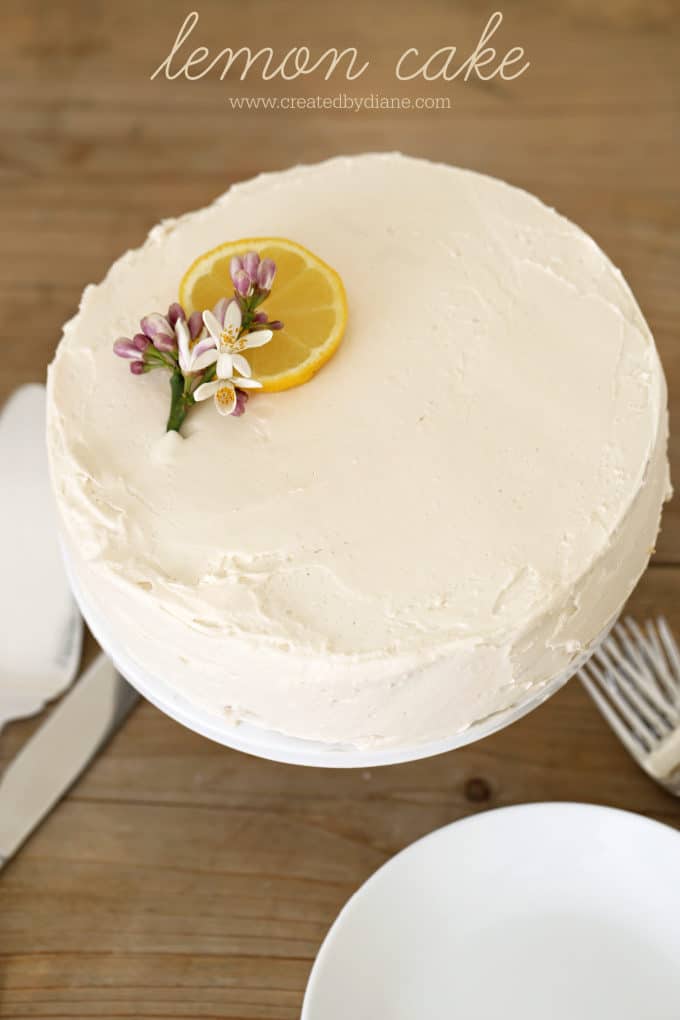 Oh, there are so many things I just love about this and am happy to be sharing this with you.
I love cake and think you'll love how simple this recipe and decorating are.
I love lemon, and the flavor in this is wonderful.
The texture of the cake is great, it's moist and has a great crumb, not too fluffy and fly away that you feel the need to eat the whole cake, but so yummy… that you will want to!
You may not want to share with anyone… and that is totally ok if you ask me. Who says we ALWAYS have to share anyway! 
Other great items to make with lemons: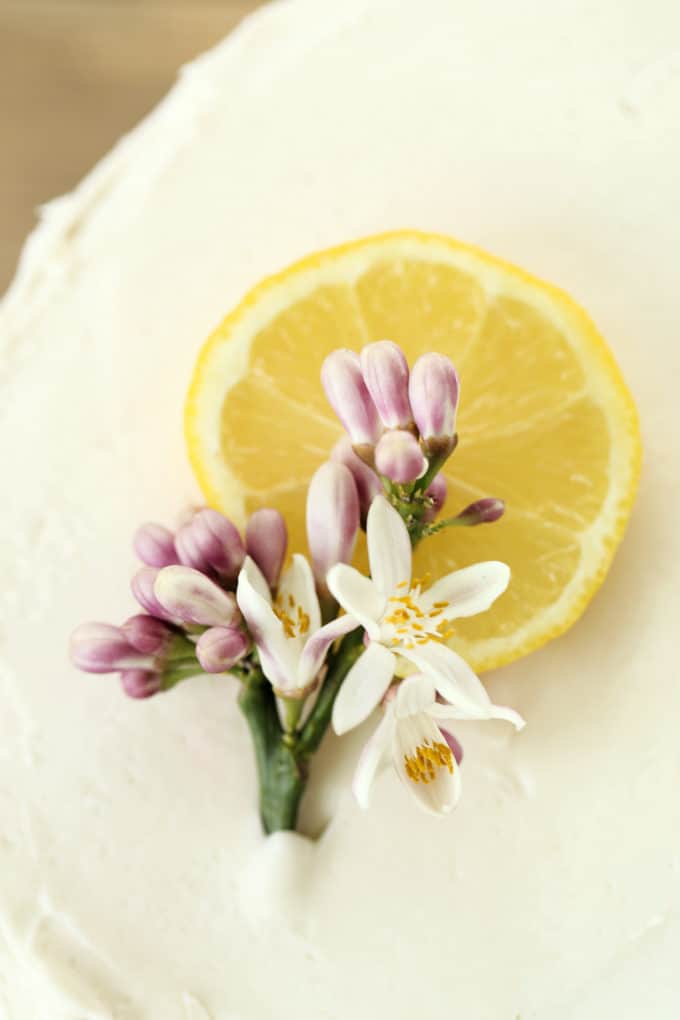 Last year we bought a couple of lemon trees and planted them in pots, we hope to see some lemons on them soon.
There are plenty of blossoms all over the trees, of they smell amazing and look so pretty I couldn't resist adding some of the flowers to the top of this cake along with a slice of lemon.
Other simple decorating ideas are fresh herbs, lavender, sprinkles, lemon jelly candy slices would be cute too. Even a few pieces of basil would look great on top of this cake.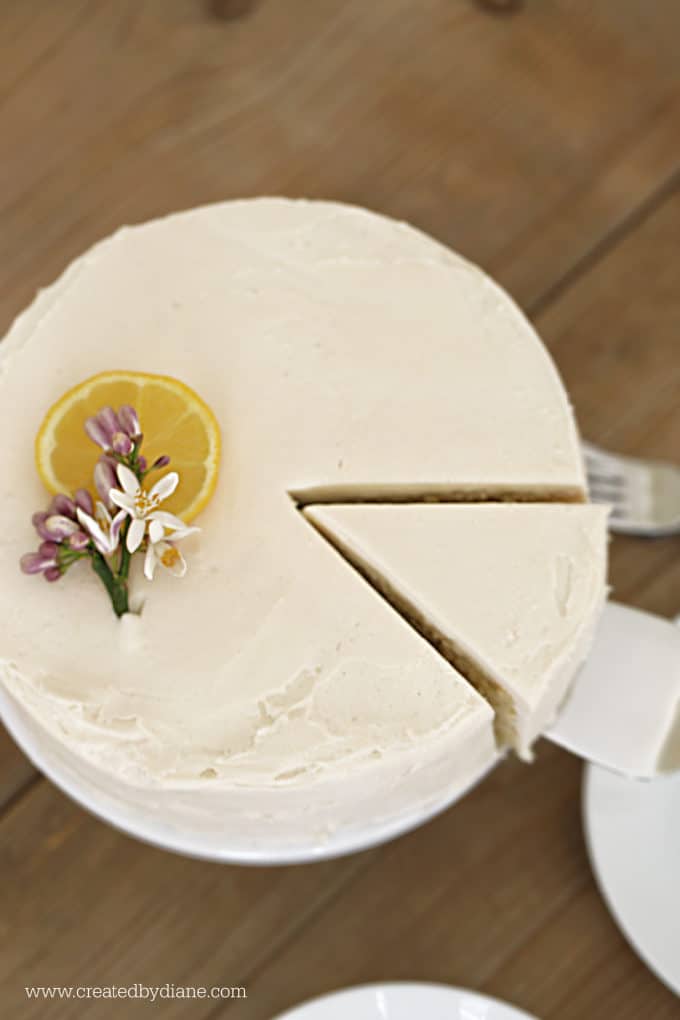 No matter how you decorate it, keep it simple don't stress out, just slather on some frosting with an offset spatula and spread it smoothly over the top, if you don't want to top it with anything will be fine too.
Besides one bite and no one will be thinking of the decorating!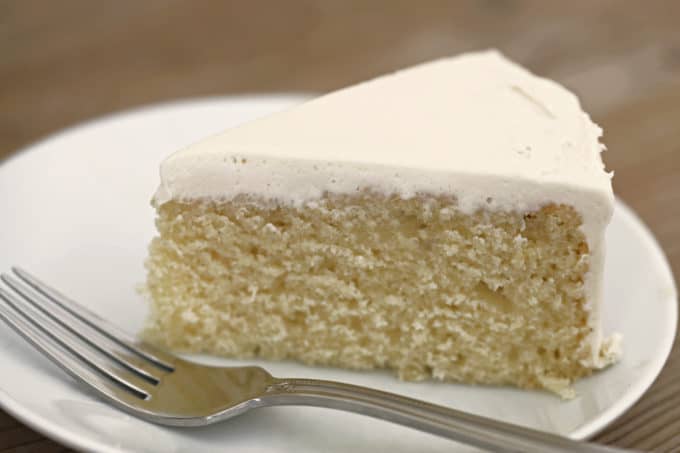 Go ahead try to just eat one slice!
This is the pan I use to bake my 8″ cakes in, it's a 2 pack, and I have 4 pans total for when I make multi-layer cakes.
These are similar to the baking strips I use for the cakes to bake evenly, they used to be silver and required pins, now they seem easier to adjust on the pans with the strap.
THIS is the offset spatula I use to spread the frosting.
I wasn't able to locate the simple cake plate I have, but THIS one is so pretty… I may just need to get a new one.
Cake this simple should be made OFTEN! It's the perfect anytime cake.
The perfect bring to a friend sit and chat cake,
the perfect you've had a bad day cake let me cheer you up.
The perfect family birthday celebrating cake,
the perfect YAY! It's summer cake,
see it's the perfect cake!

Lemon Cake
Ingredients
1 cup granulated sugar
2 eggs
1-1/3 cups all-purpose flour
1 1/2 teaspoons baking powder
1/2 cup milk
1/4 cup melted, cooled butter
2 tablespoons oil (avocado or vegetable oil)
2 teaspoon vanilla extract
1 teaspoon lemon extract
2 tablespoon fresh lemon juice (juice of 1/2 lemon)
Instructions
Preheat oven to 350°
Prepare an 8 inch round cake pan with a baking spray or use vegetable shortening and flour to coat pan completely.
In a medium bowl with a whisk mix sugar and eggs until fluffy and light in color.
Add in flour, baking powder, and milk.
Then stir in butter, oil vanilla extract, lemon extract, and lemon juice until completely combined.
Place batter into the baking pan, wrap a wet baking strip or wet strip of the towel around pan for even baking.
Bake for 30-35 minutes (mine cake took 32 minutes) test cake with a toothpick until it comes out clean.
Allow cake to cool 10 minutes, then turn cake onto a piece of wax paper, then turn right side up onto a cooling rack and allow to cool completely.
Lemon Buttercream Frosting
Ingredients
1/2 cup butter
2 cups powdered sugar
1 teaspoon lemon extract
1/2 teaspoon vanilla extract (I used regular dark-colored vanilla which gave the frosting a pretty off white color) A drop of yellow food coloring could also be added.
1 1/2 tablespoons milk or heavy cream
Instructions
In the bowl of a mixer beat butter until smooth and fluffy and light in color.
Add in powdered sugar, lemon extract and milk or heavy cream and mix on medium, scrape down the bowl to combine then mix on high until light and fluffy.
Spread frosting onto the cake with an offset spatula, I decorated the cake with a slice of lemon and a lemon blossom from my tree. Other ideas are a fresh herb, lavender or sprinkles for a simple decoration.