Lemon scones are my all time favorite and I make them often.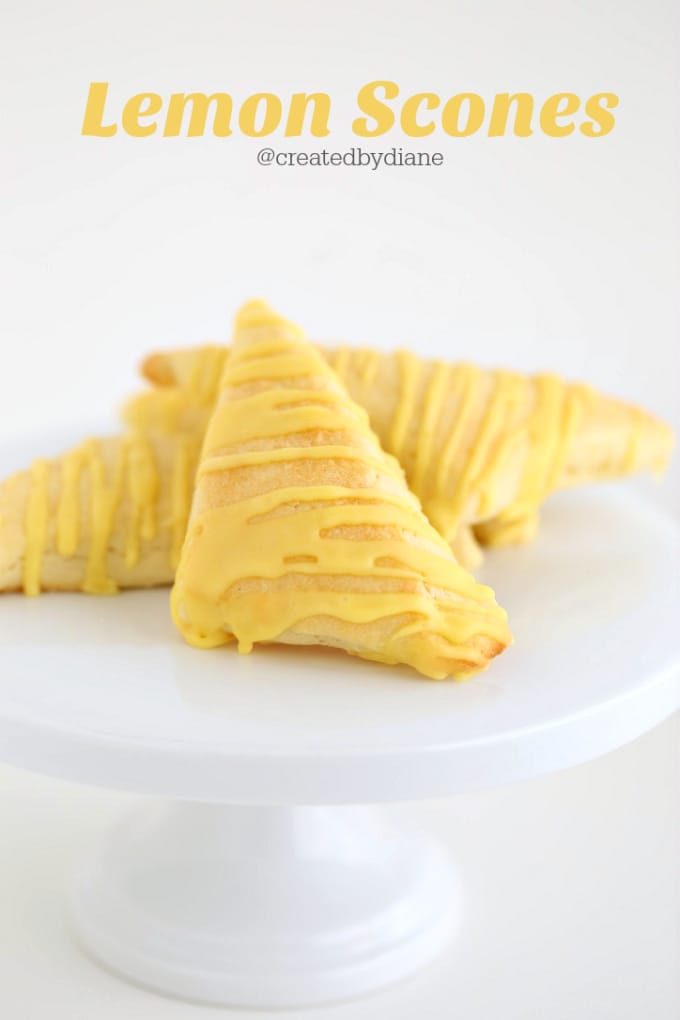 Oh how I  love lemon…
especially lemon desserts!
That wasn't always the case though, you see when I was younger it was all about the CHOCOLATE I wouldn't choose anything but CHOCOLATE!
Now I'm glad I grew up a bit and branched out because now I LOVE lemon!
These lemon scones are always a HUGE hit, it seems everyone loves lemon!
Making scones isn't difficult, be sure the butter is COLD and the oven is HOT.
Those two tips make for great scones!
You can cut your scones into any shape you like. Use a biscuit cutter or a knife. The smaller you cut them the more scones you'll have to share.
If you are craving more lemon deliciousness take a look at:
SWEET:
SAVORY: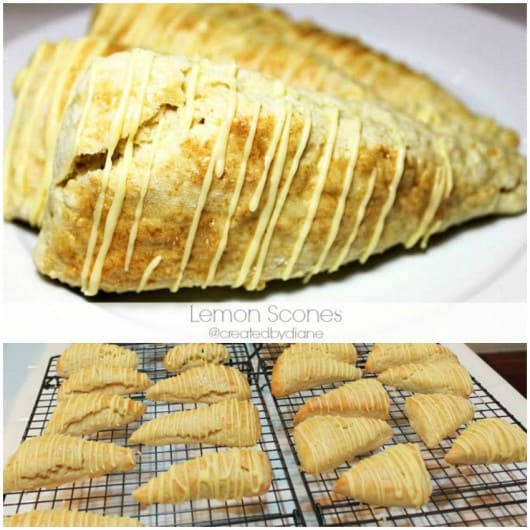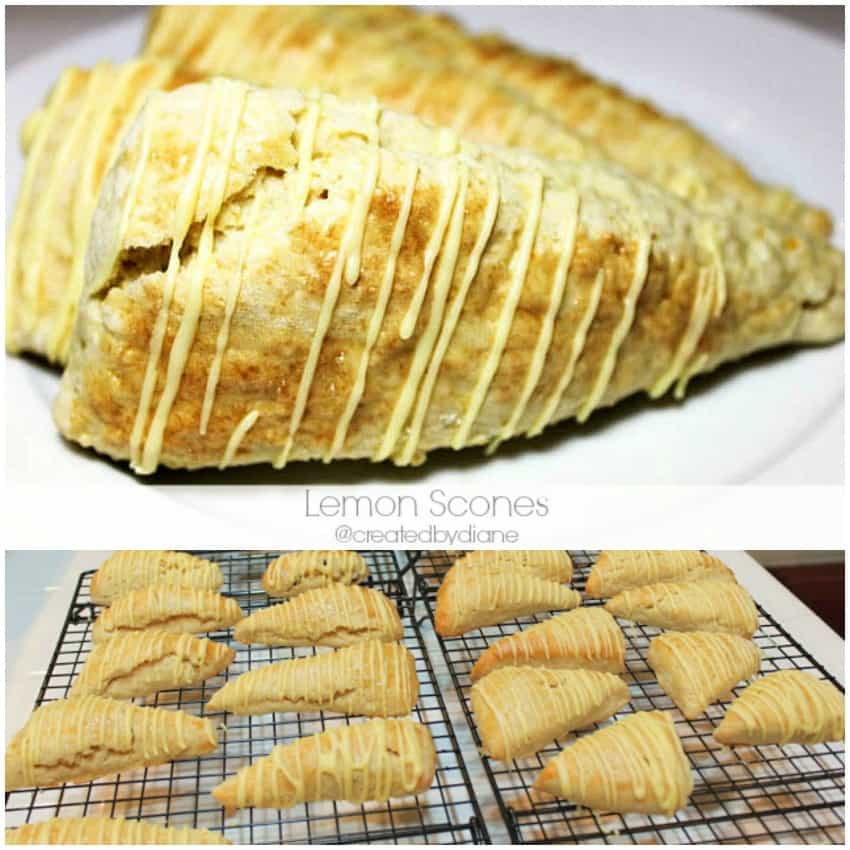 Lemon scones are perfect for breakfast or dessert or to snack on ANYTIME!
 Now about the glaze…
It's super easy to whip up and it's oh so lemony!
I just love them iced, but you can serve them un-iced if you're CRAZY  prefer.
Scones bake up like biscuits, tender and delicious. Scones are essentially sweet biscuits. Remember to keep you butter cold and the oven hot!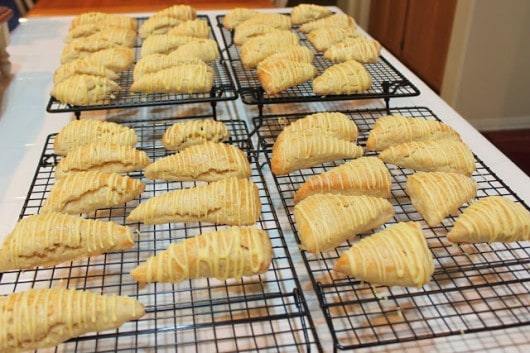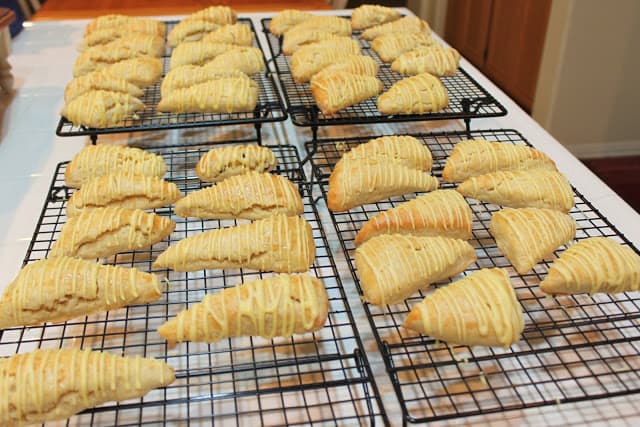 I've made so many batches of lemon scones I couldn't keep track, I often make double batches so there is plenty to go around, they are my all time favorite to make and eat!
YAY for LEMON!!!!
Lemon Scones
Ingredients
2 cups flour
1/4 cup sugar
3 tsp baking powder
1 tsp salt
1/2 cup butter (be sure to use really cold butter, dice it then place in freezer for a few minutes so it's ice cold)
1/2 cup milk (updated I now use 1/4 cup heavy cream)
3 T lemon juice ( updated I now use 2 tablespoons then add a third if the dough is not too sticky)
zest of 1 lemon
1 tsp lemon extract
2 eggs (updated I now use 1 large egg)
*icing recipe in notes
Instructions
Mix together flour, sugar, baking powder and salt.
Cut in butter until mixture resembles coarse crumbs.
Add milk, lemon juice, zest and extract along eggs.
Mix until blended.
Knead on a floured surface for a rectangle then cut into triangles.
Bake at 400 degrees for 15 minutes.
Notes
Lemon Icing:
Mix 1 cup powdered sugar with 3 T lemon juice and 1 tsp lemon extract and tint if yellow if desired. Then drizzle on top of scones when they are cool.

The scone dough should be the texture of biscuit dough. If it's humid I reduce the milk to 1/4 and often now use heavy cream instead of milk. I also have reduced the egg to 1 egg if the eggs are "really large" baking should be done with large eggs, it's the standard in recipes.
Depending on the "milk" used, skim milk is more watery and less thick than whole milk, so I now use heavy cream in all my score recipes and don't have the overly wet dough as I had sometimes in the past. I also reduced the heavy cream to 1/4 cup and add a tablespoon at a time if needed.
Add additional flour if you feel it's needed. Start with 1/4 cup and add to it until it's easy to work with.

Be sure your butter is ice cold and cut into small pieces before adding it. I dice up the butter on a sheet of wax paper then freeze it for a few minutes while I get everything out and then take it out of the freezer so it's really cold, this ensures a high rise on the scones.

Start with 2 tablespoons of lemon juice, add additional if the dough isn't too sticky.