If you like lemon, I HIGHLY recommend you make a batch of these lemon scones pronto!
Lemon scones with lemon icing have got to be one of my all-time favorites and I make them often!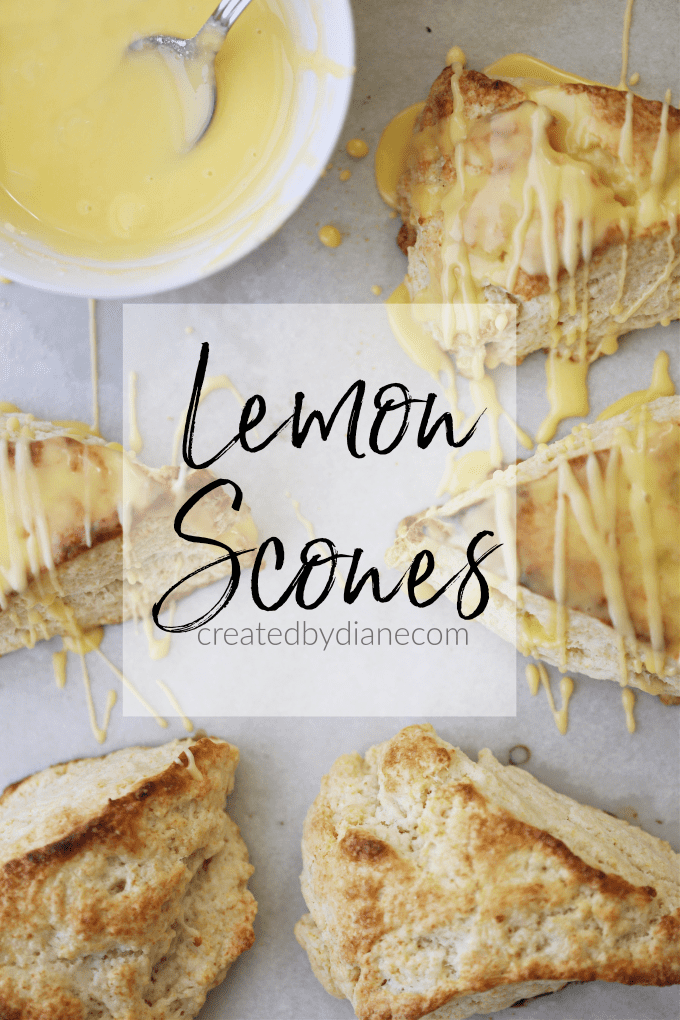 Oh, how I  love lemon…
especially lemon desserts!
That wasn't always the case though, you see when I was younger it was all about the CHOCOLATE I wouldn't choose anything but CHOCOLATE!
Now, I'm glad I grew up a bit and branched out… because now, I LOVE lemon!
These lemon scones are always a HUGE hit, it seems everyone loves lemon!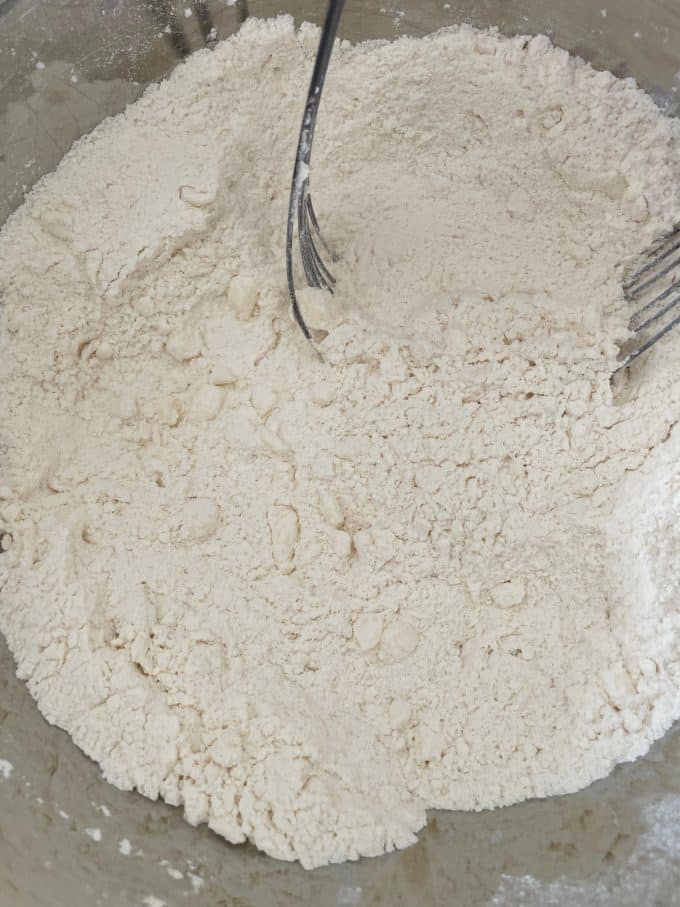 Making scones isn't difficult, be sure the butter is COLD and the oven is HOT. Those are my two best tips! Those two tips make for great scones!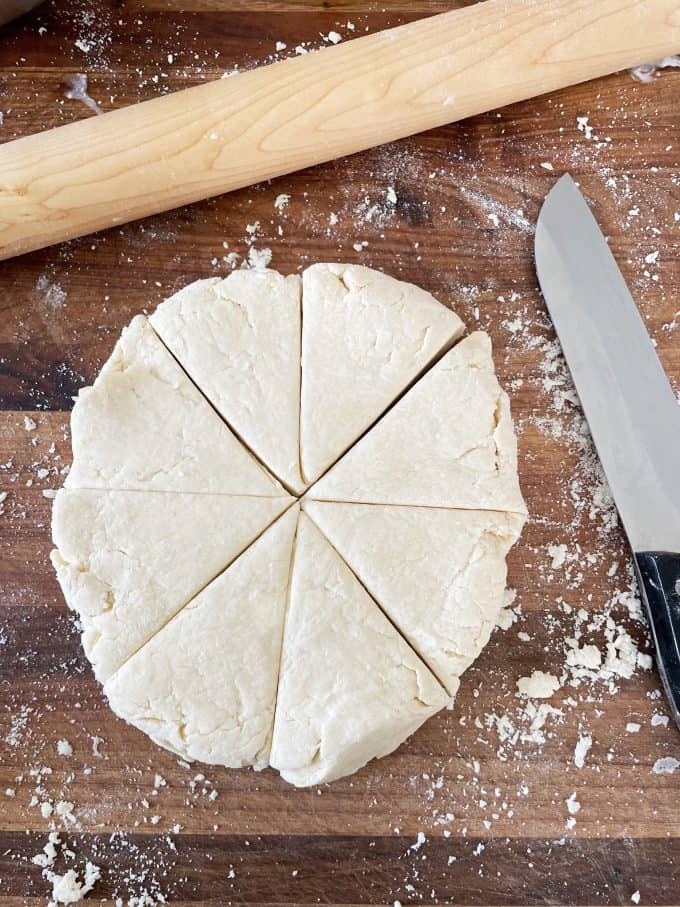 You can cut your scones into any shape you like. Use a biscuit cutter or a knife. The smaller you cut them the more scones you'll have to share.
If you are craving more lemon deliciousness take a look at:
SWEET
SAVORY
And if you want to know my other SUPER favorite scone recipe it's delicious PUMPKIN SCONE, and I stock up on pumpkin to be sure I can enjoy them any time I like!
Lemon scones are perfect for breakfast or dessert or to snack at any time!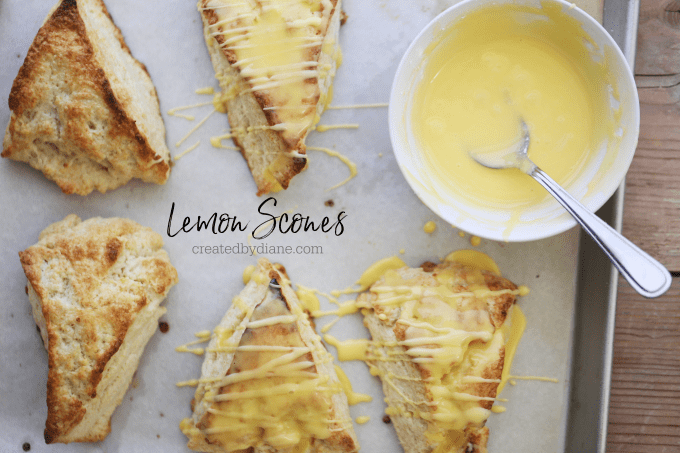 Now about the glaze…
It's super easy to whip up and it's oh so lemony!
I just love them iced and included an easy lemon glaze icing below.
Scones bake up like biscuits, tender and delicious. Scones are essentially sweet biscuits. Remember to keep your butter and cream cold and the oven hot!
I've made so many batches of lemon scones I couldn't keep track, I often make double batches so there is plenty to go around, they are my all-time favorite to make and eat!
I'm sharing my original recipes…. but also am posting a NEW LEMON SCONE RECIPE>>> the scones bake up higher, the dough is easier to handle, and I like the texture better as well.
YAY for LEMON!!!!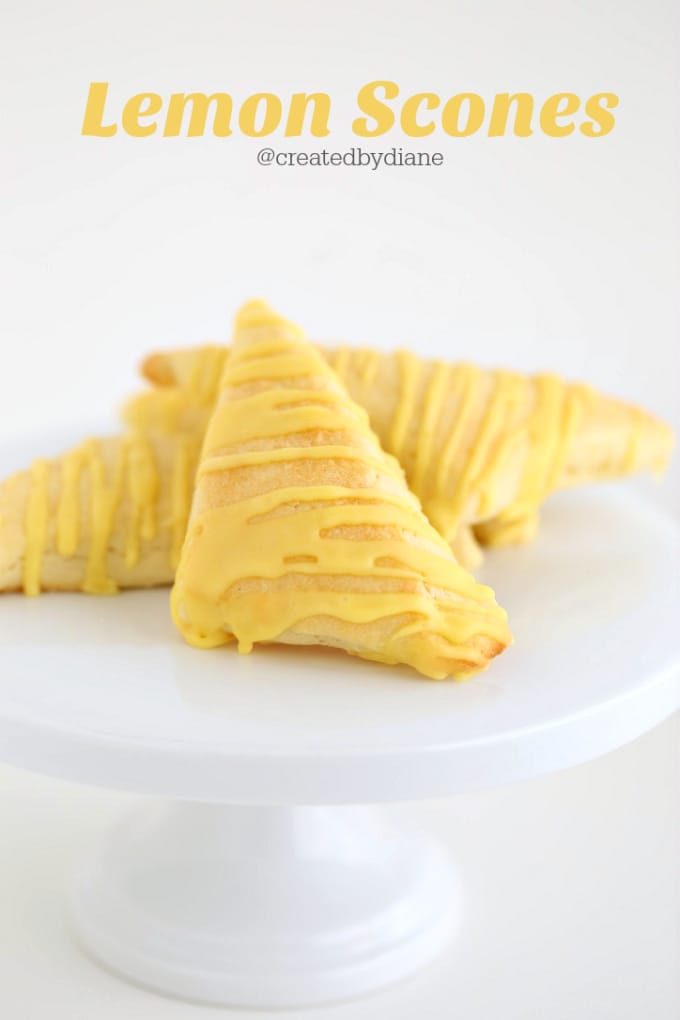 Are these flavored with real lemon?
Yes, I use freshly squeezed lemon juice. I sometimes add lemon extract (I try to buy real lemon extract vs artificial flavored. Alternatively, you can use lemon extract if you do not have fresh lemons.
Can I make these with another flavor? 
Yes, you can substitute the flavor you'd prefer to name these your own, with or without lemon. Almond, coconut, and buttermilk all come to mind as great options.
What other scones recipe can I make?
I have lots of scone flavors, give one of these a try:
AND… don't forget the icing! The printable recipe is below the scone recipe.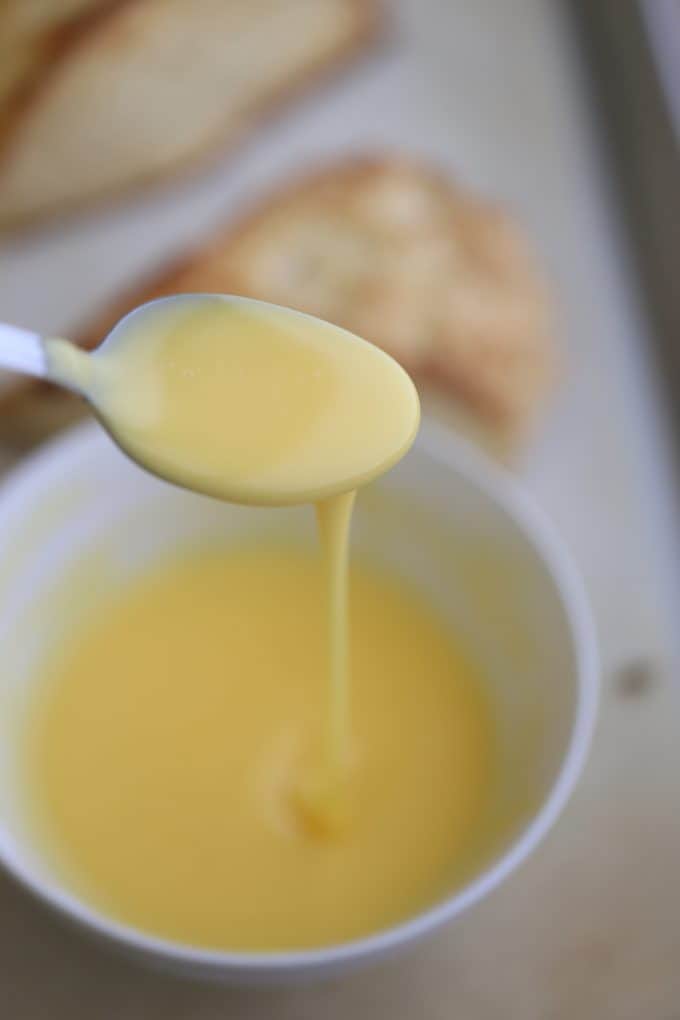 Helpful tools for great scones:
NEW Lemon Scones
This scone recipe is easier to make, it requires no eggs and the scones bake up nice and high and the scone dough is easy to work with. The natural lemon flavor shines through, I like the added lemon icing for an extra sweet topping.
Author:
Diane Schmidt, Created by Diane
Recipe type:
Dessert, Breakfast
Cuisine:
American, English
Ingredients
3 cups all-purpose flour
⅓ cup granulated sugar
1 tablespoon baking powder
Pinch of salt (⅛ teaspoon)
⅛ teaspoon baking soda
½ cup butter, cut into tablespoons then cut each into 4 small pieces. I use salted (you can use unsalted butter, add in an additional ⅛ teaspoon salt if unsalted butter is used)
1 cup+2 tablespoons heavy cream (2 tablespoons for brushing tops of scones)
¼ cup fresh squeezed lemon juice
(optional) ½ teaspoon lemon extract if desired
Instructions
Preheat oven to 425 degrees.
*note on butter and heavy cream. Make sure they are very cold. Butter: remove from fridge, cut into small pieces, place back in fridge or freezer until you add it to the recipe. Heavy cream, keep cold in the fridge until ready to add to the recipe.
I use a thick aluminum baking sheet with a rolled edge (bakery style) for best results, I find the scones rise nicely and as will all my baking there is no spreading and flattening of baked items.
Bake the scones at 400 degrees. The higher preheated time will help the scones rise well. If you're oven
Place the flour, sugar, baking powder, baking soda, and salt along with cold butter in a medium bowl, put the butter into the flour mixture using a pastry cutter. It will resemble small pea-sized pieces of butter when it's time to add in the lemon juice and cream.
Add in the heavy cream and lemon juice and stir with a firm wooden spoon or spatula, just until the mixture comes together. All the flour will not be absorbed.
Turn the mixture onto a floured work surface, fold the dough together 3-4 times (over mixing will result in tough dry scones) press the dough into a circle then use a large chef-style knife to cut the circle into 8 portions like you would a pizza.
Place each scone portion onto a parchment-lined baking sheet evenly spaced apart so they don't touch and have room to expand as they bake.
Brush the tops of the scones with the 2 tablespoons heavy cream.
Turn the oven to 400° then place the baking sheet into the oven and time for 15 minutes. Test the center of a scone to be sure the center isn't sticky as you would a cake. Add a minute or two if needed. Scones dry out quickly so don't walk away from the oven.
Remove the scones from the oven and allow them to cool on the baking sheet.
Add icing when the scones are cool or serve warm with butter, clotted cream, jam, or just serve as is.
This recipe makes 8 large scones or 16 smaller scones.
Lemon Icing
Lemon icing is made with powdered sugar and lemon juice to top desserts with a delicious lemon sweetness.
Author:
Diane Schmidt, Created by Diane
Ingredients
1/2 cup powdered sugar
1 tablespoon fresh lemon juice
tiny drop yellow food coloring
Instructions
In a bowl mix the powdered sugar with lemon juice and food coloring until silky smooth. Adjust the consistency with a tablespoon more powdered sugar for a thicker icing or a few drops more of lemon juice for a thinner glaze icing.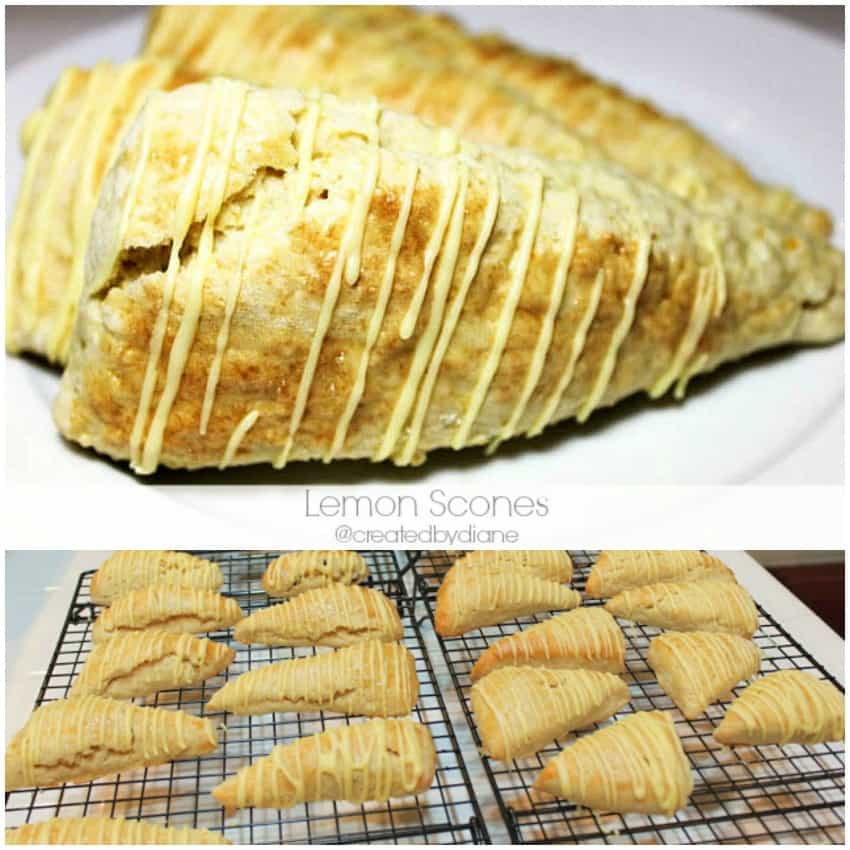 Original Lemon Scone Recipe
Tender and delicious lemon scones are a true hit year-round, with lemon icing, plain, or serve with lemon curd for a citrus flavor explosion.
Author:
Diane Schmidt, Created by Diane
Recipe type:
Dessert, Breakfast
Ingredients
2 cups flour
1/4 cup sugar
3 tsp baking powder
1 tsp salt
1/2 cup butter (be sure to use really cold butter, dice it then place in freezer for a few minutes so it's ice-cold)
1/2 cup milk (updated I now use 1/4 cup heavy cream)
3 T lemon juice ( updated I now use 2 tablespoons then add a third if the dough is not too sticky)
zest of 1 lemon
1 tsp lemon extract
2 eggs (updated I now use 1 large egg)
*icing recipe in notes
lemon Icing
1 cup powdered sugar
3 tablespoons lemon juice (or water)
1/2-1 teaspoon lemon extract (optional use if using water)
1 small drop yellow food color (optional)
Instructions
Mix together flour, sugar, baking powder, and salt.
Cut in butter until mixture resembles coarse crumbs.
Add milk, lemon juice, zest, and extract along with eggs.
Mix until blended.
Knead on a floured surface for a rectangle then cut into triangles.
Bake at 400 degrees for 15 minutes.
Allow scones to cool if you will be icing them, otherwise, you can serve them warm, with butter if desired.
Lemon Icing, mix the powdered sugar with lemon, extract and color until smooth and drizzle over scones.
Notes
The scone dough should be the texture of biscuit dough. If it's humid I reduce the milk to 1/4 and often now use heavy cream instead of milk. I also have reduced the egg to 1 egg if the eggs are "really large" baking should be done with large eggs, it's the standard in recipes.
Depending on the "milk" used, skim milk is more watery and less thick than whole milk, so I now use heavy cream in all my score recipes and don't have the overly wet dough as I had sometimes in the past. I also reduced the heavy cream to 1/4 cup and add a tablespoon at a time if needed.
Add additional flour if you feel it's needed. Start with 1/4 cup and add to it until it's easy to work with.
Be sure your butter is ice cold and cut into small pieces before adding it. I dice up the butter on a sheet of wax paper then freeze it for a few minutes while I get everything out and then take it out of the freezer so it's really cold, this ensures a high rise on the scones.
Start with 2 tablespoons of lemon juice, add additional if the dough isn't too sticky.
Don't over mix scone dough or it will become tough, just mix until combined, then pat or roll into place before cutting